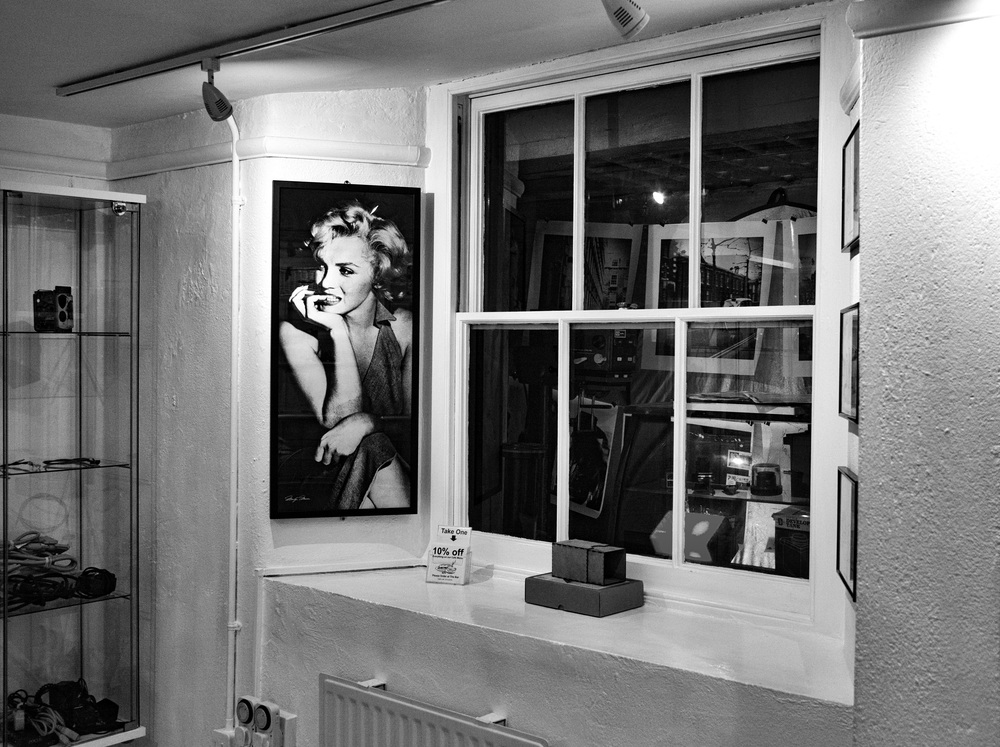 Aperture Photographic's two stores in London's West End have long been a focal point for a visit during my street outings in the general area of Soho and Bloomsbury. It's an area that is always good for a shot or two. The Rathbone Place store at No.27 specialises in Leica, Canon, Nikon and other brands, with a good collection of used cameras, lenses and accessories.
Over in nearby Museum Street, just in front of the British Museum, is the second branch which now concentrates solely on Hasselblad. But there's a difference. This is a camera store where you have always been able to get a coffee or a bite to eat. I often enjoy a cappuccino while staring at the display of second-hand equipment. Now, though, it adds a camera museum to its attractions. It is a special haven of peace after a tramp around the big-brother museum nearby.
Click on images to enlarge with full aspect ratio
The new venture, in the basement, is a small museum that is definitely worth a visit. It's in its early stages so far and any donations of old (but interesting) equipment would be welcomed. In the meantime, there is lots to see but several vacant spaces to promise of more to come. It doesn't yet have the pull at the (very) nearby Rosetta Stone, but it has a special attraction for photographers for sure.
I visited earlier this afternoon and snapped a few shots with the Leica M-D and Tri-Elmar MATE, all at high ISO values of 3200 or 6400 by way of low-light experiment.
You can find the Camera Museum at 44 Museum Street, London WC1A 1LY. It is open 11 am to 7 pm Monday to Friday and noon to 7 pm on Saturdays, closed on Sundays. The nearest Underground stations are Tottenham Court Road and Holborn.
Subscribe to Macfilos for free updates on articles as they are published. Read more here
Want to make a comment on this article but having problems? Please read this