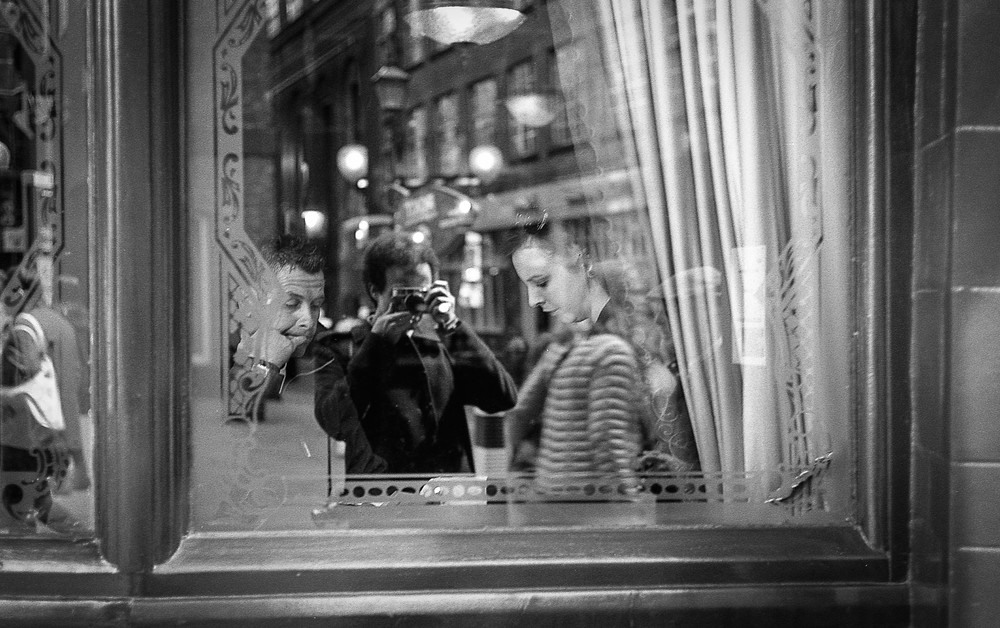 Any old excuse for a bit of street photography: But, for once we had a genuine reason to be out and about in central London. Flossy Bellm at Leica UK had managed to arrange the loan of the new Spartan film camera, the M-A. This is a back-to-basics traditional film camera, based loosely on the M3 or M4—perhaps the M4 is the nearest comparison as you will read later—and without an exposure meter. It is the M-Analogue writ large, a purely mechanical confection.
And also available was the even newer M-D, a basic, no-frills digital. So, we had M-Analogue and M-Digital to go head to head.
Mike fielded the M-D while Adam sported the M-A. He was anxious to compare it with his 1957 dual-stroke M3 while Mike wanted to give the M-D its first street outing.
Over to Mike for a rundown on the M-D.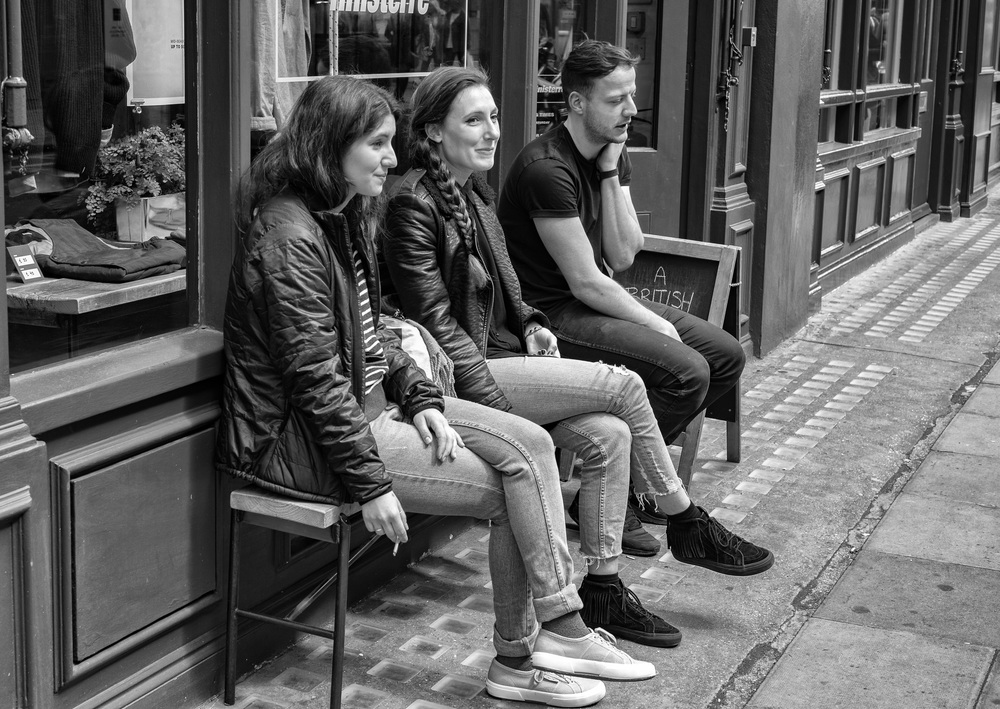 Mike:
After the hands-on review published last weekend it's no secret that I love this camera. Despite being a stripped down, very basic digital—it doesn't even have a screen—it is still more advanced in its operation than the M-A. It does have a light meter which places it in a far more modern context. And it has aperture priority shooting which means that it should really be compared with the M7 rather than the M3 or, even, the M-A. It also needs a battery, something that the M-A is freed from.
Yet in comparison with the M-A (or M3), the M-D is noticeably larger in every dimension. It is 125g heavier than the M-A or M3. It is taller (a relict of the shared M-digital body's need to incorporate a 3in screen) and deeper.
In all other respects the M-D feels like a film camera. The back is covered in the same vulcanite, the fingers can stray every whichway without hitting a button or nudging a joystick. Even the retro ISO dial in the centre of the back is unobtrusive, flush and smooth to the touch.
As a street camera it excels. With its quiet shutter and unthreatening looks it is a discreet and precise implement. Everyone likes it in first sight.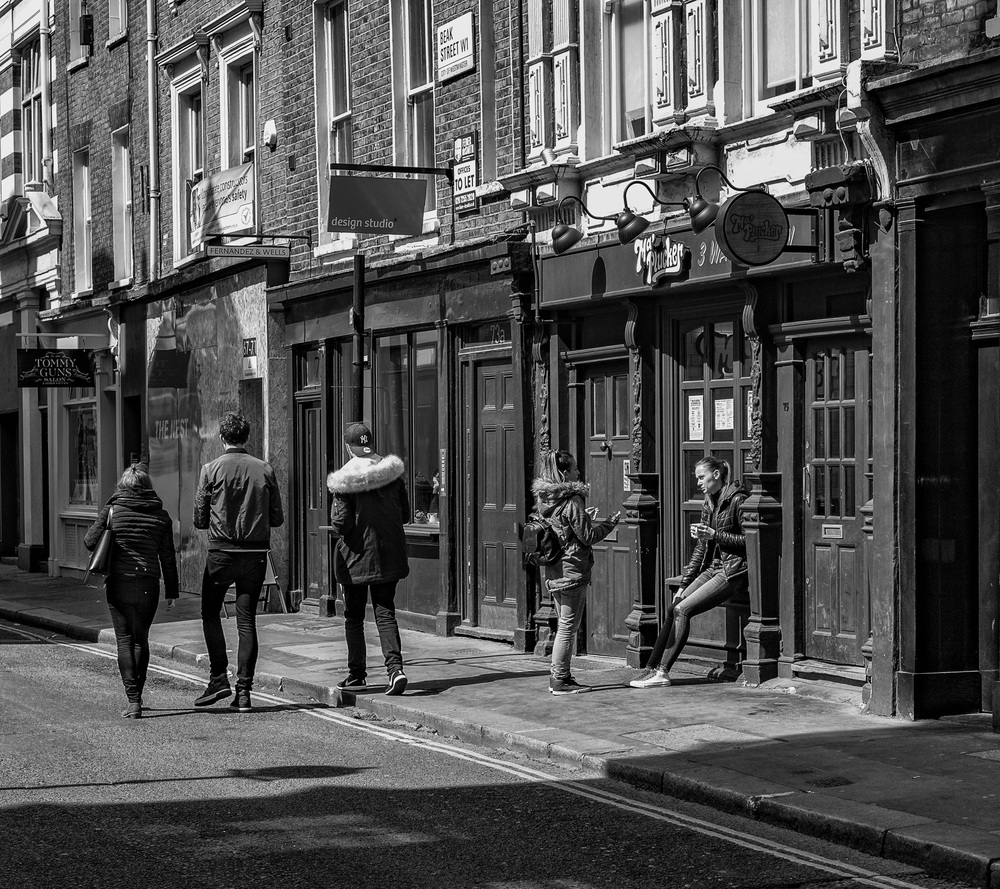 Discipline
There is one big difference, of course. You can capture hundreds of shots in a day without having to change film every 36 pictures. Many people like the discipline of a roll of film, believing that the restricted number of shots is a virtue that leads to more thoughtful and, ultimately, more successful photography.
I'm not so sure about that. I rather like the lack of restrictions. I prefer to grab shots as they come and then take the knife to them later in Lightroom. Out of two or three hundred shots I will generally have half a dozen keepers and, if I am lucky, one picture that I am proud of. With the restriction of film there has to be more discipline if costs and inconvenience are not going to get out of hand.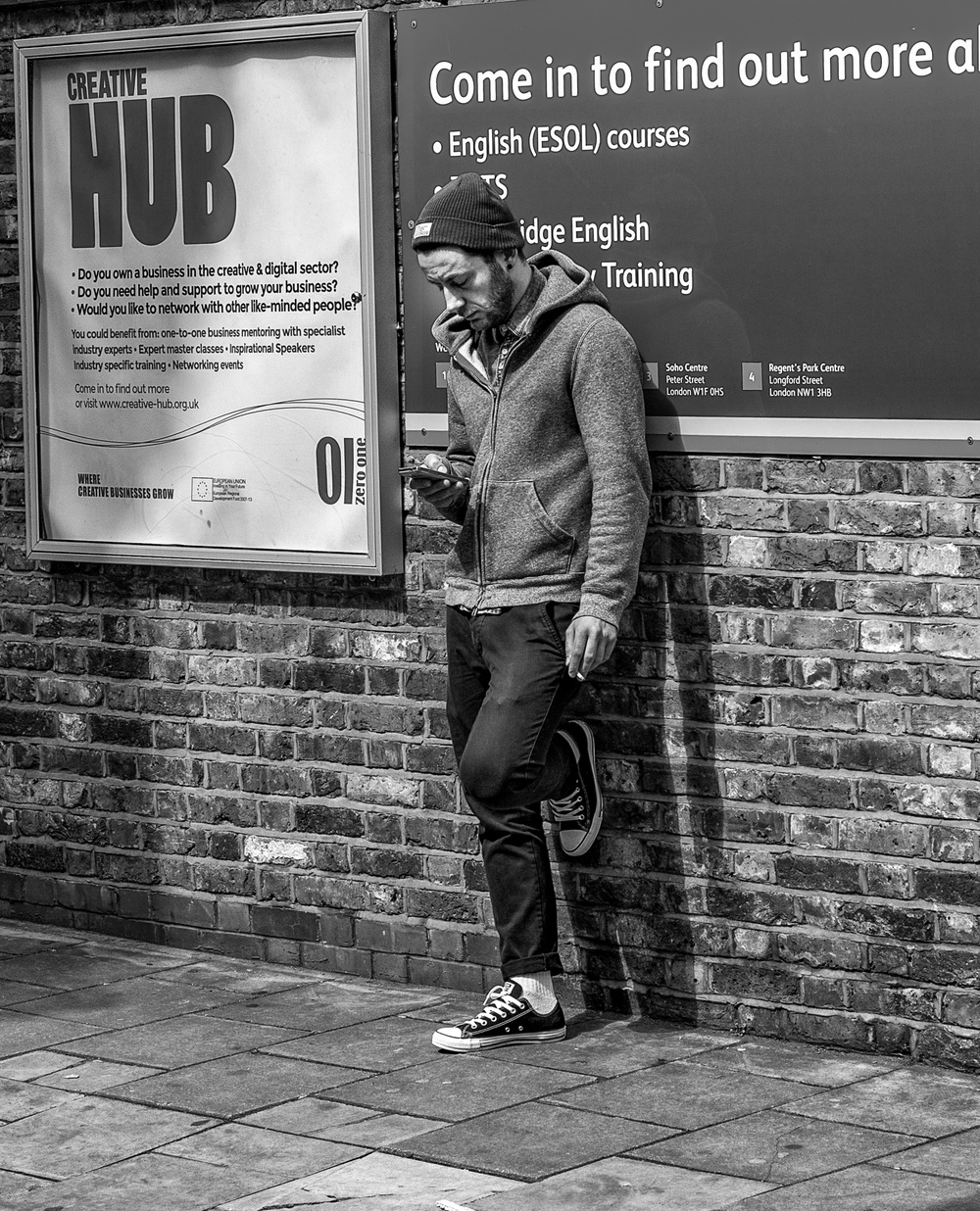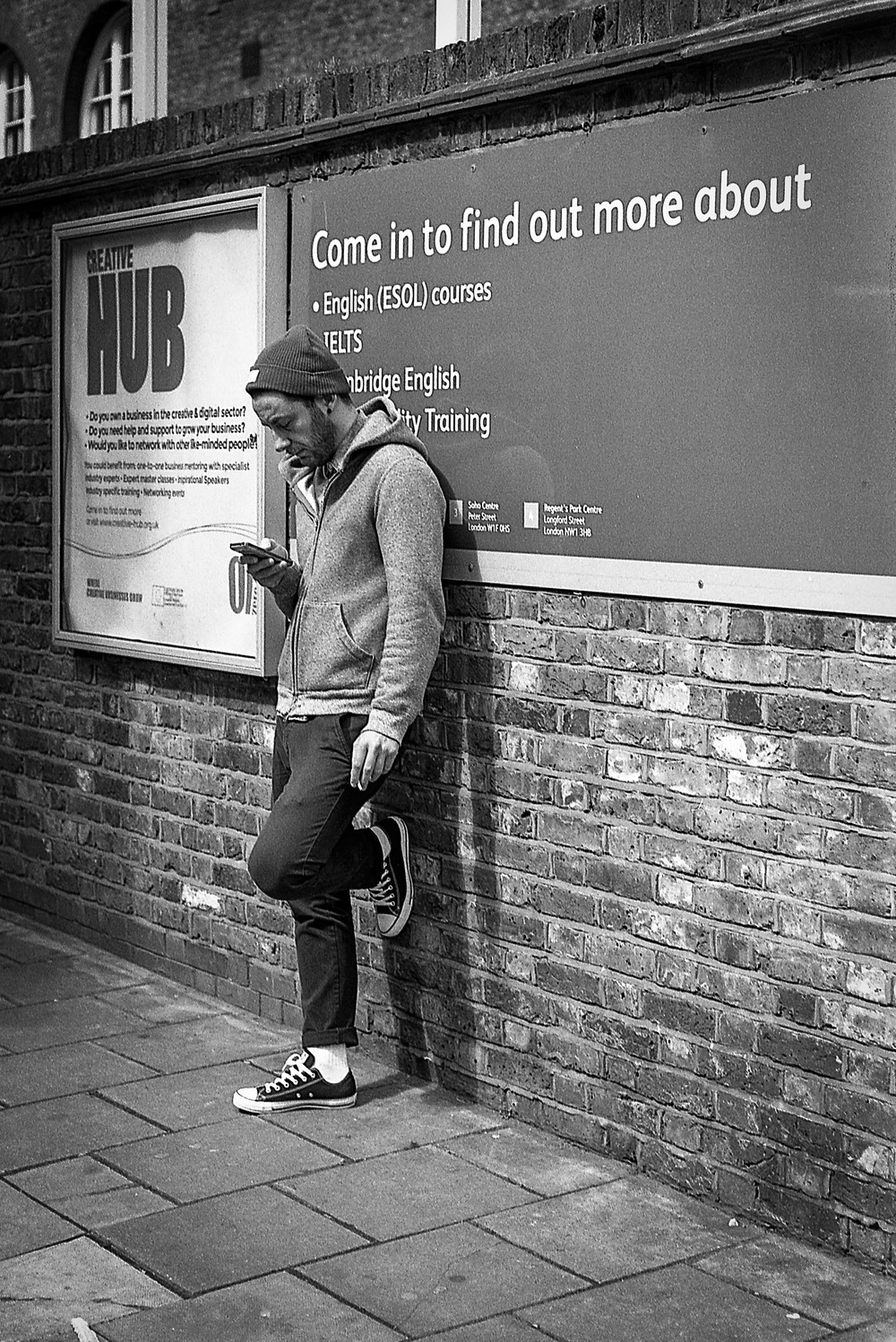 The absence of screen on the MD is merely a sideshow. To hear the comments it is the only thing of note. Yet it is far from being the most important aspect of this camera. The lack of adjustments, of dials and buttons, that is what appeals to the RAW shooter or the film user. It is the confidence than comes from knowing you are fully in control.
Most modern cameras are designed for jpeg shooting and almost all the digital excess comes from the need to juggle your in-camera processing. The M-D, on the other hand, is pure gold.
Click on the following shots to enlarge (all Leica M-D and 50mm Elmar-M)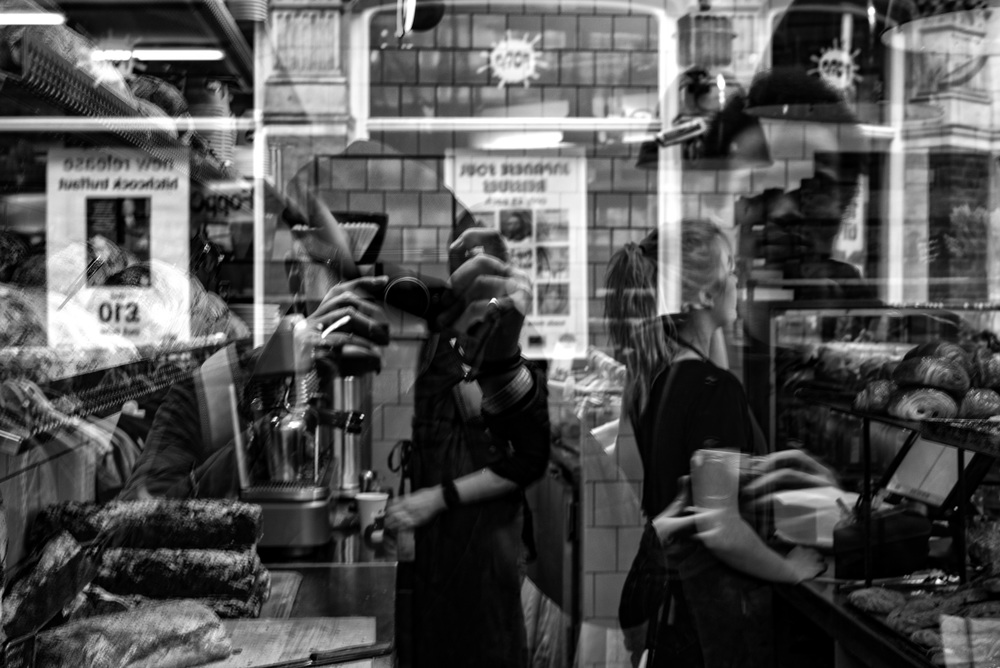 Chimp not
But what of chimping? Personally I have never been a chimper. Nor was I ever in the habit of reviewing results over a coffee in Starbucks, running the risk of deleting in a frenzy of housekeeping real gems because they look unworthy on the little screen. All that, in common with revenge, is best supped cold in Lightroom at the end of the day.
The M-D is tailor made for me. I can use it like a film camera, almost feel I have a lithe film camera in my hands, yet it is cheaper to run and gives rapid results, something that is necessary when running a blog such as this.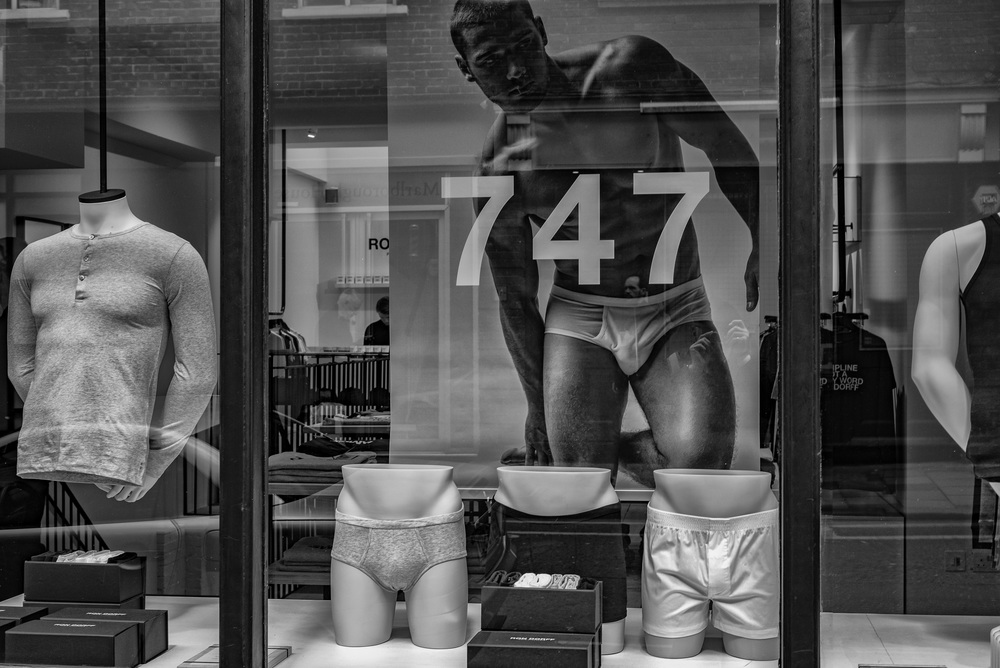 So, while I love film and my old Leicas, this new M-D is set to become my new go-everywhere device. Adam, on the other hand, is a pure film man and he has had a good outing with Leica's latest but most traditional camera, the M-A.
We have already published our review of the M-D and recounted photographic outings to London's South Bank and Oxford (links at the bottom of this article) but our film session, the subject of this article, took place first. Reason? Adam had to develop the films….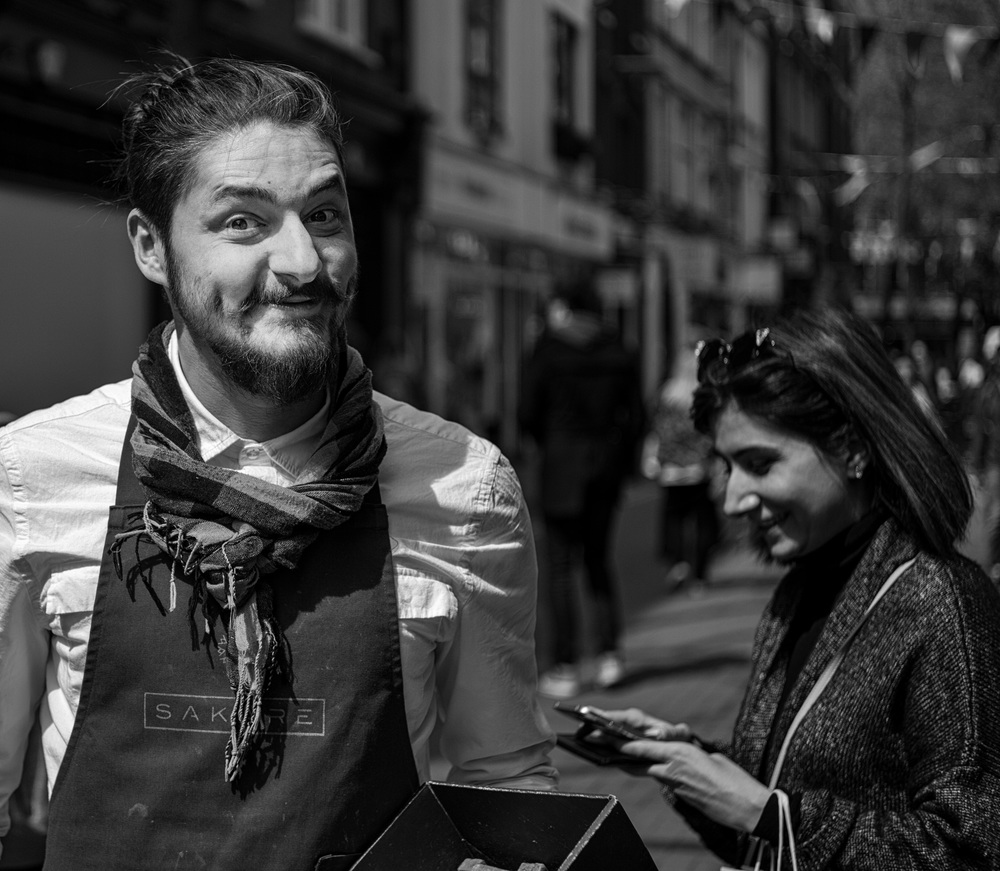 Adam: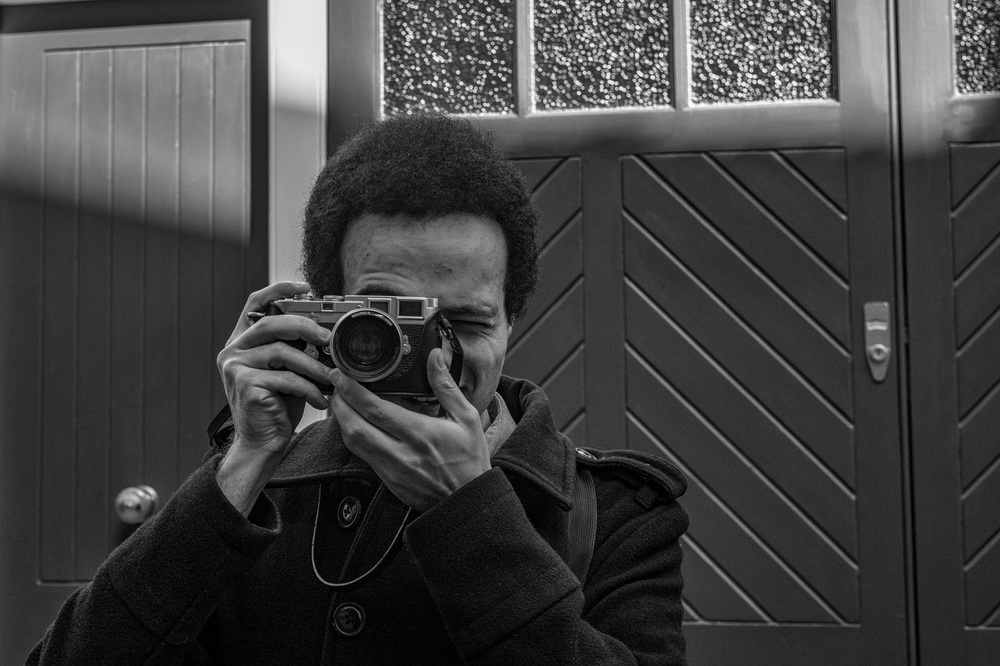 Before delving straight into a review of the M-A, it's worth mentioning that I currently use a double-stroke Leica M3 as my primary camera, and previously owned an M4, which I used extensively for a couple years prior to selling it. While I have a little experience with other Leica M models, please forgive my forthcoming comparisons to these two models. That said, they are most certainly apt, since the new M-A appears to draw most of its design inspiration from both cameras.
Bare Necessities
The Leica M-A is indeed a strikingly handsome camera . Our test example was finished in traditional chrome, adorned in the familiar vulcanite. It has a full metal body with solid brass top plate and bottom cover. The script across the top plate harkens back to the original Leica engravings found on the M3, M2 and M4 models. Rather like Mike's shiny new M-D, this camera shares Leica's aim of stripping away all but the bare essentials.
Refreshingly, the M-A is entirely free of electronics, reassuring the seasoned photographer that this a camera that makes no excuses: whatever the weather, whatever the circumstance, this will take the photograph. Without a doubt, Leica have listened to their customers, and the M-A is a carefully distilled amalgam of the most practical features and stylistic subtleties from both the M3 and M4 cameras.
Internally, the M-A boasts the quick-load system which first came about with the design of the M4, yet has the rather more elegant vertical, knurled rewind knob as seen on the M3 and M2. The first feature, practical; the second, cosmetic. The M-A shutter is based on the usual solidly engineered, spring-driven rubberised cloth curtain, making for accurate, stealthy photography. Within a 0.72x magnification flare-free viewfinder, framelines are presented in pairs as 28/90, 35/135 and 50/75mm, in accordance with the mounted optic.
The rangefinder patch is bright and, like its accompanying framelines, coloured a luminescent white, unlike the yellower tint of earlier M cameras. While I can imagine these framelines appearing more visible in low-light situations, something about the yellow tint is marginally more obvious to me when shooting during the day; and I can see them perfectly in low light, as well. These really are minuscule details, but they're all we really have to identify, since the M-A is the modern recreation of a legendary camera design. Differences can only be minor.
Like all M bodies to succeed the M4, this camera lacks a self-timer. This will undoubtedly please the majority of photographers who deem it an unnecessary 'amateur' feature, which adds an additional lever to the front of an essentially minimalist camera. Personally, I enjoy the self-timer and would miss it slightly. Not only do I find myself frequently using it to step into group portraits, but also for hand-holding slower shutter speeds where depressing the shutter adds unwanted shake to the frame. This is perhaps only useful for tripod work when an external shutter release isn't handy—something that many M users are unlikely to have bought this camera for, anyway. Needless to say, this feature won't be missed by most.
M-A in action
In the hand, the M-A feels unquestionably Leica, weighing in at 578 grams. It strikes the perfect balance of being heavy enough to feel substantial, while simultaneously avoiding unwelcome arm ache. An M3 would weigh in similarly at 580g, whereas an M4 would be a lighter 545g.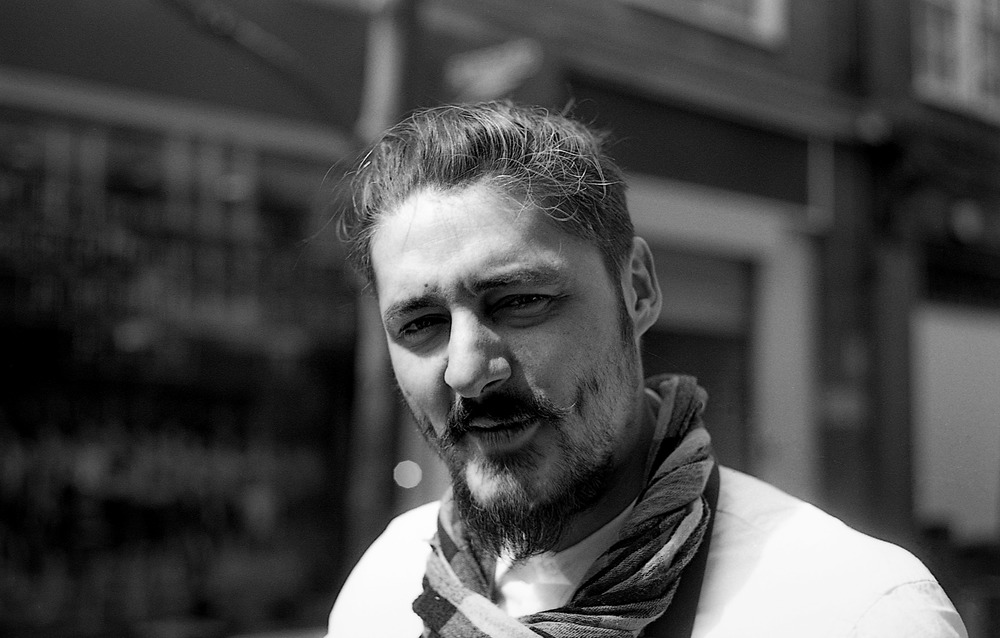 The single-stroke advance lever has the same wide throw of most Leica Ms, and makes the usual quietly assuring ratcheted clicking noise when returning to its resting position. Many will be pleased to see that it is also styled as the M3 and M2 levers were: No plastic tips in sight here. This is an all-metal with brass top plate and bottom, and exudes quality. The M-A's advance feels like I'm using an M4; the M3 however, is noticeably smoother and more controlled. It's a feel thing that has to be experienced. That said, my own camera is 59 years old, whereas this M-A is brand new and not yet run in, to borrow a phrase from the car world.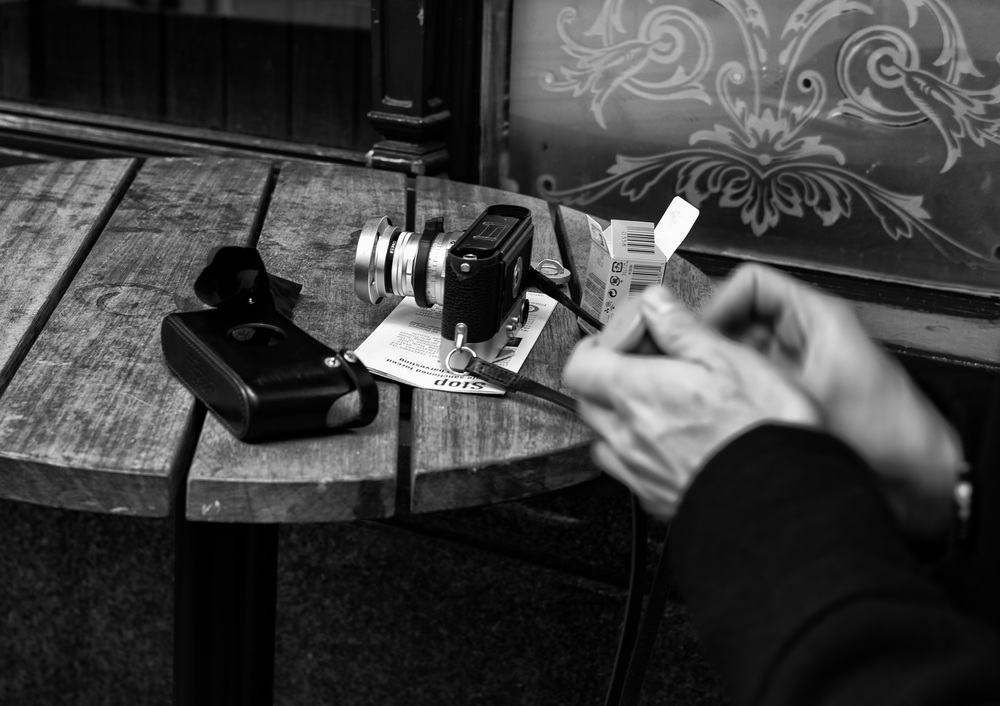 An experienced camera engineer I spoke to assured me that in time the M-A will become much more like the earlier camera. The shutter of the new camera is also marginally louder than an M3 (and a beautiful black M4 we had a look at on our travels) but I am assured by Leica that this will quieten with use. The shop floor M-A probably has under a hundred actuations on its shutter, whereas the M3 and M4 examples will have untold thousands on the clock.
Focusing is easy, the rangefinder patch is contrasty, and the camera is precise. I found myself taking consistently sharp photographs, framed exactly the way they appeared to me in the viewfinder. Overall a really great camera, and a joy to use.
I managed to zip through two rolls of film with the M-A: A roll of Ilford Pan F and one of FP4, both shot at box speed, and semi-stand developed in dilute Rodinal (1:100). The negatives were then scanned on my trusty Epson V600 and Lightroom-ed. Pan F presented me with difficulty while shooting street, as selecting the necessary shutter speeds of 1/125 and faster, often meant apertures of f/2.8, which led to most of the remaining sharp photographs blossomed from my roll of FP4.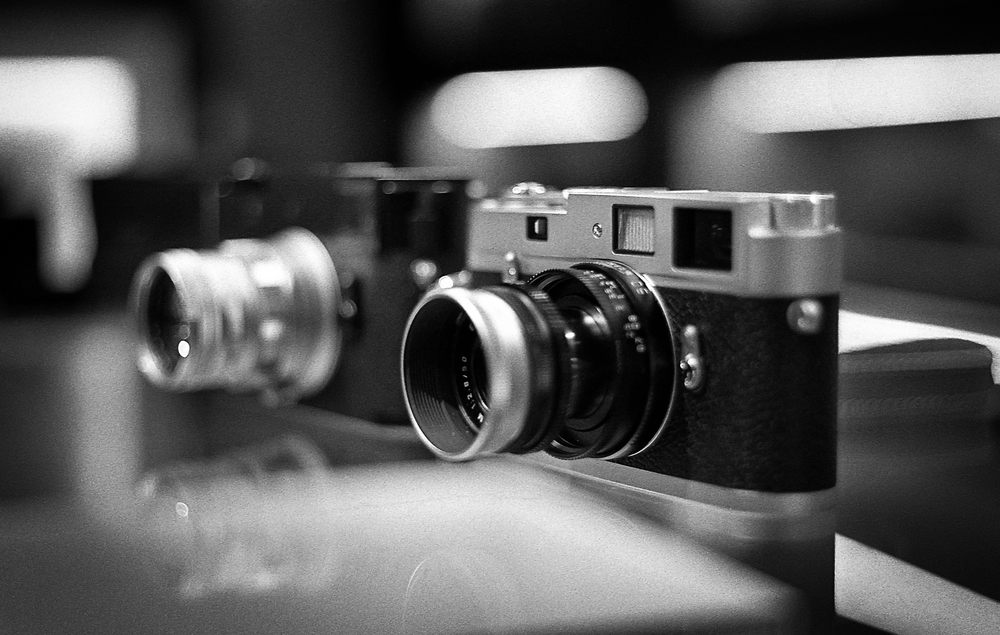 A third view
We took the opportunity of consulting Hamish Gill of 35mmc.com who has bought an M-A for his own use. Hamish largely agrees with my conclusions:
I shoot both M-A and M3 and would be hard pushed to state preference of one over the other. The M3 feels to me more smooth in its function. The mechanical film advance feels like a hot knife through warm butter. The viewfinder is a wonderful thing that's perfect for 50mm framing and advantageous for 90mm and 135mm framing where the added viewfinder magnification helps with accurate focusing.
On the other hand, the Leica M-A has a subtly more mechanical feeling film advance. It doesn't feel as smooth as the M3, but to my mind feels more mechanically precise, and less damped by lubrication in its action. I have no idea of the reality of the use of lubrication, just that when the cameras are used side by side, this is the difference as I feel it. Additionally, the M-A viewfinder is a lower magnification making it more useable with wider lenses. Thanks to its rangefinder patch clarity, in practice I don't find it any less good at helping me achieve in-focus photos even with my faster/longer lenses—though I must admit, the M3 probably gives me a fraction more confidence in focusing when I'm actually using it.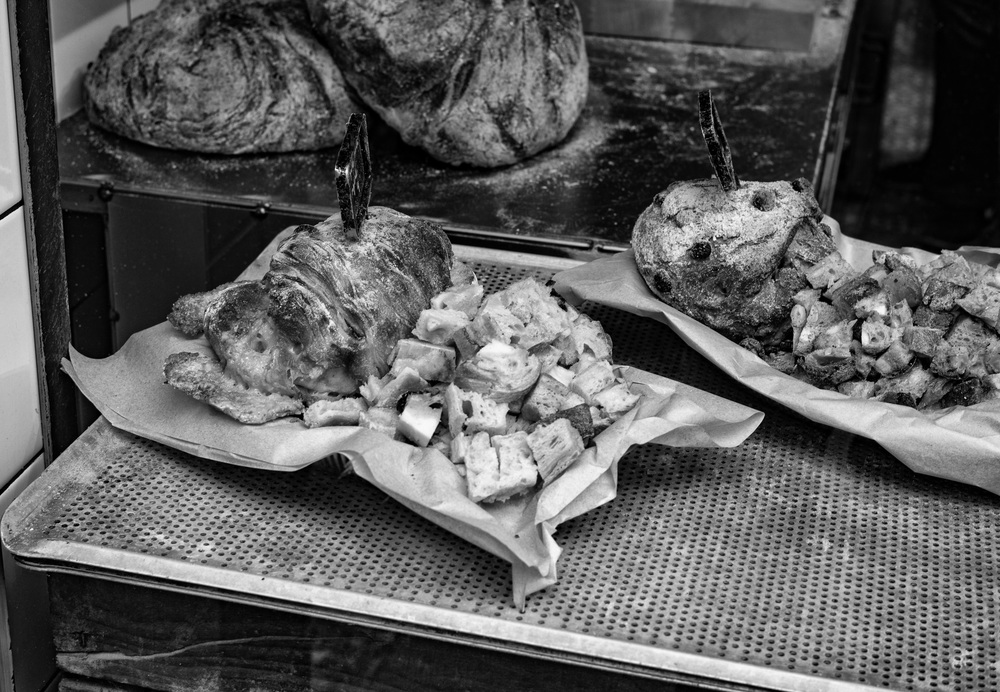 Final Thoughts
The M-A isn't really aimed at those looking for their first foray into the Leica M system; it is for those who want to own a film Leica from new and, perhaps, keep it for a lifetime. Owning any film camera from new today is a rare thing, and Leica are offering this opportunity to customers, while still proudly adorning the camera with the livery of its 'golden era' models.
It's not cheap at £3,250, but then it's not built cheap, either. In real terms it is more or less the same price as my M3 would have fetched in the 1950s. And it performs to the usual impeccable standard that one can expect from a Leica camera. It also incorporates that magical interchangeable sensor technology that is itself an age-insurance policy: 35mm film. If you want a precision-made, luxury camera that can take its first photographic steps with you, the M-A is a sound choice which can be passed down from generation to generation. For me, my M3 is still right there.
Links and information