Lacock in Wiltshire is around 100 miles from my home in London but for some reason I had never been to there until last week. Lacock, of course, is famous for its abbey and its most noted inhabitant, William Henry Fox Talbot. It was his negative system that is the true forerunner of all modern analogue photography.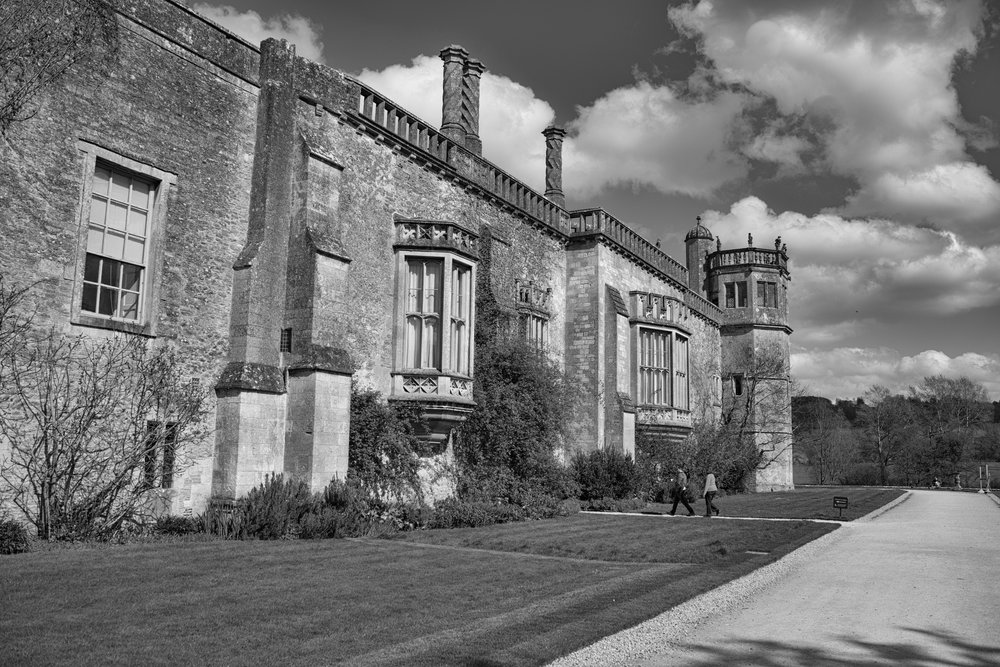 I decided to put matters to right and took my new Leica M10 and the old Tri-Elmar MATE to get a glimpse of Lacock Abbey and the Fox Talbot heritage.
Unlike the Frenchman Louis Daguerre, who just pipped Talbot to the post with his Daguerrotype, William created a process that enabled multiple copies to be made from an original. The Daguerrotype, although pretty, was a one-off process like any piece of art. It is Lacock and Fox Talbot that we think of when contemplating the birth of photography as we know it. In February 1839 he wrote:
"….I do not profess to have perfected an Art, but to have commenced one; the limits of which it is not possible at present exactly to ascertain. I only claim to have based this new Art upon a secure foundation: it will be for more skilful hands than mine to rear the superstructure."
Fox Talbot inherited Lacock Abbey from his father, William Davenport Talbot when he was five years old in 1805. The Fox bit comes from his mother, Lady Elisabeth Fox Strangeways who was the daughter of the second Earl of Ilchester. William Henry took up residence in Wiltshire after his studies in 1827 and lived there for fifty years until his death in 1877.
Ancient pile
The ancient pile is a rather curious mixture of medieval abbey, founded in 1229, and later additions, including a dollop of Tudor. Sir William Sharington bought the old abbey in 1540, during Henry VIII's dissolution of the monasteries, and built a country house above the original structure, retaining the cloister and basement as period features. It serves as a rare example of 16th-century conservation. Sharington must have been tempted to sweep the whole lot away and build a conventional residence. As a result, all the habitable rooms are on the first floor and this is where Fox Talbot would have called home. It is also where he invented photography.
Above right: The "lattice window", 1835, is thought to be the first photographic negative. Fox Talbot: "When first made, the squares of glass about 200 in number could be counted with the aid of a lens." Below, the oriel window as it is today after another 182 years in its long life. It is interesting to see how the trees and bushes in the grounds have changed completely, but probably only to be expected. Otherwise, the shots are very similar, give or take the odd pixel (Photo Mike Evans)
Undoubtedly the most notable feature for photographers is the oriel window over the entrance to the cloister. This is the "latticed window" which was the subject of what is thought to be the oldest existing camera negative. A print from this negative, not much bigger than a postage stamp, is on display at the abbey museum. Naturally, the latticed window is a perennial magnet for photographers and I made no exception as I stood to capture the scene with the Leica.
Inventing photography should have been good enough for anyone. Yet Fox Talbot was a polymath of rare distinction. Scientist, linguist, inventor, he was a prominent member of the Victorian scientific community. Lacock attracted some of the leading brains of the period, including Charles Babbage, the inventor of the mechanical computer and the inspiration for the electronic computer.
Cuneiform
In the field of linguistics, Fox Talbot was a noted expert on ancient scripts. He could read and write Egyptian hieroglyphs (self-taught, by the way); he was perhaps the leading expert on Assyrian cuneiform script and one of the first decipherers of the inscriptions at Nineveh. Amid all these cerebral activities he also found time to be Member of Parliament for the nearby town of Chippenham. That, presumably, didn't take much brain power if modern politics is any guide. In 1840 he even served as High Sheriff of Wiltshire as if all the rest weren't enough. It is odd, in the circumstances that he never received a knighthood or a seat in the House of Lords.
Perhaps one reason was that Fox-Talbot's reputation as the inventor of photography became somewhat tarnished amid a flurry of patent controversies. In 1841 he took out a patent for his calotype process and set about enforcing his rights by issuing amateur licenses for £20 a year (about £2,000 in modern money) while professional photographers had to pay the exorbitant annual fee of £300 (equivalent to £28,000). As you can imagine, this put the kibosh on many nascent high-street photography businesses.
Fox Talbot justified his harsh line by pointing out that his invention of the various photographic processes had cost him £5,000 — about half a million today. In 1854, after a contentious court case against a photographer, Martin Laroche, Fox Talbot decided not to extend his patent. But the affair cast a shadow over his achievements at a time when academia considered patenting of discoveries as a brake on scientific progress.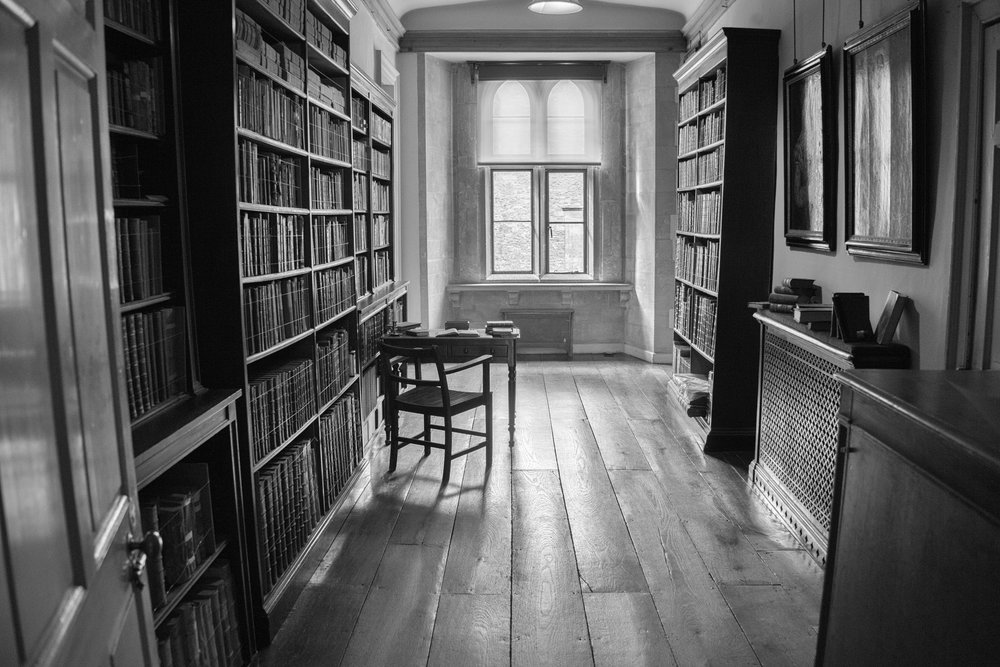 Filmstar
Today, Lacock Abbey and the adjacent village are under the control of the National Trust. The cloisters and the original parts of the abbey have featured in many television and film dramas, including scenes from Harry Potter's Chamber of Secrets and the Half-Blood Prince. It also appeared in the 2010 horror film, The Wolfman starring Anthony Hopkins. Defoe's Moll Flanders, Jane Austin's Pride and Prejudice and Mantel's Wolf Hall, also leaned heavily on Lacock's unique atmosphere for a number of scenes.
The adjacent village of Lacock, although inherently pretty, is spoiled by the presence of parked cars outside every house. While no doubt of great convenience to the residents, this modern curse totally ruins the village as a location for photography.
Following the visit to Lacock I moved over to the nearby Castle Combe which claims to be England's prettiest village. With some good reason, as it turns out. The good thing here, unlike in Lacock, is that the car has been largely banished. I was able to capture some unsullied and rather timeless shots with the M10. Castle Combe has a delicious period atmosphere and hosts a number of pubs and hotels if you fancy a meal or an overnight stay. I enjoyed an excellent lunch at the Castle Inn and I can thoroughly recommend it. Rather prosaically, Castle Combe is also the location of a motor and motorcycle racing circuit of the same name (but suitably separated from the village it has to be said).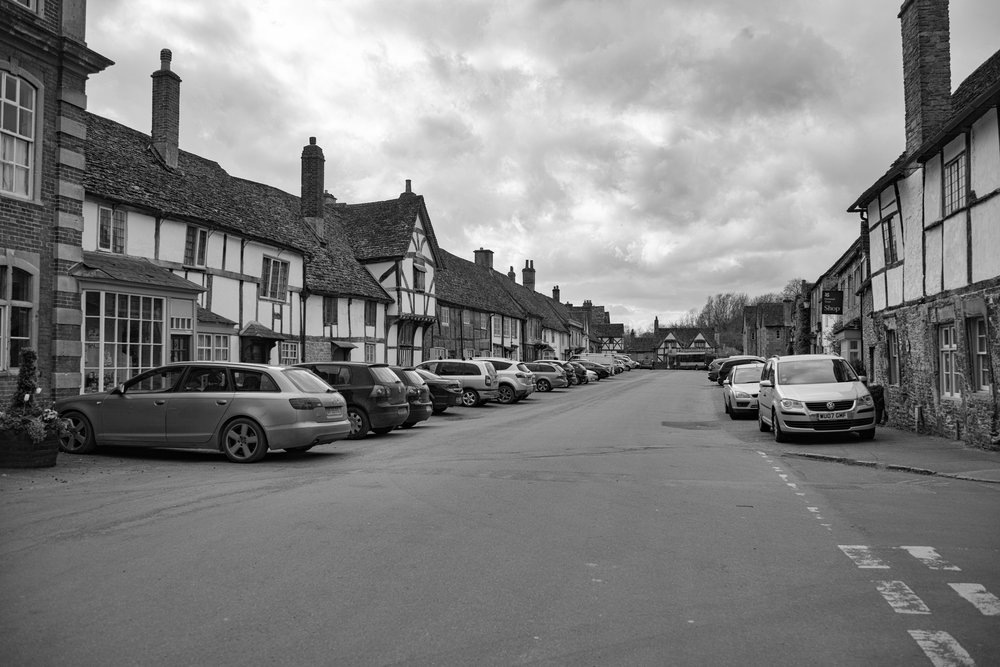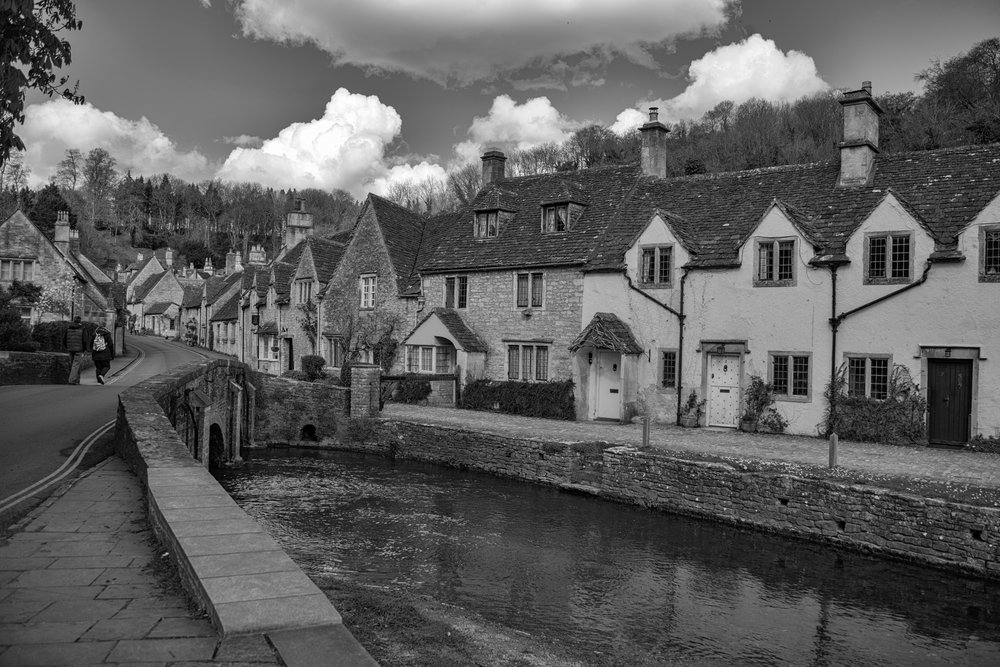 Getting there
Lacock and Castle Combe are both about five miles outside the town of Chippenham (with its mainline railway station), so well inside taxi range. There is a good train service to London, normally every half hour, and the journey takes approximately 90 minutes from London Paddington. Both locations make a great educational day out. For photographers, the opportunity to have a mooch around William Henry's study, library and kitchen is unparalleled. You never know what you will find.
Nearby, too, is the city of Bath with its well-known Regency architecture and the superb Roman baths. If you are visiting London and thinking of a trip to the area, I would recommend taking the train to Bath, then moving on to Lacock and Castle Combe before returning to London from Chippenham.
All photographs (with the exception of Fox Talbot's 1835 masterpiece) taken by Mike Evans with the aid of the Leica M10 and 28-35-50mm Tri-Elmar-M, the MATE — an ideal lens for this type of assignment
_____________