Mike's article on senior moments and the urge to downsize set me thinking. I do not want to collect cameras, since I can see how easy it is to fill the house with gear that seemed so necessary at the time, but following a couple of rolls of film (perhaps), has been put on a shelf for later appreciation. As to whether a collection becomes valuable, or an investment, hmmm. It's not a good reason for collecting. So I almost always retire one camera and/or lens back into the pond, once I have decided on a new experiment.
Anyway, that is the one proviso, other than that I tend to keep the cameras that I like for longer than others and also the camera that seems to fit with my current lifestyle.
As an example, I fiddled with video when the kids were younger, and then the compilation tape was overwritten with something average and mundane from the BBC, and a whole slice of our family's young lives have been returned to the mists.
I have several old videos transcribed from 8mm and super 8mm that my father and grandfather made during the 1960s, but almost no photographs, since my Dad decided that stills were passé and out went the "Empire made" TLR and in came the Gamages Super 8 bargain.
A bonus print
I have thousands of "snaps" processed by the likes of BonusPrint and TruPrint. These are some of the best pictures, since they contain memories and reminders of what we looked like in those days, quirky compositions achieved through total lack of regard for "the rules". And the best thing of all, without trying there is a record that will last long after we have gone. No doubt 90% of it will be recycled, but nevertheless we will have left a small footprint. The cameras used for this period were pretty good in their time, and some have gone on to become icons.
When I returned to the idea of using my camera as an excuse to venture out following a period of illness, I decided that I needed a Leica, so I bought an M8, I couldn't afford it and I quickly made an excuse to sell it. Whilst I do not regret that, there was always something about that Leica output, which was not even at its best in that model.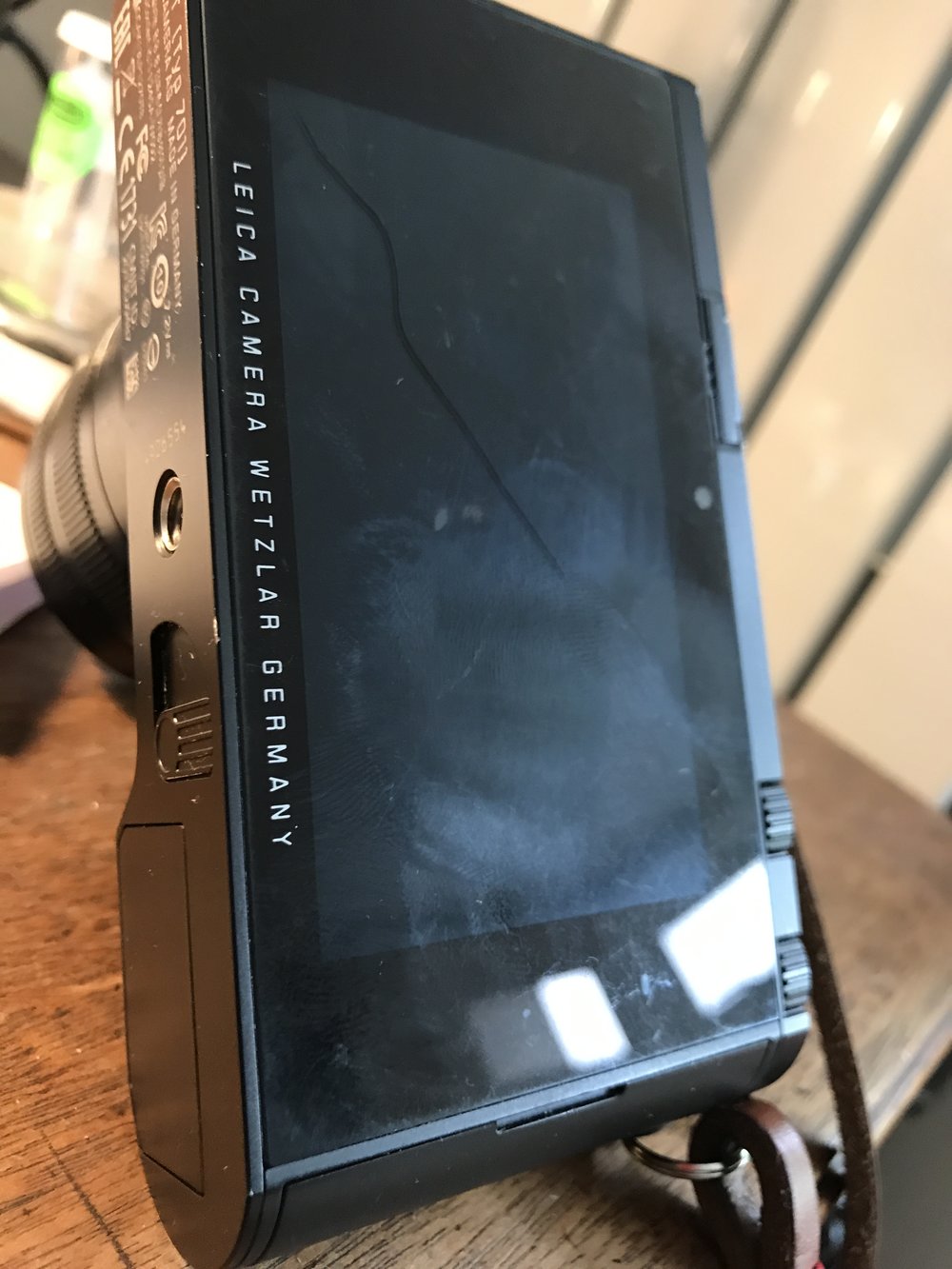 A few years later and Mike Johnston (The Online Photographer) wrote about something that he called the OCOLOY: One camera, one lens, one year. The camera had to be a Leica, the lens preferably a standard, and the period of experiment had to be a year.
I didn't learn a huge amount about photography during that year, I only really confirmed that I knew a lot more than I thought I did, and that there was stuff that I was never going to properly digest.
Subtle light
Subtle changes in light that in the UK are happening all of the time, caught me out relentlessly, shot after shot of badly exposed but sometimes nice compositions. It was a later experiment that demonstrated just how little awareness I have of light changes, namely World Pinhole Day. One is sort of forced to measure the light and in lowish light, an exposure can go from less than a second to several minutes just by facing the camera in the opposite direction.
As I get older though (certainly not really any wiser), the phases still have to be endured as a function of blokeism.
Recently, I took Mike at his word (but not really), I had been thinking about the Leica T ever since I saw various stories from the net about its abilities, but until last week had dismissed it for lack of an eye level viewfinder. However, I picked up a cheap example — a bashed-about T, with cracked screen and an 18-56mm lens. As Bill Palmer says, it would have been churlish not to have bought it at the price. And I love it, even without the viewfinder.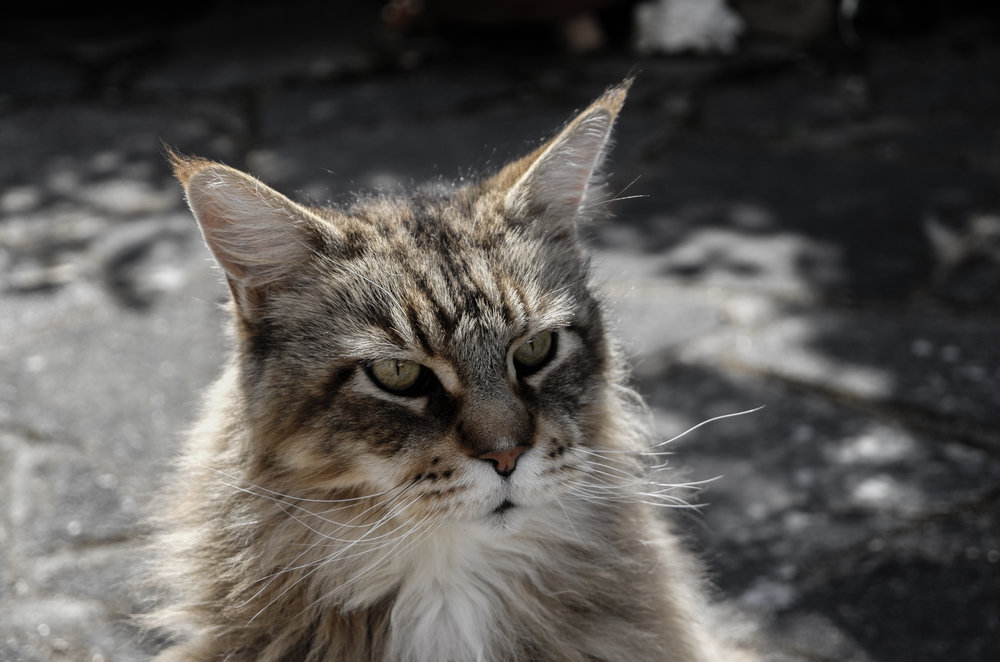 Minimally digital
There is a designer/blogger called Andrew Kim from LA (Minimally Minimal), who reviewed the T when it first emerged, and he refers to the camera's "handling", in a similar manner to how one would discuss the "handling" of a motor car, and he is right. Although I have really disliked cameras without a built in viewfinder — Leica X-E, Ricoh GR, the earlier Sony RX100s, Panasonic LX3, Canon Ixus, have come and gone with very little ceremony — the T handles really nicely, and lack of viewfinder is merely novel, rather than a deal-breaking annoyance.
I have eschewed cameras without meters, for the reason above, I seem to be oblivious to the changing light… Is it me, or is it really tricky?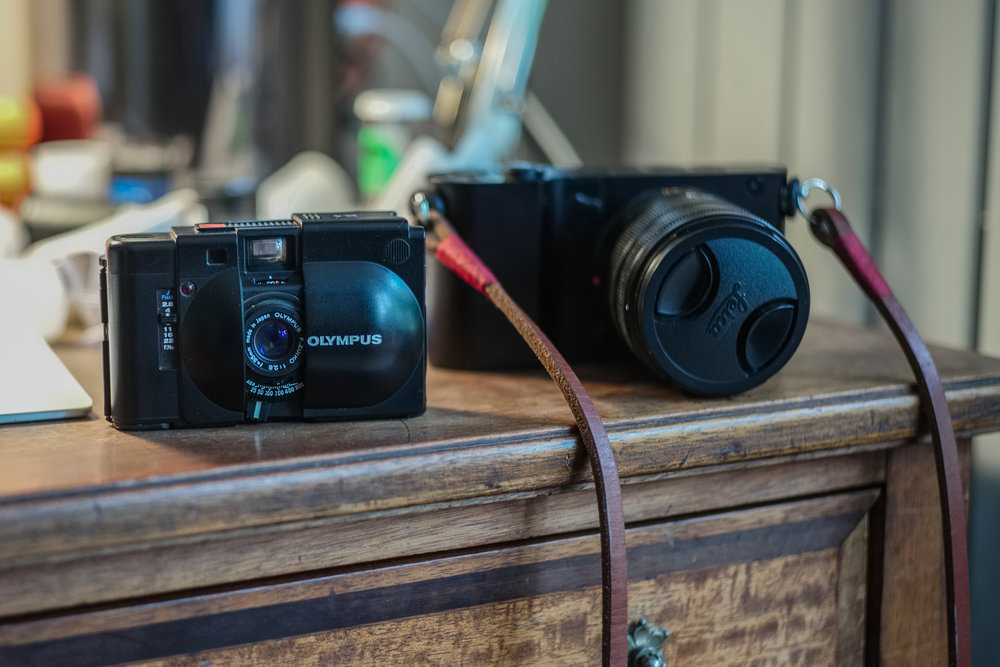 Following the OCOLOY, I decided to continue with film cameras; since the Leica M2 I've had an M6, an M5, around ten cheap film compacts, the best of which was an Olympus mju from the British Heart Foundation charity store for £10. The purpose of that purchase was to take a picture for Hamish Gill's last "cheap camera photo contest". Naturally, I didn't even get a mention in the dispatches, but it was a bit of fun anyway. And I also learned to endure more than thirty seconds in a charity store.
Following my use of the Leica M2 with a body cap pinhole for World Pinhole Day in 2016, a new Ondu handmade wooden pinhole camera was acquired for 2017. I noticed that a plethora of processing equipment was building up — Jobo this and Paterson that and countless bottles of volatile chemicals, it now seemed important to find a way of scanning 120 roll film onto the computer. It suddenly hit me that at an entry price of around £2,000 for a 15-year-old second hand/rate negative scanner and a desire (following my Dad's passing) to not leave behind me a museum that nobody should have to review could lead to yet more disposals.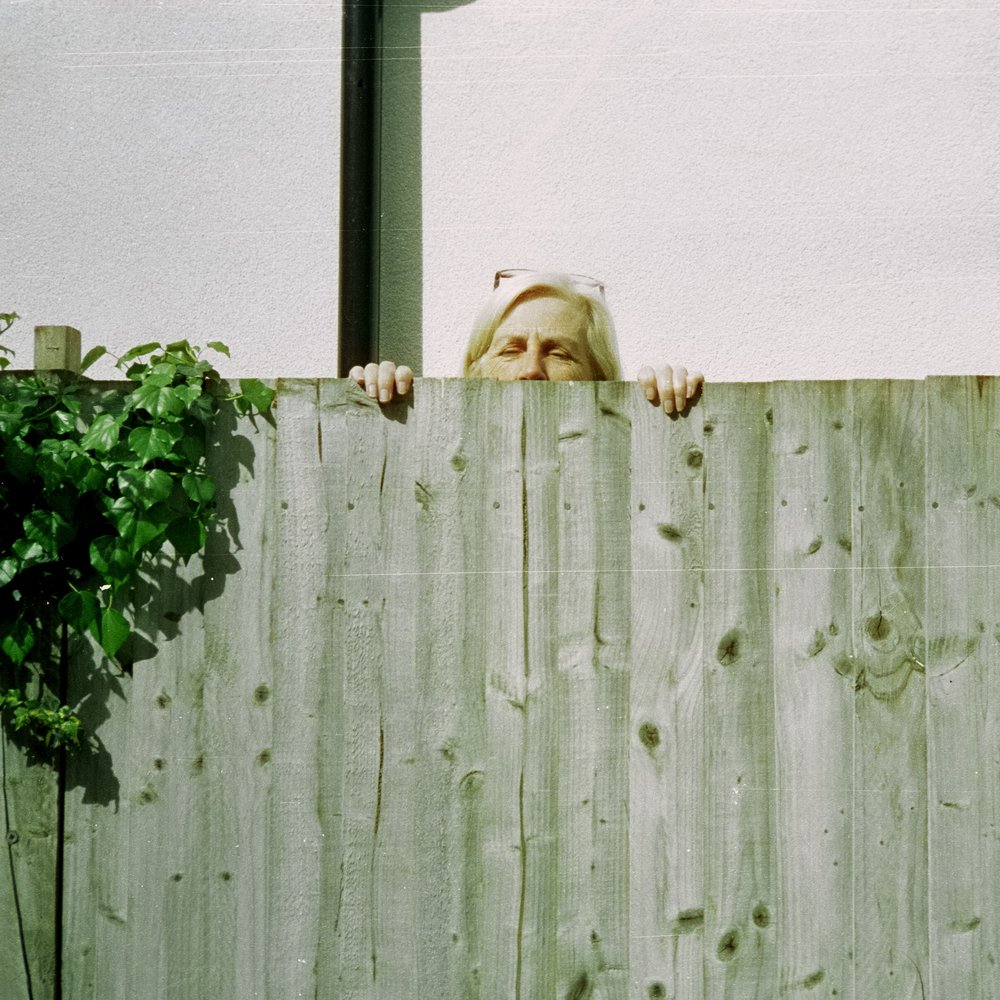 A few days ago, Mike ran an interview piece by Kai Wong with Martin Parr. I remember being fascinated by this man's pictures of rotting Morris Minors in Ireland published in the Telegraph Magazine in the early 1970s. Towards the end of the interview, he is asked whether he uses film. The answer was almost spat out: "Why would I?" There is no answer to that, digital has outperformed and outclassed film during the last 20 years. So the next process is to gradually weed out my film cameras. Although next year's World Pinhole Day (if I am still here) might be a tin can with a sheet of Instax or Polaroid film — or even my pinhole body cover on the Leica M-P.
There is just one fly in the ointment regarding film, I have bought and I really like the Olympus XA (handling again!), so I accept that I might be keeping (not expanding) my processing kit a bit longer. But film is definitely on notice as far as I am concerned. There is a good page on the Olympus XA series of cameras here.
The camera called simply XA is the best of the bunch in my view, although there is an XA4 which has a 28mm lens and also shoots macro, a cheaper version of the Ricoh GR1V.
So anyway, regardless of whether Leica introduces a version of the T that has a viewfinder built in, I will be keeping my bashed up T and probably extending the lens collection. There is something about the output from this camera that I really like. It might remind me of the M8 that I once owned, it is definitely Leica, and it feels very nice in the hand.
Perhaps for me, old age is about zoom lenses, auto everything, and lighter weight.
But tomorrow, all might be different!
_______________