Last week a photographer friend asked my advice on buying a new MacBook. Which of the options should he go for and, fundamentally, would the MacBook be ok for photo processing. I explained that the new range of MacBooks makes a near-perfect travel computer in terms of size and weight. And for occasional photographic processing the MacBook is up to the job. But for regular demanding tasks involving lots of Lightroom work or, worse, 4K video processing, a carefully-specified MacBook Pro is definitely a better choice.
I still use my original MacBook, the first of its breed, which I purchased exactly two years ago. I am still happy with it, although I haven't been doing as much travelling recently as I did in the past. It seems that I have had it longer until I checked; but two years these days is a long time in technology, if slightly longer than a week in politics. It is already slow and outdated, but even this original model still copes adequately with occasional processing — certainly enough to handle my travel requirements. If I were a professional photographer or a more frequent traveller I would certainly have upgraded to a MacBook Pro before now.
But if my two-year-old 12in MacBook is now barely adequate, a new version of the same computer is going to be a lot faster, especially if it is upgraded from the standard specification. Unfortunately, with a top spec, the MacBook is no longer a cheap option and compares unfavourably with the much faster and more capable 13in MacBook Pro. Where it does beat the Pro hands down is on size and weight; if these are of paramount importance the MacBook could be the right choice.
When I bought my MacBook in 2015 I took the highest specification I could get and paid £1,300; that's probably the one reason I've been happy with it for two whole years. If I'd taken the cheapskate route and chosen the basic model (which, in the new version, today costs £1,249) I think I could well have been disappointed.
One thing I couldn't upgrade at the time, though, was the amount of internal memory. RAM topped out at 8GB on those earlier models and that was a disappointment. The best investment for added performance is not a slightly faster processor but more RAM. These days I wouldn't buy a Mac with only 8GB of memory; 16GB is my minimum and I'd go for 32Gb or even 64GB given the chance. More RAM means less memory swapping and speedier processing, especially on heavy duty applications such as those handling video processing.
MacBook Spec
So would I still recommend the MacBook? The answer is a resounding yes, provided you buy it for the right reasons. You must need to travel often with the MacBook to make the weight saving worthwhile. If you are carting your laptop around infrequently, then a heavier MacBook Pro is a better bet. If you never move your laptop from the office or home desk, then don't buy the MacBook. Go for the better value and faster processing in an iMac or, even, a 15in MacBook Pro.
If you do decide to go with the MacBook and wish to use it for occasional heavy duty processing, then make sure you don't just walk into an Apple store and choose one of the standard models. Order from the Apple web site and get your made-to-order specification of choice. It doesn't usually take more than a few extra days and you can still return it to a local store within two weeks and get your money back if you decide you've made a mistake (or wish to swap it for a Pro model).
What specification? I always believe in choosing a high spec because I know full well that in a year's time even this speedy version will be lagging behind newer models. The more capable the version you buy at the outset, the longer are you likely to be happy with your purchase. It works out cheaper in the end.
I'd take the faster of the two base models, starting with the 1.3GHz dual-core i5, but bump up the processor to the 1.4GHz Core i7 processor with turbo-boost to 3.6GHz. That's an additional cost of £135 and well worth it. It's also essential to upgrade the memory from the standard 8GB to 16GB — as much as you can get with the MacBook. That adds another £180 (but worth it even more so than the processor upgrade), to bring the grand total to £1,864, including tax. It's a lot, but better shell out a bit more at the outset than end up dissatisfied after twelve months.
For this you are getting a great little computer. I love it. I don't mind the single USB-C port and treat it as a dock connector. I'm a bit contrary in this respect but I like the idea of having a destop dock with all the necessary ports, including power input, so there is just one cable to plug into the portable. A computer with more ports, such as the MacBook Pro line, end up with an untidy gaggle of cables cluttering the desk.
Click on images below to see full specification and price
MacBook Pro spec
The sweet-spot 13in MacBook Pro is the one with 2.3GHZ Intel Core i5 processor but without Touch Bar (an innovation that hasn't been universally acclaimed and is something you can probably do without). The base price of this computer is £1,449 but even in this form it is faster than the all bells-and-whistles MacBook. While it is confusing, Core i5 and Core i7 processors in the MacBook and MacBook Pro ranges are not the same. In the MacBook they are the slower, low-power mobile processors whereas with the MacBook Pro you get the heavy duty version.
However, I would find it necessary to increase the RAM to 16GB (as with the MacBook) and the hard-disk storage to 512GB (which is standard on the higher-specified MacBook mentioned above) to bring the total to £1,829. That's just £44 cheaper than the specced-up MacBook but it buys a much faster and more capable computer. Of course, if you want even more processing power and storage it's just a matter of cash; it won't make the computer any heavier.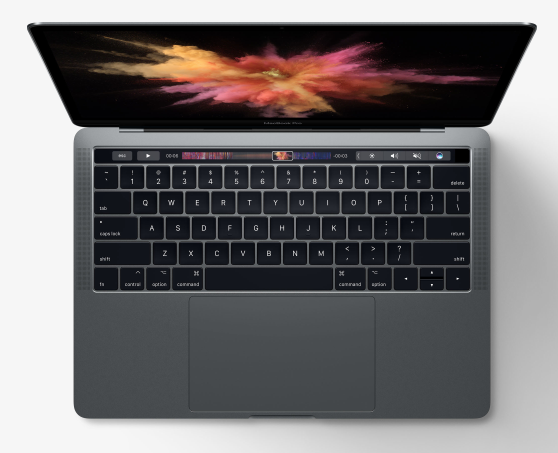 The MacBook Pro has other advantages, including more ports (which don't much impress me, see my comments above on treating a USB-C connector as docking medium) and a larger screen with better resolution. Its primary disadvantage vis-a-vis the MacBook is size (it is a uniform 1.49cm high compared with the MacBook (which tapers from 0.35 to 1.31cm) and weight (1.37kg, 3.02lb against the MacBook's 0.92kg, 2.03lb). But make no mistake, while that difference may not look much on paper, it's a different matter when running through the airport with your bag over your shoulder. Then you might wish you'd bought the little MacBook.
As always, with Apple, you pays your money and you takes your choice. Yet it can be fiendishly difficult to decide between different model ranges such as the MacBook and MacBook Pro. Incidentally, I'd discount the MacBook Air at the moment because it is neither fish nor fowl and I think you will be better served by the main options outlined in this article.
__________________