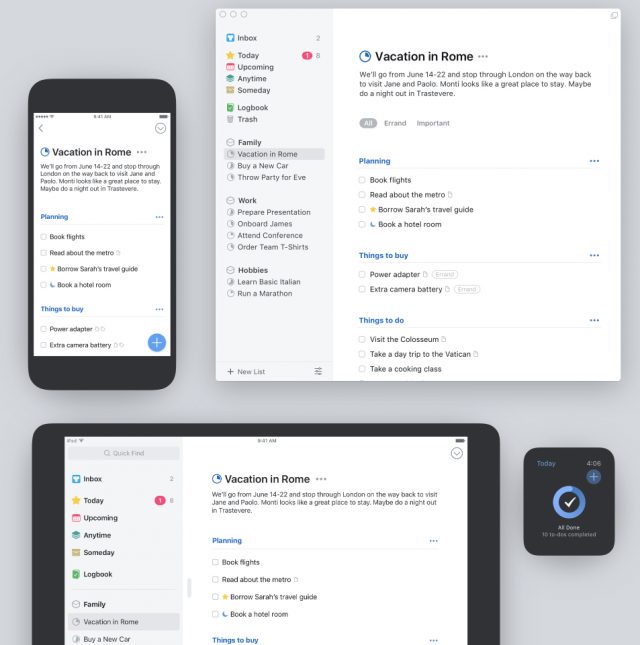 I have a new best friend and helpmate. It is called Things. In a few months it has become the focal point of my workflow. I feel decidedly better organised and on top of things. But this was not always so…..
Inside every disorganised person is an organised person trying to get out. No one likes being disorganised but, unfortunately, some are genetically predisposed to the condition; some actually revel in having a desk piled high with papers and will swear that they know where everything is. They don't really believe this nonsense, of course; they are just making excuses for their disorganisation.
I'm different (I think). I belong to that group of people which admires tidiness, order and good organisation. My constant aim is to be perfectly organised with a place for everything and everything in its place. Sadly, reality doesn't always match aspiration. Nevertheless, I plod on and am constantly striving for a better way to build my organisational mousetrap. Fortunately, I have always recognised that I need help and, at a fundamental level, such help comes in the art of list keeping.
Systems
Back in the days before smartphones and computers, I was a great advocate of the various paper systems such as Franklin and Filofax. You name it, I've tried it. I embraced David Allen's philosophy of Getting Things Done, I took endless time-management courses to help with organisation and workflow. To a large extent, this immersion in paper list-keeping paid off. I was ready at the outset to improve my workflow with computerised systems. In the digital early days I was a great Polaris PackRat fan and used it to design a system for my company which contributed enormously to our efficiency. Sadly, it was a short-lived product but I did learn a lot from it and I was hooked on any piece of software that promised to make me more productive and efficient.
Fast forward to the Mac and iOS and I have tried most of the well-regarded task and project management systems. There are hundreds, if not thousands, of list keepers and task managers in the various app stores, but just a few are acclaimed by the movers and shakers of the tech world. The top pick, usually, is Omnigroup's OmniFocus which I adopted over ten years ago and used diligently until the Spring of 2016 when I decided to move to a competitor, 2Do. I wrote in some detail about this decision and it sets the scene for my most recent migration. 2Do proved to be a stepping stone rather than firm ground.
I am absolutely committed to a computerised task-management system. It helps enormously. I feel organised, I don't forget things (often) and gives me a sense of being in control. And, if I dare say it, an organisational system is an effective aid in remembering things as you get older. The question is, which system to choose. I was happy with OmniFocus and then 2Do but I'm always looking for that better way of ordering my day.
During most of my time with OmniFocus there has been another well-regarded task-management product in the sidelines. Things, by Cultured Code has long been seen as a major competitor for OmniFocus, 2Do and other contenders such as Todoist, Wunderlist (now Microsoft To-Do), Trello and, of course, Apple's very basic but universal Reminders (which, at the very least, is something everyone should use). I'd tried Things several times over the years but it didn't gel with me.
This changed in mid-May when Cultured Code introduced the all-new Things 3.0. For the umpteenth time dutifully I downloaded the product for a free trial. But this time something clicked and I realised that this was the system for me.
Things 3.0 is a massive rewrite that has been in gestation for a long time — some would say too long. That's one of the problems with the developer, Cultured Code. It took them years to put in place a proper cross-device synchronisation facility (this was the main reason I wouldn't use it in the past) and general development seems to progress at a slow pace.
But I can forgive all this (for the moment) because Things 3.0 is absolutely brilliant. It has without doubt the best and most attractive user interface of all product management systems. By contrast, the outliner-based OmniFocus looks ancient and fussy.
Scheduling
All product-management-angled task applications have the same basis — a list of tasks which can be categorised in several ways and scheduled to appear on cue; or indeed, to appear on cue at predetermined regular intervals. Most allow you to program in a repeat based on a completion date and that is one of my most frequently used tricks. Mark a regular task as done and immediately a forward duplicate is created a day hence, a week hence or for the next year.
Most offer categorisation, usually individual tasks, project folders and context folders (that is, where you can perform a particular task). This enables the system to filter out anything that can't be done in the current location and keeps tasks in logical places. You see only the things you can do at your office desk, or out shopping, or at home as the case may be.
Sometimes this can get complicated and it is one of the reasons I stopped using OmniFocus. Having set up the system, there is a nagging obligation to allocate both project and context to every task, even if not strictly necessary. With my mild OCD, I can't just leave something uncategorised and found myself indulging in too many mouse clicks for my own good. Eventually, it's easy to gain the impression that system is wagging the dog.
No assumptions
Things 3.0 makes no assumptions and has an extraordinarily simple interface which allows you to add just the amount of information and categorisation that you really need. It is intuitive where other systems are demanding. The most impressive aspect of Things, though, is the apparent free-form appearance, more like a document than a regimented list. Yet it incorporates a number of remarkable productivity tricks that soon become second nature.
The first advantage of Things 3.0, as with any GTD system, is the easy way of dumping all your thoughts into the bucket and then sorting them out later. The inbox works in the same way as in other systems. You can add information directly, perhaps using the quick entry system, or you can send items from email and other applications. A lot of the time I use Apple's Siri to add reminders which arrive in the Things 3.0 into after a few minutes via the Apple Reminders app. Last week, though, even this became simpler because Siri now knows how to work directly with Things 3.0.
That's the big challenge. Using the Inbox as a mind dump. You can sort out what you are going to do with the information later, perhaps at the end of the day when you have time to think. First thing to do is to decide when you need to do something. Things uses the well established mantra of Today (or any future day), Someday, Anytime and you can add these deadlines to the item. Most times its a case of choosing a day you wish to tackle the task. You can, if you wish, set an end date by which a task or project must be completed in addition to a due date. But nothing is obligatory, you just find your own comfort zone.
The system has built-in views for Today, Anytime and Someday so you can see all the applicable items. There is also a great innovation, the Upcoming View which lists tasks by due date for the coming month and then monthly thereafter. It's very easy to get an overview of your tasks and to move items to a more appropriate due date.
Above left: The Today list which is the main working area of Things 3.0. Note the way in which appointment from your iOS calendar are listed at the top of the day to give you a complete overview of everything you need to do. Above Right: The sister Upcoming view proves the equivalent of the Today view for future dates — showing individual sections for the remaining days of the month followed by composite lists for future months
Appointments with tasks
The Today and Upcoming views also show diary appointments (if you wish) and these are taken from Apple's Calendar database. I believe Things is unique in this ability to show both tasks and appointments in one simple view. I find it enormously helpful when checking the Today view every morning.
This is a great feature of Things 3.0. For years I have had to make a mental differentiation between things that have to be done at a specific time on a particular day — mainly appointments — and things that can be done according to a less regimented schedule.
Some people throw all their tasks and reminders in the calendar. But that is cumbersome and can easily lead to overlooking fixed appointments. To be able to see your fixed appointments at the top of your daily task list is a brilliant concept and, as far as I know, is unique to Things 3.0. Correct me if I'm wrong on this.
At the moment, though, the appointments list is read only. You cannot enter or amend a particular appointment, although a firm press on the detail brings up the Apple Calendar so you can work on the data. I hope that this will be changed in the future. I would also like to be able to tell Things that I am using another calendar app (in my case BusyCal) rather than the standard Apple application. Others would like a link to popular third-party calendar apps such as Fantastical. But, for the moment, the hybrid to-do list is a huge advance and I hope Cultered Code will work on increasing the utility of the feature.
The Today view is the main working area and is laid out in a straightforward a d logical way with, as I have highlighted, your appointments appearing at the top of the screen. You can choose to display your task as one list or in project order with headings, which is my preferred option.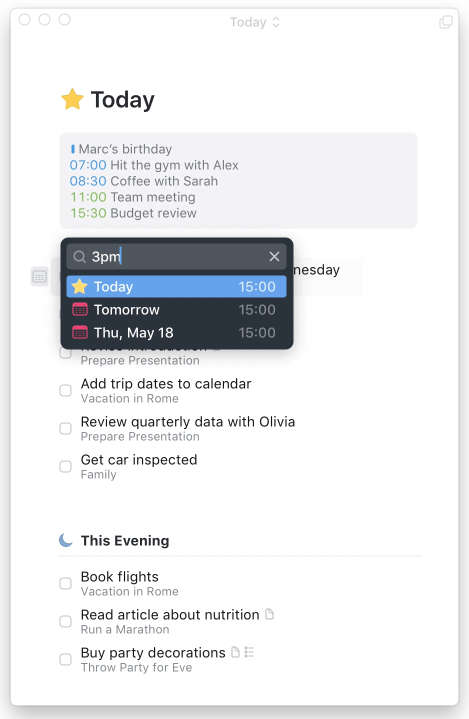 Yes here is no overdue section which always annoyed me in OmniFocus. Anything I completed on day one would reappear in red on the following day — an indicator of being overdue. I felt I felt obliged to reschedule all incomplete tasks in order to achieve a clean view for the following day. With Things 3.0 there are no such restrictions. I completed tasks simply appear as due on the following day. This is now I like it.
Completed tasks can be set to remain in the Today view and indicated by the blue tick box. Or, as I prefer, they can be set to go to the Logbook (where they would go at the end of the day in any case). Things has a neat trick. When you tick an item as complete it remains on the Today screen for a few seconds before disappearing. This offers a useful visual check that you have not ticked the wrong item. If you have, simply go to the Logbook and untick the item so it returns to Today. Overall, the Things 3.0 Today view is a delight and has rapidly become my mission control.
Projects
In addition to date allocations, the other important category for Things is projects. There's nothing unusual in this — all self-respecting organisers use the system. But, again, the implementation in Things 3.0 is sensible and intuitive. You can set up folders for areas of your life (work, hobbies, travel, for instance) and add specific projects which may be general — such as finance, cameras or books — or specific to a more complex project such as office reorganisation which involves a number of steps to achieve completion.
Coincidentally, I downloaded Things 3.0 the week I embarked on a major home refurbishment, involving a number of contractors from builders to plumbers, to decorators and to carpet fitters. I set up a specific project for the work and just dumped all my thoughts and ideas into this bucket. I was then able to set deadlines, add details of contractors and things to purchase and generally keep track of a complex operation. It worked like magic and I was able to keep on top of the job without the usual stress.
OmniFocus and other project management systems have a rigid adherence to a GTD concept known as "context" which usually means where rather than when you can tackle a task. So, for instance, you can't buy a toothbrush while you are sitting in the office. But you can do other things. The idea is to separate tasks so that you view only those that can be done in a particular location. It works but I always found it somewhat stressful to allocate every task to a context. For me, it was an unnecessary complication and one which I couldn't ignore if I wanted to keep my OCD in check.
Things doesn't have a specific Context filter. Instead, tags are used to serve the function as and when necessary. I found this particularly useful in the house renovation project. I tagged items according to the contractor involved and was easily able to bring up every item that related to, say, the decorator. Ideal for that progress meeting. Tagging is also useful for areas such as Errands (which, of course, can only be done when out and about rather than when sitting at the desk) and the freeform, unstructured nature of tags suits me better than a rigid context system.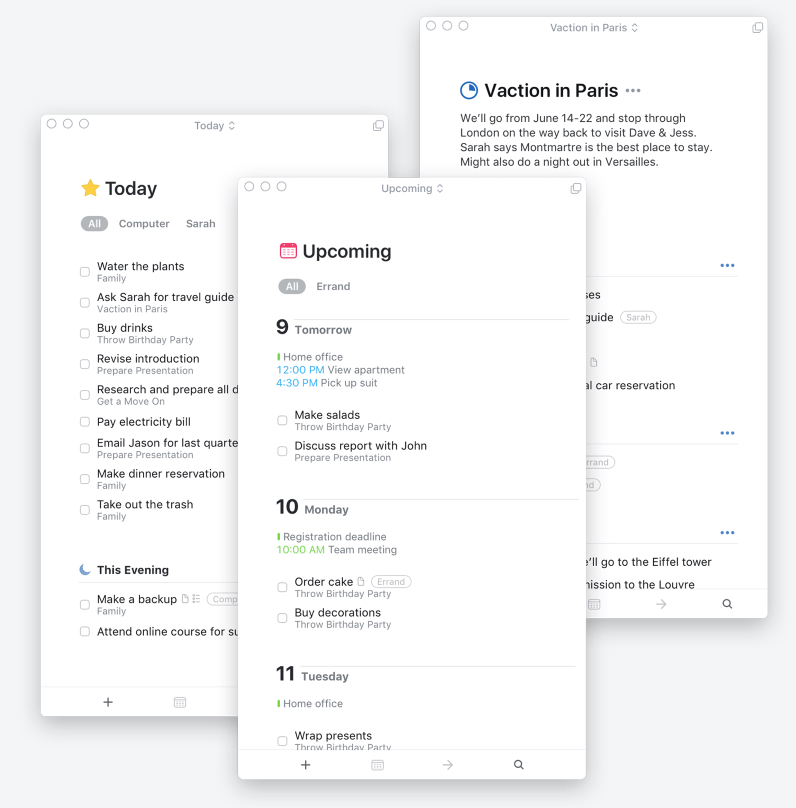 Headings within projects
A peculiar but very useful feature that I have not found on any other task manager, although I hesitate to call it unique, is the ability to add freeform headings to sort project lists.
Within any project you can add a series of headings which appear in blue, bold with a full-width dotted line below. Having introduced a heading, you can move your tasks around until your project is ordered to your satisfaction. None of this affects the way the task is treated and the heading is visible only within the project view. But it is a tremendous aid to planning.
A further feature of the headings system is the further-action dialogue box (opened by clicking on the three blue dots at the far right of the heading line) which allows the heading and contents to be archived, moved lock-stock-and-barrel to another project or removed from the system. It is all quite powerful stuff, wonderfully straightforward and with a shallow learning curve.
Projects are accompanied by a small circle icon which tracks progress as you complete tasks. When the "clock" has moved round so that the circle is fully greyed you know you have completed the project.
Working with tasks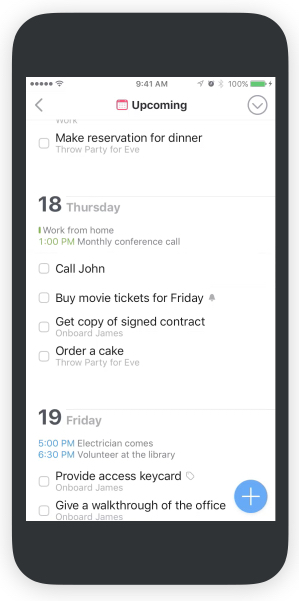 Every task can be opened by a double click to display a notes section (which can also contain hyperlinks). There is also the ability to add tags, a checklist (sub-tasks with accompanying tick boxes to mark as done) and a deadline. I tend not to use deadlines and prefer the main "when" system box which is approached via a button to the left of the expanded task. This leads to an ingenious "when" calendar which is easier to use than similar calendars in, say, OmniFocus or 2Do. Date selection is straightforward and there is no confirmatory save box to bother with. This panel allows a direct choice of Today, This Evening and Someday together with the ability to add a reminder. The "This Evening" classification is again something I haven't come across. It's very useful for decluttering the Today view without overlooking stuff that can be considered in the cool of the evening.
In the iOS version, Things 3.0 has a brilliant way of adding new tasks. In the bottom righthand corner of the screen sits a large blue cross, the "magic plus button". You can drag it to any area of the screen, within a date or a project and the new item box opens in that location, automatically populated with the appropriate criteria.
Easy navigation and Logbook
A further remarkable feature of Things 3.0 is the ability to rapidly navigate to projects, views and tasks by simply starting to type from anywhere in the screen. Most of the frequently used items need only one letter (t for today, u for upcoming view, i for inbox, m for a project such as Macfilos). Type more letters and individual matching tasks appear. It is extremely simple and effective.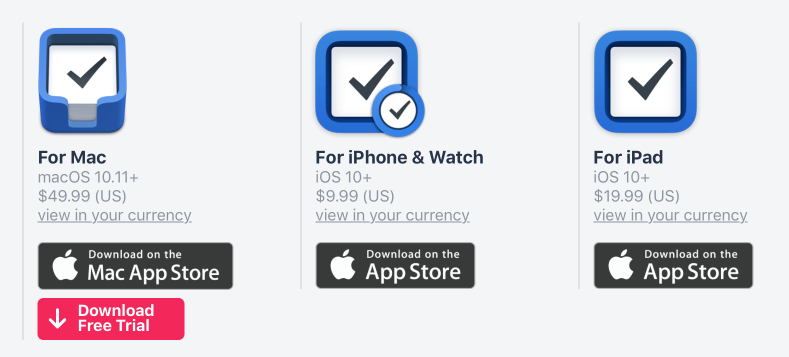 Logbook is another concept introduced in Things 3.0. It is so much more comforting than the finality of Trash. It collates completed actions, daily for the current month and monthly for previous dates. You get a complete overview of what you have done and have the opportunity to untick the completion box in order to move the task back to an active list. Logbook gives me confidence of knowing that I can easily find previously completed items and, if necessary, refer again to the notes and lists that I added to a particular item.
Conclusion
All in all I am completely sold on Things 3.0. I'm not saying there won't be a better future hole to go to, but for the moment it keeps my 99% satisfied, and that's saying a lot. The three complementary applications have become an integral part of my blogging workflow, both in terms of collating reference material and in scheduling future posts.
There are some snags for power users. For one, Things 3.0 works only in the Mac and iOS world. If you swap between operating systems there are other applications you can use. It is also resolutely single user. Teamwork or collaboration on projects isn't something you can manage. A further problem for some is the need to buy the Mac, iPad and iPhone apps separately. There is no comprehensive subscription system that gives you access to everyone. But, these quibbles apart, Things 3.0 is a great advance and a system I think you should try for yourself.
_____________