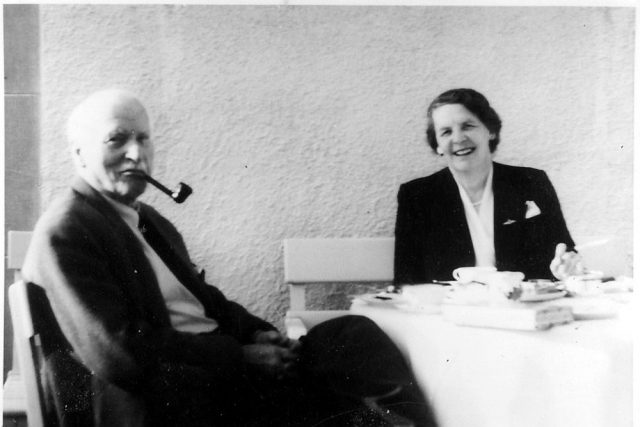 It was a surprise to find that our new contributor, David Bailey, is a published author who is already building up a solid reputation. I entered David's world, quite by chance, because of his enthusiasm for Fuji X-Series cameras and the offer I made to publish some of his musings on the subject.
At that very moment his new book, The English Woman and C.G.Jung, was about to go to press and David asked me to read the final draft. I ended up doing a bit of sub-editing and also drafted in our German contributor, Dr. Claus Sassenberg, to tidy up some of the German dialogue. The book, which has just been published, is something of a triumph for David. It is his first foray into the field of biographical novels, based on the true story of his Great Aunt Ruth.
By a very strange set of circumstances and coincidences, Ruth Bailey became one of the closest friends of the Swiss psychoanalyst, Carl Gustav Jung, and spent most of the 1950s looking after Jung up to his death in June 1961.
David recounts the fascinating story beginning with Ruth's teenage years. She grew up in Cheshire and, through her brother Alfred became associated with the internationally renowned Ferodo company, famous for the invention and manufacture of brake linings, founded by Herbert Frood. Alfred married Frood's elder daughter, Millicent, and they are author David Bailey's grandparents.
After World War One spent serving as a nurse, Ruth was at something of a loose end. Her brother's father in law, Herbert Frood, invited her to join the company and espouse the cause of brake linings. But just as she was about to accept, fate took a hand. Before starting work she decided to accompany her sister Bertha on her journey to Africa where she was to marry an expatriate Englishman.
On the way out by sea Ruth first bumped into C.G.Jung who was accompanied by two acolytes, Dr.Peter Baynes and the American, George Beckwith. She didn't like the cut of their jibs at first. She found Jung, in particular, quite rude. Later, after the wedding — and again by a very strange set of circumstances — Ruth ended up accompanying Jung and his friends on their study tour of eastern Uganda and Kenya.
Thus started a lifelong association with the world-famous doctor, his wife Emma and his five children. Since Jung was a serial womaniser, you may expect salacious gossip. His professional analytical partner, Toni Wolff, was also his mistress. However, his close relationship with Ruth was of another, platonic kind and Ruth had no more solid supporter than Emma Jung. She was so close to the couple over so many years that they entered into a sort of pact, which was made possibly only because Ruth never married and had few ties. If one of the Jungs died before the other, Ruth would move to Switzerland and look after the survivor — which turned out to be C.G. himself.
Ruth's long friendship with Jung and her unfailing support provides a unique insight into a famous life that has been so well documented and explored. Everyone knows of C.G.Jung but few know much about Ruth Bailey, although she appears in all the major biographies of Jung. Yet Ruth was there throughout much of Jung's later professional life. Jung visited Ruth's Cheshire home on several occasions and Ruth came to learn much about Jung as a person and also about his professional work, colleagues and famous visitors. She also through Jung learnt of the significance of her dreams, several of which he interpreted for her as recounted in the book.
Author David Bailey has the distinction of having met Jung, at the family home in Küsnach in Switzerland, when Ruth invited the Bailey family over for tea. At the age of 12, young Bailey was perhaps as interested in the chocolate cake as he was in meeting the Sage of Zürich.
The book is absolutely fascinating and extremely well written. It is David's first published novel but this is not apparent. Perhaps some of the early dialogue is somewhat unconvincing, but by the time of Ruth's arrival in Africa, the conversations have become wholly believable. David says he was on a learning curve with this first biographical novel, but in my opinion he had become mature in the genre by the last chapter. I think we can expect great things in the future.
The fact that David is now a regular contributor to Macfilos is just a coincidence, but one which, I hope will encourage many of our readers to dip into their wallets. You can buy the book here at Amazon at £3.50 for the Kindle edition, £13.99 for paperback or £19.99 for hardback. I recommend it highly; it is a cracking good read.
______________