Eagle-eyed readers will have spotted that the picture of the tree above is square. The negative for the photo is, in fact, 6cm x 6cm on 120 film, Kodak Portra 160 to be precise. It was taken with my recently acquired Rolleiflex f/3.5 Planar E from 1956.
Regular readers will know that I am a collector of all things Leica. I have, however, started a smaller 'side collection' of significant cameras from the 20th Century, which made a large impact on the development of photography, both as a business and as a hobby. This smaller side collection does not exclude Leicas as they also made a significant contribution during the last century. The Rolleiflex is part of that collection and here are the current cameras in this grouping.
The cameras are
Back row left: Vest Pocket Kodak from 1915 – uses 127 film. This was the camera that was used on the front lines in World War 1 and it featured in one of my previous articles for Macfilos.
Back row second from left: Nikon F with 5.8cm f/1.4 lens, both from 1960 –uses 35mm film. This was the camera that made a success of the SLR (Single Lens Reflex), particularly with professional photographers. The SLR design is still quite dominant today particularly among professionals.
Back row second from right: Rolleiflex f/3.5 Planar E from 1956 – uses 120 film and 35mm film with adapter. This was an iconic and instantly recognisable TLR (Twin Lens Reflex) camera for professional users who liked the larger negative size and superb quality lenses. Some people refer to all TLRs as just Rolleis.
Back row right: Kodak No 2 Beau Brownie from between 1930 and 1933 – uses 120 film. This was the camera, which introduced photography to millions of families around the world. This particular model has an Art Deco design by Walter Dorwin Teague. There were, of course, other Brownie models before and after this model.
Front row left: Leica I Model A with 50mm f/3.5 Elmar from 1926 –uses 35mm film. This was the camera, which made 35mm photography available in a compact and easy to use camera. It subsequently became the basis for one of the first true system cameras from the early 1930s onwards.
Front row right: Leica M3 with 50mm f /1.5 Summarit — both from 1955 — uses 35mm film. This developed the Leica concept by merging the rangefinder and viewfinder into a single bright finder. It dominated in the field of professional 35mm photography until SLR cameras started to take over in the 1960s.
The Leicas are in the front row of the above photo solely because of their lower front profile. I have used all of these cameras and every one of them can produce good pictures when used properly.
I had already collected some of these cameras when I came across this book, which was relevant to my project.
The 50 Cameras
This excellent book by Michael Pritchard FRPS. Pritchard tells the story of 50 landmark cameras from the Louis Daguerre daguerreotype camera of 1839 to the Nokia Lumia camera phone of 2013. All of the cameras in my side collection, which are shown and listed above, appear in the book. Pritchard not only describes the cameras and their impact on photography and photographic styles but also gives examples of how they were used by well-known and not so well-known photographers. Not all of the cameras shown made a major impact, but they are included just because they are interesting, such as the Compass camera which featured in an article on +Macfilos some time ago. I would recommend the book to anyone with an open-minded interest in the history of photography. There are other similar books, but Pritchard's is the best of its kind that I have seen.
This article, as the title suggests, will largely be about the Rolleiflex and the quality that can be obtained using 120 film. The Rolleiflex is a twin-lens reflex camera with a viewing lens, in this case a Heidosmat 75mm f/2.8 and a taking lens, in this case a Zeiss Planar 75mm f/3.5 lens with a built in Synchro Compur shutter. The Planar lens is also available in f/2.8 format and this is the most popular type. Some argue, however, that the f/3.5 lens is better. I did not give this much thought beforehand. This one happened to come up at an auction I was participating in and it was at the right price.
The concept of a twin-lens set up with a viewing and taking lens goes back to the 1860s. Several designs using this arrangement were introduced over the years but none was particularly successful and it gradually fell out of favour at around the time of World War I.
Enter the Rolleiflex
In 1928 a German company called Franke and Heidecke introduced a new twin-lens reflex camera called the Rolleiflex. The camera, which took 6cm x 6cm images on 117 film, was immediately successful and it remained in production for many years. It also spawned many cheaper imitations but it still remained supreme, particularly among professional photographers. By the mid 1950s, when the E model was introduced, the Rolleiflex was using 120 film and but was still producing 6cm x 6cm images. Looking at 120 film with its paper-backed rolls and numbers printed on the back, one might get the impression of something that is decidedly low tech. But the negative size with 6×6 is 36 sq cm whereas a 35 mm film negative is only 8.64 sq cm, less than one quarter of the area.
Using an enlarger, any film grain will be less evident in a larger negative and prints should look more detailed and sharper. I have seen some people claiming that a 6×6 film image is the equivalent of something like 50Mp in digital, but this could be questionable since, to compare like with like, the scanning of the negative would have to be done at a standard which matches the processing of a modern digital camera. I am not going to go down that road as people may misunderstand what I was doing. This happened recently when I compared the output of an old 35mm camera with that of a modern digital camera for aesthetic rather than technical purposes. Suffice it to say that 120 film will give images with far greater detail than 35mm film and thus it is the filmic equivalent of more megapixels. It also explains why the Rolleiflex and other TLR cameras remained so popular long after much more advanced designs for 35mm cameras had been introduced. 35mm film will, of course, give 36 images on a roll compared to only 12 on 120 film in 6x6cm format. There are also issues about the availability of processing and costs, which I will leave to one side.
I won't go into the question of film handling, as there are many You Tube videos, which show how to load a Rolleiflex or other TLR. In the panel below, I will attempt to show some of the features that distinguish the Rolleiflex from the 35mm SLRs that I am so familiar with and which took some getting used to on my part when I started to use the Rolleiflex.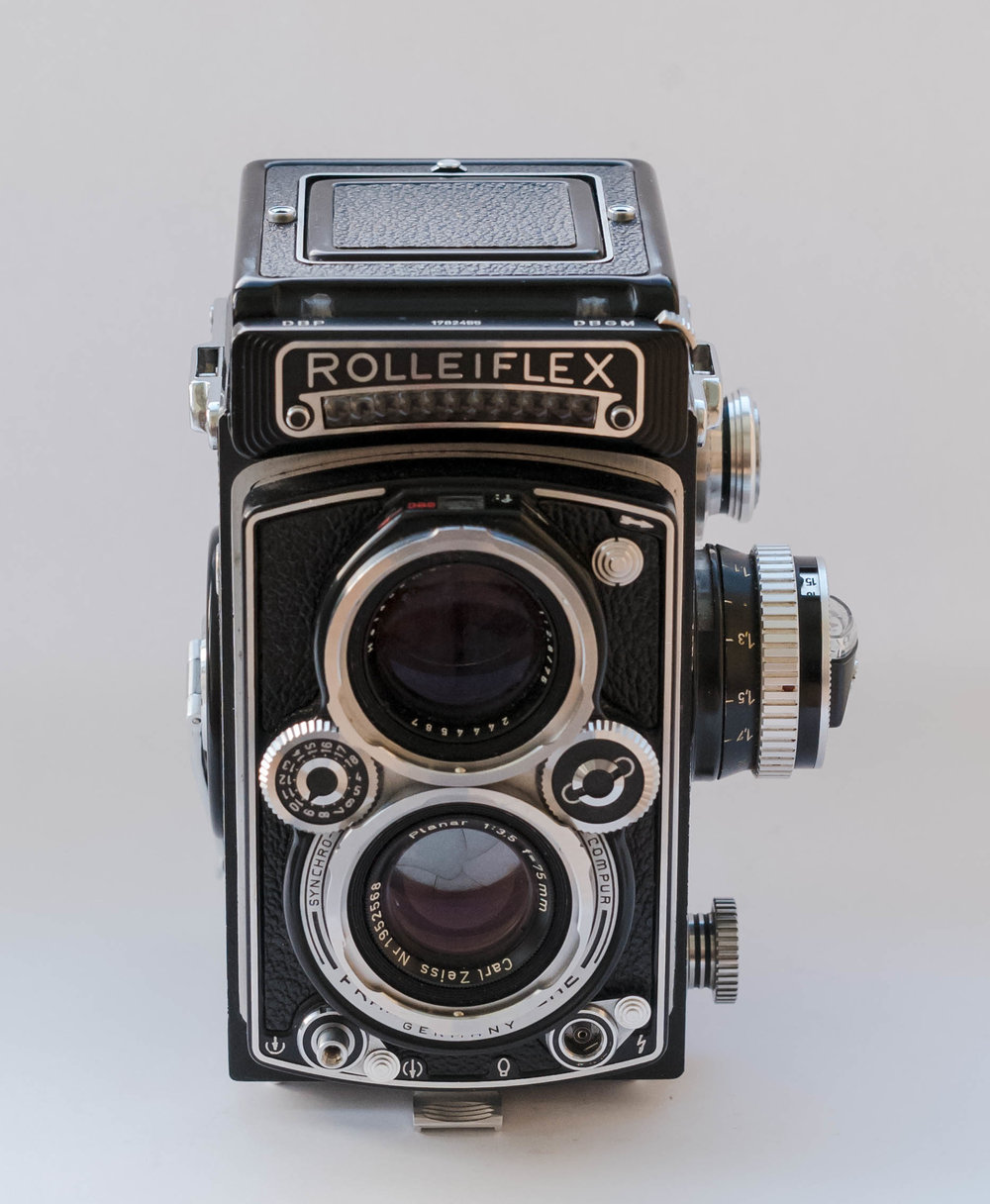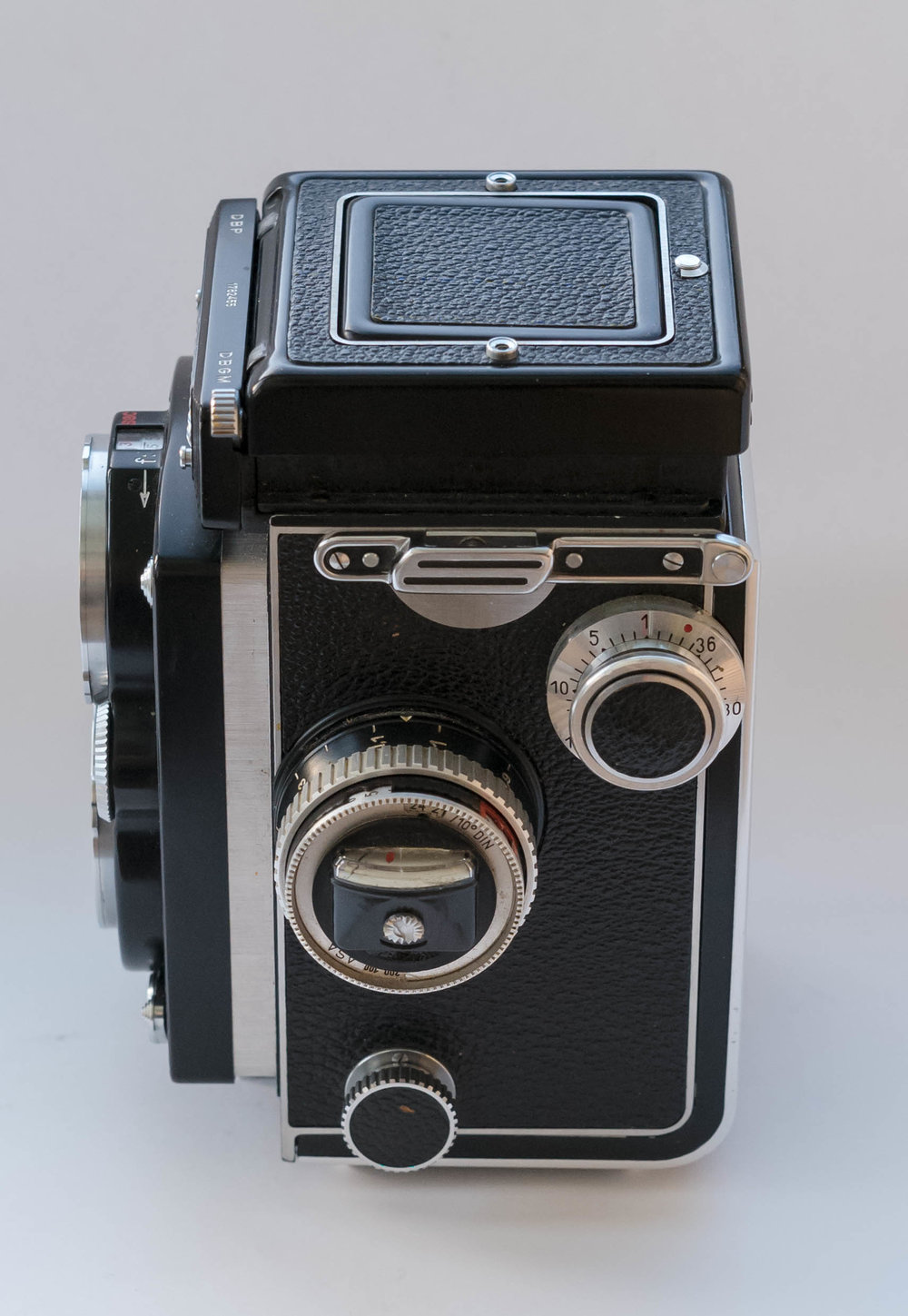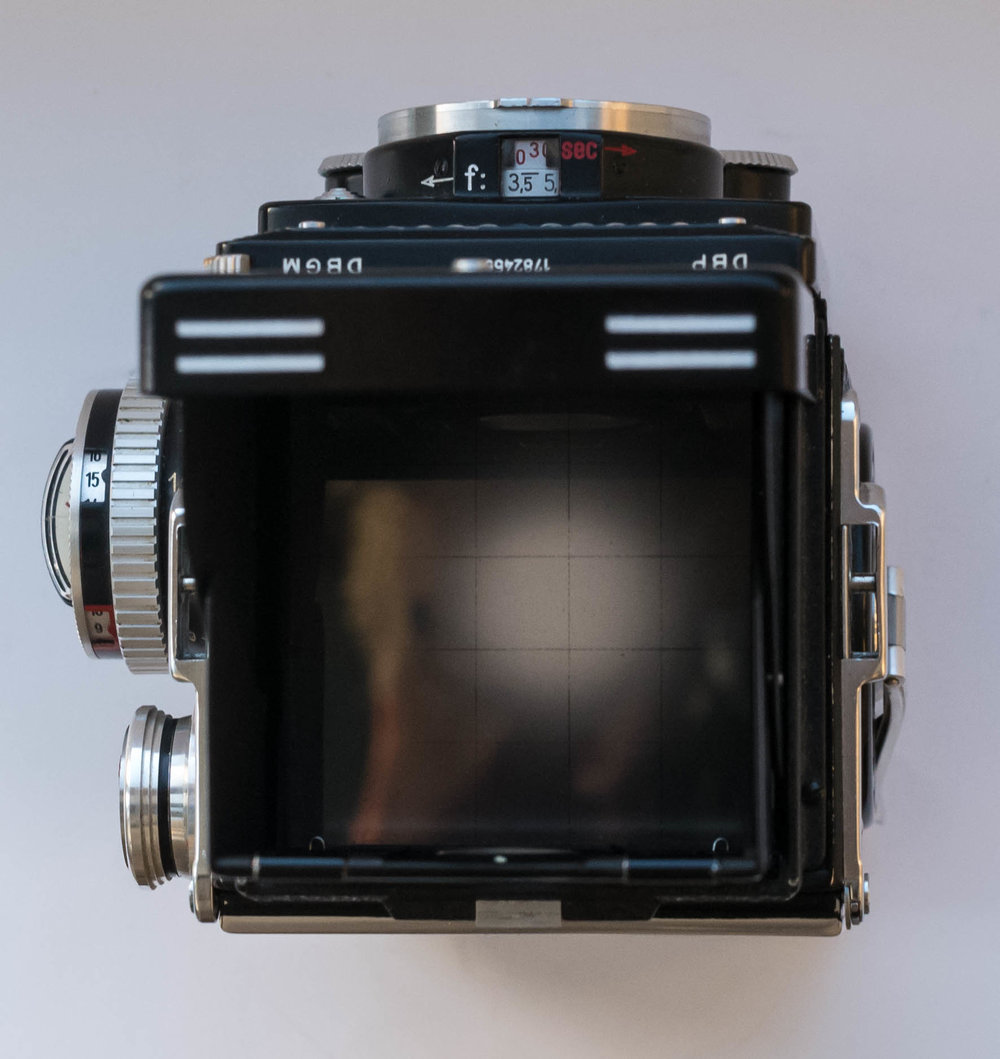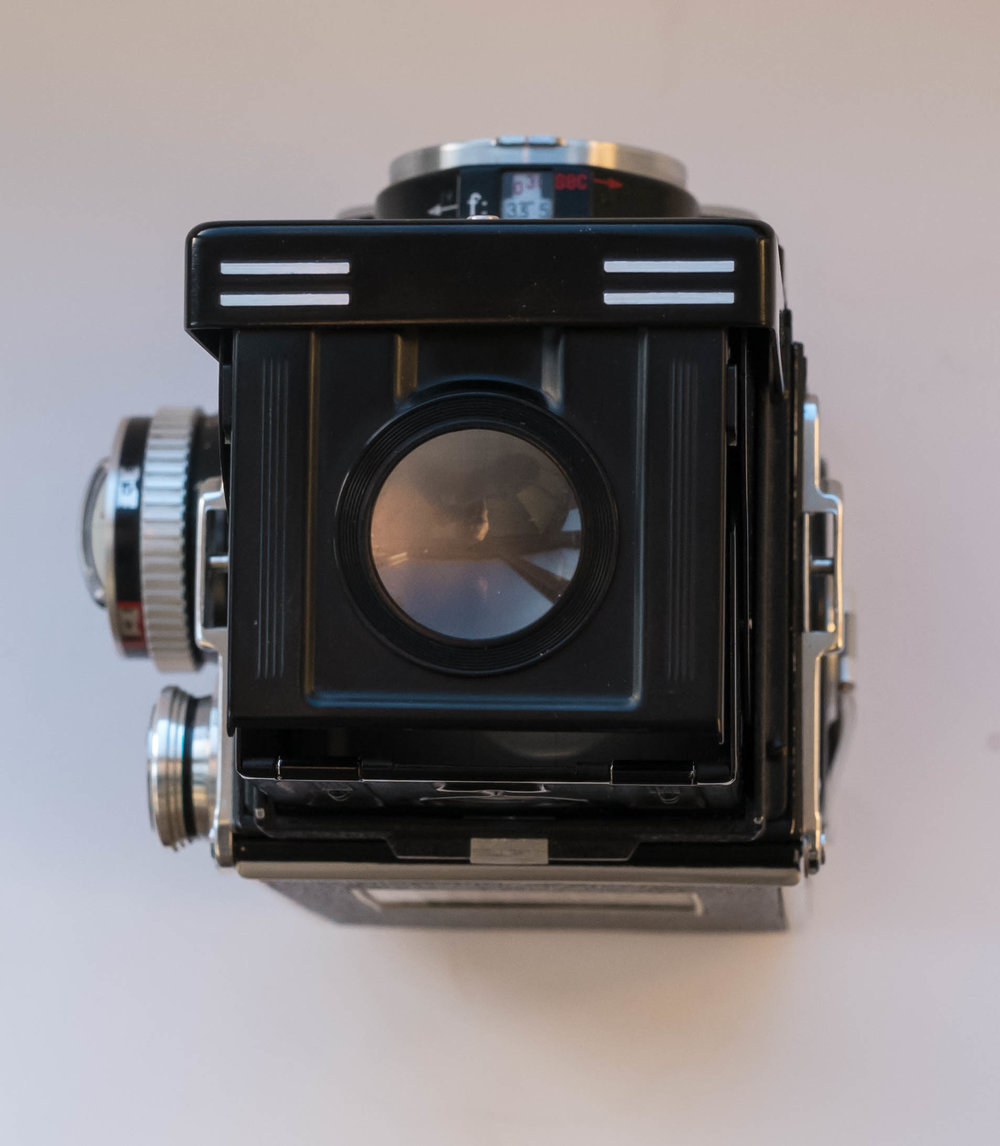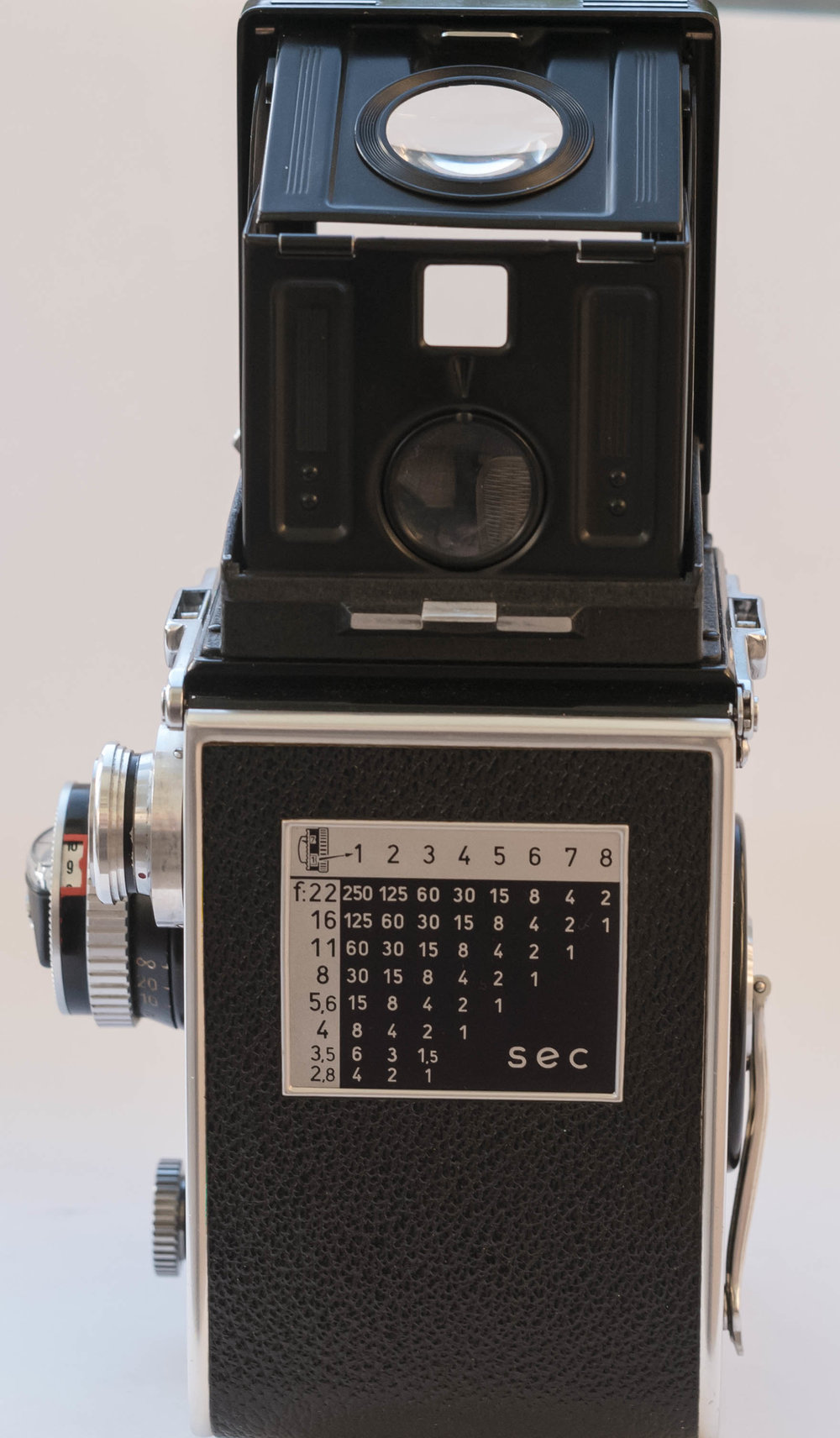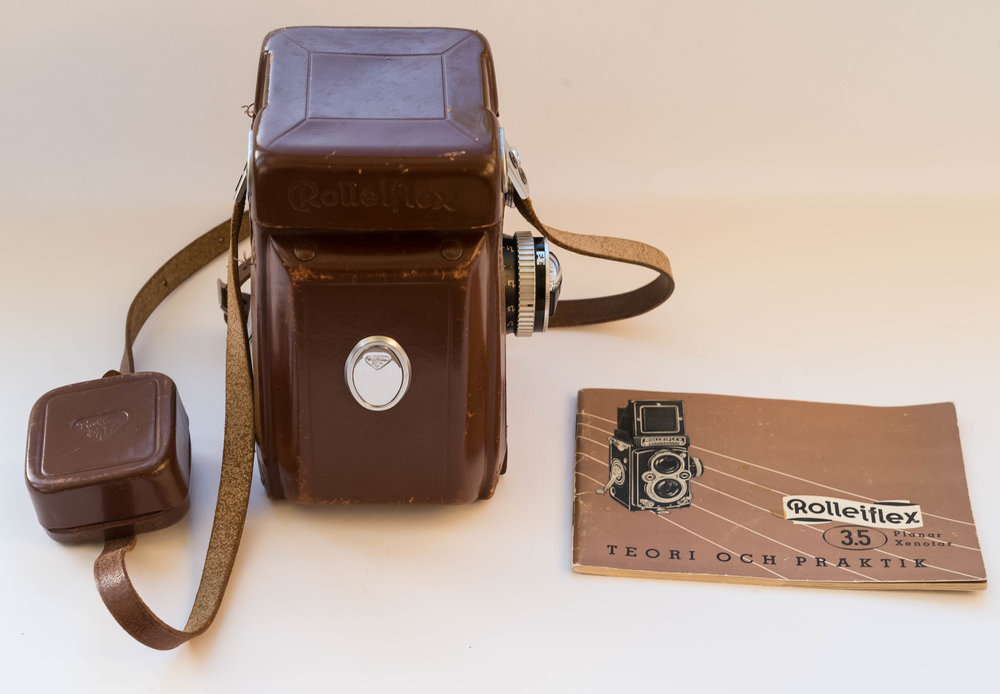 Rolleiflex in use
Enough about the camera and now for some photos. The eight photos shown in this article are all from my second roll of Kodak Portra 160 taken on the Rolleiflex, which contained 12 images.
The big issue is learning that left means right and vice versa when framing. It does help to have a strong vertical which will be used as a staging post in the frame like the lamp pole in this.
I then went looking for a close up subject. I took these photos in St Endas Park, which is in the location of St Endas school run by the Irish revolutionary leader Patrick Pearse in the years running up to the 1916 rising. I featured the front of a bust of Pearse in a recent article. Here are views of the same bust from the side and from behind. I like the view from behind as it features Pearse looking at the school, which he founded. I call it 'Pearse's Dream'.
I have converted these photos to black and white to concentrate on the subject. The bokeh in the photo on the left is much more busy than the one on the right but the background is closer and features many leaves on bushes.
The woods around the park contain small buildings and arches, sometimes under the trees. In order to get practice at low light exposure and focus, I took some photos of these.
For my final photo I looked for another nearby vertical subject, which might enable framing and test the bokeh. I was not really prepared for how well the out of focus areas would look due to the narrower depth of field compared to 35mm. This tree trunk with some interesting growths fitted the bill perfectly.
I am very pleased with the photos, which I got from the Rolleiflex. I also enjoyed using the camera, which is in very good condition for its age. To find a working meter in a camera that is more than 60 years old is a real plus. Will I use the camera again? Of course, I will. It is great fun to use and it produces good results.
Whither next?
Going back to my side collection of significant cameras, where should I go next? Looking at Pritchard's book, the following cameras seem to suggest themselves: Hasselblad, Contax, Exakta, Speed Graphic or Instamatic? There could be others and I would welcome any suggestions. Bear in mind that I think Leica already has its full quota in the collection and I have examples of most major Leica models already. I also feel that the time is not yet right to include digital cameras even though Pritchard has included a few of them in his book.
Finally apologies are due to any Rolleiflex veterans as I am sure I have included old and well-known information. Editor Mike Evans says he thinks not, since he confesses what he knows about Rolleiflex could be written on the back of a second-class postage stamp. But, as he says, he has often had to quell the temptation to start on the slippery path by buying a Rollei. Any further information and/or corrections would be gratefully received. For me, using a Rolleiflex for the first time was a true voyage of discovery.
_____________