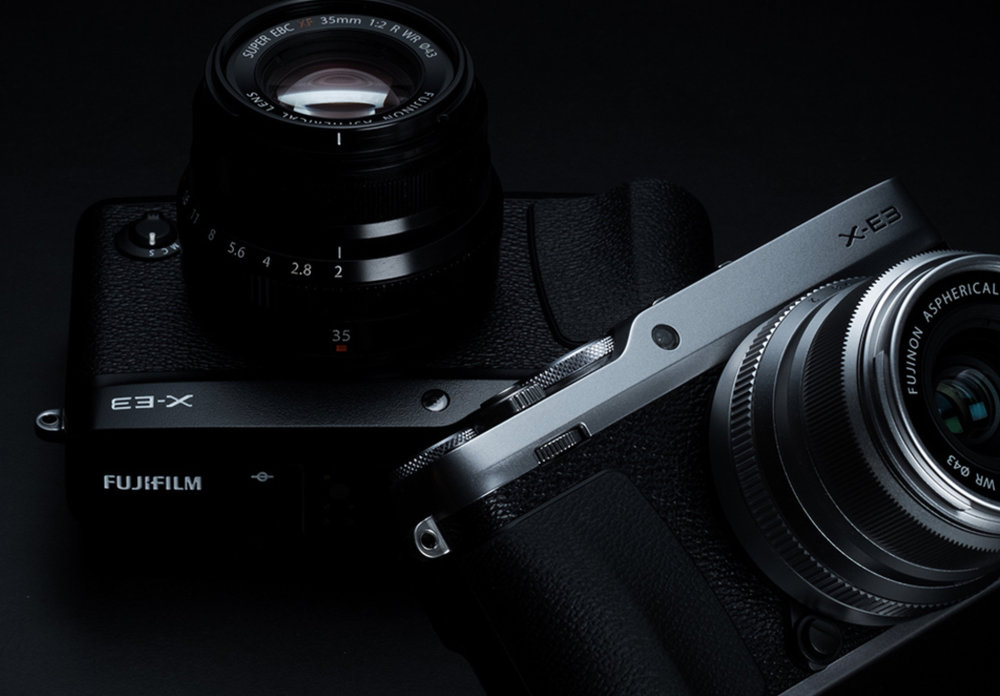 Fuji's X-E1 represented my first introduction to the X range and I found it to be just the right size, with impressive retro rangefinder styling and a great ability to work with manual M lenses. That was five years ago and mirrorless cameras have come a long way since then. While the new X-E3 looks very similar to granddad, everything is unsurprisingly faster and better. This is now a very well-rounded and desirable little camera.
Above: Fujifilm UK's Carl Hare posed for a couple of comparative shots during the Park Cameras open day earlier this month. On the left is the image from the X-E3 taken with the Fujinon 35mm f/1.4. On the right, with the Leica 35mm Summilux f/1.4 on the Leica CL. Both images were taken wide open. The CL's jpeg setting was Vivid while I suspect the X-E3 was on neutral rather than Velvia which would probably have been more comparable
I had a brief play with the X-E3 when I met Fujifilm's Carl Hare at a recent Park Cameras open day. It reminded me very much of the Leica CL which I had round my neck at the time — the sort of camera that offers a great deal in a small package. In many ways these two cameras are directly comparable. Both are great performers and, if I didn't have a foot in Leica fandom I could be tempted either way.
My friend Patrick Leong over at Finding Range in New York has had a similar soft spot for the X-E range despite the undoubted attractions of the larger X-Pro and X-T models. He has just reviewed the X-E3 and isn't disappointed:
"The Fuji X-E3 is a superb camera, and it definitely makes a worthy successor to the X-E2S. Fuji took the X-E chassis, which was already great to begin with, and further refined it to something even better. Build quality and ergonomics are excellent for the most part. There are even a host of new technological features, a large lens collection to choose from, and image quality is outstanding to say the least."
If you are a Fuji fan and own either the X-Pro or X-T, the X-E makes an excellent addition and, from Patrick's comments, it is a solid upgrade that is worth taking a look at.
Read Patrick Leong's full review of the new Fuji X-E3
___________________