As a follower of Macfilos for some time now, I was originally lured in by Mike Evans's experiences with MFT cameras in general, and specifically his attraction to the Panasonic GX8. Indeed, it would not be stretching the truth to suggest that Mike – plus two other reviewers – played a large part in my decision to buy this camera. More recently, several articles on Macfilos have dealt with the premise that the 12-60mm Lumix Leica DG zoom may well be the best general-purpose lens in the MFT universe.
Such things are always very personal views, of course, but they remind me of my experience with the less glamorous but far more affordable Panasonic Lumix version of the 12-60mm earlier this year. It also raises an interesting question about the best do-it-all lenses for any system – do they get the accolade from outright image quality, focal range or build characteristics? Or is it from all three, in varying quantities?
I first acquired the Panasonic G Vario 12-60mm f/3.5-5.6 when I bought the G85 (possibly the G80 in your neck of the woods under Panasonic's somewhat opaque naming conventions) some time ago. The price difference was so minuscule against a body-only purchase that I simply chose the kit without much thought. I immediately mounted a prime, had a quick look at the 12-60mm in its wrapping and dropped it back into the box. Where it then languished on the wardrobe shelf for some time.
Fast forward several months, when I was able to fly out of Melbourne for a weekend away. Unlike on previous long weekends, my wife didn't accompany me. Instead, I was catching up with an old school mate in Hobart, Tasmania, and we planned to look over a few of the touristy places while sampling some local ales. As one does.
This wasn't meant to be a photo excursion. But I was keen to take one of the cameras, naturally. In the end I decided that my not-overly-familiar-to-me GX8 would get the honours. I threw in my usual couple of primes, but when I checked with the weather bureau and noted some rather alarming forecasts, I had pause for a ponder. Almost on a whim, I decided to bring the 12-60mm Panasonic kit lens for its weather-sealing and reasonable size. I had never used it, but it went into the small camera bag neatly ensconced in its original styrene wrapping.
Now, I should point out that other than for specific uses (sports, for instance) I'm not a zoom lens guy. By temperament, I just don't reach for them. Especially the kit ones, which I (most likely due to snobbery, I accept) tend to write off as not-good-enough-for-anything freebies.
Events, as they often do, took an unexpected turn. We decided to head out of town to look at the old convict station at Port Arthur. It was bitterly cold and rain squalls blew through all day. I fished out the two primes and watched as the drizzle settled on them with some apprehension. It was a relatively easy and common-sense decision to take. The weather-sealing of the kit lens looked a positive stroke of genius when paired with the equally robust and snug GX8. So it was that the first step along the pathway to versatility was taken. I then resolved that if I was finally going to use this zoom, then lets really use it in its intended role – as a one-lens solution for the newcomer to MFT – and make it the sole lens for the trip. I decided to see how I found using a lens that more or less anyone in MFT can probably afford — and try to do it justice.
As a result, back went the primes into the bag, the 12-60 was bolted onto the rugged GX8 and there it stayed. So, after two days of merriment and infrequent, casual photography, how did I find it? Well, hopefully the images speak for themselves, but I'll sprinkle some thoughts through to, err, pad this thing out a bit.
Let's state the obvious: You get a zoom for versatility. Nothing revealing there. But as it emerged, not all kit zooms are created equal. My first thought during the early hours of use was just how malleable is the range of this lens. Particularly at the 12mm end, which, at 24mm full-frame equivalence, is wider than most kit zooms offer. My opinion is now that it is vital to have a wider FOV than the typical 14-42 kits. If you're traveling with one zoom, the 12mm focal length can get you a shot that the 14mm may not. Particularly indoors, you may come to appreciate those extra 2mm (or, actually, 4mm in 35mm terms), as I most certainly did.
Outdoor landscapes, on the other hand, are generally not as demanding of wide angle as you'd instinctively think. In fact, in general usage I found that quite a lot were shot at relatively long focal lengths and here I began to value the flexibility of my new friend. 17mm, 30mm, whatever was needed, it was there
But its not just the 12mm wide angle that started to impress me over the two days. The 60mm long reach is actually useful too. Very useful, in fact. You can really stretch this lens out and at a pinch get some longer-range telephoto shots, which is supremely handy in a relatively light lens. Doubly so if you've consciously or inadvertently set out with just one lens at hand, and again I felt that it was an improvement on the 40mm range many other kit lenses offer as their longest reach.
So what's the downside? Well the obvious one is the relatively slow aperture range. Particularly for MFT with its already deeper field of view, it does limit your ability for subject isolation. Even at full extension, you'll want full aperture, a close subject and ideally a distant background.
Shutter speeds and/or ISO compromises also have to be made. But its not all bad news as this lens is IS equipped. Which is just as well with the GX8, because its in-body stabilisation is a grade or two behind the latest bodies from both Panasonic and Olympus. With the Dual IS operating, it was adequate. Only just adequate on occasions, but nonetheless the ability is there. However, if I'm being honest with myself – and you the readers — I was very impressed that Panasonic give us IS in a kit lens and it would doubtless perform even batter on one of the later ISii-equipped bodies.
Be that as it may, I also packed a small 5-inch tripod — another advantage of the MFT system with smaller bodies and light lenses — and here I could enjoy the 12mm ability, longer shutter speeds and rest easy at low ISO for some dim interiors. For a one-lens travel kit, this was starting to turn my head.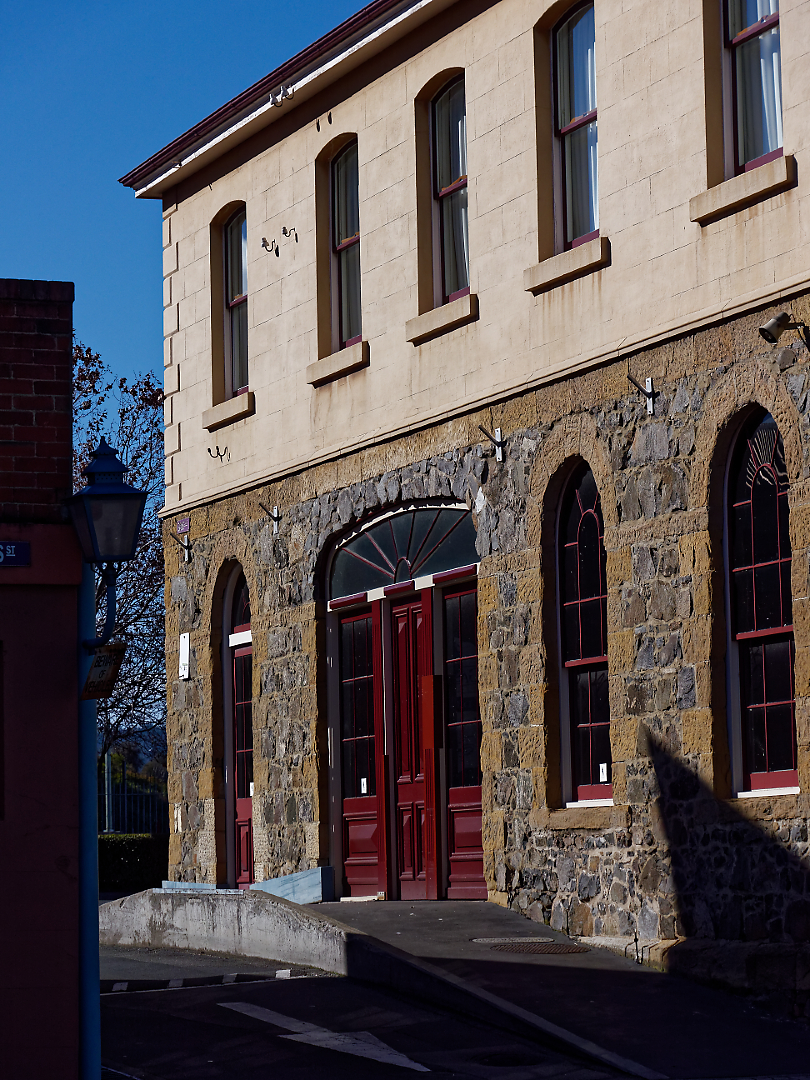 This isn't always the answer of course, there are times and places where you'll be frustrated that handholding will need bigger apertures than you have at hand. And no, it doesn't help if shallow depth of field is your creative whim. For me it very often is, but for a sightseeing day out you probably won't care. I found I adjusted to the 12-60 and either just went looking for shots where larger DOF was preferable, or more often than not I stopped even worrying about it and just took the pictures. Here, I suspect, is the true value and operating environment of these lenses – the tourist and casual user where getting the shot with minimal gear is the order of the day. There's another thing, too, that jumps out at me when looking back at these Exif details. Even with the slower lens, for outdoor shots on a gloomy day, I was comfortably able to stick with ISO100 or 200. Static subjects help of course.
How about the technicalities? Well, yes, it flares. It flares a lot in certain circumstances. But if I'm being honest, most lenses will if you ask too much of them. Besides, it's a kit lens, not a PanaLeica or Oly Pro. It needs some care if you're worried about shooting with the sun in the frame. You don't have the top-notch coatings, but considering the lens is almost thrown in with the G85, it's hard to really complain when we haven't really paid for them.
In terms of sharpness I'm quite content. Of course it's not ideal across the frame or into the corners. But I'm not sure it really matters for this type of usage. I think it's more than good enough, unless you are framing a subject off to one side, for most uses and unless you pixel peep (too many of us do) or print really large (I'd suggest we don't print enough as a photographic community anymore) then you'll never really see it.
So, as a Prime Man, what did I take away from an imposed 'limiting' weekend? It's actually quite interesting. The slow apertures of the zooms always bothered me, and, yes, they still do. In a way. But the likely natural habitat and usage of this lens has alleviated some of those concerns. I came to appreciate the versatility without needing to change lenses. You look across the street and see something? 60mm probably gets you there.
Then you turn around and can open it up to cram in as much architecture as you can. It's just so handy, so easy. My friend probably unwittingly appreciated it too, since I wasn't delaying us unduly with lens swaps.
I'm not selling prints and it's not going to be up to the standard of my primes, of course, but the IQ was good enough for my taste. I'm fairly pleased with the results and I'll be curious to get some feedback on these images. I suspect that any failings are more to do with the user than the lens. The Dual-IS is a great thing, the 12-60mm range is extremely versatile and this lens is oh-so-cheap if you get it with a body. I had hitherto considered the 12-100mm Oly and 12-60mm Leica DG as being 'not for me' but now I'm wavering a bit on that front.
The extra speed and the very handy focal ranges, coupled with even better IQ, suddenly make a bit more sense. Of course, they're bigger lenses again so you'd need to be aware of what you're willing to carry. Would I upgrade to these? If I didn't own this one and were buying from scratch, I now probably would. Looking at a retailer, the 12-60mm Leica DG costs around A$450 more than the 12-60mm Lumix G and I could probably justify that for the added speed and IQ. But with this one in the kitbag already, perhaps not. That A$450 grants the cheaper lens – which is eminently capable in most situations — a feeling of absolute bargain and you have to consider whether the gains are worthwhile if you go for the more expensive option. But I can now see why some would. They'd be even better at "do anything". For a price — in both dollars and weight — of course.
As it stands, I think the weather-sealed "kit" lens is a hell of a buy and if you're acquiring a Panasonic body and this lens is available as a kit, I think its a no-brainer. Get it. It's up with the 18-55mm f/4 Fuji as the most useful kit lens I've come across. I'm still firmly a prime lens fan — sometimes you cannot beat a faster aperture and the technical excellence that comes with a single focal length — but I'll happily pack this kit lens in the bag, secure in the knowledge that with either the GX8 or the G85, I have a setup that can handle terrible weather and give me a chance to get some sort of a shot across a wide range of use. The Leica DG version may be better, but this one won't let you down. Best of all, the MFT system continues to provide quality across all levels.
Editor's Note: The 12-60m Lumix G lens has a street price of £325 in the UK, including tax, but is only £170 if bought as a kit with a camera such as the new G9. The faster and more accomplished Leica DG version of the 12-60 costs £829, so a full £500 more than the Lumix G kit lens. You pays your money and you takes your choice……
See Also: DPreview discussion on the relative merits of the Lumix and Leica DG 12-60mm
_________