About forty miles north-west of Auckland on the west coast of New Zealand's North Island lie the dark sands of Muriwai Beach. They stretch for 60 kilometres and are a popular surfing and fishing destination for locals and tourists alike. Guarding the end of the beach are the towering cliffs which are home to an impressive colony of gannets.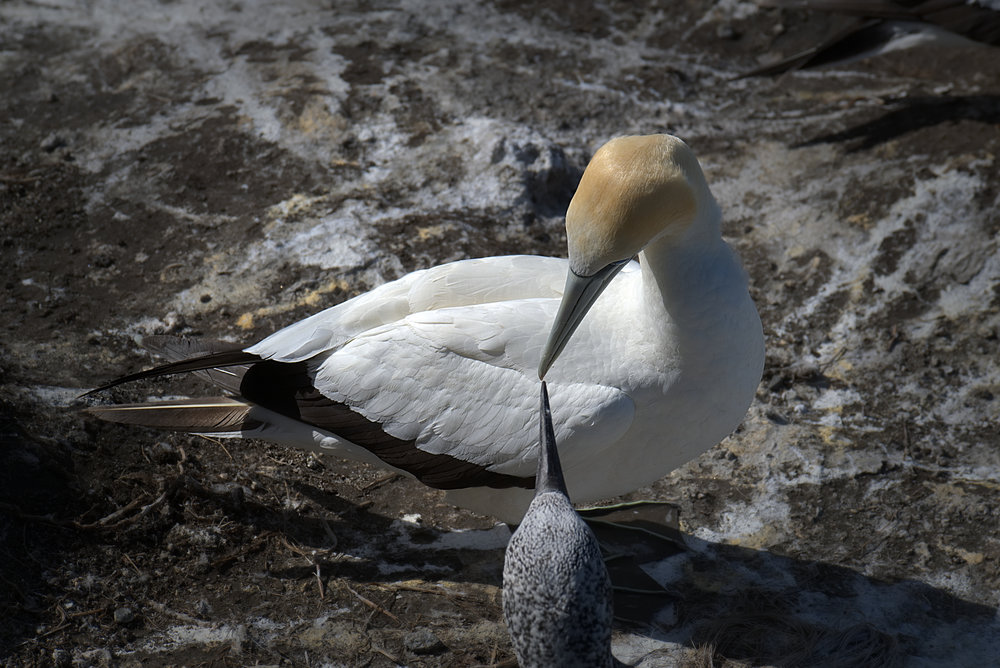 Some 1,200 pairs of gannets live on the top of the cliff, fishing and raising their young, between August and April during the New Zealand summer. Then they all disappear, flying across the Tasman Sea to spend the winter over twelve hundred miles away in Australian waters. The gannetry at Muriwai lies about ten minutes' walk from the road along a coastal path from which there are spectacular views out to sea.
In order to photograph the gannets, I took the Fuji X-T2 and the 50-140mm f/2.8 lens with the 2x teleconverter, making a combined 150-400mm reach in full-frame terms. The loss of two stops due to the teleconverter was of little account in the brilliant morning sunshine. Assisted by the battery grip, I could rely upon well in excess of a thousand shots before needing to change batteries.
Setting up the X-T2 correctly was critical for this assignment since gannets can be extremely fast flying subjects. It was clearly a case for AFC, shutter priority and a very fast shutter speed of 1/1250s. With CH selected as the drive setting and boost mode on, 11 fps can be expected. It was also necessary to switch from single point to the widest zone option.
Another worry in advance of the shoot was my inexperience with some of the different AFC custom settings on the X-T2. I have previously tried setting Number 1 (Multi-Purpose) with modest success but had not really properly evaluated the other four settings:
2. (Ignore Obstacles)
3. (Accelerating/Decelerating Subject)
4. (Suddenly Appearing Subject)
5. (Erratically Moving and Accel/Decel Subject)
In order to avoid possible indecision at the gannetry about which setting was best, I did some prior internet research and decided to adopt the same setting as a prominent Fuji bird photographer who advocated using the last setting which is
6. Custom (for which he set special values for tracking sensitivity, speed tracking sensitivity and zone area switching).
I found that copying these settings worked very satisfactorily and will be my standard option unless future subjects fall unequivocally into one of the other five settings.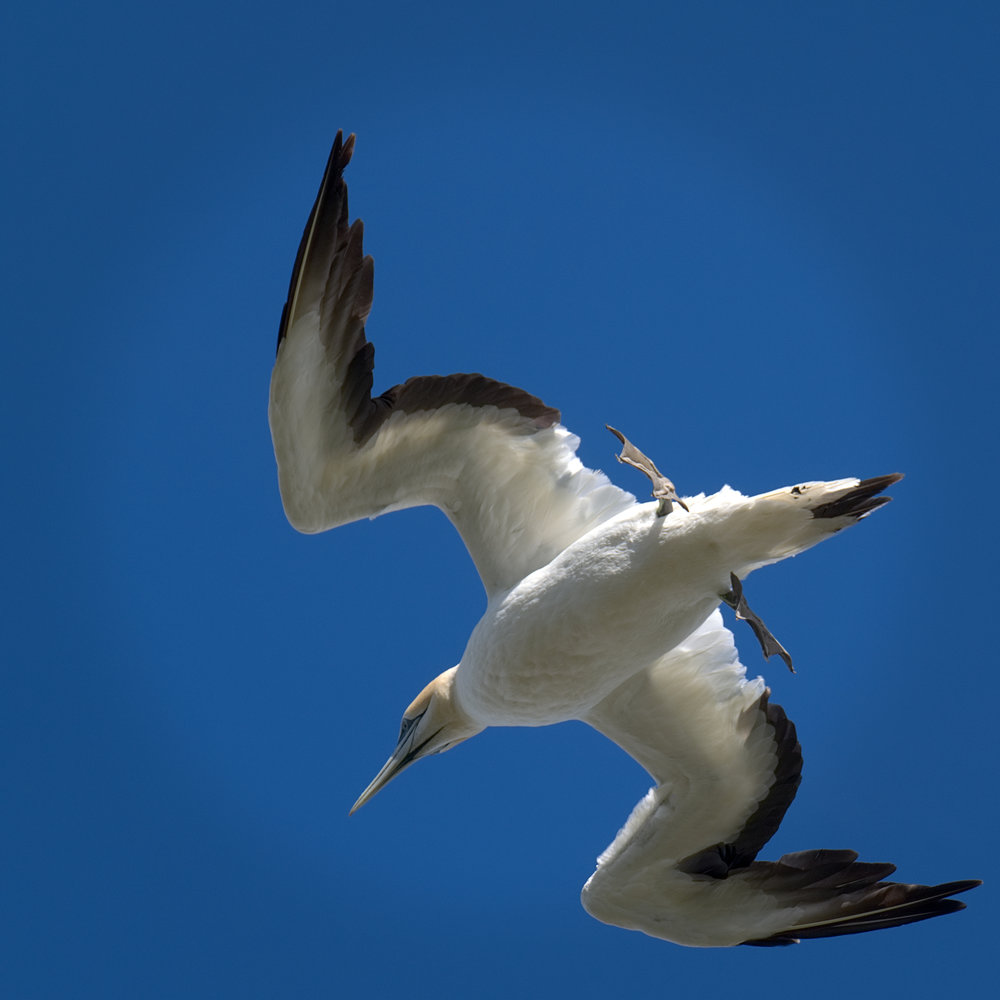 My feeling on the day was that the X-T2 acquired focus most satisfactorily and then held focus very well during shooting. The story might have been less good in much reduced light conditions. On the day however, the X-T2 had no problem in acquiring focus on birds coming off the sea, wind assisted, in low level high speed flights.
I am however unable to make a valid comparison between the X-T2's performance on this occasion with how my old full frame Canon 6D and 5D Mk II would have performed because I never tried any birds-in -flight photography with them.
This was a great opportunity to photograph gannets and not only because of their accessibility. A strong wind blows off the sea and then up and over the cliffs where the gannets land and make their nests or scrapes. Birds are able to remain stationary a few feet above the ground in this updraft and then "spoil" their lift slightly, by a casual flip of the feathers, to drop vertically and land like a VTOL aircraft. This afforded some good shots but the wind necessitated firm camera holding technique and as much bracing as possible.
Another splendid feature is that landing space is at such a premium that birds coming in to land have to run the gauntlet of the raised beaks of already landed birds, defending their territory, as illustrated in one of the images.
I would of course have dearly liked to get some images of gannets fishing in their characteristic and spectacular vertical dive with wings folded. Unfortunately, this was not on their schedule whilst I was at Muriwai. Obtaining such shots must be an objective for a future visit to a British gannetry.
I can thoroughly recommend a trip to Muriwai Beach, a splendid location which is accessible relatively easily, once of course you are in New Zealand. The gannets do the rest.
All images taken with Fuji X-T2 and the 50-140mm f/2.8 lens with the 2x teleconverter.