With the sky-filled blue waters fringed with every shade of yellow, orange and verdant green, the trees backlit by an autumn sun, the drive down the single-track road to Loch Affric was spectacular. Hills and mountains framed the scene. I wanted to stop and take photographs at every turn, but the plan was to walk the twelve miles around the loch and, to do that, we had to get to the end of this road.

Glen Affric just north of Loch Ness in Scotland, has been on my must-go-to list for many years. I had, by pure chance, managed to get here on the perfect day for photography.
The glen is surrounded by Munros (Scottish mountains over 3000ft) and is a popular starting point for enthusiastic walkers. It is also home to remnants of the Caledonian Pine forest that once covered huge areas of Scotland. The charity Trees for Life has undertaken a massive re-planting exercise over the last couple of decades to help restore the area, but not just with Scots Pine, the Caledonian forest is a broad mix, including alder, birch, rowan and many other species. This combination of trees, together with lakes, fast flowing rivers and numerous waterfalls makes for wonderful photographic opportunities

Affric Lodge at the eastern end of the loch was in a setting that just called to be photographed as we walked towards it along the track. Yet the loch itself, just beyond, produced a perfectly framed panoramic with a bright sunlight, yellow-leafed birch tree on one side and mountains on the other. Numerous waterfalls along the track offered opportunities for long exposure shots and 'granny' pines produced great foreground subjects for the wider views. At the eastern end of the circuit, the river Affric winds through the glen with those Munros framing an almost perfect picture. If only the light had come out while I was there, the photos would have been even better.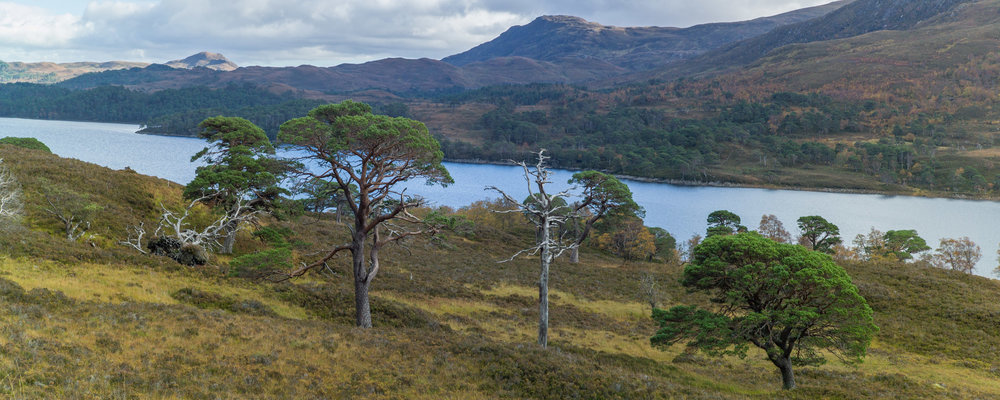 Once again, I went in to panoramic mode using my Leica M9 with a variety of lenses and, on occasion, shooting multiple exposures (hand held) with the intention of creating HDR photos to compensate for the huge exposure range.


A couple of days later we returned. It was just so lovely, this time exploring the eastern end of the glen. In such a beautiful landscape, all we needed to do was follow the way-marked trails to the viewpoints to find a place to take photos. The first such place on the 'Dog Falls Trail' was only slightly impaired by one of those granny pines. It is at least a hundred years old, so perhaps it has a right to remain. A little further, on Corrie Loch, we were provided with a variety of options for both close-up more distant views. A short drive brought us to Plodda Falls where an adjoining river drops 40 meters, with a viewing platform which gave us the opportunity for angles usually possible only with a drone.
It was a truly memorable couple of days. I really want to return in winter when the mountains and the glen are covered in snow — there is so much to go back for.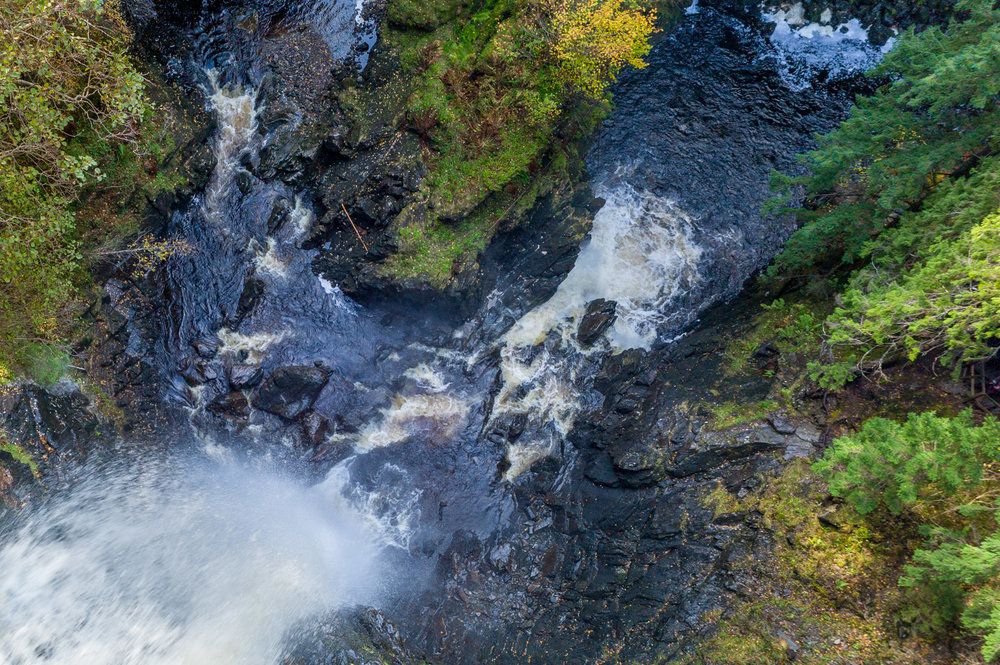 To see more from Paul Glendell and to view the range of Classic Cases and straps see here
All images © Paul Glendell 2018