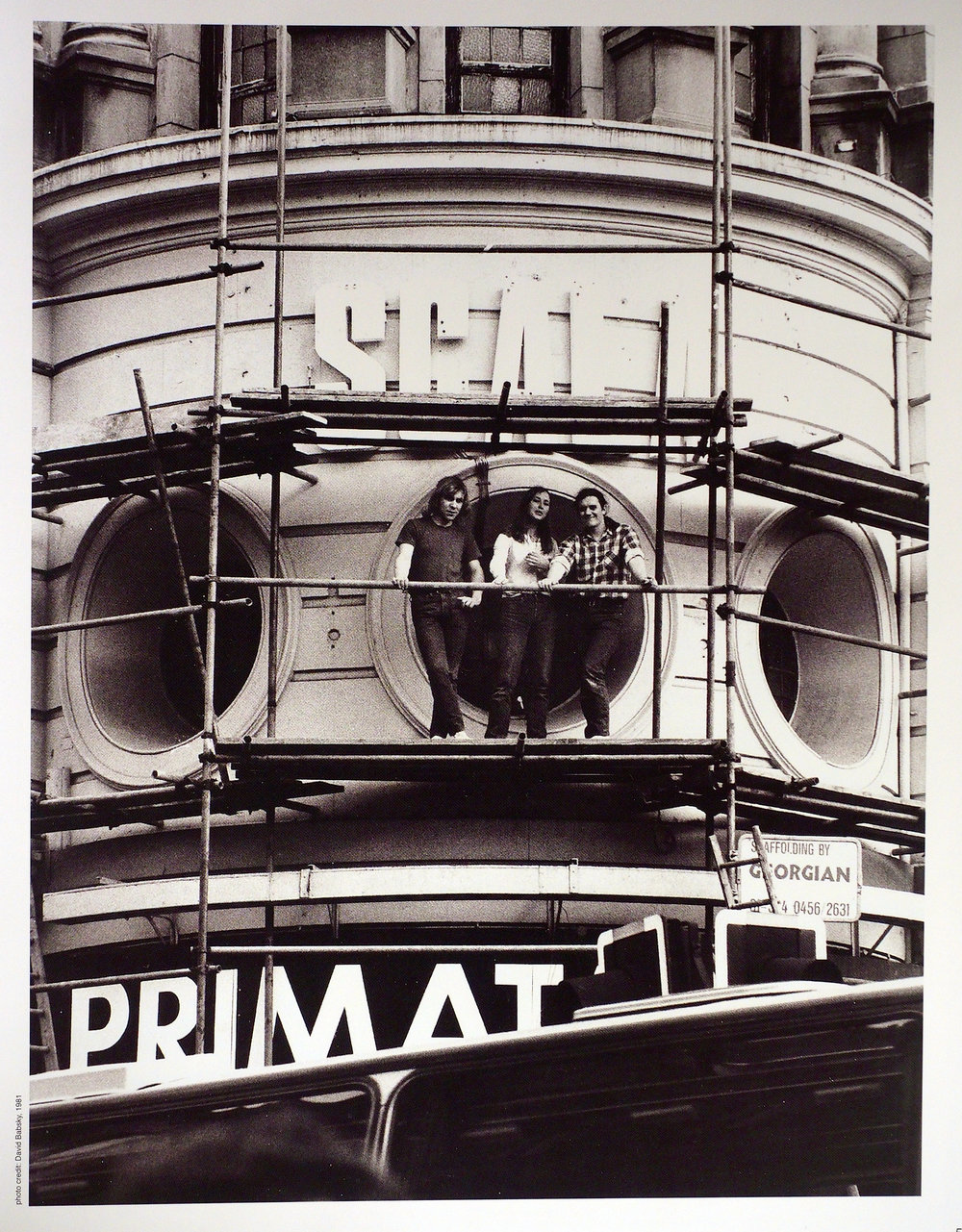 Back in 1981 — I nearly wrote 1891 — I would travel down to London, UK, from Peterborough where I worked, though you wouldn't really call it work. I wrote about cameras and chemicals and lenses and photography in all its many ways for Practical Photography magazine, so I was paid money for fun, really, and I'd watch all the films I could swallow at the Scala cinema — first at Tottenham Street, just off the electronics mecca of Tottenham Court Road, and then at London's King's Cross, when the cinema moved to older premises once known as the King's Cross Cinema.
I took some pictures on the opening night, when the Scala moved east from its previous Tottenham Street venue, and then I persuaded Steve Woolley, its progenitor, and Jayne Pilling, the cinema's programmer, and Alan Gregory, the general manager, to step out onto the scaffolding at the front of the refurbished cinema to have their photo taken together, just beneath the massive newly-installed "Scala" sign.
I gave them a copy of that photo, and photos of the projectors being installed for the opening night . A couple of the pictures were printed in the next Scala programme sheet, and then I forgot about them.
They were 'spur-of-the-moment" snaps; I just felt a need to document the re-establishment, the new home of this most marvellous of cinemas, which showed everything — between 1978 and 1993 — from 1920s black-and-white Marx Brothers to 1982's Blade Runner, to John Waters' 16mm 'trash' films Pink Flamingos and Mondo Trasho, Cinema Paradiso, Lawnmower Man and Eraserhead.
But just suddenly, that photo started appearing all over newspapers' Arts and Culture pages last month, when Jane Giles' HUGE (..and heavy: 5.5 kilograms..) history of the Scala Cinema 1978-1993 was published.
Besides having every programme of every film ever shown at the Scala appearing in its pages, Jane had gathered every photo ever taken of the cinema, and when she and Harvey, the book's publisher at FAB Press, sent out press info about the book, every newspaper chose the same picture to head its feature; this one:
And it's the first huge photo you see on the right-hand page when you open the book.
But why this photo?
Instead of just taking a picture of the three of them — Jayne, Stephen and Alan — I wanted to summarise the cinema's move, and the re-generation of the Scala; to convey its resurrection, and not just as a record of people at its new premises.
So I insisted and inveigled that they went out onto the scaffolding (not easy, squeezing out through the only-half-opening window behind them) and then I ran across the road with my OM-2, a 100mm or 135mm lens and a few frames of Tri-X, and quickly took the shot before their enthusiasm wilted.
It's a shot of people, and of purpose (….the scaffolding showing that work's being done, to get the cinema up and running again..) and of identity (..that newly-installed sign).
That's what newspaper photographers learn, or used to learn, when they began their working lives on the little local paper: you don't want a photo of just a girl smiling, if it's a local schoolgirl who's won a place at Oxford (University); you want a wide shot of her grinning, surrounded by books, or you want her jumping for joy, or throwing her books in the air! You want to convey joy! ..success! ..achievement! ..and not just have a photo of some unremarkable face.
So the photo of those three people on the scaffolding conveys delight, resurgence, and identity.
Any mechanical, robotic camera, left to its own devices, can shoot a record of events. But a photo taken by a human can show not just a record of something, but what was in the mind of the photographer. A photo is a means to convey a photographer's thoughts, an idea, a concept.
That famous photo by HC-B of a bicycle going round a bend conveys the idea of similar shapes repeated, and of activity. These three photos of hotels convey colour, shape, abstraction, as a space for humans to mingle in and rest. Of course, they wouldn't look that great if they'd been taken with a 'normal' (50mm) lens: they're shot with extreme wide-angles (14mm, or thereabouts) to each give a picture which you wouldn't see with your everyday, commonplace human eyesight.
I'm not a believer in sticking with just one lens; to me that's like writing ONLY WITH CAPITALS, or nly wth cnsnnts, or only prose
And never
ever
writing poetry.
Why deprive yourself of other angles, other viewpoints, other ways of seeing? (The picture of the three on the scaffolding would not have had much impact if they'd just been distant dots, taken with a 'standard' 50mm lens, and so I used a telephoto.)
When I teach, as I do, photography each year in Greece, once I'm sure that everyone knows how to physically manage their camera (..squeeze, let it focus, then squeeze the rest of the way when it's in focus..) I give them six photos to take; not photos of things or people around them, but of ideas in their heads: Joy, Uncertainty, Imbalance, Scale ..and so forth.
"How do we take photos of 'Uncertainty'?" "We-ell, it's your camera; you decide!"
And so they go off, and they start to think.. "How do I express what I want to say?"
A camera's like a pen ..hence, of course, the name Olympus PEN. You can keep it in your pocket, and then you can use it to express your thoughts so that other people can see your own thoughts!
A camera is not just for capturing a record of something, or for showing "this is how it was". It's an instrument for saying "Look at my thoughts!"
All images, except otherwise marked, copyright David Babsky