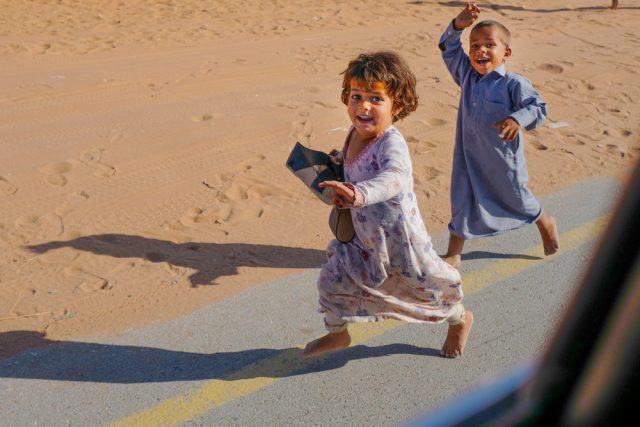 I have spent the two weeks over Christmas and the New Year in wonderful Oman. A long way from my home in New South Wales, but well worth the arduous journey. More on this in a future Macfilos story but as a taster let me present my lucky and very joyful shot. If I had not already declared my hand with my personal POTY- photo of the year- nomination I would have chosen this one as it just squeaked into 2018.
It was taken as I was driving through the desert fringe village of Bidiyah. Several children were waving to us, so I pulled over and I took some not particularly special photos of them. Then, as I pulled away, the two smallest children in the group ran beside the Toyota 4WD, shouting and laughing. Luckily my window was still down but I did not have time to lift the camera to my eye or look at the LCD screen so I just held the Q out of the window and pressed the shutter release, hoping for the best. It was my lucky day.
It would have ideal not to have caught the edge of the window in shot, but the Q did a great job in focusing on the children so quickly. I was also lucky in that I had both the aperture and shutter speed set to A — my default settings — as it selected 1/800th second and f/5.6 which both stopped the movement and gave some depth of field.
The sheer delight on the children's faces makes the shot for me. And don't the children look really fit and healthy? It must be from eating camel meat and from the Vitamin D infuses by the sunshine.
Having tried camel meat on the trip, though, I'll just settle for the sunshine part of the mix, thank you.
You can find more from John Shingleton at The Rolling Road and on Instagram at therollingroad.