"Rumours of my death are greatly exaggerated" —Mark Twain
The same might be said of the MG marque. It seems to persist through all adversity. After its origin in 1923, Morris Garages went through a series of stages, from making its own cars to re-badging sports models of other British makes, then on to the MGB V8 and through to closure.
But the MG tag has lived on since the acquisition of assets by Nanjing Auto in 2005 to a stage where MG-branded vehicles are now back in the marketplace. So, I realise that it's a stretch, but one could propose that rumours of the death of MG in the early 2000s were indeed exaggerated. The badge still exists today, even though the purists would lament the loss of MG in British design and industry.
I'd also like to suggest that the rumours of the death of small sensor cameras are greatly exaggerated. There's still a place for them in the armoury of photographers. And, just for fun, I'd like to illustrate this proposition with some examples of some heritage MGB vehicles.
Classic Rallying
Here in Australia we have a group of car enthusiasts in the Classic Rally Club. It has nearly 400 members. A few months ago they held their two-day Alpine Classic Rally in the mid-west of New South Wales. It is a team event with drivers steering their classic vehicles over mainly secondary roads within legal speed limits, while their navigators try to ascertain the correct route using old survey maps and tricky instructions set by the rally director.
Instead of competing as in the past, I was asked to do some photography for the club. That was going to be a new gig for me. What to use….and here we go. I decided on a camera with a small one-inch sensor. Well, the sensor might not be huge, but the chosen camera wasn't so small. It was the Panasonic Lumix FZ1000. The focal length range from 24mm all the way through to 400mm would provide excellent flexibility as I didn't want to be hassled by changing lenses all weekend.
Enter the FZ1000
In fact, the FZ1000 was great for purpose. Wide angle, telephoto, close up and depth of focus (rather than bokeh) whenever I wanted it. It's fast to focus and accommodating of different light levels. No wonder Leica chose to re-badge that camera as the Leica V Lux (Typ 114).
Fun times, A Great Weekend.
Cars left the start line at one minute intervals for the two-day navigational event over approximately 700km. It was easy to accommodate the organisers' request to get photos of every car as they commenced. In fact, the flexibility of the camera made it easy to capture a wide range of images of each car and their eager teams within.
A barbecue breakfast at a closed location on the second morning provided the opportunity for drivers to blow the cobwebs out of their vehicles (and themselves) in a closed circuit motorkhana. Again, the reach of the camera and its ability to lock autofocus quickly was essential for getting some fun images for the event.
Out on the roads the MGBs provided a fun weekend for their owners and teams. Water crossings, open roads, bridges. It's all good fun.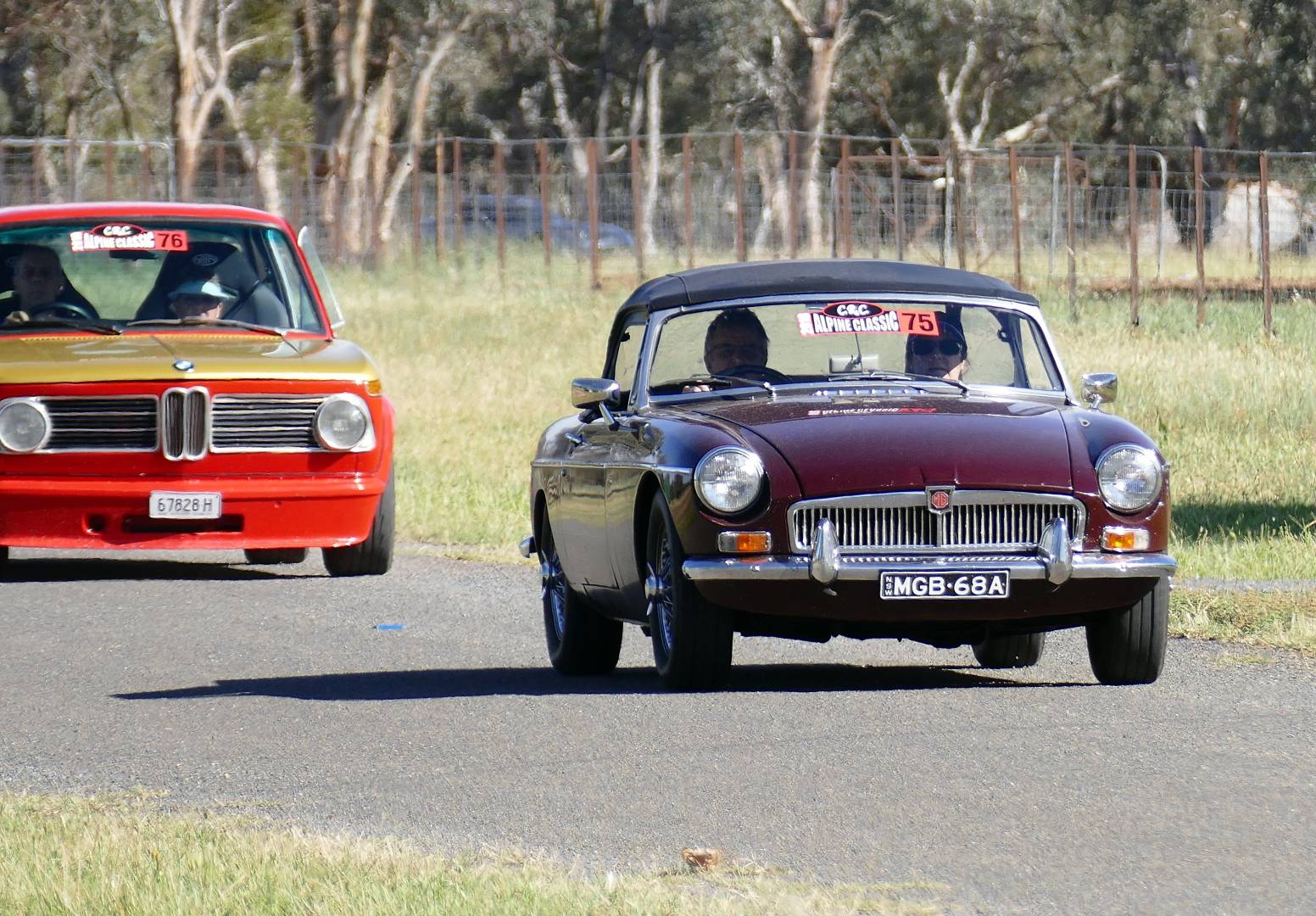 Back to the beginning…
After the weekend with the FZ1000, the Rally Club had hundreds of special images to well remember their flagship event of the year. Beyond that, it convinced me that the rumours of the death of smaller sensors are greatly exaggerated. When maximum flexibility of focal lengths all the way through from wide angle to telephoto, along with depth of field and fast autofocus are needed, the relatively small sensor of the FZ1000 will yield results without a hitch. To get similar results with full frame or larger would require major muscle development for a photographer, and emptying of a bank account.
For what it provides, the FZ1000 is actually a quite light, compact camera, despite its medium size dimensions. It is a highly versatile device, a sort of Swiss Army knife for capturing images. Its small sensor isn't dead, it is still alive today. I like the camera a lot, and enjoyed pushing it hard, but I do sometimes wish I had the "Red Dot" version.
Additional Note:
It is indeed appropriate here to also acknowledge LHSA member and Leica guru George Furst. He has succeeded in commissioning a wonderful replica ur-Leica (see Macfilos 19 October 2018, below), and William Fagan provided links to his journey with this camera.
But, a less familiar fact about George is that he is also the owner of the first ever MGB in South Korea. So unusual was his car that he had to work hard and circuitously to even get it registered, because the MGB didn't exist in official lists! Indeed, it is likely that his is still the only MGB on the Korean peninsula.
Related article