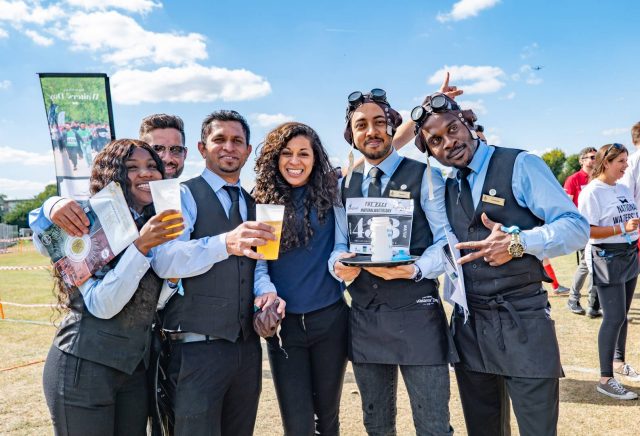 Even if you live on the spot in London you can be forgiven for not realising that yesterday was the National Waiters' Race. I didn't. But I just happened to be passing by, since it was local, and I had a camera with me.
The event, organised by the Institute of Hospitality, is the London Hospitality Festive, a sports day to benefit of catering staff throughout the industry. It's also National Waiters' Day in honour of a waiter near you.
This year the event took place at King's House Sports Ground in west London. Normally, something like this wouldn't have been high on my list, but I wandered in and was fortunate to stumble upon the Biggleses of the Royal Air Force Club, dressed in their best uniforms and ready for takeoff, raring to take on the Red Barons.
The Tray Busters
The sortie faced by this squadron, the Tray Busters, was to complete the course without spilling a drop of water from the bottle. I chatted to Rahman and Emmanuel after they clinched their first heat. The flying helmets and goggles had set the scene for the tussle with the Red Barons, the HIT team from Hospitality Industry Training.
Just a bit of fun and an opportunity to snap a couple of pictures.
In case anyone is interested, snaps from the Panasonic Lumix S1 and 24-105mm kit lens.