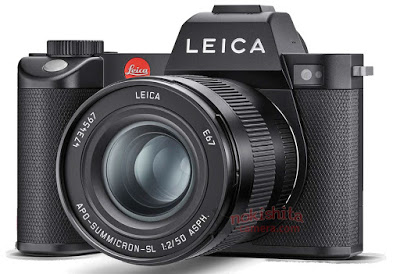 Pictures purporting to show the forthcoming Leica SL Mark II have been published on the Japanese site Nokishita. Leica Rumors is suggesting a September or October announcement date with first deliveries in October or November. However, I understand from other sources that the launch will not be this month.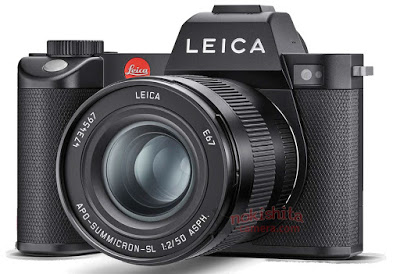 Learning
We can learn a lot from the pictures if they are genuine. My guess is that they are. The new camera has more rounded lines and curved ends, similar to the M, Q and CL models. The viewfinder binnacle is also less angular and looks more at home on top of the camera. As a result, the new camera is likely to handle better than the current model. It also looks much more harmonious to my eyes and is a decided visual improvement.
The strap slots now appear to be surface-mounted rather than recessed, although it isn't clear whether they will be slots or the more traditional strap lugs of the M and other cameras. To me, they look as though they could be slots but, even so, it should be possible to use straps fitted with the traditional split ring.
As we know from previous leaks, the sensor will be 47MP, possibly a similar unit to the one already seen in the Leica Q. There is no news on the viewfinder, but it would not be unreasonable to expect it to be the same unit featured in the Lumix bodies or, perhaps, a new design with even more pixels.
The possibility of in-body stabilisation has been rumoured before but there is no indication in the current rumours. However, bearing in mind the overall similarity of this camera to the Panasonic Lumix S1R, I would not be surprised to see stabilisation introduced. It would be welcomed by users of M lenses or SL primes which do not feature ILS.
Button changes
The back of the camera shows that the once-revolutionary unmarked buttons of the SL have been discarded in favour of Leica's new and now universal layout first seen on the CL. The joystick is retained but, for the first time on a recent camera, the traditional four-way pad has disappeared. This isn't a bad thing in my book — fewer buttons to press by mistake.
The power switch is in the same place as on the original SL. Interestingly, this is the spot reserved on the Panasonic S1/R cameras for the very useful lock button which can selectively disable unneeded controls. I was rather hoping Leica would have adopted a similar solution and, perhaps, placed the on/off switch elsewhere.
Altogether the SL2 looks more cuddly than the SL and it promises better handling. It looks much better, in my opinion, and is definitely less slab-sided than the SL1. From what I've seen so far, it will be a worthwhile update and will compete well with Panasonic's L-mount offerings, provided the price isn't too high.
Via Leica Rumours and Nokishita