Leica's Vario-Elmarit-SL 24-90mm f/2.8-4.0 ASPH is one of the best medium-range zoom lenses I have ever encountered. It's big (138mm long without hood), it's heavy (1,140g) it's bold and it's stuffed with peerless glass and ingenious technical wizardry. It supplies epic performance for its £3,700 price tag.
Apart from the size, I have not a word of criticism of this Leica lens. If you can afford it and can cope with the weight then go for it. You will not be disappointed.
Nowadays, though, it isn't the only lens in town, thanks to the advent of the L-Mount Alliance.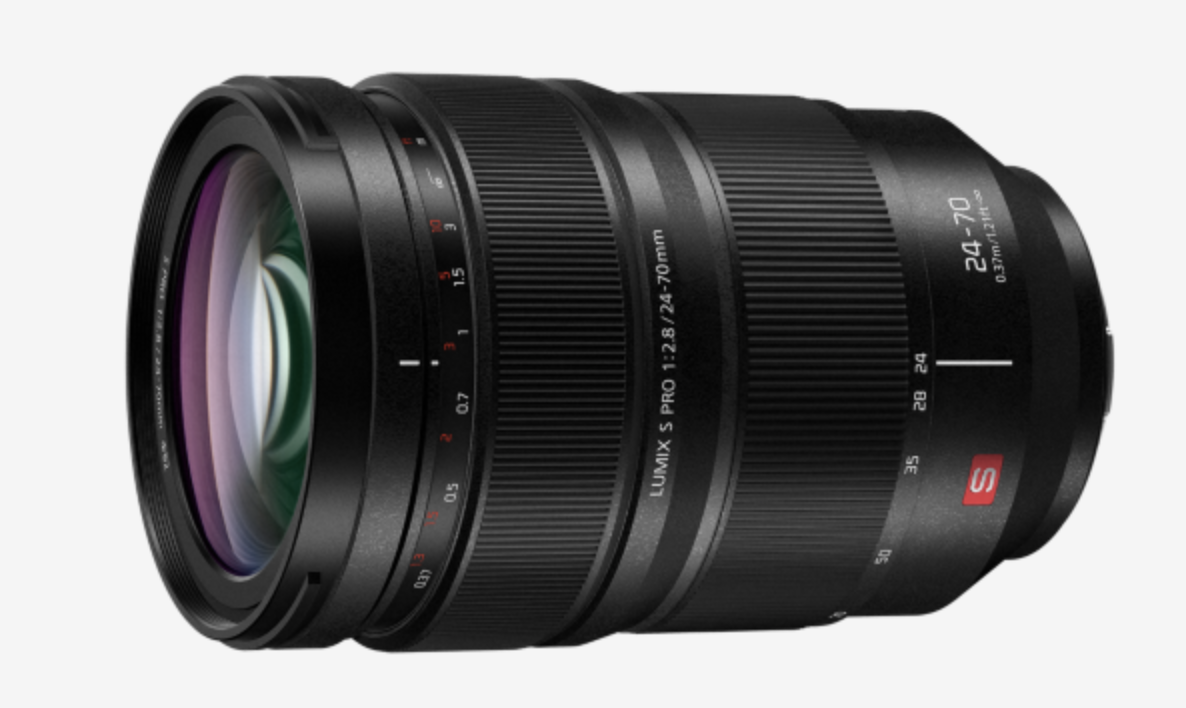 When Panasonic introduced the S1 and S1R cameras earlier this year, the standard lens offering was the S 24-105mm f/4 Macro OIS.
It bears a silver S imprint on the barrel, denoting that it isn't "Certified by Leica". If it had been (and the other lenses in the initial range are) it would have had a red S imprint and "Pro" tagged on to its name. Nice to know.
The little red logo
But that red logo does add quite a bit to the retail price and more than a few ounces to the weight. And, frankly, the 24-105mm is a really good lens for what it is. I own it and I am not noticeably deprived by the lack of the Leica approval, nor do I feel in any way shortchanged. Jonathan Slack liked it, too, when he reviewed the Panasonic S1:
The 'kit lens' 24-105 f/4 is a really good workhorse. It is without frills, but also free of vices…… It focused fast and without issue, and it's quite usable at all focal lengths and all apertures. This lens is relatively light, very good ergonomically and very sharp. It might not be quite as stellar as the Leica 24-90, but it's considerably lighter and about a third of the price!
At 690g the 24-105mm it is very light for what it offers. With a price tag of £1,300, it represents excellent value for money. In fact, it's well worth buying the kit instead of the S1 or S1R body alone because there is a useful in-built discount.
In short, I am very satisfied with my un-Pro zoom, with its constant f/4 and great handling. If I look lustfully at Leica's Vario-Elmarit, I chastise myself with the thought of those extra ounces. On the contrary, far from succumbing to lust, I can't help feeling that if the 24-105mm is the cheapo kit lens, the 24-70mm could be a stunner.
Focal-length dilemma
This Panasonic Lumix S Pro 24-70mm F2.8 loses out to both Leica's Vario-Elmarit and the Lumix 24-105 in covering a more modest 24-70mm focal range. This is perhaps its major disadvantage when stacked up against the Vario-Elmarit. I find the focal range of the 24-105mm or 24-90mm preferable in an all-rounder of this nature.
Yet the new zoom a raft of attractions. It has a constant f/4 aperture, for a start, and claims to offer the same image quality ("stunning quality" according to the press release) provided by the Leica lens. It displays that red S to add some support to the argument. It also has the advantage of relative lightness — 935g — although it is just as big as the Leica Vario-Elmarit. It also adds a pull-down manual focus ring which I like.
On the negative size, strangely, this lens does not include optical image stabilisation, unlike the Leica Vario-Elmarit. Assuming, though, that it performs as well as expected, then this lens is a bargain. When it arrives in October it will cost $2,200 or, perhaps, £2,100 (including tax) on this side of the Atlantic.
New versus used
Would you prefer the save the cash and go for the Lumix S Pro instead of the Leica SL Vario-Elmarit? From my perspective, I'm not sure. I will reserve judgment until I've seen the comparative tests or, perhaps, tried the new lens for myself.
As a new buy, the Lumix will undoubtedly be compelling. But when compared with a used Vario-Elmarit-SL — a lens that is a known and very much loved quantity — the choice is less clear. I suspect the Vario-Elmarit, at the right price, will be a better long-term bet both in terms of user satisfaction and lower depreciation.
Meanwhile, as someone who uses primes most of the time, I feel that the light and inexpensive un-Pro 24-105mm makes a cracking all-rounder and produces some excellent results.