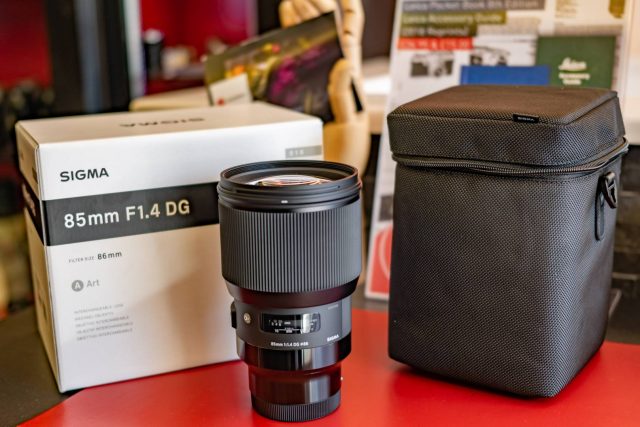 Called into Red Dot Cameras last week to check out the latest f/1.4 L-mount lenses to arrive from Sigma. I took along the Panasonic Lumix S1 and Sigma's dinky little 45mm f/2.8 which I added to my stable last month. We've written quite a bit about this lens — see these Sigma articles.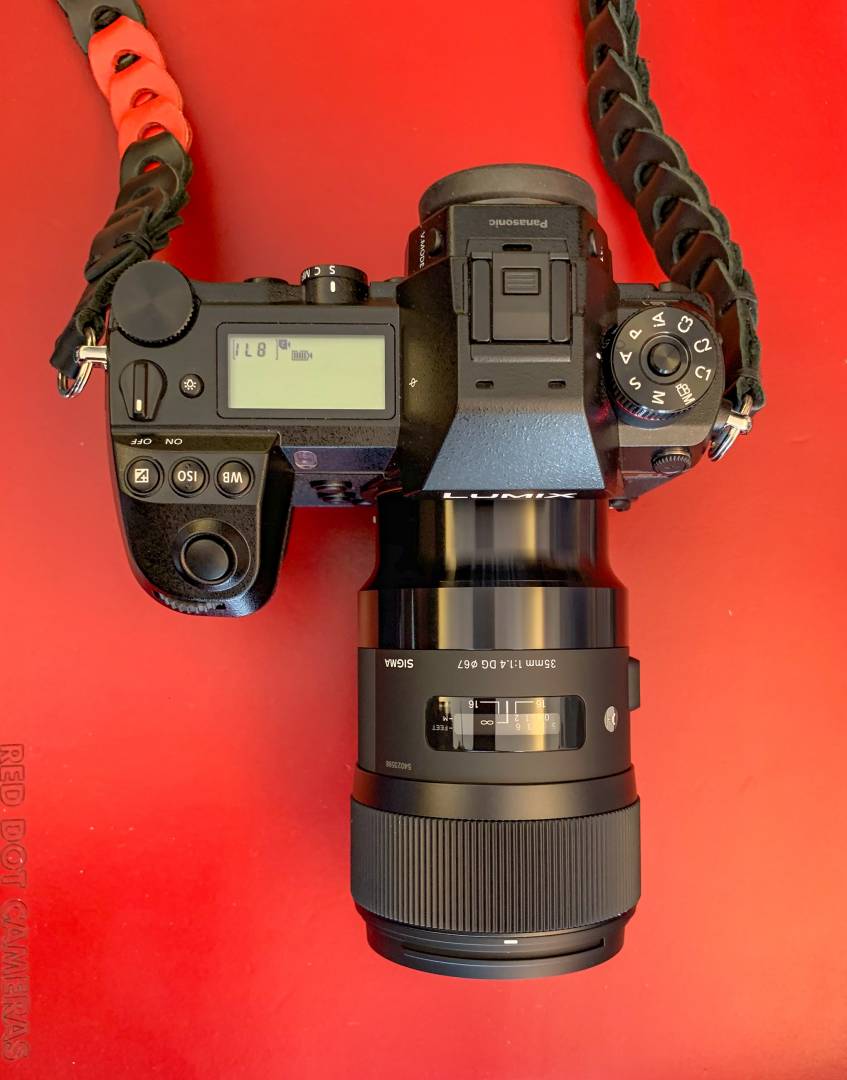 While the three 1.4s (35mm, 50mm and 85mm) are great value for money when compared with Leica's or, even, Panasonic's own L-mount lenses, there is no obvious compromise on quality — although we are conditioned to believe that Leica's design and engineering must be superior. As with the 45mm (which belongs to the lower "Contemporary" range), these three faster Art lenses are exquisitely turned out.
Tour de force
The 85mm, in particular, is a tour de force and, at just under £1,200, has a great deal of promise as a top-notch portrait lens. I didn't get the chance to try out any of the three lenses, apart from a brief in-store mounting, but from a cosmetic and ergonomic point of view, I couldn't fault them.
The standout feature, though, is size and weight. Fast AF L-mount lenses are huge (especially to those of us used to M glass), and Sigma hasn't skimped on quality or specification, judging by the heft. The 35mm weighs 665g and the 50mm is 815g.
It's interesting to make a direct specification comparison between Leica's 50mmm Summilux-L ASPH and Sigma's 50mm DG HSM. Both are apparently designed to appeal to the same audience, albeit those with different-sized wallets.
"Benchmark"
The Leica lens is a known quantity (that is, an established excellent performer) but Sigma's brochure makes compulsive reading. For the 50mm f/1.4, it claims "incredible resolution, perfect for the high-megapixel era" and that the lens is "a new benchmark large-aperture standard lens."
Both manufacturers claim outstanding optics, elimination of chromatic aberrations and state-of-the-art motorised controls. We shall have to wait for the comparison reviews, but tests of the same Sigma lens with alternative mounts have been very positive.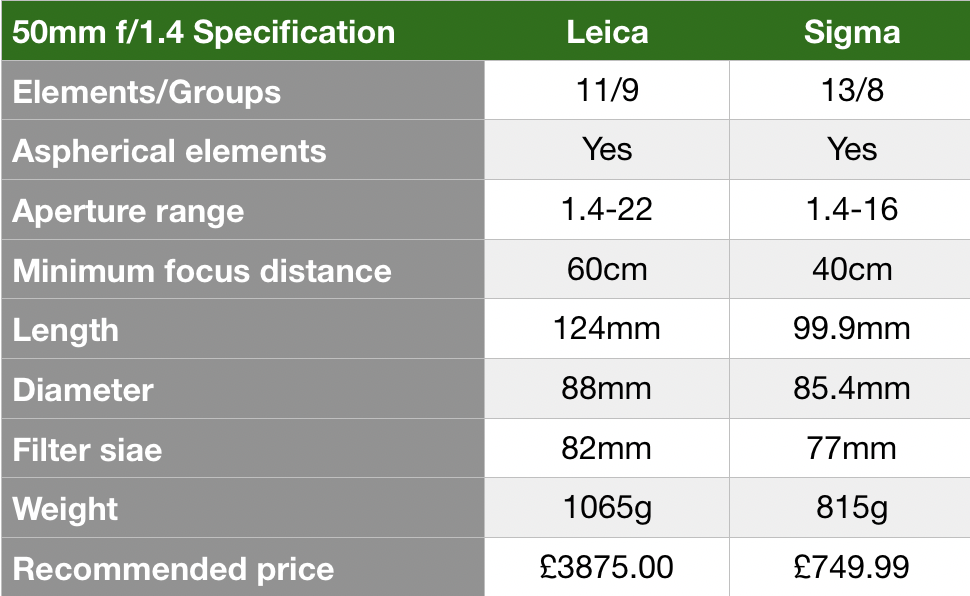 Nowhere is the contrast between the new crop of L-mount primes more obvious than when considering M lenses. The 50mm Leica Summilux-M, for instance, is a third of the weight of the SL lens at 335g.
Now that's a lens you can happily tote all day, even though it is not as tiny as its Summicron brethren. Yet it performs as well as the SL fifty.
Whatever the final verdict on performance, however, what isn't in dispute is the physical characteristic of these lenses.
The Leica is longer (124mm compared with 100mm) and heavier (1065g versus 815g), so it is a greater burden to carry around all day. Remember, both lenses are intended to offer a go-anywhere standard focal length, not a flexible zoom, so weight is of some importance, especially being in mind the extra weight of the L bodies.
All things being equal on the performance front (which is subject to in-depth testing of course), the Sigma offers an advantage in size and weight and a very big incentive in price.
At a modest £750, it is one-fifth of the price of the Leica Summilux-SL which retails for a less-modest £3,875.
This price difference has to be a huge consideration for most buyers, even those who insist that the Leica logo automatically means best.
I am not suggesting for one minute that the Leica 50mm f/1.4 is not going to win the performance comparison. There must be some justice in the world. It is a lens that has a strong reputation for excellence of image quality and performance.
However, you have to be convinced that the Leica lens is worth paying five times the price and, perhaps more importantly, that you actually need the additional fraction of excellence.
Three for one
If you own an SL or Panasonic body and are looking for a clutch of prime lenses to cover the 35-85mm focal range, then you can buy all three of these Sigma lenses for £2,750. That is £1,000 less than the cost of just one Leica SL lens.
Above is a very quick-and-dirty set of shot using the three Art f/1.4s with the Contemporary 45mm f/2.8 thrown in for good measure. Click to enlarge.
As you can tell, I like the look and feel of Sigma's Art lenses. I believe they will be successful in competing with both Leica and Lumix equivalents. The range is growing. If the 35mm f/1.4 is too slow for you, there's even an f/1.2 alternative for £1,500 — still nowhere near Leica's prices. You can buy a 105mm f/1.4 also for the same cost, £1,500, and a 135mm f/1.8 for a hundred pounds less.
Price, of course, is never the whole story. There have to be compromises somewhere, but I am struggling to find them when looking solely at the build quality and physical characteristics. In this case, out-and-out performance will be the deciding factor.
Overall, however, it is brilliant to have this wider choice and that is the factor that will make the L-Mount alliance successful.
The one area where the Sigma L-mount range is currently lacking is in zooms. The sole representative in the is a wide-angle 14-24mm Art f/2.8 which retails at £1,450. It's a lens I would like to try at some point — for those who don't use ultra-wide-angle all that often, it could be a very sensible buy.
I hope we can look forward to more pro-quality zooms including, for instance, a 24-90mm or 24-105mm which would provide a higher-quality alternative to Panasonic's inexpensive but still very competent 24-105mm kit lens and Leica's outstanding 24-90mm SL zoom.
The range of Sigma lenses for L-Mount is now available from Red Dot Cameras in London.
What's your view? Would you buy the Sigma lenses in preference to Leica? If so, why?