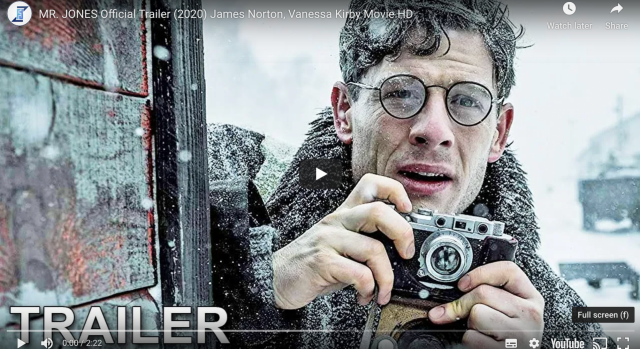 This is one film I am looking forward to seeing. The theme is right up my street — 20th-century history, the cold war and a well-crafted denunciation of the evils of communism. There's also a (tenuous) Leica connection, which is just the icing on the cake.
Mr Jones stars James Norton, he of the television series Grantchester, and there's a special place for a Leica screw-mount camera, possibly a Model II which was made between 1932 and 1948. But readers (including William Fagan no doubt) will be able to narrow it down to the month it was made and the identity of the craftsman who adjusted the rangefinder before despatch. (See comment below, it's a FED 1)
I'm obliged to reader Mike M who send me the link this morning.
Whenever there is a film featuring a vintage Leica I just have to go to see, half in the hope of finding a colossal faux pas, but in this instance, the camera appears to be entirely in its period. Here is the trailer in full. It offers a very brief and tantalising shot of the camera. If any dealer reading loaned the actual camera for the film, please let us know.
See what you can make of it.
UPDATE: I knew William Fagan would know. According to him, this is not a Leica but a Russian copy, the FED 1. Still worth watching, I imagine…..