In the first article of this series, I discussed the design continuum running from architecture to sculpture, highlighting the transitional phase where these creative fields merge and architectural forms become large-scale sculptures.
I also considered how structure, shape, and shadows intrinsic to sculptural and architectural designs lend themselves to black and white photography. In the interest of focus and brevity, I employed a self-imposed geographical constraint — a 10-mile radius from my home in San Diego — to limit the scope of my survey. In this follow-on article, released from this constraint, I have included examples from as far afield as Palm Springs and Hawaii, paying more attention to the manipulation of light as a design element.
I invite you to join me in admiring the skill and ingenuity of the designers of these objects and spaces, whose creations shine even in images stripped of colour.
Heavenly spheres
I used to think of skylights as effective, albeit pedestrian, architectural devices bringing natural daylight to otherwise dimly lit rooms or stairways. The architect who designed the Westin Hapuna Beach Resort in Hawaii had a much grander vision. The light streaming through this spectacular circular aperture illuminates not only a massive circular bench — the centrepiece of a grand semi-circular veranda — but also a suspended cloud of glass spheres, sparkling like giant raindrops. The circular leitmotif, coupled with ingenious use of light, glass and steel yields a harmonious but striking visual impact.
Cloistered environment
Balboa Park, San Diego, built for the Panama-California Exposition of 1915-18, is a showcase of Spanish Colonial Revival architecture. The park features numerous colonnades and cloisters typical of that style, whose illumination by sunlight penetrating arched openings yields an ever-changing parade of shadows as the sun moves through the sky. Visitors to the park find welcome shade and glorious vistas as they stroll through or along these covered walkways.
Underneath the Arches
The Cabrillo Bridge, constructed in advance of the Panama-California Exposition, provides pedestrian and light traffic access to Balboa Park from downtown San Diego along a stretch of road called 'El Prado'. The bridge, spanning a canyon humming with the sound of traffic racing along the California-163 freeway, is regarded as a historic civil engineering landmark by the American Society of Civil Engineers. In these photographs, taken from a vantage point near the bottom of the canyon having scrambled down a steep dirt path, its pillars are illuminated by late afternoon sunshine streaming through its elegant arches. The shots required a wide-angle zoom (14mm, f/18) and perspective adjustment using the geometry controls in Lightroom.
I featured the Coronado Bridge in the first article of this series, but its sweeping form and flowing sequence of arched concrete pillars is worthy of further illustration. It continues to provide inspiration for black and white photography: a superb example of architecture-meets-sculpture and the interplay of structure and light. This shot brings to mind a multi-legged, dinosaur-like creature clambering across Coronado Bay.
White Stripes
On a visit to the San Diego district court, motivated purely by architectural interests you understand, I stumbled across this dazzling array of diagonal stripes, created by razor-sharp shafts of sunlight striking a receding row of pillars. Was this spectacular 'shadow show' the product of clever design by an imaginative architect, or the fortuitous confluence of mundane structural features and bright sunlight? I vote for the latter explanation. Whichever is correct, here we have the interplay of light and form writ bold.
Fast Track
Taking my life in my hands, I hopped across the tracks to photograph this curvaceous downtown San Diego trolley station. Its arched, corrugated steel panel roof protects passengers from the almost non-existent rain storms that plague San Diego, ensuring those flip-flop-clad feet and Hawaiian shirts remain perfectly dry.
Readers with a subscription to 'The Economist' might recall a wonderful article from December 2021 describing the origins of corrugated iron, described as a 'child of the industrial revolution', at the Phoenix ironworks near Birmingham, England. The first patent for a means of creating these ubiquitous panels — the first wide-scale building material not derived from stone, clay or timber — was filed in 1829. Here it is, thousands of miles away almost two centuries later, enabling this high-tech roof, recognisable by the reflection of light from its linear ridges and furrows.
Lo and behold, another train station sporting a curved roof fabricated with corrugated panels. What's with the fascination architects appear to have with corrugation and transportation? This building, in Solana Beach, North County San Diego, is an example of the half-barrel roof usually seen in Nissen huts, Quonset huts, and the granddaddy of the family, the Turpentine Shed created by the holder of that 1829 patent, Henry Palmer.
Corrugated sheets, curved lengthways then lapped and riveted, can form an arched roof capable of enclosing a wide space with no recourse to the usual supports needed to hold up roofs clad in heavier materials. The Turpentine Shed's roof was deemed "the lightest and strongest roof (for its weight) that has been constructed by man since the days of Adam". Enough said.
A slice of life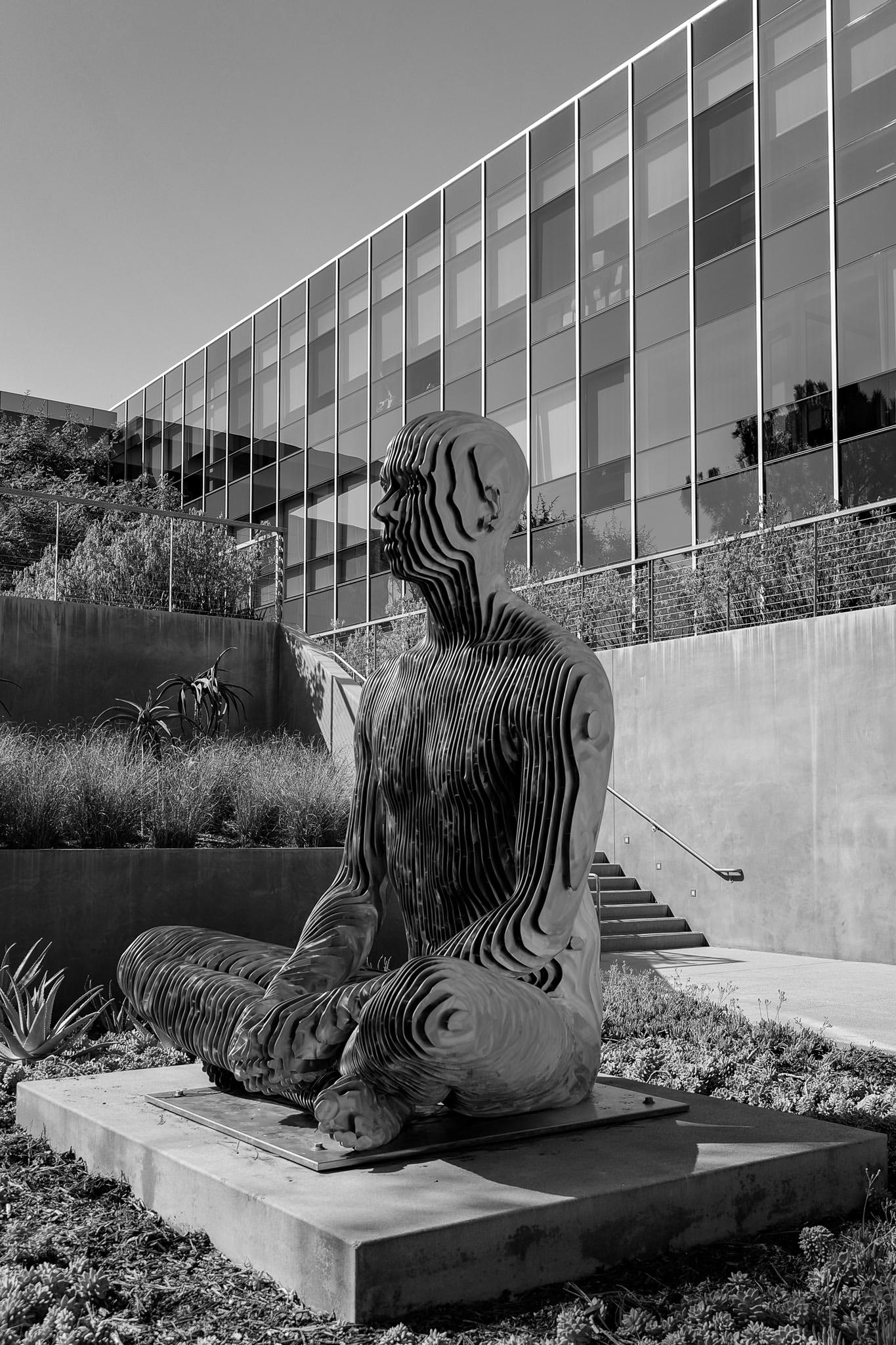 Moving into the realm of sculpture and creative exploitation of light, here are two examples of a remarkable technique for fabricating large-scale human figures in steel. The first, a contemplative male figure in the lotus position, is to be found sitting outside a biotech company in the Torrey Pines area of North County San Diego. Comprising precision-cut steel slices fastened together to create a three-dimensional object, the technique creates a perspective-dependent form, varying between a recognisably human figure when viewed at an oblique angle, and an otherworldly, semi-transparent outline when viewed face-on.
Astonished as I was to encounter the first example, I was even more amazed to come across a second such sculpture, several hundred miles away in Palm Springs, California. In the first photograph, light reflected from the edges of the plates helps define the sculpture's female form: the human brain is good at imputing the entire picture, even when supplied with a partial set of pixels. In the second photograph, the female figure, seen in repose, gives the distinct impression she could stand up at any moment and stroll off into the distance.
The Babies
As if the ghostly apparition of a semi-transparent female were not enough for one day, around the corner, outside the Palm Springs Art Museum, visitors are confronted with this unsettling installation entitled, The Babies.
In the work of a Czech sculptor, David Cerny, the crawling figures possess barcodes rather than faces — apparently a statement on the dehumanising effect of tech and big data on society at large. The chubby bodies supporting oversized heads are eerily realistic, the sunshine reflecting off their shiny surfaces resembling a child slathered in baby oil. W.e.i.r.d.
Head first
This automotive installation, entitled History of Suspended Time: Monument for the Impossible, can also be seen at the Palm Springs Art Museum. Although considered a sculpture, it is more an engineering feat — successfully suspending a 1968 Chevy Malibu vertically over a jet black reflecting pool. The bodywork gleams in the bright desert sun against the backdrop of palm trees and dry-roasted hillside — what a stereotypical Southern Californian scene.
Desert serpent
This fearsome serpent dominates a splendid collection of sculptures found on the outskirts of Borrego Springs, a small town in the Anza Borrego desert, to the east of San Diego. The sunlight on this parched desert plateau is also fearsome, resulting in deep shadows that bring out sculptural scales and horns in dramatic relief. Its undulating body approaches ominously as it swims across the desert, sliding silently under the nearby road before surfacing abruptly to scare the pants off its hapless prey.
Norma Jean
What could be a more fitting climax to this article than a photograph of the world's most famous sex symbol, represented here as a gigantic figure, skirt lifted by a non-existent breeze, inviting visitors to enter the museum behind her, visible through her glamorous legs?
This sculpture of Marilyn Monroe reenacts the scene in the Billy Wilder movie, The Seven Year Itch, in which a breeze from the subway below lifts her skirt whilst she stands above an air vent on Lexington Avenue between 52nd and 53rd Streets. You might think it is a stretch to include it here, but it too exploits the interplay of light and form, sitting as it does in brilliant sunshine. The pleats in her dress cast shadows that would make a renaissance painter swoon.
Although the sculpture adorns the walkway to the Palm Springs Museum of Art, it would fit just as well in my adopted hometown, where she starred in the movie Some Like it Hot, filmed on location at Hotel Del Coronado.
Any colour as long as it's black (and white)
As anachronistic as black and white photography might seem in this day and age, I believe both architecture and sculpture, where shape and shadow create visual impact, benefit from rendition in this medium. The photographs in this article were taken with cameras possessing a colour sensor and then converted to black and white in Lightroom. Since all were taken in daylight at low ISO, it is not clear to me what advantage a dedicated black and white sensor would have in this situation. I am also not aware of an L-mount body with a monochrome sensor, which would be required to deploy the wide-angle and telephoto zoom lenses I use regularly when photographing these subjects. So, I am resigned to this slightly odd process of capturing images in colour and then relentlessly stripping them of that colour!
Nevertheless, I intend to press on and add further to my collection of monochrome images of architecture and sculpture as I explore new facets of these human-designed and constructed objects which add so much to our built environment.
---
---
Join our community and play an active part in the future of Macfilos: This site is run by a group of volunteers and dedicated authors around the world. It is supported by donations from readers who appreciate a calm, stress-free experience, with courteous comments and an absence of advertising or commercialisation. Why not subscribe to the thrice-weekly newsletter by joining our mailing list? Comment on this article or, even, write your own. And if you have enjoyed the ride so far, please consider making a small donation to our ever-increasing running costs.
---