Throughout my adult life, I have been fascinated by motor vehicles — cars, motorcycles, commercials — made in the years between the two world wars. I have a particular penchant for steam lorries, even though I can barely remember them trundling along the streets of my home town.
It is probably because this period of wonderful marques and seemingly carefree motoring took place before I was born. That's always a good start; those proximate years invariably elicit a degree of curiosity and faux nostalgia. What was it like then, you wonder, so enticingly near yet irretrievably far?
Lock, stock and barrel
The inter-war years, for me, are now bundled lock, stock and barrel with the Brooklands Museum, southwest of London. Here is the remnant of the world's first purpose-built banked racing track; here is the clubhouse preserved as it was before the outbreak of war. The whole place is reminiscent of all those long-vanished marques, for Brooklands flew the chequered flat for the last time as the sirens wailed on that late-summer Sunday in 1939.
How, then, could I resist an invitation to view the return of three Delage racing cars which had not been seen together at Brooklands for over 90 years?
1927 British Grand Prix
Two of the three cars, known as Chassis 2 and 4, raced together on the famous banked circuit in the British Grand Prix of 1927 — now a cool 95 years ago. The Delage 15 S 8 piloted by Robert Benoist came first after 125 laps and was closely followed by Edmond Burlier in the sister car. The third vehicle in the photographs below, built around Chassis 5, resulted from a raid on the manufacturer's parts bin in 1930. That's the duck-egg blue car and the most attractive of the bunch in my book.
While I can salivate over these old racing cars, my main interest has always lain in road-ready production vehicles, the sort that I could have aspired to were I to have been alive in those days. That's why, in many ways, I was attracted to the relatively uncelebrated yellow Delâge DI "Dual Cowl Skiff" that was parked modestly outside the ring of photographers.
These cars, built primarily for well-heeled followers of the racing Delâges, were beautifully engineered and have often been compared with Rolls Royce and Bentley.
Roaring Twenties
As the Roaring Twenties kicked off, a young man, having survived both war and the Spanish flu epidemic, may have owned a "skiff" bodied car like this. He would have had the chassis sent to a "carrosserie", and, meeting with Le Patron, he would select from a catalogue of body designs.
The boat tail, of no practical use, and the wooden door capping were fashionable at the time. This 1923 Delage DL is now 99 years old, but it was very sophisticated in its day. Its four-cylinder overhead-value engine of 2120 cc sports a five-bearing crankshaft, full-flow pressurised oil system with cartridge oil filter, roller cam followers, automatic advance and retard in the magneto, multi-plate dry clutch and four-speed gearbox. It will still cruise happily at 60 mph.
Railton Terraplane
But any pre-war sports tourer can wet my whistle well enough. And here is another less well-known model. It's a superb example of the Railton Terraplane, named after Reid Railton, one of the most successful record-breaking car designers before the Second World War. This was the first model offered by Railton Cars and was based on the American Hudson Terraplane. The lightweight British-built body made the car much sportier, reducing the 0-60mph time to just 13 seconds.
The Brooklands Terraplane (BPL 48) has a particularly interesting history. It was owned by motorcycle racer and record breaker Eric Fernihough who used it as a runabout and to transport his bikes to Brooklands from his nearby garage. The coachwork was built to Fernihough's specification by John Charles & Co of Brentford in West London. Originally black, the car was resprayed in red in 1955. It is powered by a 4-litre straight-eight Hudson Terraplane engine, driving through a three-speed gearbox. Originally it cost £499.
Daisy, Daisy, give me your answer do…
And here's an old girl who has been featured before in Macfilos, although not in such an intimate fashion. Daisy.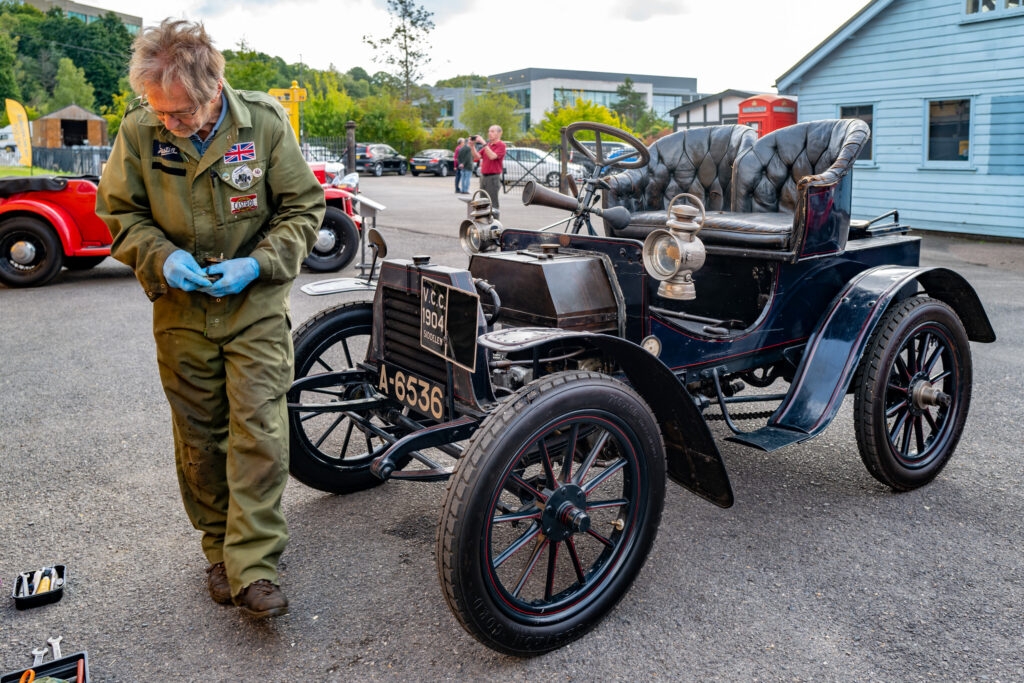 But all the action didn't happen in the magic twenty years between 1919 and 1939. Much earlier, Daisy was the chosen runabout of pioneering motorist Ethel Locke King, wife of Brooklands founder Hugh Locke King. The 1904 Siddeley two-seater tourer was already three years old when it became the first car to be driven around the new track just before it opened to the public and before the actual opening ceremony.
Hugh Curling Hunter, a private racing driver, bought Daisy from Ethel Locke King in July 1939, just before the war's start. He drove it in many veteran events during the following decades before retiring it on permanent loan to Brooklands. Daisy was donated to the museum in 2017 and was restored to running condition as recently as 2020. She now needs a lot of looking after, something the Brooklands volunteers are well equipped to offer.
Images by Mike Evans, Leica Q2 and (for the indoor shots) Leica M11 with 50mm Apo-Summicron M
---