Has your heart ever leapt at the sight of an urban apartment building? I suspect not. Mine practically jumped out of my chest when I clapped eyes on the one I am going to tell you about. I knew immediately I had hit the jackpot: a geometric goldmine; a technicolour temple; an abstract photography bonanza!
Abstract photography – the key ingredients
My kind of abstract photography is based upon three key ingredients: colour, shape, and shadow. I am always on the lookout for architecturally imaginative buildings that afford opportunities for abstract photography. Ideally, they are bathed in bright sunlight, where shapes and shadows abound. Rarely though do I also find that third ingredient: colour.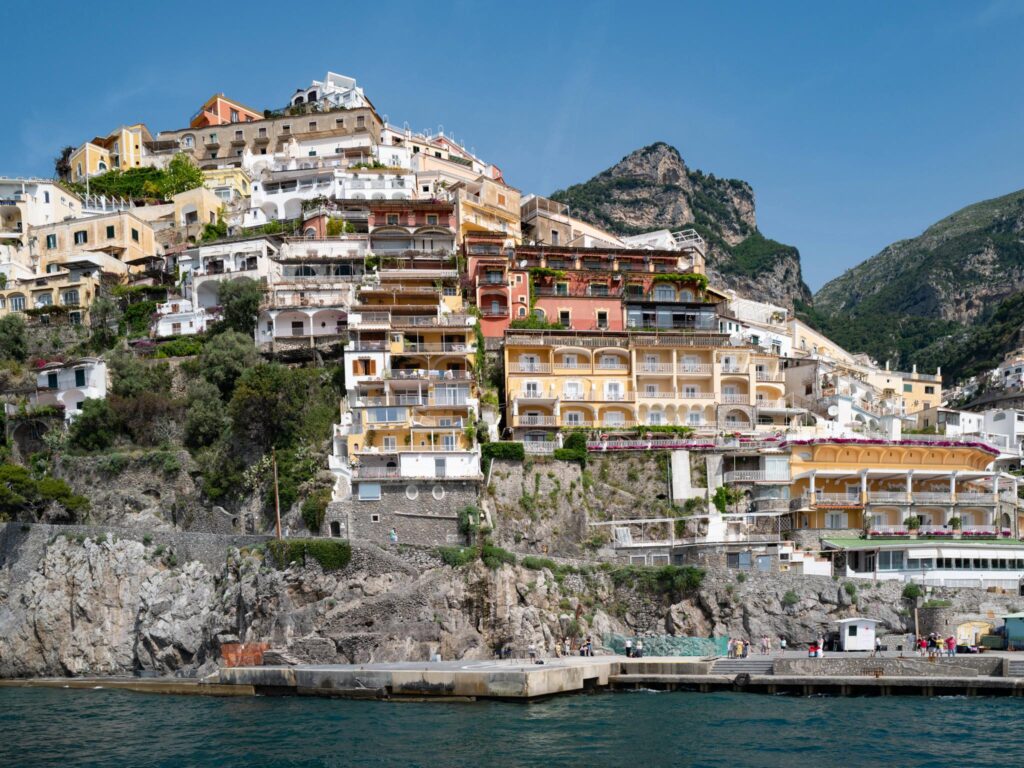 While Southern European cities are awash in brightly coloured buildings, running the gamut from pinks and reds through shades of yellow and orange, home owners here in Southern California, though enjoying a Mediterranean climate, generally eschew Mediterranean-coloured homes. To find buildings presenting the magic mix of all three ingredients, I rely on detective work, bicycle rides, and serendipity. I am the Inspector Clouseau of abstract photography. It's a cause for great rejoicing when I stumble upon one, mes amis.
The other side of the bridge – Barrio Logan
At the northern end of the Coronado Bridge lies Barrio Logan, Spanish for Logan neighbourhood. It is a largely Hispanic district whose name derives from Logan Heights, a street laid in 1881. The street was named after congressman John A. Logan, who in 1871 had sponsored legislation to set aside land for a (never to be built) transcontinental railroad ending in San Diego. The land eventually became available for housing and retail use.
Barrio Logan is an art-centric district known for its murals, restaurants and coffee culture. Notable attractions include Northgate Mercado, a Mexican food market serving freshly-prepared ceviches (my favourite is the camaron y pulpo: shrimp and octopus), and the murals of Chicano Park.
The park encompasses pillars holding up parts of the Coronado Bridge, adorned with murals painted largely by the local community. It is a designated San Diego Historical Site and listed on the National Register of Historic places. The park resulted from grass-roots activism by local residents. They protested upon learning that the area, long designated for use as a park, was to be paved over and used a parking lot. They were successful – after a twelve day occupation by protesters, the city called off construction plans and agreed to develop the park.
Abstract photography in Barrio Logan
Barrio Logan is where I made my discovery: a recently constructed apartment building whose designers' extravagant use of colour reflects the importance of murals to the local culture, while offering a modern interpretation of the Mexican muralism art movement. I will present a collection of abstract interpretations of this marvellous structure and then show you the building itself. No skipping ahead!
This first gallery exemplifies the subtle differences in shadow geometry resulting from variations in angle subtended by the sun and an observer with a camera. Each is composed of four geometric shapes, anchored by a red right-angle triangle poking the corner of the frame. While each can stand alone, the panel arrangement reveals a second-order, composite image: five for the price of four!
To my eyes, the next group conveys a futuristic impression: glimpses of a space-age city, where cars fly through the air, or of ultra-modern habitats on an alien planet. I was fortunate to visit when shadows were pronounced, dodging traffic as I adjusted my vantage point to align key architectural features optimally; a few cars blew their horns at me.
This third set of images incorporate blue sky as a geometric element. Remember that Mediterranean climate I mentioned? As you know, the depth and hue of the blue varies dramatically depending whether the camera is pointing towards or away from the sun. Although those parameters can be adjusted in post, these variations in shade were governed primarily by the viewpoint chosen as I photographed different walls of the building.
The final images exploit oases of colour in a desert of white wall, harnessing deep shadow where I could.
A one-building show
Periodically, I revisit the building, and my photographs of it, in the hope of mining further nuggets from its raw material. I have also experimented with compilations of the individual abstract images to create yet further images, as shown below. This is an idea for a banner I have submitted for consideration by the local cultural arts organization.
That cultural arts commission have also included the six individual images comprising the banner in an exhibition of work by new local artists at the C3 Gallery in Coronado. I told you I had hit the jackpot when discovering that building!
An auspicious address – 1776 National Avenue
I have classified these images as examples of abstract photography, but they fit into an even more specific niche within that niche: abstract-geometric or abstract-architectural photography. I have previously alluded to my obsessive tendencies when exploring a particular photographic genre; in devoting an entire article to abstract images of a single building, I believe I have reached new heights (or depths) of infatuation.
Do you really want to see what that building looks like? Do you need to see it to put the abstracted images into perspective? Since I promised to show it to you, here are two views from slightly different vantage points. Love it or hate it, it is unique. Will I find another building offering such a rich vein of opportunities for abstract photography. The search goes on!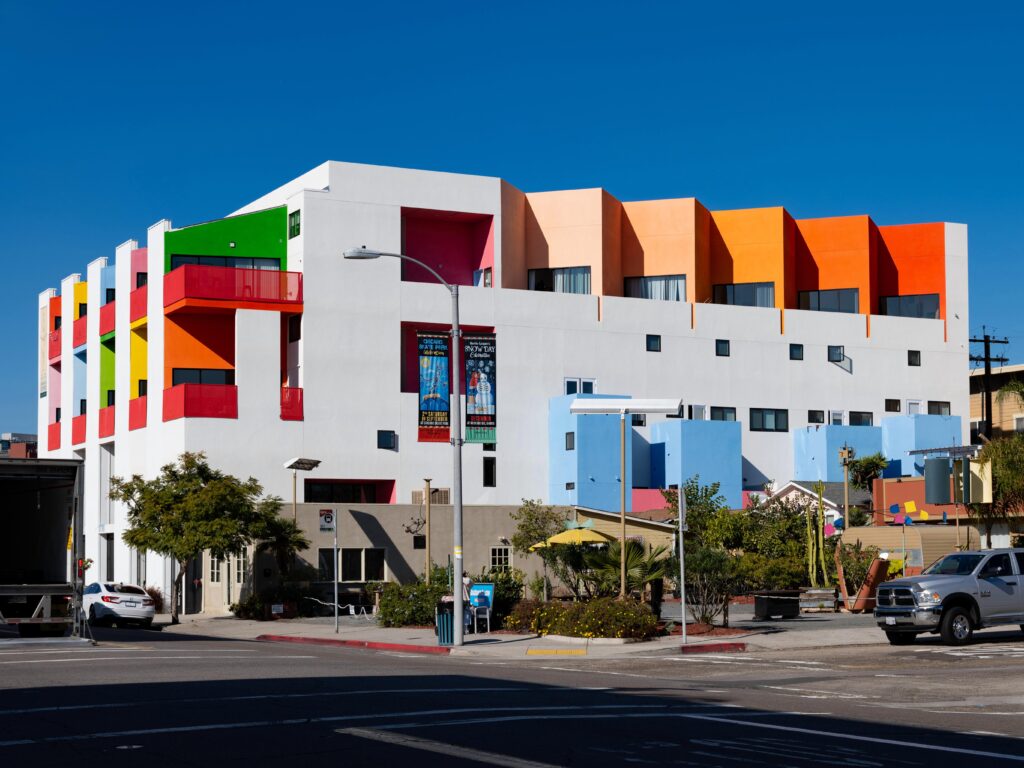 The photographs were taken with a Leica SL2, fitted with either a Sigma 100-400 mm f/5.6-6.3 Contemporary zoom lens or a Leica 24-70 mm f/2.8 Elmarit zoom lens.
Do you have a photographic obsession? Is there a favourite building you enjoy photographing? What are your views on abstract photography? Please share your thoughts in the comments.