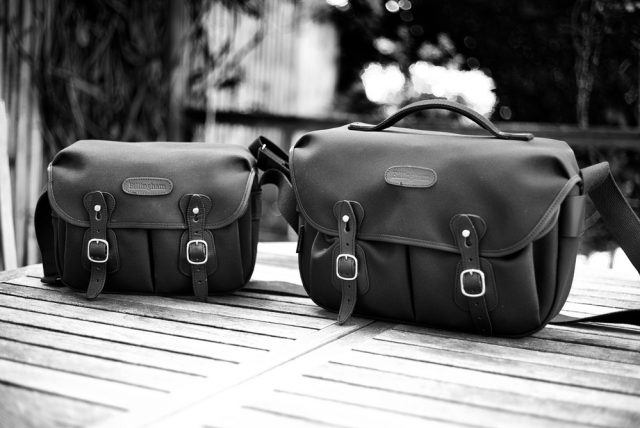 Bihn there, hello Hadley
For the past three years I have been happy with my Tom Bihn Ristretto as a day bag. It takes an 11in MacBook Air in safety, or an iPad, iPad mini and keyboard. There is plenty of room for odds and ends, including a small camera such as a point-and-shoot or, even, a pro-compact Leica X2 or Fuji X100S. Anything bigger and it is a struggle. Worse, there is no bottom protection for the camera and more than once I have heard a metallic ping as I dropped the bag carelessly on the floor.
Last year I started looking around for a bag that would offer space and protection for a camera as well as swallowing, at least, an iPad. There are loads on the market but eventually I decided on a Billinham Hadley Small. Billingham, from Cradley Heath in the Black Country, is an old-established family concern known originally for khaki canvas fishing bags. In 1978 Martin Billingham, himself a keen photographer, noticed that his fishing bags were being used by photographers in New York. Since then these strong canvas holdalls have morphed into an impressive range of high-quality camera bags. They are currently the bags of choice among keen photographers, especially streettogs.
Computer bags, too
While they are not promoted as computer bags, the Hadleys, especially the larger Hadley Pro, do a good job of protecting and accommodating Apple's finest. This is what drew me to them in the first place: The ability to carry cameras and computers in a messenger-bag style case which doesn't attract too much attention.
I appreciate that the Hadleys do not look like typical camera or computer bags and backpacks, the sort you see hanging up in stores everywhere. Then, I don't really like carrying a backpack and it seems that most of the popular camera bags are based on backpacks. The Hadleys, in contrast, are styled on the traditional messenger bag concept but with a dash of good old British retro chic.
When I bought the Hadley Small it was perfect for any of my cameras. It would take a Leica M9 and a couple of lenses, plus a fixed-lens compact such as the Fuji X100. As a bonus, an iPad or iPad Mini could be slipped inside behind the camera protection unit. At the front there are two press-stud expandable pockets to take all your odds and ends. But if you are looking for organiser compartments to hold pens, notebooks and suchlike, the Hadleys will disappoint.
The Hadley Small
My Hadley Small is made from a strong canvas material and has nickel-plated buckles and leather straps and trim. The canvas strap is adjustable and comfortable (though not in the same league as Tom Bihn's Absolute shoulder strap). Unfortunately, the canvas shoulder strap on the Billinghams is a permanent attachment so it is not possible to change. A clip-on shoulder pad is available as an accessory and helps protect the shoulder when carrying a heavy load.
The innards of the bag consist of what Billingham call a "bucket". This is a padded container, in impact-resistant high-density foam material, which contains adjustable dividers to cope with camera bodies, lenses and accessories. The bucket sits inside the bag and is connected with just one press-stud at the front.
Both the Hadley Small and Hadley Pro are similar in appearance, although the Hadley Pro has additional external features I will cover later. Hadley Small measures 290 x 120 x 220mm, has an internal capacity of 3.5 litres and weighs only 700g. It is ideally suited to small system cameras, including M4T, APS-C rangefinder-style devices and, even, the Leica M9. It also takes the new Leica M but, if the viewfinder is left attached, it is quite a struggle to get it in. Unlike the Hadley Pro, the Small Hadley has no carrying handle or rear pocket and I find this a disappointment.
Behind the bucket insert is a space which will take an iPad or iPad mini but would not fit even an 11in MacBook Air. Nevertheless, as a small system bag the Small Hadley is a good choice and is very unobtrusive.
They are also very practical. Both Hadleys I own will stand up in their bases even when loaded with cameras and iPads. I don't have to tell you that this is unusual; most bags have a tendency to flop over, especially when loaded. This feature, alone, is worth the money.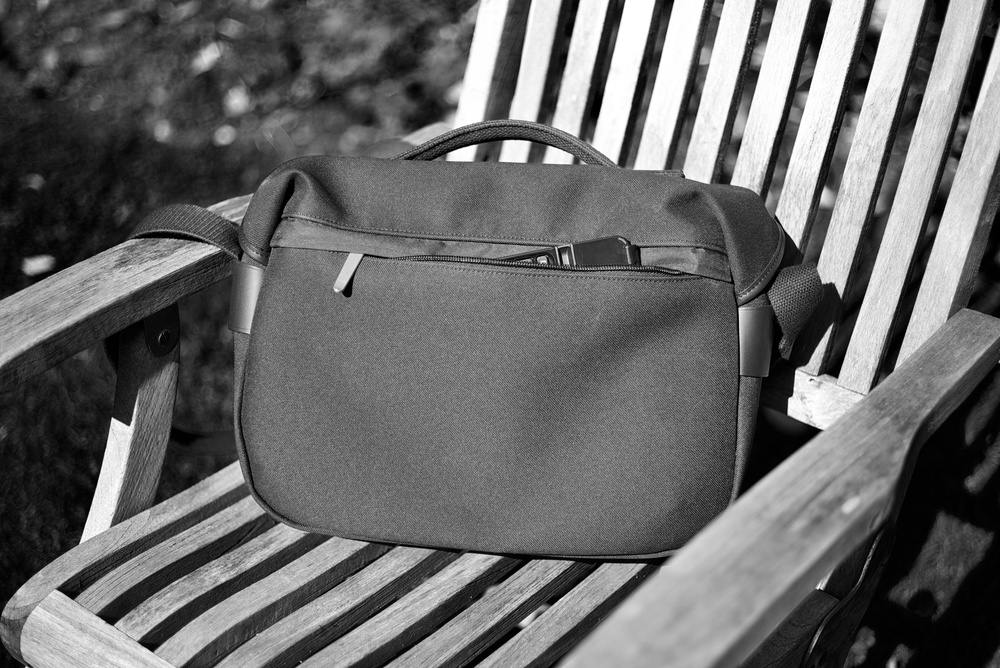 The Hadley Pro
The larger Hadley Pro has two killer features: A hefty, well supported canvas carrying handle at the top, attached to the covering flap; and a rear zip pocket capable of taking an iPad and A4-size papers. This pocket is ideal for tickets and immediate-access items when travelling since it avoids the need to release and lift the main flap. The strap is invaluable because there are occasions when it is more comfortable to tote the bag in the hand rather than over the shoulder.
Incidentally, the shoulder straps on both Hadleys are adjustable and can be made long enough to go crosswise over one shoulder with the bag resting on the opposite hip. Tall people will have no problem.
Because of the larger dimensions of the Pro, an 11in MacBook Air can be slotted between the back of the bag and the insert bucket. It is not suitable for larger-footprint computers, nor for thicker models. The Air will not fit in the zipped back pocket, however.
The Hadley Pro measures 350 x 120 x 280mm, has a capacity of 6 litres and weighs 1Kg. Subjectively, the Hadley Pro does not look of feel significantly larger than the smaller bag; it is similar to an average messenger bag and, in my opinion, is more functional overall than the Hadley Small.
Although the width of the Pro (120mm) is identical to that of the Hadley Small, the added length and height allows surprisingly more room for manoeuvre. It is still a bit tight for a Leica M with lens and viewfinder attached. It does go in (even with a 75mm Summicron on board) and fits perfectly inside the Pro but at a slight angle. The problem is not the lens but the viewfinder. The Sony RX1 and viewfinder has the same problem in some bags although it is overall smaller than the Leica. (The Sony does fit readily into the Pro, even with viewfinder). The Hadley Pro will take a ready-for-action M and a couple of smaller cameras such as the RX1, D-Lux 6 or X2. Alternatively, there is plenty of space for up to three Leica lenses, four if they are small ones.
Choices
In some respects the Small Hadley was the wrong choice for me, but I have enjoyed using it and I am glad I still have it. Now that the Hadley Pro has arrived I have the luxury of being able to choose which I take out with me depending on what I need to carry. A guy can never have too many bags.
Note that there is an even bigger version, the Hadley Large, available from Billingham. I have not seen one. It is slightly bigger than the Pro at 380 x 140 x 310mm, has a capacity of 8 litres and, according to the catalogue, weighs surprisingly a little less at 970g. If you frequently carry a rangefinder-style camera with lens attached and hotshoe-mounted viewfinder in place, the additional width of the Hadley Large could be welcome.

Where to buy
The Hadley bags are quality, well-made products and this is reflected in the premium price. Either of these Hadleys will last a lifetime and I am sure they will improve with age and wear.
Billingham bags are not easy to find outside specialist camera stockists. They are not heavily discounted and, if you have a dealer nearby, it is probably just as easy to buy there instead of using mail order. In London I can thoroughly recommend two Leica dealers who also stock Billingham: Red Dot Cameras in Old Street and R.G.Lewis in Southampton Row, near Holborn station. Alternatively, check out links to Amazon below. Note that if you buy as a result of navigating from this site I get a very small commission from Amazon.
Billingham Hadley Pro Black Canvas Camera Bag with Black Leather Trim
Billingham Hadley Small Black Canvas Camera Bag with Black Leather Trim