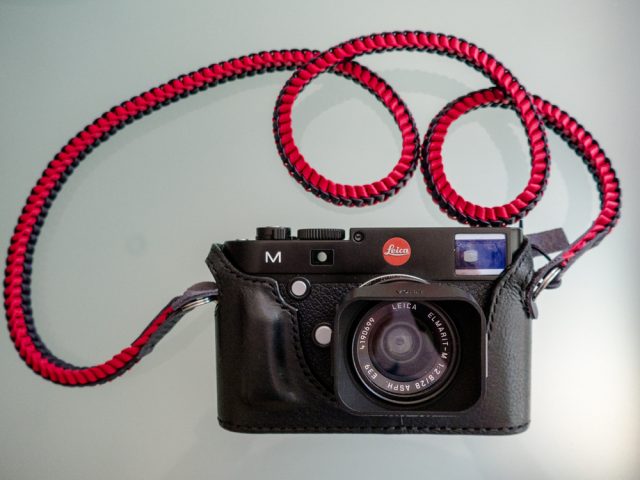 Over the years I have tried camera straps and wrist straps from almost all manufacturers and , as a result, have a fairly good overview of what works and what doesn't. Yet I keep coming back to Barton1972's range of braided leather confections that seem to suit all mirrorless cameras. Plain black has long been my favourite but recently I discovered the new Yin Yang line where two colours of leather are interwoven to create an arresting design that really suits Leicas of any age. The quality and detail of all Barton products is exemplary and the prices are reasonable for this level of craftsmanship. You can spend a lot more for a fancy strap that will not give you half the lasting pleasure of a Barton.
I have been trying out two of the most attractive Yin Yang colour schemes, red/black and blue/grey. The former is perfect for the latest M, the type-240. Barton's red leather perfectly complements the Leica logo and the discreet raised red dot on all modern Leica lenses. The contrasting black mirrors the finish of the body and the combination looks just dandy on either the all-black or chrome M. This is a polished leather design and is initially a little stiff. But I know from past experience that they soon wear in. The rounded profile is extremely comfortable and the leather slides easily over a shirt or jacket when worn cross shoulder.¹ As with all of Barton's braided neck straps, the woven design introduces an element of springiness which allows the camera to bounce up and down very slightly and, subjectively, seems to lighten the burden.
The second Yin Yang design is in blue and grey but has a suede finish and is initially much more supple than the polished leather of the red/black strap. Again, this is a terrific combination of colours that would suit any mirrorless camera. I intend to use it on my Sony A7r and it will look stunning.
Both these new Yin Yang straps feature a slightly larger diameter and much stiffer split ring which I think is an improvement over earlier versions. Both split rings are protected by a soft leather flap which fits over the camera's lugs to prevent scratches.
When it comes to wrist straps, I continue to vacillate between Barton's Braidy, which has all the virtues and quality of the neck straps, and Gordy's simple but classic square-section leather straps which I have mentioned on several occasions. I can never quite make up my mind so I have both and change them around as the spirit moves. Sometimes it is nice just to have a change. I also tend to switch regularly between neck straps (when using heavier lenses) and a wrist strap for casual street photography using a 28mm Elmarit or 35mm Summicron.
All cameras come with a standard strap. Most are dreadful, although Leica's basic offering is actually quite a good example of the genre. But adding a Barton braided-style neck strap or a Gordy wrist strap is a nifty way of customising your camera and enhancing pride of ownership, not to mention the improved level of handling.
Both these straps are in stock at Red Dot Cameras, Old Street in London, and cost £60 each. Wrist straps cost £39.
_______________
¹ Some Barton straps are available in a slightly longer version intended for cross-shoulder use or for larger-section photographers.