Everyone knows that Hong Kong is a photographic Mecca and, for Leica owners, there is the knowledge that there is a thriving and knowledgeable community to support the hundreds of dealers. There are Leicas new and old everywhere. But if you are visiting for just a few days, how to sort the wheat from the chaff?
I have spent the past eight days trawling one area, Tsim Sha Tsui in Kowloon, to bring you a beginners' guide to specialist stores were you can find a stock of cameras and accessories at reasonable prices. Although I have had no commercial dealings with these dealers I have gathered recommendations from local photographers and visited all of them to check out the stores.
The first tip is to avoid the box shifters on the main drags, especially on Nathan Road, where it is often difficult to decide on whether or not you are being ripped off. The so-called "duty free" stores are existing on a false premise since there is no duty in Hong Kong. If you are in the market for electronic gadgets and new cameras it is almost certainly safer to visit the larger stores (including the four Leica-owned stores) in the larger malls. Harbour City in Tsim Sha Tsui, for instance, has a bewildering array of electronics and camera shops and the larger chains such as Fortress, offer fixed prices and no underhand stuff. Even though you might get no discount (although you can haggle in some outlets) you are saving 20% VAT, at least until you return to the UK and declare your purchases.
New Leica equipment can be found in stores such as Standard Audio & Photo at Harbour City at a discount. The D-Lux, which lists at £825 in the UK was on sale for the equivalent of £620 when I called in. I found one for under £500 elsewhere. Similar discounts are available on other Leica models although the Q remains in very short supply and, when in stock, is slightly more expensive than in the UK.
But the real joy of lower Kowloon lies in the myriad of specialist dealers hidden away in the narrow alleys, particularly to the east of Nathan Road and north of Tsim Sha Tsui MTR station.
The first thing to remember is that you are not looking for traditional street-level shops.
All are hard to find and I spent many happy hours tramping the streets seeking obscure entrances to shopping arcades full of cameras (and watches, which seem to go together with photographic gear in many cases).
It helps that most of the streets in this area have preserved their colonial English names—Granville Road, Cameron Road, Prat Avenue, Nathan Road. It's one less thing for the English-speaking visitor to struggle with.
If your time in Hong Kong is limited, you can navigate between most of the better-known specialists on foot and within the space of an afternoon. From Hart Avenue, near TST station, to Kimberley Road and on to Hillwood Road near the Observatory, this is the heart of Leicaland.
Of course there are photographic shops all over Kowloon, not just in Tsim Sha Tsui, but you can go mad poring over the map. For beginners, then, this little enclave east of Nathan Road is the obvious starting point.
Within a couple of minutes' walk from the TST metro station, down Carnarvon Road, you will find Hart Avenue, a sort of dog-legged lane than belies its name. At 1-3 Hart Avenue is a narrow entrance to what turn out to be a well-maintained commercial office building. There on the 11th floor you will find M&K Cameras, a well-known Leica specialist. This shop, managed by Frankie Lee, has a bewildering array of used Leica stuff, lenses, cameras and accessories.
Frankie can show you a range of locally made and impressive half-cases for most Leica models which start at HK$980, around £83. That's good value for money, but I was particularly attracted to the more expensive tooled leather case which looks as though it is made from a cowboy boot; not bad value at HK$1,800 (£150). Opposite M&K is a very specialised lens and camera repairer, Lo Kwok Wah, useful to know if you drop your M or need some six-bit coding done while you are in HK.
In the same building, on the 7th floor, is Breguet Camera, another Leica specialist you may recognise from the Internet or from Facebook. Again, this attractive store has a wide range of Leica cameras and lenses for sale.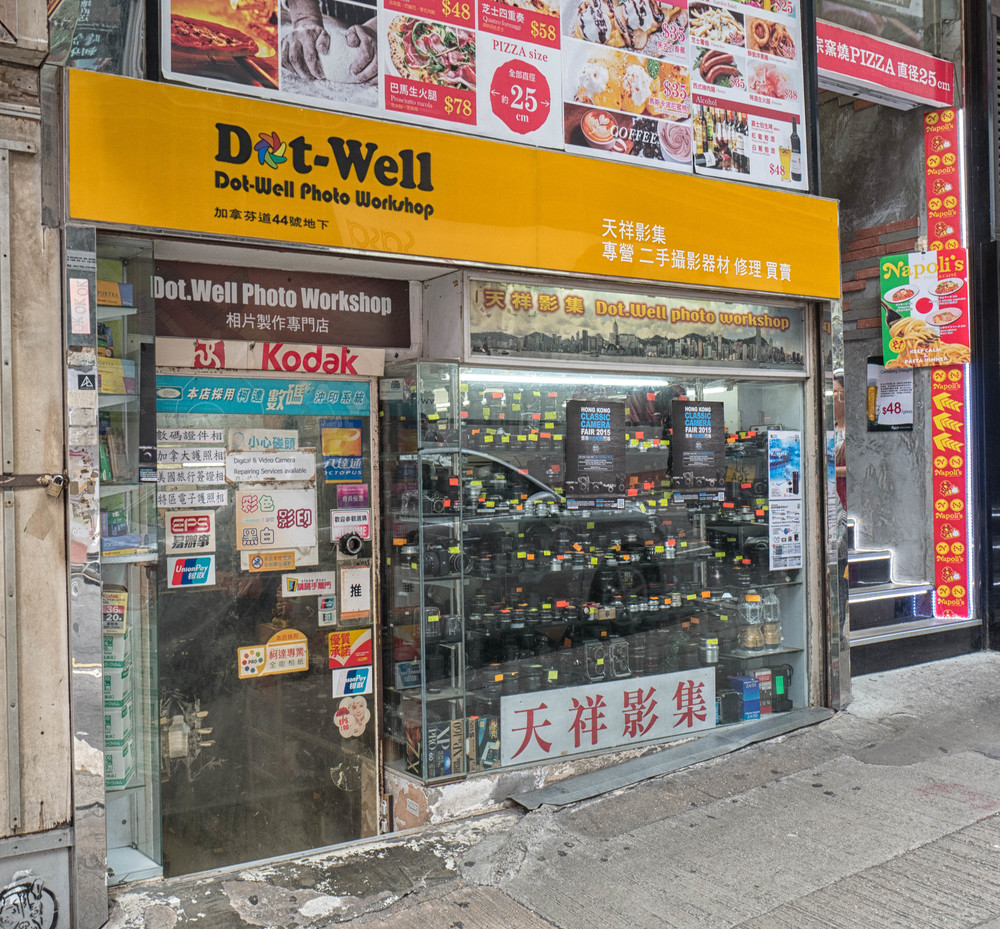 Further along Hart Avenue, turning left at the dogleg, is a modern multi-storey office building, No.8. Here, on the 15th floor behind a very smart door is the office of the welcoming and knowledgeable Alex Chan of Rangefinder. Alex is a true Leica enthusiast and specialises in new Leicas at very attractive prices. He doesn't have a showroom but you are welcome to drop in for a chat and a browse through the stocklist. Or, as with most of the dealers I've mentioned, you can check stock on the website.
Having had your fill of Hart Avenue its time to walk north up Carnarvon Road to Kimberley Road. Turn left on Kimberley and a few doors down on the left you will find the rather optimistically titled Champagne Court. Blink and you'll miss it.
Behind this innocent façade is a veritable Aladdin's cave of cameras and watches. You will find a second branch of M&K, with an equally impressive stock of lenses and cameras, and the old established store of David Chan who comes recommended as a trustworthy and enthusiastic general photographic dealer.
Carry on walking along Kimberley Road and you come out on the main thoroughfare, Nathan Road, where you need to turn right and walk north, past the Hong Kong Observatory, until you come to Hillwood Road. If you get to Jordan MTR station you have gone too far.
Hillwood Road is a cul-de-sac and right at the end, on the righthand side, is the Winning Shopping Arcade. It's another of those blink-and-you'll-miss-it experiences.
Many of the units in this old arcade are boarded up, but take the lift to the second floor and, at the end of a rather bleak corridor you will see the bright lights of Fotopia, currently one of the best-known HK Leica stores on the Internet. Started five years ago by Gilbert Yuen and Manchu Law, Fotopia stocks a wide range of rather special Leicas, lenses and accessories. Gilbert is a local agent for Sejun Kim's Arte de Mano cases and holds a good selection for over-the-counter sale.
Both Gilbert and Manchu tour the world in search of unusual stock and I first bumped in to them last May at the Bièvres Camera Fair near Paris. On that occasion Manchu was cradling a rather special MP-ised M7 which is still in stock at Hillwood Road.
At the Hong Kong Classic Camera Fair I chatted to a number of other dealers that came recommended by my friend but I haven't had a chance to visit all of them. They include Classic Camera Shop at 760 Nathan Road, Prince Edward; and Camera Film Photo at 1 Science Museum Road, Tsim Sha Tsui. As with all these specialist stores, they are often hidden away in obscure arcades on several stories high in office blocks. If you plan to visit, check all the details on the web site before setting forth.
Last time I visited Hong Kong I wasn't focused on photography and, in any case, it was a long time ago. But in the past few days I've learned a lot and met some very interesting and genuine people who, I think, you could have confidence dealing with.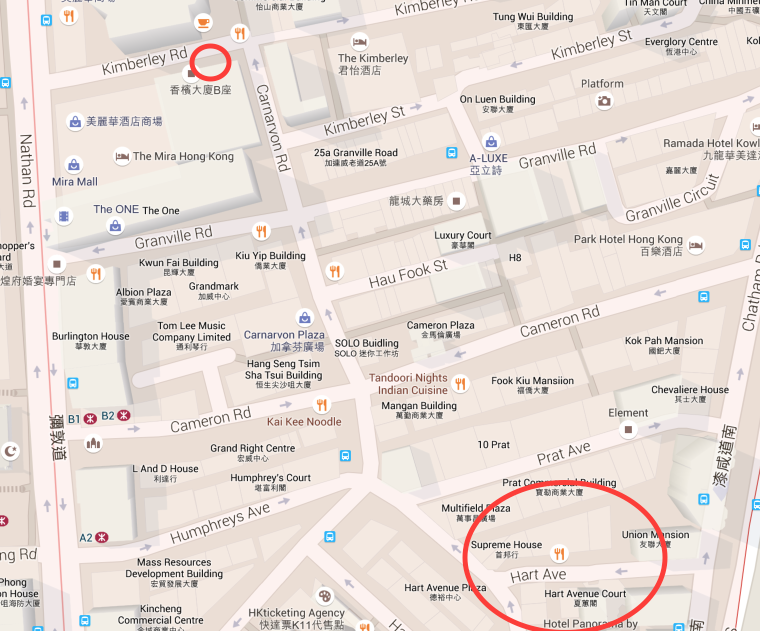 Above, left: Starting from Hart Avenue, walk up Carnarvon Road to Kimberley Road. Right: After visiting Kimberley walk back to Nathan Road and north to Hillwood Road where you will find Fotopia at the very end
If buying new or used equipment in Hong Kong you will be able to take advantage of the duty-free status but you have to bear in mind the need to declare your purchases on return to the UK (or your home country). Tax is something that is difficult to avoid if ordering by mail, so take all this into account. With new Leica equipment, do check on the warranty conditions. While Leica offers an international warranty, some benefits (such as the one-year accidental damage Passport insurance and free Adobe software) are specific to UK purchases. So, in the end, it might not pay you to buy abroad.
If you do bite the bullet, there are undoubted savings to be made in buying new Leica equipment. Without much ferreting I found a new 50mm Apo Summicron for under £3,300 and Noctilux at £4,350. Even taking into account the absence of VAT, these are pretty impressive savings.
Used stock is a slightly different thing and you need to make sure you are buying genuine camera bodies and trouble-free lenses. That's why it's a good plan to deal with the specialist outfits I've highlighted. As for used prices, my unscientific conclusion is that the tags on lenses and cameras, especially film cameras, are very similar to what you would expect in Britain. Alex Chan of Rangefinder pointed out that the secondhand market in Hong Kong holds up well whereas discounts on new equipment are easy to obtain. This results in a lower cost of ownership for the Hong Kong Leica fan as well as some hidden opportunities for the savvy foreigner.
You will all be delighted to know that I kept my credit card in my pocket. There is endless temptation, undoubtedly, and if you visit Hong Kong you may not be so successful in your resistance. For me, though, the pleasure is in the searching and chatting. My tour of Tsim Sha Tsui has been a revelation and I would strongly recommend you pay a visit when you can.
Note that this information is current as of October 2015. If coming to the article later it is advisable to check the details before setting out.