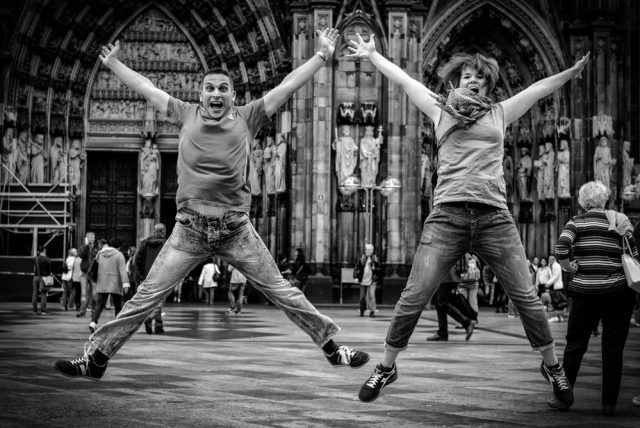 My Photokina press pass arrived this week and I'm looking forward to visiting Europe's biggest camera fair. As usual I will be spending time with Leica but have several other marques to follow, including Panasonic, Olympus and Fuji. Also, Patrick Leong over at findingrange.com in New York City has asked me to give the Hasselblad display the once over. He's expecting an X1D medium-format camera for review and has asked me to get some atmospheric shots from the exhibition.
As usual pre-exhibition rumours abound and, while everything has to be taken with a pinch of salt, there are some moderately clear indicators of what we will find.
It looks likely we will see a Mark II replacement for the Olympus OM-D E-M1 with the 20MP sensor of the PEN-F. I'm also hearing strong leads on the long-awaited medium-format camera from Fuji. Did you know that Fuji make the lenses for the new MF Hasselblad? There's a clue here somewhere. From Panasonic I wouldn't be too surprised to find a successor to the LX100 (aka Leica D-Lux) making an appearance. There could also be a new FZ1000 (Leica V-Lux) in the offing.
But back to Leica. I am reasonably certain we will not see a new M at this year's show. We might get some hints, but I don't think we will get a firm announcement until the spring of 2017.
The big hope at Photokina, I think, must be a new T-mount APS-C camera, possibly as a supplement to the futuristic T. If Leica is really going to crack the APS-C market and provide realistic competition for the likes of Fuji, they have to get over the viewfinder hangup. Any new TL-mount camera must have a built-in viewfinder.
A few weeks ago I suggested that this new ILC should be a scaled-down version of the SL. I still think this would be a sensible move. But I now expect the new model will be based on the body style of the Q, with integral EVF and some degree of back-pedalling on the touch interface. I firmly believe a more conventional offering would prove more successful than the existing T. [Note: A week after publication of this article we heard a suggestion that this new camera will be called the Leica TL and will have an integral viewfinder. I now even more convinced it will be styled on the Leica Q].
The TL lens lineup is now extensive and an APS-C system camera with the right credentials will succeed. With the SL offering full-frame capability, a cheaper APS-C alternative is a no-brainer.
Another camera that is possibly for the chop is the X Vario, worthy and underrated as it has been. However, if my suspicions of the way forward for the T system are accurate, there might be no room for an X Vario replacement. Stick an 18-55mm TL zoom on a new T-mount system camera and Bob's your uncle. It might be a case of RIP, X Vario. If, against the odds, the X Vario not only survives but is redesigned, let's wish for a built-in viewfinder. I sincerely hope we have seen the last of hotshoe-mounted finders on expensive Leica bodies.
While there is little prospect of a new M next month, we do know that there will be at least one lens—and a real oddball at that. We have had hints of it earlier in the year and I am now pretty sure it will arrive at Photokina.
It is a rework of an old lens, the 28mm f/5.6 Summaron which was produced between 1955 and 1963. It is one of the most compact M-mount lenses ever made and I understand that the newcomer will have a retro appearance. Although slow by modern expectations, the f/5.6 is likely to be tack sharp and will be just right for street photography and landscape work.
The 28mm focal length has been newly popularised by the success of the Leica Q so there will be ready acceptance. I suspect this little lens will be something of a hit provided it isn't prohibitively expensive. It should be no more expensive than a 35mm Summarit (£1,400) and preferably a little less.
What future for the Q? This has been the surprise camera of the past twelve months. I don't think even the bravest hearts at Wetzlar expected it to be as successful as it has been. It is a stunning camera and has a lot of life left in it in its present form. I've heard suggestions, though, that a 50mm Q would be a welcome addition to the lineup. I don't buy this. I think it is much more likely that we will see a Q Vario, a full-frame version of the X Vario. My sole reservation on this is the potential size of the lens. If it is to be any faster than the much-criticised slow-coach X Vario zoom, it is going to be pretty large. Perhaps too large for comfort.
What we will not see, tempting as it must be to hope, will be an ILC full-frame camera based on the smaller Q format. The SL is big and heavy, commensurate with the scale of the lenses, but if the same sensor can be fitted into the smaller Q body it is tempting to wonder if such a lighter system could be possible. Sadly, this would erode support for both the SL and M and I don't think it will happen.
Both the D-Lux and the V-Lux will closely mirror Panasonic's development plans. If Panasonic make a move in Cologne I suspect Leica will not be far behind. It is possible, therefore, that we will see upgrades to both compact cameras at Photokina.
My crystal ball is polished and ready for any last-minute changes before Cologne.
As always, I should state that I have absolutely no inside knowledge of Leica's plans. I am merely stating my own thoughts which I have already parroted out to anyone willing to listen. Any reader comments and observations on this subject are more than welcome.
________________
Travel Postscript: Having left it rather late to make bookings for Cologne (a notoriously expensive city during Messe weeks), I was not surprised to find direct plane seats at a premium. A bit of lateral thinking and a visit to CaptainTrain.com and I found I could travel in comfort by train for less than the remaining economy prices for air travel.
I hadn't really thought about using the train to get to Cologne but, when I think about it, it can be less hassle than flying. I remember that for the 2014 Photokina I booked Lufthansa via Frankfurt, there being no direct flight available at the time, and discovered that the onward "aircraft" from Frankfurt to Cologne was actually a train. It even had an LH "flight" number so it was a surprise to find that it never left the ground. A German friend told me that this train-plane concept had been in use for many years. As it happens, though, it is probably a sensible option.
So it is Photokina by rail this year, and I step off the platform at Köln-Hauptbahnhof right into Domstrasse where my hotel is conveniently situated.
Subscribe to Macfilos for free updates on articles as they are published. Read more here
Want to make a comment on this article but having problems? Please read this