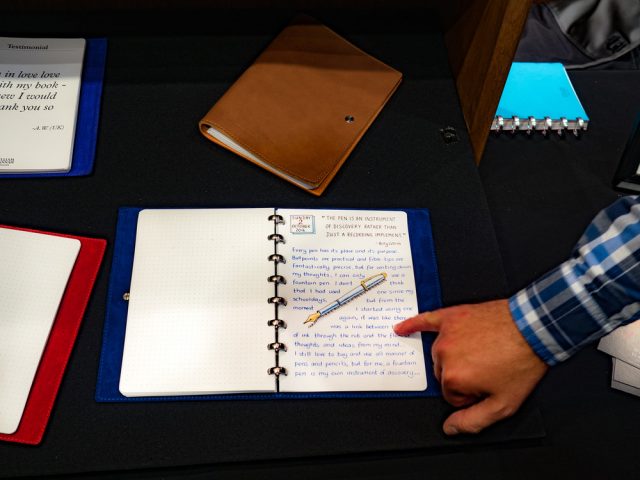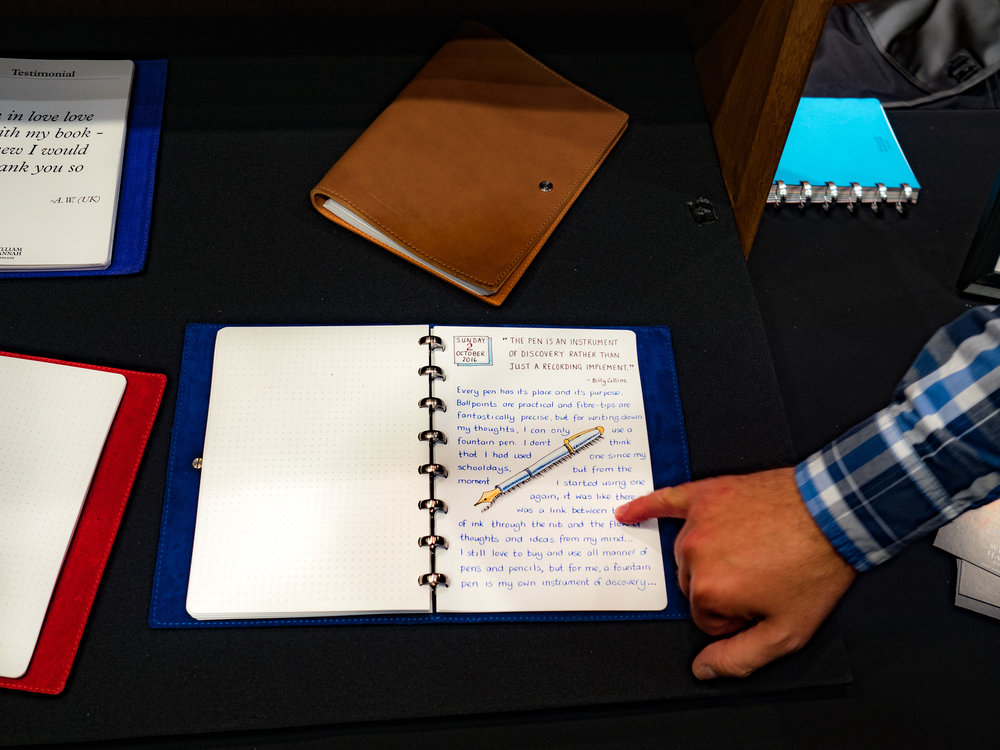 There's something about the whiff of enthusiasm, whether it be attraction to old Leicas, bicycles and motorcycles, cars, Swiss watches, you name it. The reek of enthusiasm is the same wherever you go. Everyone looks the same, too.
In recent years I've spent a lot of time at camera fairs — the annual Photographica in London, the Biévres fair near Versailles and local fare such as the popular South London events in Bexleyheath. But until Sunday I hadn't been to a pen love-in.
Bloomsbury bonanza
My friend George James, a fellow Leica fan, knowing of my liking for fine fountain pens, mentioned the London Writing Equipment Show and he dragged me along last Sunday. This event, in common with the South London Camera Fairs, takes place in a branch of the Holiday Inn — this time in London's Bloomsbury just off Russell Square and not in suburban Bexleyheath.
I was at home immediately. Same people, same huge interest from the Far East, acres of pens ancient and modern. But pens are small compared with old Leicas and cameras in general, so for a given area (in this case a suite of conference rooms at the hotel) you can cram in a lot more product. Anyone seriously interested could have spent a week, never mind a day, scribbling away with various pens and a variety of nibs. There was just too much and I was left with a distinct feeling that I had missed much.
Ancient and modern
All the famous names were there: Conway Stewart, Waterman, Swan, Parker, Montblanc, Pelikan, Lamy and dozens more. What is remarkable is how so many of these old pens, many over 80 years old, are still in near-perfect condition and still writing as on the day they were born. New pens were in evidence, mostly at a show discount which makes buying worthwhile.
George and I cast lascivious eyes over a range of vintage Conway Stewarts but I was drawn to a rather nice Montblanc Bohéme — a unique pen with retractable nib and some quite astounding mechanics. George has one and I've had my eye on it for years. Now was my chance to pick up a good second-hand version from Ray Walters who had a superb collaction of hundreds of pens. At least I didn't come away from the show empty handed.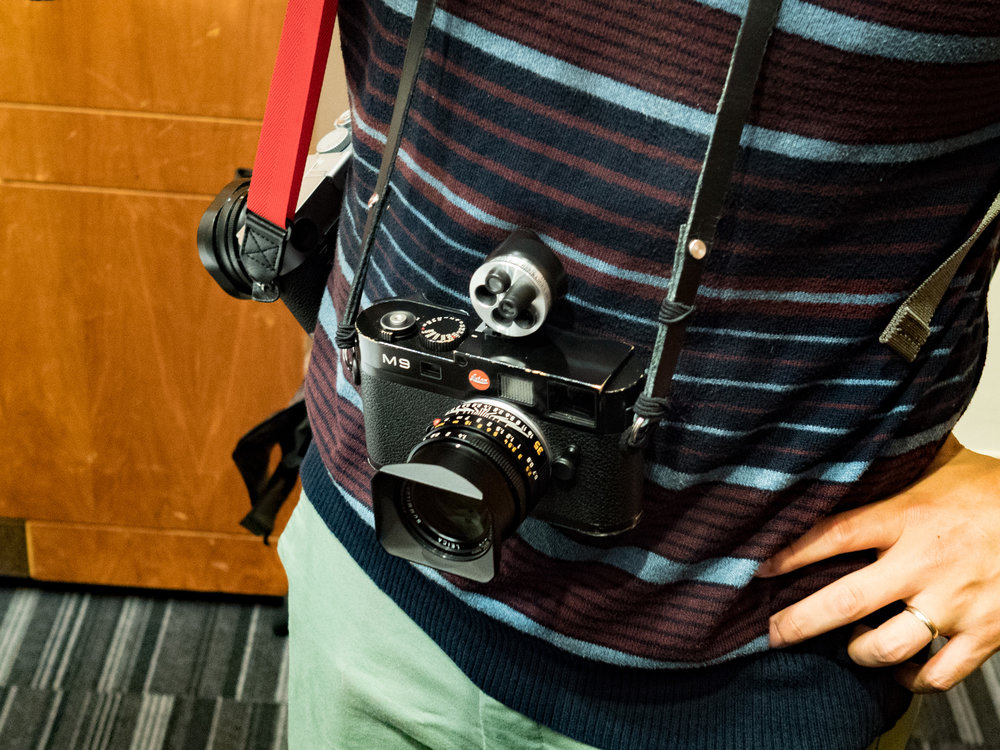 As I mentioned earlier, the visitors looked so familiar, just like the types who frequent any hobby-based activity, and so similar to our photo fair aficionados. Indeed, we even bumped into a couple of Leica enthusiasts, both Chinese PhD students at Oxford, festooned with cameras and sharing a passion for fine writing instruments.
It wasn't all pens, not by a long way. You have to have something to write on after all. That is usually called paper and there were serried ranks of Moleskines, Rhodias, Leuchtturms and other famous brands of notebook to be seen.
Notebook intrigue
My eyes lit on something really special, an unusual notebooks system designed and manufactured in England by William Hannah Limited. Encased in very fine and desirable Italian leather, these notebooks work on a variation of the ring-binder principle but with a big difference.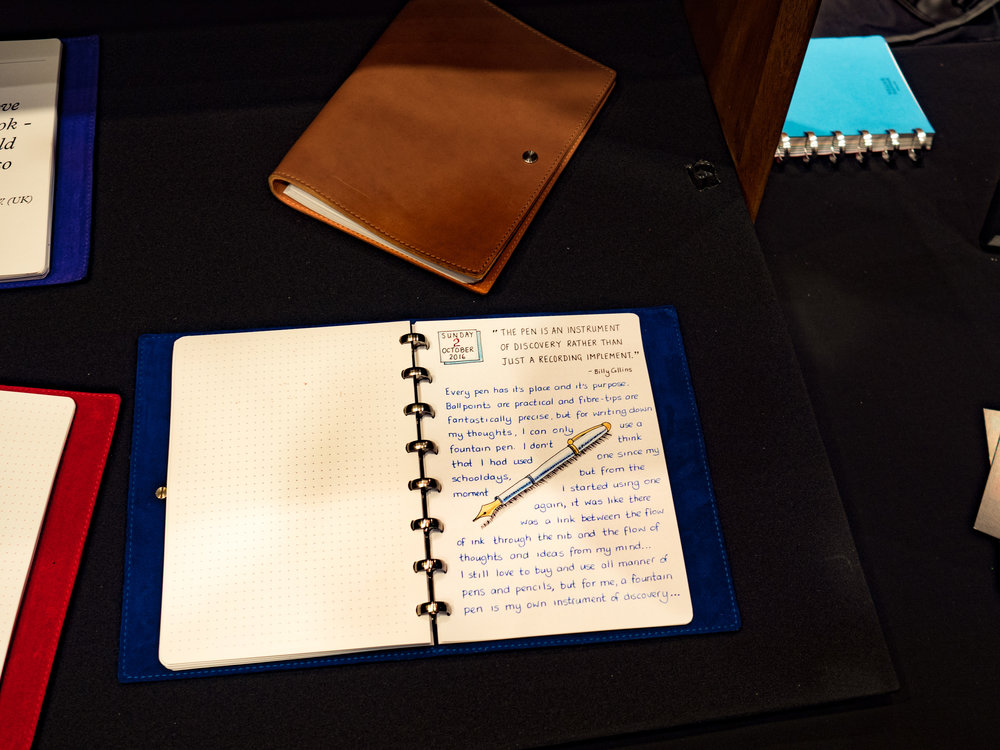 The substantial stainless-steel rings, looking more like finger-wear than notebook accessory, accommodate specially punched paper which can be fixed and removed without opening up. You just pull off the pages, move them somewhere else in the book and insert them at the appropriate spot. There is also an archive binder which allows you to store and catalogue your used pages.
This isn't a new idea. I remember accounting ledgers using this principle over forty years ago, but I've never seen it applied in such an elegant and efficient way to a notebook system.
I have to admit I was strongly tempted by a gorgeous blue leather folder and the £95 asking price, including a book full of pages and a special show offer of a free refill, didn't sound too excessive. I resisted but I am now having second thoughts and might have to pay a visit to the web site.
La Bohème
At the end of the day I returned home fired with renewed enthusiasm for writing instruments. The little Montblanc Bohème is on my tray of most-used pens, alongside my other Montblancs, Pelikans and Parker 51s. I also decided to have a clear-out of all the also-ran pens, propelling pencils and ballpoints I've accumulated over the years. I now know several dealers who will be interested in making an offer. As with all enthusiasts, though, thinning out the collection is only good for one thing — to make space for more acquisitions. It's just that as I've got older my tastes have refined (at least I think so) and I now have a much better idea of what to go for. There's a great sense of satisfaction in clearing out the old and ushering in the new.
Click on above images to see full frame
All this said, the fancy high-end brands are not the only quills on the goose. I've recently developed an unnatural attraction to Lamy's cheapest Safari fountain pens. For under £15 these chunky and cheeky pens provide a wonderful writing experience. They are far better than they ought to be for the price. They look like cartoon pens, with large clips like a bent coat hanger and a strange but comfortable angled plastic grip. But they work like a dream.
For fountain pens, these Lamys are so good and so cheap that you can afford to have one with every nib that takes your fancy. Recently I dragged back a quartet of Lamys from Berlin — with extra fine, fine, medium and broad nibs — and they cost me €17 each, a total of only €68 or €55, little more than a couple of Wiener Schnitzels and Pommes in Kreuzberg. The good thing about these instruments is that I can take them anywhere and not worry overmuch about losing them. With Montblanc, Pelikan and other premium brands there's always a certain angst about misplacing them. I find the Lamys to be an excellent go-anywhere alternative to ballpens or roller-balls. And they don't leak into your jacket pocket at 30,000ft as do some more expensive varieties.

Ah, I imagine you saying, this is yet another slippery slope of collectability for Evans Major. In the past, I admit, I have been a collector of pens and watches. But now I am not inclined to take either all that seriously. Even Leica collecting is not a compelling collection pursuit, although I do have a few older bodies lying around. Watches are definitely a thing of the past since the arrival of the Apple Watch, to which I am totally addicted. Once a fan of fine Swiss watches, I confess that my IWC Pilot's Chronograph hasn't been on my wrist even once since the Apple Watch arrived. Times change, I supppose, but it doesn't take much to rekindle my interest in any of my old flames.
I can only blame George James.
____________
Subscribe to Macfilos for free updates on articles as they are published. Read more here
Want to make a comment on this article but having problems? Please read this