I always visualise my enthusiasms from the top of a steep hill. Paths lead downwards, most of them very slippery. Once I get the urge, I launch myself downwards with abandon. It's like that with cameras; it used to be like that with watches and pens. Pens, though, have just been resurrected in that part of my brain reserved for such fads.
As I explained in the Lamy Safari article, my handwriting mojo was withering rapidly as a result of lack of practice. These days it's keyboards, keyboards and nothing much else. But a few years ago I started writing every day. I fill notebook after notebook, mostly with rubbish, but I regard it in the same way as swimming length after length at the Lido. Only it can be less boring. Yet as a result of this diligence my fluency has improved enormously. I am enjoying writing once more.
In the Lamy article I mentioned my new-found friend Ray Walters who is to classic fountain pens what Erwin Puts is to Leica lenses. Earlier this week he invited me to his stand at the Chelsea Antiques Fair and I had a good rummage around the delightful vintage pens on offer. Lust reared its ugly head, predictably, and I am just a step or two away from sliding down that slippery path. You know the feeling.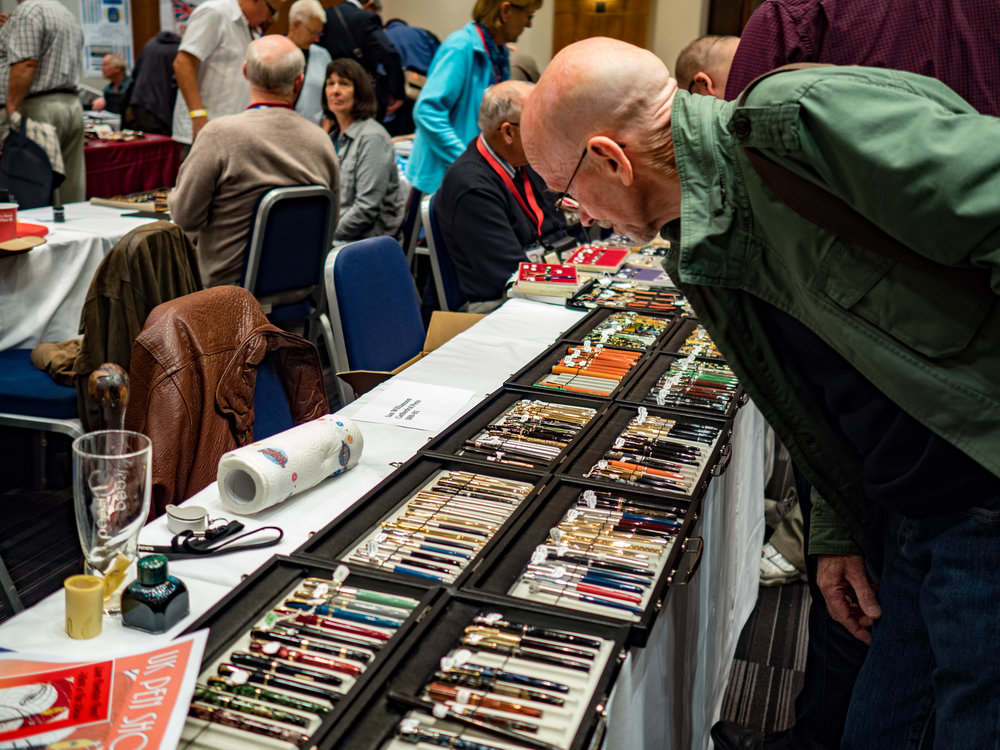 Sportsperson's pen
Anyway, Ray thrust into my hands a rather nondescript rubbery-textured black pen with no clip but with a cap that is nearly as long as the body. It's a pocket or bag pen, rather than a jacket-pocket clip-in device, and was designed for sports people. I was instantly smitten by this little pre-war fountain pen, the Kaweko Sport. It wrote like a dream and Ray's price tag said £120. Ho, hum, I thought. Should I?
But then Ray informed me that Kaweco is still alive and scribbling in romantic Heidelburg, wo ich mein Hertz verloren hab'. I was in danger of losing my heart again as I fondled this little gem of a pen. Seems they've been making these odd-ball writers more or less continuously for over 80 years.
Then came the bombshell. Ray fired up his iPad and showed me the Kaweco website. Whoa! £12.59 for a new Kaweco Sport, including tax? You gotta be kidding! The pennies were already trickling out of my pocket as I hotfooted to Pen Heaven to place my order. I settled for an "expensive" version, the Kaweco Classic Sport Fountain Pen at all of £16.19 and a box of six royal blue ink cartridges for an extremely reasonable £1.75 (they appear to be the same as Montblanc and Pelikan and considerably cheaper). One cartridge comes with the pen but it was stuffed so firmly up the barrel, upside down, that I had to shake extremely vigorously.
Amazing value
The Classic Sport arrived yesterday. It's a bit more plasticky and shiny than I expected (having previously caressed the pre-war Gummi model) but has a build quality at least as good as Lamy. Although the nib is steel, as with Lamy (what do you expect for under £20?), it is disguised with a golden hue and looks classier. I went for the fine nib (having discovered a new liking for fine as opposed my previous loves of medium or broad) and it writes every bit as well as a Lamy (or any pen costing several hundred pounds for that matter).
Overall, this is a smaller writing instrument than the Lamy Safari and reminds me of the Montblanc Bohème, although it isn't retractable. Total length is 105mm and, with the cap reversed and fixed on the barrel, the pen is 130mm long. In the days before the convenience of ballpoint pens, this Classic Sport would have been an ideal throw-in-the-bag type of pen. Everyone needed to carry one, just as most people now have a ball pen around their person.
The good thing is the amazingly low price, something you would never guess from actually handling the Kaweko. I am hooked. Slip, slip and so cheap too…..
[Kaweco is an acronym for Federhalter-Fabrik Koch, Weber & Co. The Germans always did do acronyms well, so much more inventive than the English. Next time I'm in Berlin I will no doubt find a huge display of Kaweco at the truly wonderful KaDeWe, Kaufhaus des Westens, or Department Store in the West.
However, in 1929 Koch, Weber & Co went bankrupt after 56 years in business . The factory was taken over by Badischen Füllfederfabrik Worringen und Grube and the production of piston-fill fountain pens commenced. This firm closed in 1970 when the original director died and the name is now owned by H&M Gutberlet GmbH]
___________
Subscribe to Macfilos for free updates on articles as they are published. Read more here
Want to make a comment on this article but having problems? Please read this