The announcement of the new (old) 28mm f/5.6 Summaron lens has raised a few eyebrows. Why resurrect a 60-year-old lens and, perhaps more to the point, why reintroduce a one with such a slow maximum aperture? The Summaron is neither Nocti nor Lux, but it does have a purpose, however specialised. It also has a certain allure for a certain type of Leica photographer.
All photographs in this article, except for the shots of the Summaron, are taken with focus fixed at 7ft (2.13m) and aperture at f/8, auto shutter speed and ISO at 200. No adjustments were made to the camera or lens throughout the day's shooting.
Cheating
I'm cheating here. I don't have the new Summaron but I am relying on reports that Leica has faithfully reproduced the optics of the old lens; they've just added a 2016 coating to bring it more up to date. So my old 1958 Summaron should be good enough, shouldn't it? I'm not entirely convinced, but I decided to take it out for an spin and conduct a long-cherished experiment with hyperfocal settings.
One of the big attractions of the Summaron lies in its tiny profile. It is the smallest M lens in the current catalogue. Mounted on an M240, M-P or, in my case, an M-D, the combination tips the scales at only 850g. It transforms the M-D (almost) into a pocket camera. At least, it fits comfortably in the voluminous pocket of my Barbour Beaufort. Just the job for a bit of huntin' or fishin' or, even, photographin'.
The small size is down to the modest aperture of f/5.6. The argument is that if you are doing some street photography or landscape you don't need f/0.95 or even f/2, so why put up with all the extra size and weight that comes with the faster glass? I wouldn't get rid of my 'Crons or 'Luxes but I would enjoy the Summaron's lilliputian dimensions for certain types of photography.
Let's not beat around the bush. Even at f/5.6 this lens is no bokeh king; not even a bokeh prince. Think bokeh pauper instead. But if you want bokeh you'll look elsewhere. What you do get with the Summaron is a superlatively wide depth of field. Horses for courses.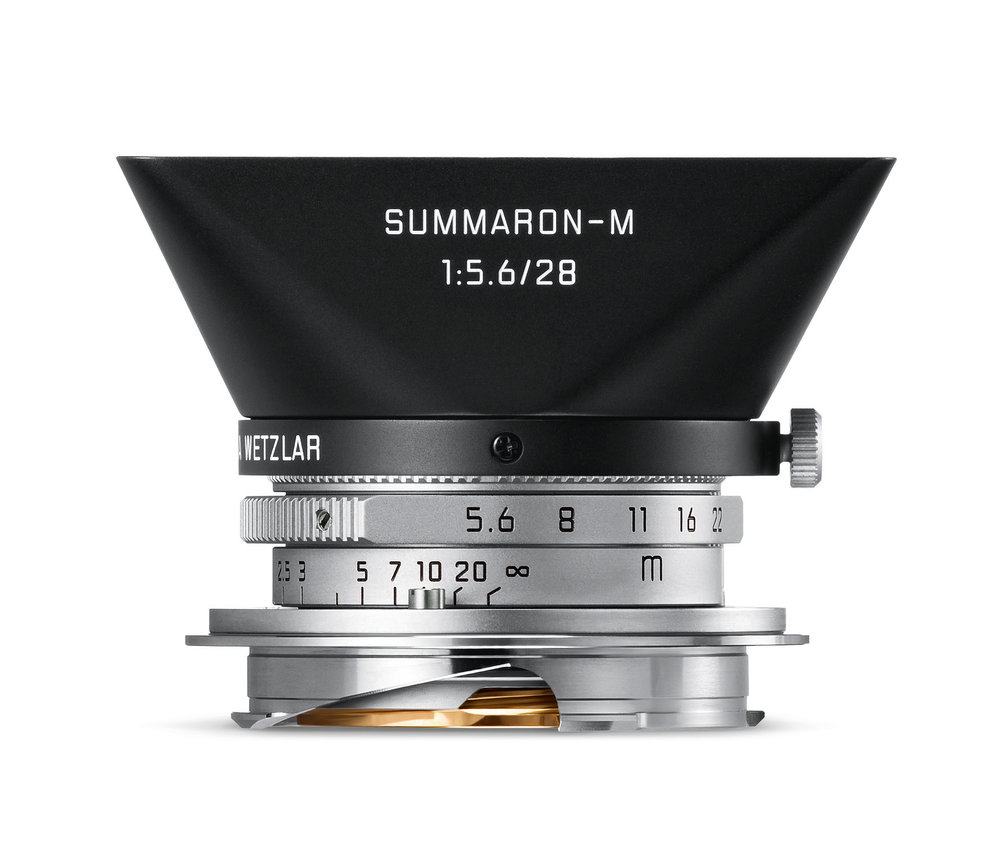 While discussing the dimensions of the Summaron we need a word or two on hoods. The new f/5.6 comes with a particularly large and ugly conical hood that completely destroys the compact credentials of this lens. Again, it is a chip off the old block but the difference is that the original hood is much rarer than the lens itself and commands a ridiculously high price. I do wonder, though, whether such a voluminous Victorian bonnet is strictly necessary on either old or new Summarons. The front element of this lens is so far back that the recess itself almost acts as a small hood.
Since I do not have the original hood to go with the 1958 lens all these shots were taken with the naked lens. It wasn't a particularly sunny day so this was hardly a fair test of flare potential. If I discover that a hood is necessary I think I would prefer a cheap screw-on vented circular design from eBay. Sacrilege, I admit, but I just cannot see myself walking around with that whipped cream funnel on my lens.
Sweet spot
Even at f/5.6 this 28mm has a very wide depth of field and at f/8, which I guess to be its sweet spot, almost everything is in focus if you choose the right zone setting.
I decided on an experiment. I would set the lens to f/8, the focus to 7ft or 2.13m (my 1950s rock 'n roller, unlike the resurrection model, doesn't do metric) and I should be good for some general photography without touching the focus tab. This is potentially better than autofocus, certainly faster than the new Olympus OM-D E-M1 Mk II with all its bells and whistles. It's a case of snap, snap, snap, just like using a Box Brownie.
But would I be able to resist fiddling with the focus? After all, when peering through the rangefinder there is a disconcerting displacement in the focus lines on 95% of framings. Instinct screams No Way! It takes a leap of faith for the seasoned rangefinder user to press the shutter button willy nilly.
The location for the experiment was the pretty market town of Chepstow, or Cas-gwent, just inside Wales across the Severn Bridge. It sits on an achingly beautiful bend in the River Wye (on the other bank of which is England) and boasts a stunning medieval castle, the stuff of dreams of knights and damsels in distress.
Although I've owned the Summaron for some six months (buying it at the Photographica camera fair in May after reading rumours of the newcomer) I hadn't given it a serious outing. So this proved a good opportunity to get some reference shots to help with comparisons when I eventually get my hands on the new model.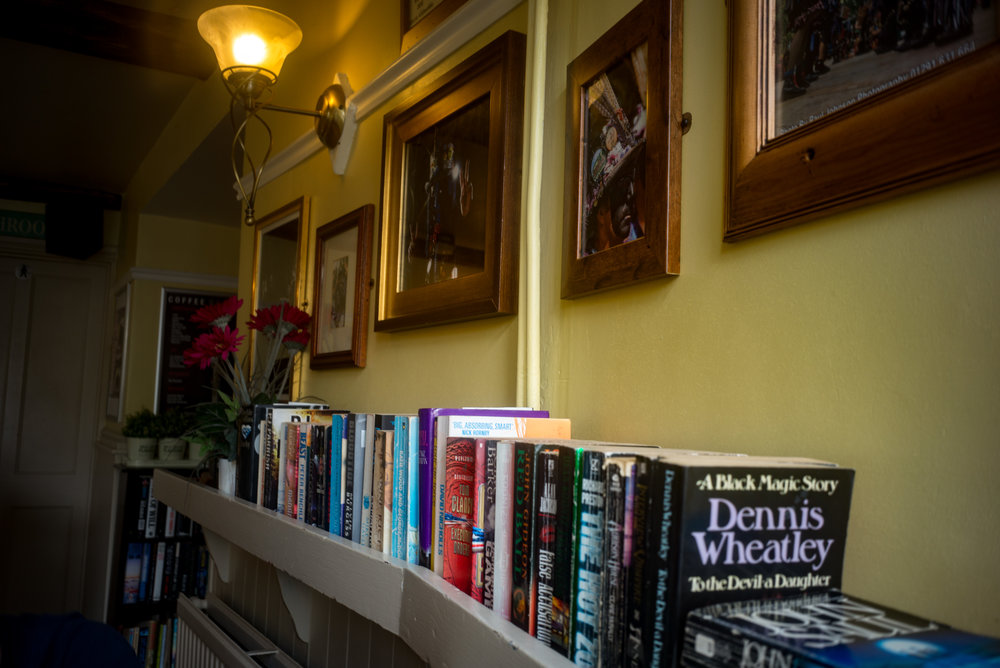 Simple camera
The M-D is a simple camera. It has aperture priority (or full manual) and not much else. There's an ISO dial on the back (à la film Leica) offering settings between 200 and 6400. However, since there is no auto ISO setting I tend to leave it stuck on 200 unless I see the speed dropping into camera-shake territory. All the shots in this article were taken at ISO 200 out of laziness. I simply didn't touch the camera or the lens. I just pointed it, framed and shot. As I said before, every bit like using a Box Brownie.
You can judge the results for yourself, but I need to emphasise that this is a 60-year-old lens and definitely not the new 28mm Summaron. The oldtimer demonstrates vignetting at f/5.6 and it is even present at f/8 which I used throughout; there is also a discernible softness in the corners of the frame. Yet the lens renders well and is very sharp at f/8.
Although fiddling with the focus might well have made a slight improvement in one or two instances, I was generally very pleased with the zone-focus setting. The minimum focus distance on this lens is 100cm, typical of the period, and the new lens is identical in this respect. Even the 70cm on the majority of newer Leica lenses is a limitation for anyone brought up on modern auto-focus glass, and 100cm is still more of a challenge. This is not a lens for close-up work. I did some shots from between 1m and 2m (for example see the cash machine and the pavement stones) just to demonstrate the wide depth of field and my faith in not touching the focus.
Click on the pictures below to enlarge
Virtuous vignette
According to Leica's press release on the new Summaron, the optical characteristics of the 2016 model are identical to those of the original 1950s design, even down to the vignetting which is now treated as a virtue. Very retro. I quite like vignetting although, naturally, it easy to eliminate in post processing. The lens does have a modern coating which might or might not make a difference. We will have to see. Essentially, though, we are led to believe that these two versions have almost everything in common and virtually nothing to set them apart.
The 28mm f/2.8 Elmarit is cheaper, more modern and clinical, but does a similar job in zone-focus mode
This new odd-ball has a restricted appeal. If you are looking for the more clinical approach of modern glass there are many lenses, especially in the Leica catalogue, that will do a better job. Indeed, if you think a maximum aperture of f/5.6 is such a good idea, just use your 28mm Elmarit and resist the temptation to open it beyond 5.6. See the examples above. The Elmarit has a much more modern render and it is cheaper to boot. But for a classic period feel and look, this new Summaron will take some beating.
The Summaron is definitely a specialist lens, appealing to a niche within a niche. But I have a suspicion it is going to be a big seller. It's the cutest among the cute and it looks so good on the M.
Below: The new Summaron in the making
_________
Subscribe to Macfilos for free updates on articles as they are published. Read more here
Want to make a comment on this article but having problems? Please read this.