I'm a bit of a Billingham fan and for the past couple of years I've had a Hadley Small draped across my shoulder most of the time. I also have the Hadley Pro which, although larger and more a "special occasion" bag rather than day bag, does have the useful addition of a carrying handle.
However, for heavy loads and to provide a bit of extra storage space, a backpack does make a lot of sense. For one thing, the weight is more evenly distributed and the bag is less obtrusive. The downside is that you need to demount the bag in order to ferret around inside.
With these provisos, the Bellingham Rucksack is a natural alternative for keen photographers. Billingham sent me the smaller Rucksack 35 for review. There's also a larger Rucksack 25 which offers more space and a built-in waterproof cover.
The Rucksack 35 is as sturdily built as all Billingham bags, featuring a three-layer waterproof fabric to protect in heavy rain and real leather reinforcement at vulnerable points. It comes in a variety of fabric colours — the traditional Billingham khaki, black, sage green, red and grey.
This smaller version is ideal for me. Inside is a removable "bucket" to store your camera and lenses with a small amount of space above (or below if you pack underneath the insert) for a sweater or other small items. I judge it is about the same size as the insert in the Hadley Small bag.
The main compartment and front pocket feature double zips to improve accessibility. The front pocket offers a single compartment devoid of organiser capabilities, something that I find rather disappointing. It would be nice to have a pen holder and, perhaps, an internal pocket for a notebook.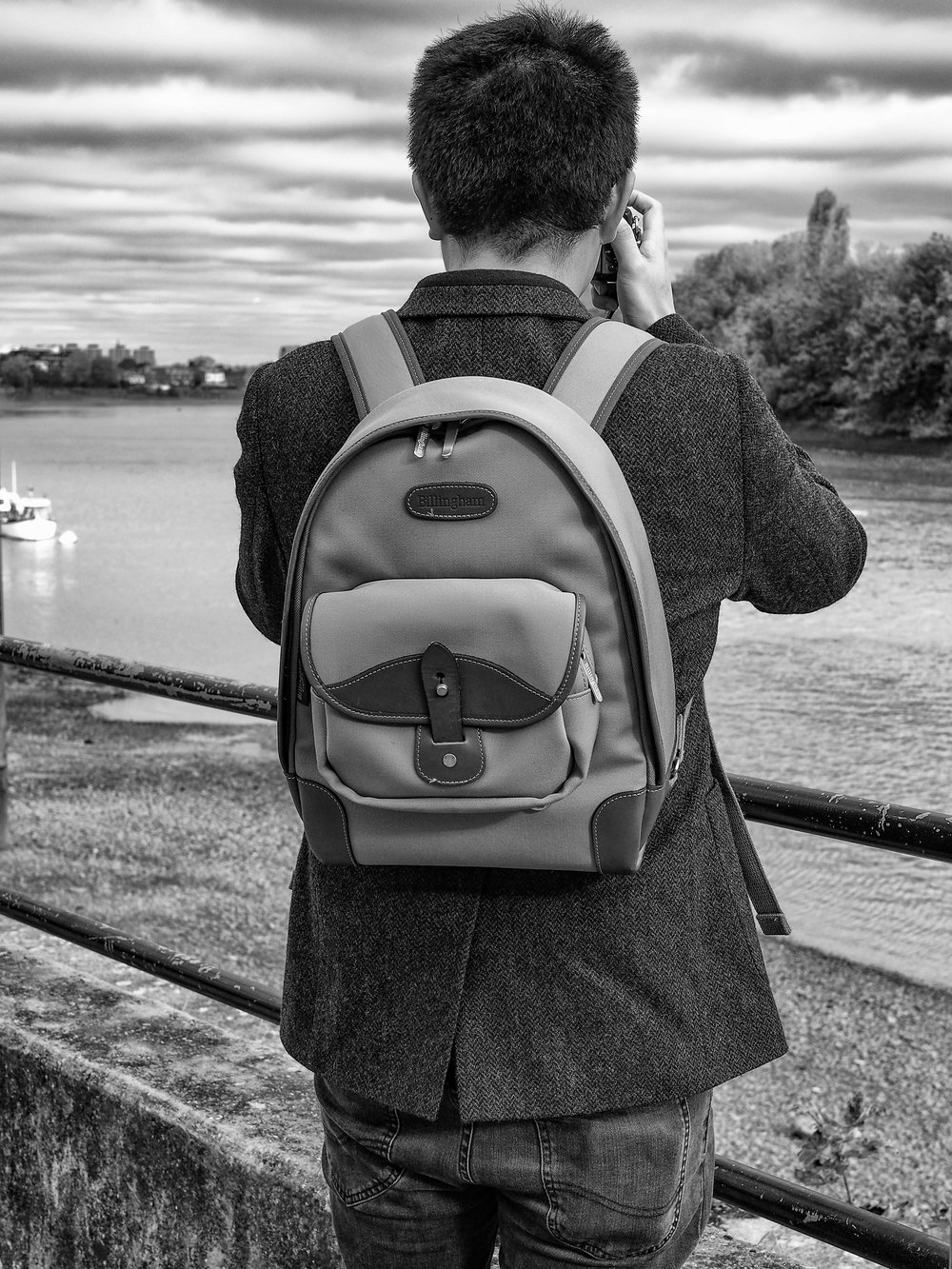 Below the front pocket are two brass loops to attach an optional water bottle holder or a set of tripod straps.
There are many backpacks on the market, both general in nature or specially designed for photographic equipment, but the Billingham offers a touch of traditional British quality and a familiarity that is appreciated by keen photographers. I find it comfortable to wear and perfect for carrying a mirrorless system and general odds and ends.
The Rucksack 35 has a manufacturer recommended price of £280 while the larger Rucksack 25 is £350.
____________
Subscribe to Macfilos for free updates on articles as they are published. Read more here
Want to make a comment on this article but having problems? Please read this