Last week I was thinking about the resurgence of analogue in a world of digital — fountain pens, notebooks, film cameras, you name it and someone is in full retro mode. But it set my mind a wandering. I suddenly recalled an old friend who died 17 years ago at the early age of 51; a man for whom even electric light was far too modern a frippery. Had he lived, he would have possessed neither smartphone nor Apple Watch and his social correspondence would still be written in copperplate. Not a tweet to be heard.
Dennis Severs, was an analogue gentleman of the first order. He had no truck with the digital age, and was happiest in the 18th and 19th Centuries.
I first came across Dennis, an American citizen, about 40 years ago when he was running a horse-and-carriage service for tourists from a mews garage in Belgravia. We approached him for some public relations stunt involving motorbikes but I've now forgotten the precise wheeze involved. However, I got on well with Dennis and was sorry to read some months later in the Evening Standard that he, together with carriage and horse, had been thrown out of the mews. What to do?
Dennis told me later than on the day of publication he received a telephone call: "Royal Mews here.nHer Majesty wondered if you would like to keep your horse and carriage here in the Royal Mews." He would and he did, strictly adhering to the stipulation that he should not advertise the fact.
Later, after the carriage enthusiasm waned in 1979, Dennis moved into a dilapidated Georgian terraced house in Folgate Street, Spitalfields, then a very run-down area. He was in full-throated analogue mode as he proceeded to return the old residence back to its 18th-century roots as the home of Huguenot refugees. By the time he had finished back-ovating there was no electricity, no gas, no modern plumbing. Dennis lived the in candlelight as a Georgian gentleman and savoured the experience of inhabiting a totally analogue world (although I doubt he ever used that word).
I had the pleasure of visiting the house and touring the rooms in the company of Dennis even before he turned it into a museum. Before his death he bequeathed his masterpiece — for it is nothing other than that — to the Spitalfields Historic Buildings Trust. No.18 Folgate Street is now one of the hidden gems of London that I would recommend to any visitor to the capital.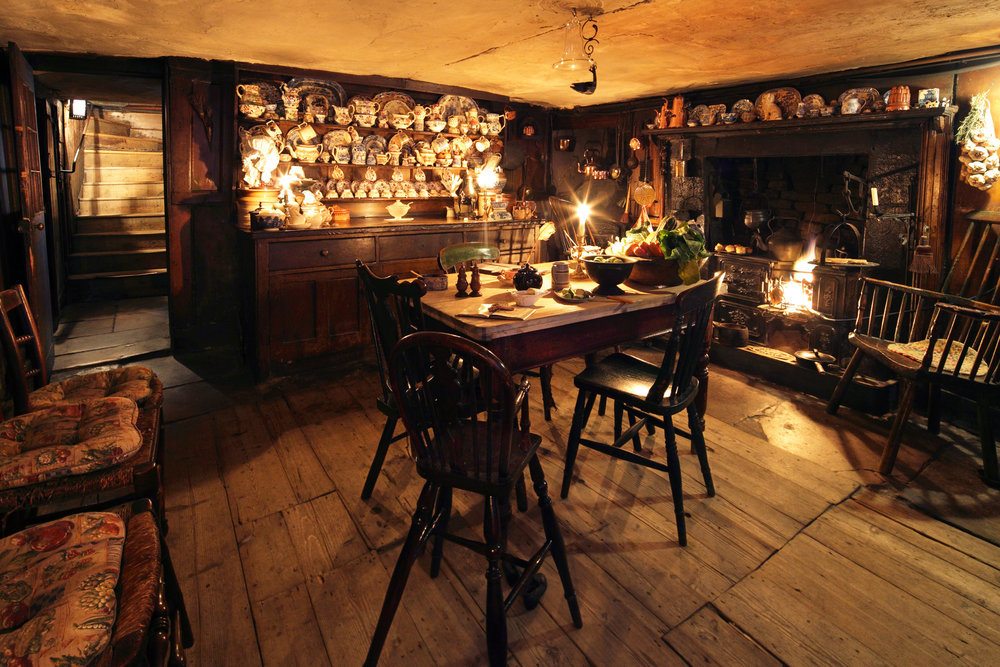 David Hockney described the house as one of he world's greatest works of opera. Peter Ackroyd, author of London: the biography wrote:
The journey through the house becomes a journey through time; with its small rooms and hidden corridors, its whispered asides and sudden revelations, it resembles a pilgrimage through life itself.
Dennis said: "I worked inside out to create what turned out to be a collection of atmospheres: moods that harbour the light and the spirit of the various ages."
Last week I paid a Sunday return visit to the Dennis Severs House, mainly to grab a shot of the outside of the building. But as I arrived, camera in hand, the door opened and out stepped the curator of the museum, David Milne. I explained my interest and my past friendship with Dennis and was rewarded by a tour of the old house ahead of the queue of visitors. It brought back so many memories for me and I count it as a great privilege to have seen the museum in its early days when Dennis was still at the stage of scouring markets all over London for the period content and developing the themes for the individual rooms.
If you want a real treat, visit the Dennis Severs House web site and arrange a visit.
But back to computers and digital cameras. Would we really want to emulate Dennis Severs and eschew all our modern baubles and fripperies? Undoubtedly we enjoy our film cameras, our notebooks and fountain pens — even our typewriters if particularly devoted — but would we want to live without our modern aids? Pass me the candle, please.
_______________
Thanks to David Milne and Marta Esteban of The Dennis Severs House for their courtesy and help in preparing this article.
Subscribe to Macfilos for free updates on articles as they are published. Read more here
Want to make a comment on this article but having problems? Please read this