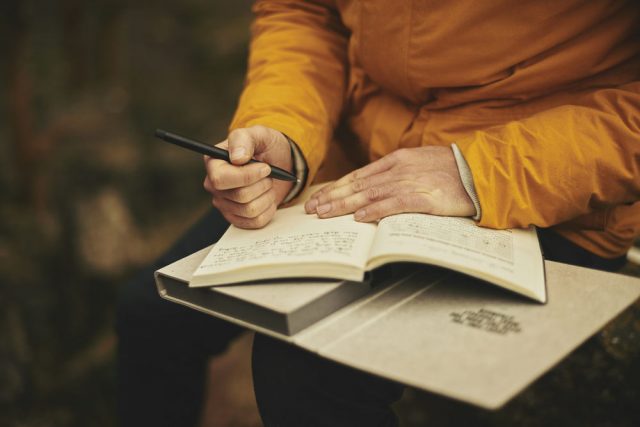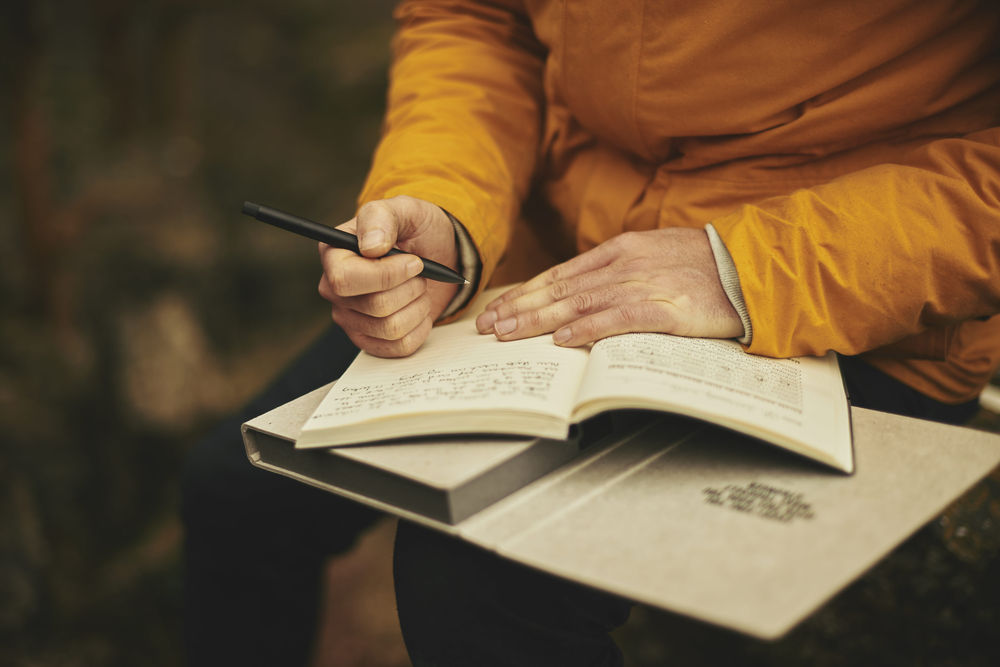 There's a new productivity concept rapidly gaining popularity as we move into 2017. It started a few years ago but took off last spring. It combines two of my favourite implements — a notebook and a pen — and it is called bullet journaling.
An article in Popular Science by Amy Schellenbaum on December 30 brought the concept to my attention and it is certainly an intriguing idea. Amy explains bullet journalling:
"First of all, the system is totally analog. By that I mean it is done with a notebook (any notebook!) and a pen (or pencil, if you're one of those people). It's so simple it's stupid. It's so simple it's brilliant, too.
"The idea first percolated in the brain of a dude named Ryder Carroll, who explains the concept very succinctly in this video [below]. The basic premise is this: you have one book that contains every list, note, and plan in your life. It's like a planner, except not at all like a planner—because there are no templates and no rules. Because of this, it's very flexible and low-pressure. It's nothing more than you can handle; it's exactly as ambitious or exhaustive as you need at the exact time you are using it.
"The concept hinges on just two "requirements" (they're not really required, honestly): an index and numbered pages. These elements let you see, at a glance, where to find the exact list you want to refer to—goals for the month, plans for your trip to Bermuda, health insurance reminders, etc.
"Because there are no templates, you can also use this notebook for non-list things, too. You can journal or doodle or hand-letter a quote. You can tape in photos or ticket stubs or receipts."
Drawn in
I was drawn in initially by the reference to "an index" and "numbered pages", the twin attributes of my favourite notebooks by Leuchtturm. I've written several times about Leuchtturm and I won't repeat myself here. Serve to say, these German-made notebooks are ideal for bullet journalling.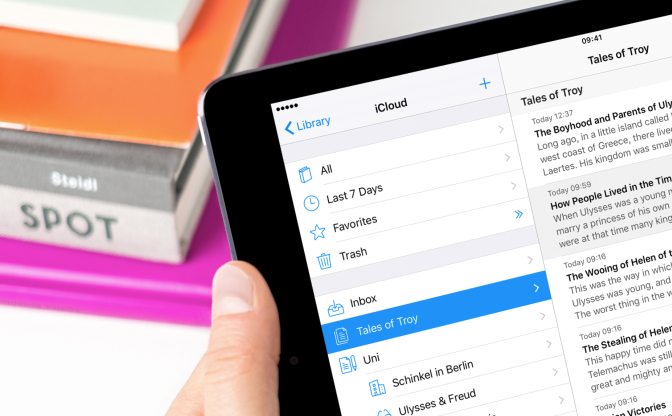 Now I am anything but a Luddite. For my age, I'm pretty clued up on technology and rely on a number of leading applications for my daily workflow. Among them are BusyCal (a replacement for Apple's Calendar), Airmail (ditto Apple's Mail), Bear (again ditto, Apple's Notes), 2Do for project management, and Ulysses for drafting and compiling blog posts. I couldn't do without a computer and I am not about to place my life inside the covers of a notebook, Leuchtturm or no.
But the handwritten record has many advantages and I have learned to use notebooks as an adjunct to my computerised daily project management. For me, the main motivation is that I love handwriting. I have a thing about notebooks and well-crafted calligraphy. Similarly there's also something satisfying about book-based handwritten ledgers as a means of keeping financial records. I used to be a past master at the art of manual double-entry bookkeeping but, alas, I now rely on the computerised wonders of Moneydance to look after my affairs. Still, though, I do hanker for the manual days. I think I would have felt quite at home on a high stool at a sloping desk in Dickens' day.
Return to the past
This desire for methods of the past isn't just confined to note keeping and bullet journalling. In recent years there has been something of a reaction to digital photography and many younger people have taken to film for the first time — often with an old Leica in their hands. There is just something satisfying about the simplicity and craft associated with analogue photography.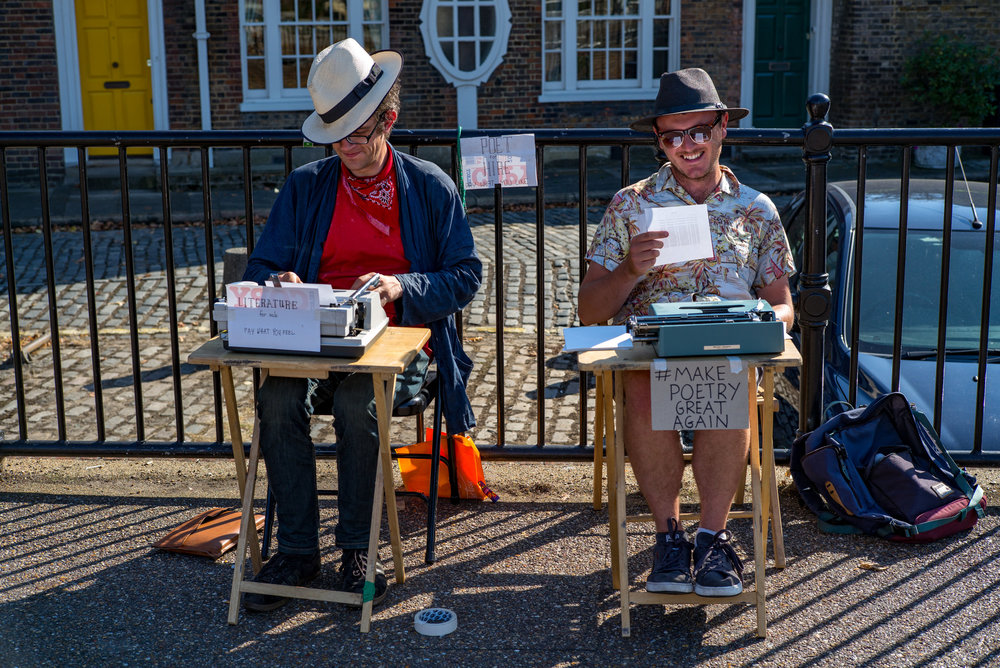 In the same way, I have an affinity with typewriters. After a third of a century of exclusively using computer keyboards, I hanker after the precision, mechanical involvement and simplicity of a good typewriter. Unfortunately I don't possess such a machine. I lust after a 1960s Olympia, Hermes or Adler office typewriter (as opposed to portable). In my book these stately and streamlined machines were the pinnacle of mechanical writing. Good ones, typewriters that work as precisely and as efficiently as they did half a century ago, are few and far between. But I will buy if I find the right one.
Notebooks and pens, though, are readily available and there is a growing level of interest in their use. Search the net and blogs on handwriting and note taking are legion, even more prevalent than those on photography.
My love of notebooks isn't just a matter of nostalgia. A few years ago I realised that I was beginning to hate handwriting because it had become a chore. My previously acceptable italic hand had become jerky and untidy. I found myself gripping the pen in an iron fist, almost to the point of pain. I realised one morning, in a flash of inspiration, that the problem was one of lack of practice. These days there is very little reason to write by hand — the odd personal letter, envelopes for Christmas or birthday cards, filling in forms. Most people hardly ever write a full sentence. Even the pleasure of writing out a cheque is now largely denied us.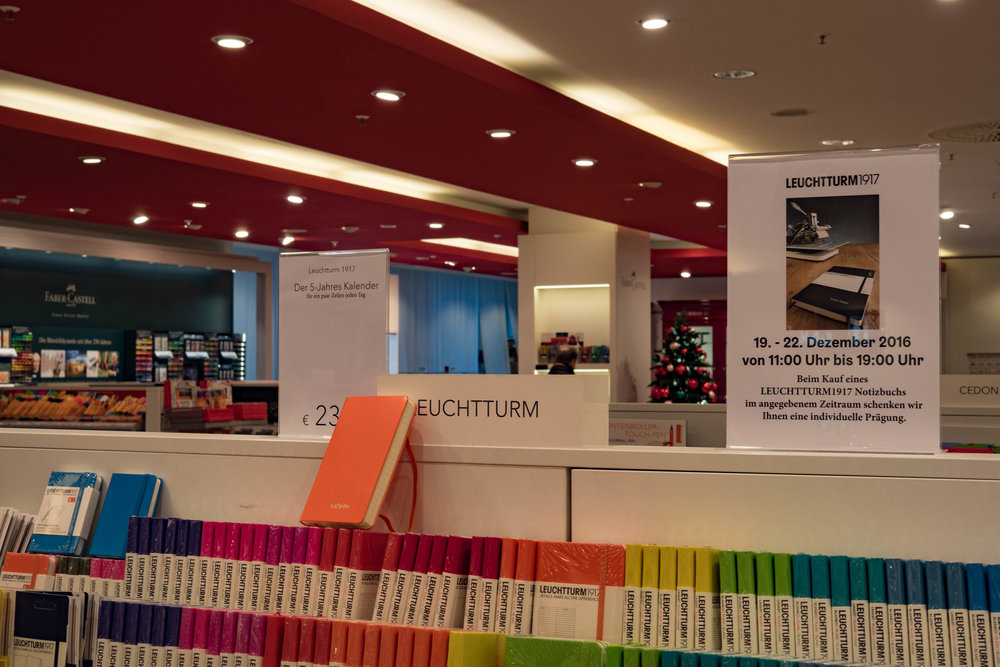 Use it or lose it
I realised that with handwriting, as with most other things, it is a case of use it or lose it. I was rapidly losing it and I decided to do something about it. First though, came the means.
Fountain pens have always been among my favourite objects (add to that cameras and watches for starters) so as a precursor to renewed writing I took new interest in pens. First came the Parker 51, an implement I owned in my teen years and always loved. Then I discovered the cheap and cheerful Lamy Safari. Fitted with a medium italic nib, the £15 Safari has become one of my favourite writing implements. All Lamys write with a consistency and smoothness that baffles me. How can a company get it so right every single time — and at such a bargain price?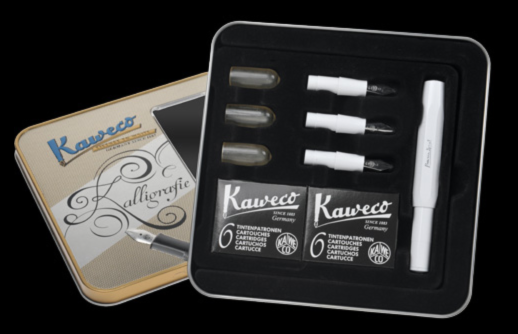 Then I was introduced to Kaweco, an obscure and ancient German manufacturer, in the form of a pre-war rubber-barrelled Kaweco Sport at a vintage pen exhibition in Chelsea. Since then I've been buying modern Kaweco pens and, on a recent visit to Berlin, managed to capture a neat Kaweco calligraphy set comprising a white Sport and four nibs in different widths. The narrowest 1.1mm italic nib has now become my implement of choice. Kaweco pens are every bit as good as Lamy — and at the same bargain price point — although radically different in concept.
The Kaweco Sport is very short (just four inches) but features a long cap which, when reversed and fitted to the barrel, turns the pen into a full-sized writing implement. It was originally designed for use by sporting types in the days before ballpens had been invented, something to throw in the pocket and not worry about. There is no doubt that owning a pen that pleases is the first step to nirvana.
Since I took to writing in a notebook every day my handwriting has improved. I am not moving as fluently as I did in my youth but I can see gradual improvements. At the moment my fist is relatively untidy but much less jerky than it had become a few years ago. I don't suppose I will ever regain the fluency of youth but I aim to keep trying.
Good resolutions
I doubt I will ever convert fully to a manual productivity system such as bullet journalling. But I know I will continue to channel my thoughts through the medium of a Lamy or Kaweco into a favourite notebook such as the Leuchtturm.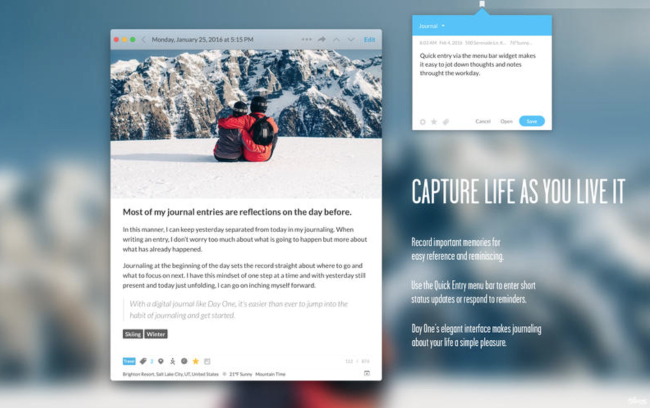 That brings us to the more traditional form of journalling, the Samuel Pepys variety. At this time of the year I always used to resolve to start a daily journal. Countless times I bought an attractive one-year or five-year diary and started to chronicle my rather unexciting doings. I seldom got beyond January 31st and never managed to carry it on for a full year. What I didn't fully understand was that even boring daily doings become interesting five, ten or even fifty years later. Now what was I doing on 3 January 1987? I haven't a clue because I didn't keep a diary.
It was the computer that changed all that. I had tried several journalling applications for Mac or iOS, including Momo Note and Mac Journal, but I was never able to keep up the flow. Vast gulfs would open up between entries and all my good intentions would eventually come to nought.
Then along came Day One, the premier journalling app for Mac and iOS. I started nearly six years ago and have kept it up daily since then, occasionally adding photographs and specific tagged information such as medical notes and references to Macfilos. I've also gone back to add significant dates from my past, including such highlights as my visit to Berlin on the day the Wall came down, my first job, my first day as a journalist and so on.
How I wish I had had Day One to work with in my youth; how interesting it would have been to go back and re-experience my life decades ago. If you are reading this and are in your twenties or thirties, then grab a copy of Day One and keep on writing for the rest of your life. When you are older you will realise the wisdom in this advice.
Journal success at last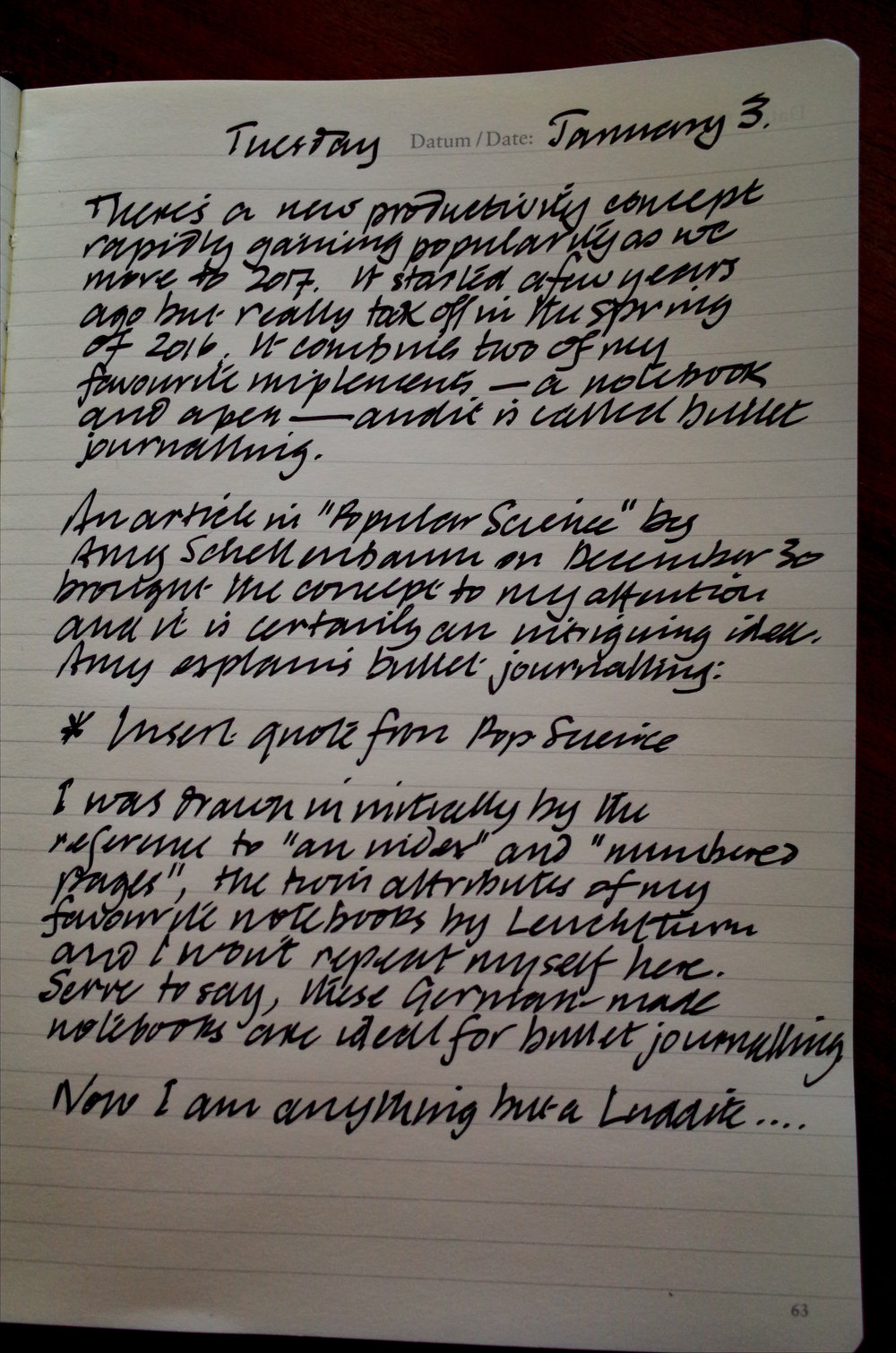 But, at least, I have now started. Better late than never. Every day when I open Day One I am faced with a list of what I did on the particular day over the past six years. It's fascinating to read all the details that have been largely forgotten; more especially, the entries put time into perspective. Was that really five years ago? It normally seems like only yesterday.
Keeping up to date with Day One is easy. I can add to it wherever I am, on whatever device I have in front of me. But in recent months I've taken to entering the daily doings beforehand in a Leuchtturm notebook, using one of my favourite pens. It certainly isn't necessary, it's more of an indulgence, but it is a tremendous help with my writing project — improving my handwriting skills.
Every few days I now transcribe the written notes into Day One. Pre-drafting in a notebook is totally unnecessary and a wonderful exercise in duplication of effort. But it works for me and I have settled into a routine. Strangely, the Leuchtturm is turning into the written diary that I always aspired to but never managed to maintain.
If I could go back a few decades I would do things differently. But now, armed with the traditional writing implements on the one hand and the latest computerised technology on the other, I am at long last managing to keep a diary. It's something that has eluded me most of my life. It has taken a brilliantly constructed computerised journal application and a return to notebooks and pens to change all that.
If you would like all the details and instructions on bullet journalling read this article in Popular Science.
_______________
Subscribe to Macfilos for free updates on articles as they are published. Read more here
Want to make a comment on this article but having problems? Please read this