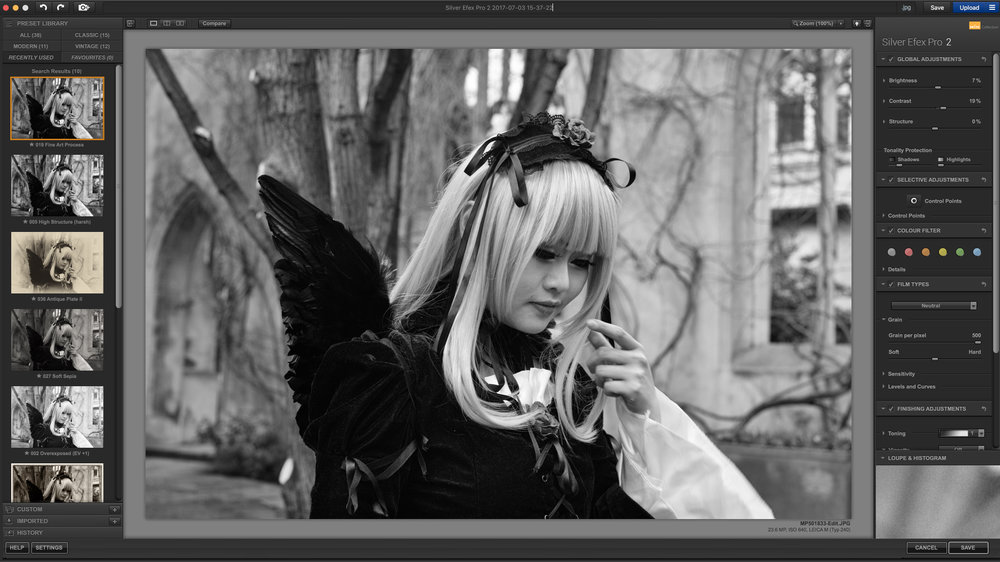 Silver Efex Pro is the member of the Nik Collection that is the most loved, at least in the circles I move in. I discovered the black-and-white processing tool back in the days of Apple Aperture and I was glad to find it could also be integrated into my Lightroom workflow. I loved that program and it encouraged me to like monochrome output more and more, especially when I got my hands on the Leica Monochrom camera. The rather flat standard DNG output from the Monochroms need a bit of work; and Silver Efex was a quick way of adding a bit more life.
Unfortunately all is not well in the land of Nik and there is now a big question mark over its future. When I first purchased Silver Efex Pro is was expensive, well over £100 as I remember. I couldn't afford the full suite of applications but I grew to depend on this black-and-white processor. Then I read that Google had bought Nik Software and, to celebrate the purchase, they decided to make it free and give me the remaining components of the Nik suite. Wonderful. Except, as we all know, there's always a snag if something comes free.
That snag has now materialised. Google has decided to stop support for the Nik collection and there will be no further development. In the immediate future this isn't a problem. My Silver Efex Pro will continue to work as a plug-in for Lightroom. But what happens when Lightroom is upgraded or when Apple or Microsoft introduces the next operating system? Sadly, almost certainly Silver Efex will one day refuse to work.
So, in effect, Google bought a product and is in the process of killing it off. I feel sad that such things can happen. Having enjoyed using Silver Efex Pro, in particular, I now feel reluctant to rely on it. I know that one day I will lose it, so I will probably seek pastures new.
The Nik Collection consists of Analog Efex Pro, Color Efex Pro, Silver Efex Pro, Viveza, HDR Efex Pro, Sharpener pro and Dfine. I've dabbled with all of them but it is Silver Efex Pro that I particularly like and which has a reputation among many Leica photographers.
Note: Reader Bouchard (see comment below) recommends Tonality CK from MacPhun, pointing out that former Nik Software staff have been involved in development. At first glance it looks like a good bet and I will try it out.
____________