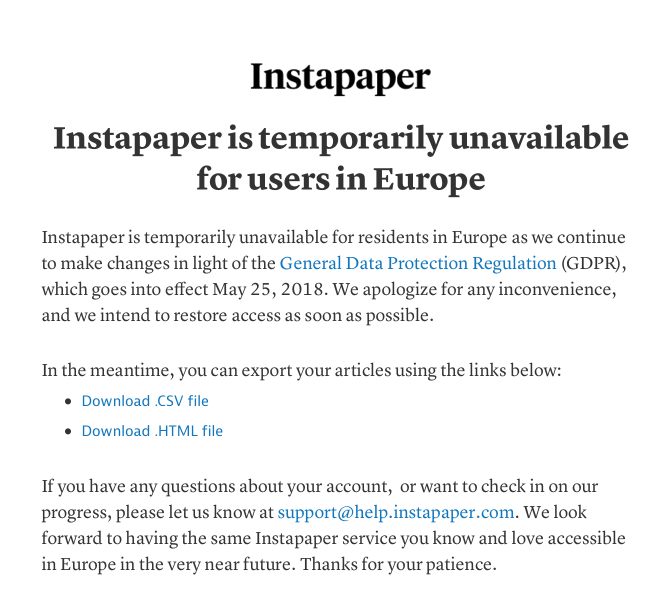 Will Instapaper retain any customers in Europe after this week's offline disaster?
The workflow for a blog such as Macfilos relies heavily on gathering information from a wide range of internet news sources. In our case, we use syndicated feeds which are filtered in Reeder before being sent to Instapaper for action — which can be simply reading the item for interest or sending to Ulysses for a quick article or to Things for a reminder. This has worked well for years, but somehow the new GDPR has put a spanner in the works.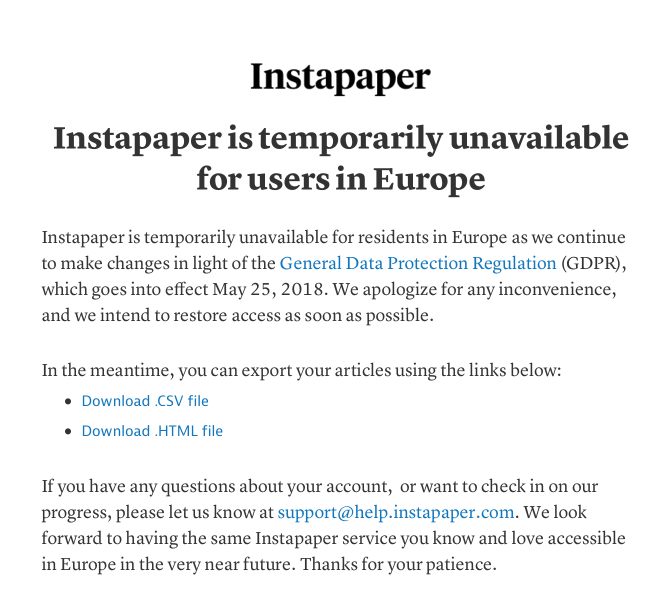 Instapaper, the old faithful, announced at the eleventh hour and 59th minute that European feeds would cease for an unspecified period so they could sort out their GDPR obligations..
Since then — nearly six days — there has been no update, no news and no feed. I have never before encountered such a shambles from a reputable service company such as this. Instapaper, despite its utility, now has a very big black mark against it in my book. I do not think I could ever again rely on it. In its early days, developed by Marco Arment, Instapaper charged a small subscription, which was enough to keep things rolling. Marco sold Instapaper and, sometime later, it went free. As they say in Lancashire, though, you get nowt for nowt.
I don't know, but I do know that no other services that I rely on have gone off the air in this way following the implementation of GDPR. Pocket, which is Instapaper's main competitor, has soldiered on. Presumably Pocket implemented GDPR policies in good time.
As a result of all his aggravation, I am now trying Pocket and have transferred all Macfilos outstanding items from Instapaper. Pocket works in a very similar way and integrates with all the applications I use on Mac or iOS. I actually prefer the reading experience — so far. Pocket does have one big advantage over Instapaper in that it has both iOS and Mac applications. There is no native MacOS application for Instapaper.
My only concern is that, like Instapaper, it is free and advertisement-free. But Pocket does have a premium subscription that might or might not be worthwhile. That at least should keep 'em on their toes.
For now, until I fall out with Pocket, it is goodbye Instapaper. I might return but I'll need a lot of convincing. This is one of the biggest failures of an internet-based service that I can recollect. Unless there are some very good explanations — not even a peep of apology so far — the Instapaper does not deserve to have a single user.
So it's business as usual, but with Pocket at the helm.
_________