The Bièvres International Photo Fair was something of a record, at least for me. I bought nothing, not even a €15 folding camera for my display shelf. No, I had a will of steel and concentrated instead on the social aspects and taking a few atmospheric shots for this article.
The social side of Bièvres is important. It's an opportunity to meet many friends from Britain, including a big swathe of dealers, eager to buy for stock, and regular visitors from the USA, Europe and the Far East. One collector we know flew in from China for the day and straight back the following morning. That's enthusiasm for you. I trust that he didn't go back empty-handed.
Social
Perhaps the greatest pleasure is that most of the British contingent usually stay in one hotel, about five miles' distance from Bièvres. This year, because of an unfortunate double booking (not our fault), the hotel unceremoniously split us into two locations. Together with the contingent from Red Dot Cameras and David "Woody" Woodford of MW Classic Cameras, I was consigned to the new hotel. As a result, we missed the opportunity to go out "en famille" for the traditional Saturday evening bash.
The fair turned out to be one of the best for weather in recent years and both days were hot and humid, with strong sunlight and heavy contrast. Unfortunately, this didn't help photography. It did help business, though, and trade was brisk. From our point of view, there were no great bargains to be had because the pound is weak and prices were in many cases very little different from those in Britain. In previous years there were rich pickings for those dealers who got in early.
Even before the fair opened on Saturday, the foreign trade buyers were swarming all over the exhibitors as they unpacked their stock. As with most of these fairs, all the real bargains are snapped up within the first half hour and almost entirely by the trade. While prices for individual pieces of equipment were not particularly low, the dealers have the advantage of negotiating substantial discounts. If you are taking an exhibitor's entire stick of M6 Classics you are bound to get a much better price than the individual buyer, however early the bird.
Bold as brass
A fair such as Bièvres covers every conceivable aspect of photography, but mainly film photography. Cameras range from the earliest wooden plate monsters through to the last Nikons, Canons, Contaxes and, of course, the ever-popular Leicas. There are specialists such as British dealer David Woodford who looks mainly for old brass lenses, for which there is an increasing demand from all over the world. Occasionally, a real bargain will turn up at Bièvres but, in the main, it is a matter of buying wisely with an eye to a small profit on resale. Some of these old brass lenses can cost in the tens of thousands.
For me, the more familiar territory surrounds Leica M cameras. Biggest demand this year was for the M3, which is no surprise, but also for the M6 Classic and TTL which have been gaining in popularity (and price) over the past few years. There is still a surprising number of good examples turning up. Sometimes I wonder where they all come from. Because of the demand, I imagine that very few M cameras have been scrapped and almost all bodies produced are still churning around the trade year after year. I think of the same cameras turning up at Bièvres every few years and beginning the merry-go-round once again.
Below: Impromptu sales pitches. Some vendors set up a picnic patch on the grass, while unofficial traders advertise the contents of their backpacks as they walk around. Stop me and buy one is the order of the day. Some, such as the guy in the top right picture, come prepared to cart off their bargains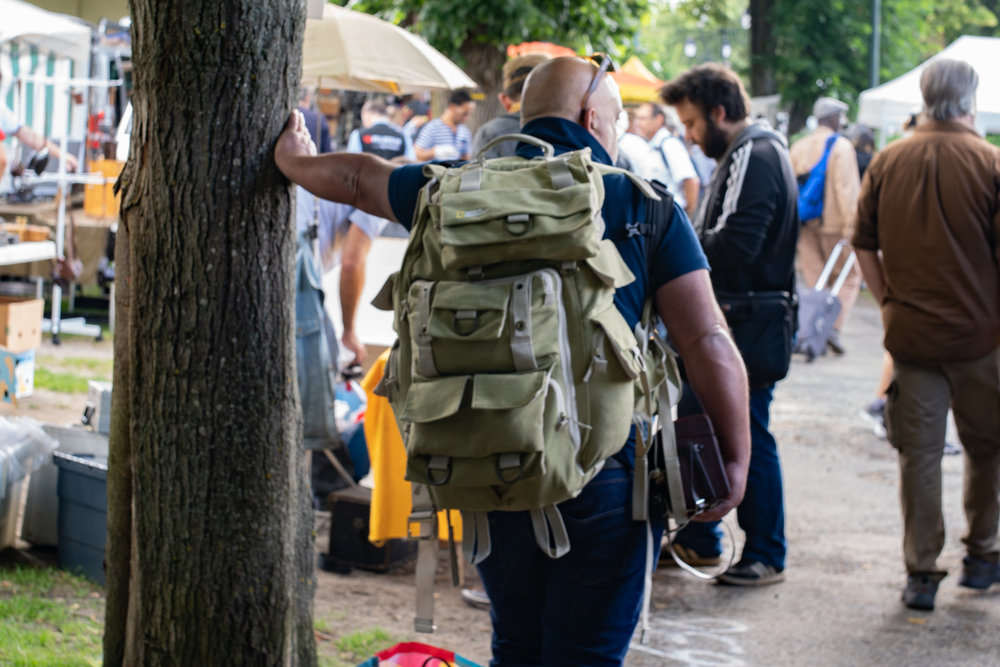 In among the vintage stuff and the serried ranks of used DSLRs is the occasional modern mirrorless digital body or lens to be picked up at a good price. This year there was also a special alley reserved for dealers in new cameras and lenses, including Fuji, Olympus, Panasonic, Sony, Canon, Nikon and Tamron. I made a few enquiries but, frankly, there was nothing there that I couldn't have bought in London at a similar price. That was a bit disappointing and was another reason I managed to keep my money in my pocket.
Sunday, which is the main day of the fair, is characterised by dozens of additional exhibitors selling vintage and modern prints. One of the regulars visitors from Germany, who I see every year, is interested only in Victorian and early 20th-century prints to add to his collection. Such are the specialisations among regular Bièvres fans.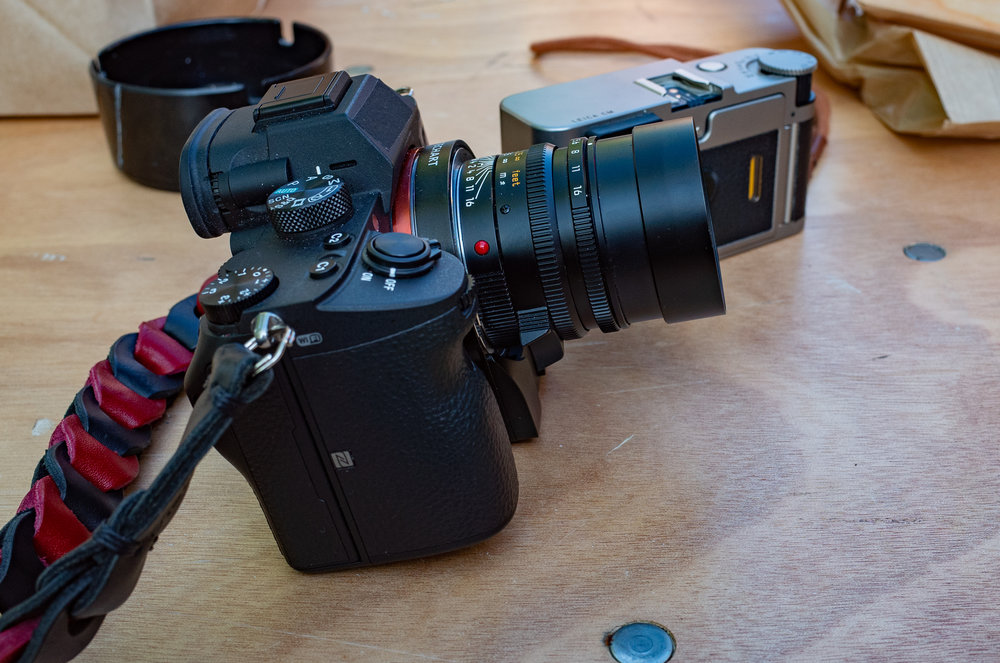 Sony and the AF Leica lenses
Apart from the little Ricoh GR, my constant standby, I relied this year entirely on the new Sony A7III, the Techart autofocus adapter and a trio of lenses — a Tri-Elmar MATE, 50mm Summilux and 75mm Apo-Summicron. I ended up using the Summilux most of the time but gave the other two a brief innings at the beginning and end of the weekend. The 50mm focal length proved ideal and I didn't miss not having a zoom lens.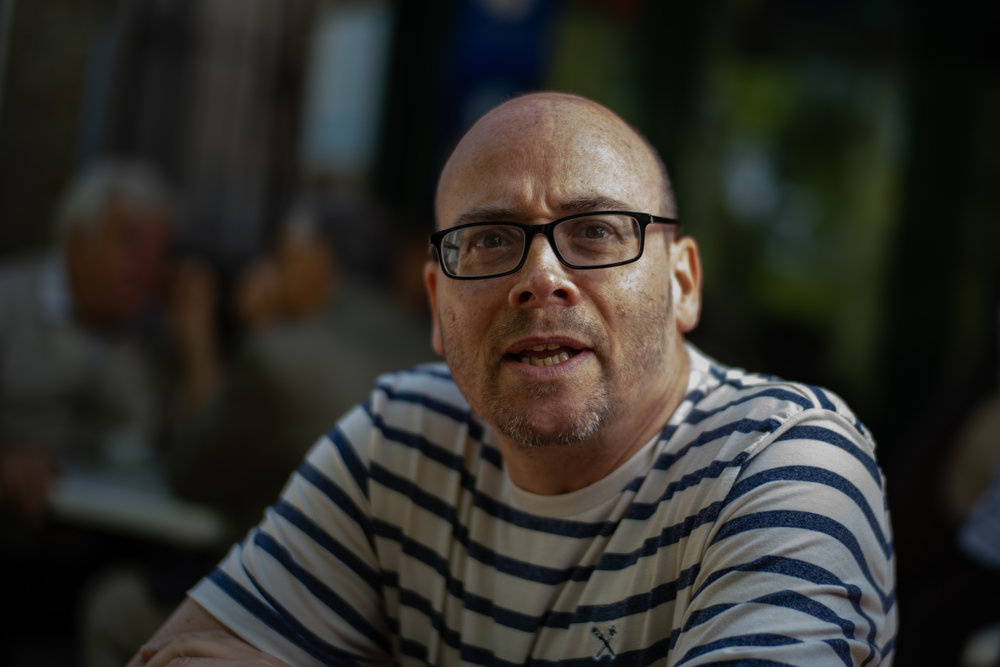 I will be reporting more fully on the Techart AF adapter when I have further experience, but by and large, it worked well. Occasionally, for some unknown reason, the camera would cease to lock on focus and this could be frustrating because it often happened at a crucial moment and I was left unable to focus the lens. I missed several good shots as a result.
When it did work, which was most of the time, the focus was quick and accurate and I found it a revelation to be using such a wonderful lens as the 50mm Summilux-M for quick AF shots. Both the above portraits of David and Francis were taken essentially as quick snaps, with the Techart successfully capturing the face in a fraction of a second, even at wide aperture. The ability to use the lens at wider aperture even in such sunny conditions is helped by the one-stop advantage — to 1/8000s — afforded by the Sony. It is, however, a disappointment that the camera does not have an electronic shutter. The new A9 offers a further two-stop advantage at speeds up to 1/32000s
I know there's nothing special about autofocus and any modern camera and native lens will perform better than the Techart. Why not just put an AF lens on the Sony, you might ask. But for owners of manual lenses, who just occasionally might fancy a bit of auto, it is an intriguing and popular proposition.
Further investigation of this random error is needed. I suspect a firmware update in the Techart would do the trick. After all, the A7III is a new camera and it is highly likely the adaptor has not yet been optimised for the model. Reader David Babsky, who owns this particular Techart, uses it with an A7rII and has noticed no similar problems. We don't want to update the firmware in case it causes problems for him. If it works, don't fiddle…..
With thanks, as usual, to Anne Quemy and the team from the Club Paris Val-de-Bièvre for the efficient organisation and the excellent press facilities.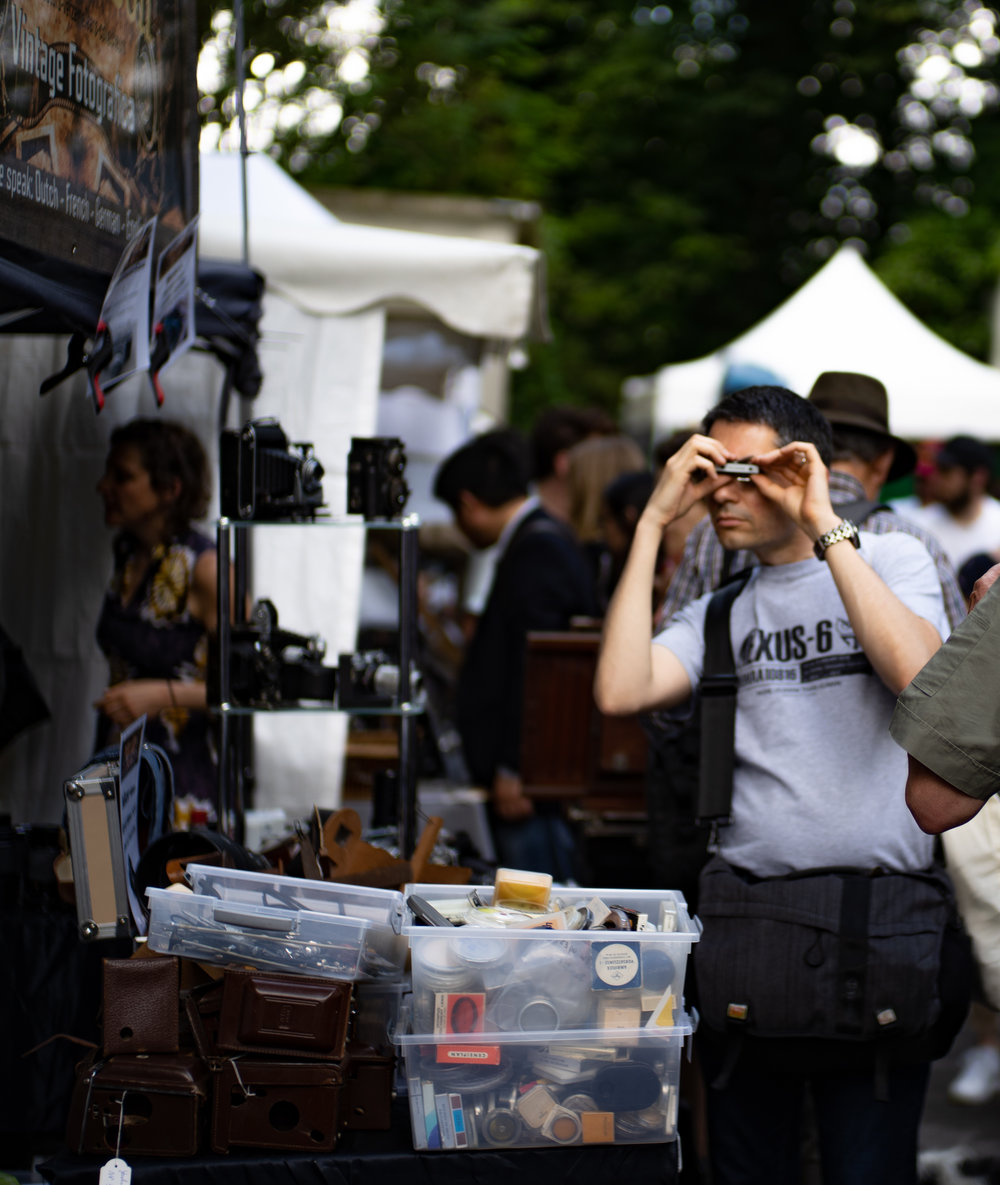 Datenschutz postscript
During the weekend I was struck by the number of people who wagged their fingers admonishingly at the sight of my camera. On several occasions, people came up and rather aggressively demanded I delete the previous shot. I did try to ask permission where possible, but in a crowded fair such as this, it is difficult to avoid faces intruding on the scene. This is a new and worrying phenomenon, especially at a photographic event where most people are supposedly used to the camera. I suspect it is a populist reaction to the new GDPR regulations (or, as the Germans say with typical precision, the Datenschutzgrundverordnung).
Whatever the reason, it doesn't bode well for street photography. The negative reaction rather discouraged me from taking as many portrait shots as I would have liked. Perhaps in future, we will be restricted to architecture, landscape and still-life objects — such as old cameras and lenses. They don't object, at least not until the European Union gives them the legal protection they really deserve.
__________