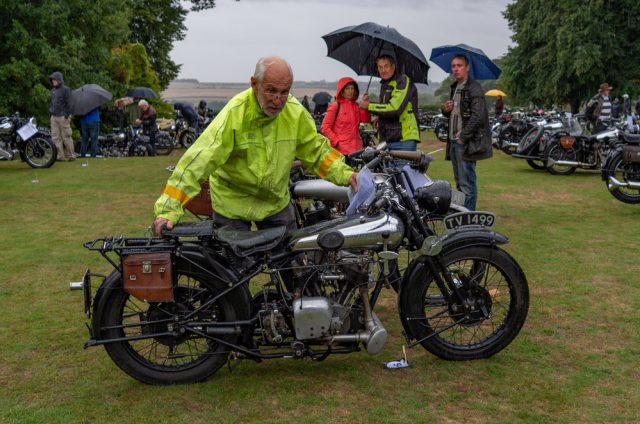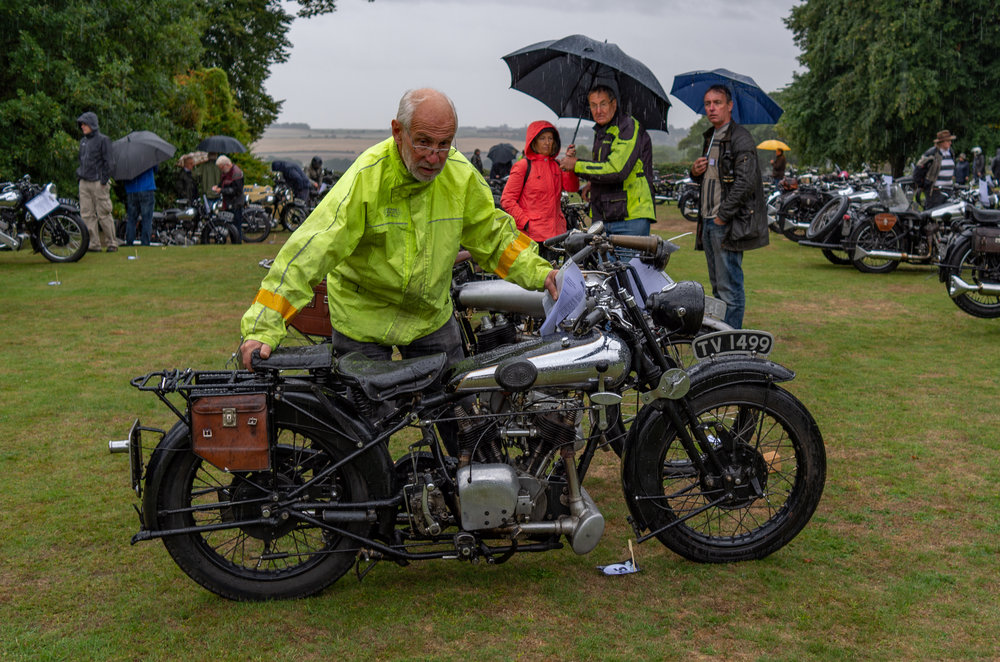 [Note: Updated with more accurate information from the Brough Superior Club on 22 September 2018]
After a rather magnificent summer of endless sunshine and unusually high temperatures, little old England has returned to form. Over the last weekend, the August bank holiday, thw weather returned to what we locals charitably call "changeable." Changeable is a euphemism for wet and is to be expected on holiday weekends. So it was I got near drowned on an odd quest, to see a display of legendary motorcycles that were made before the second world war.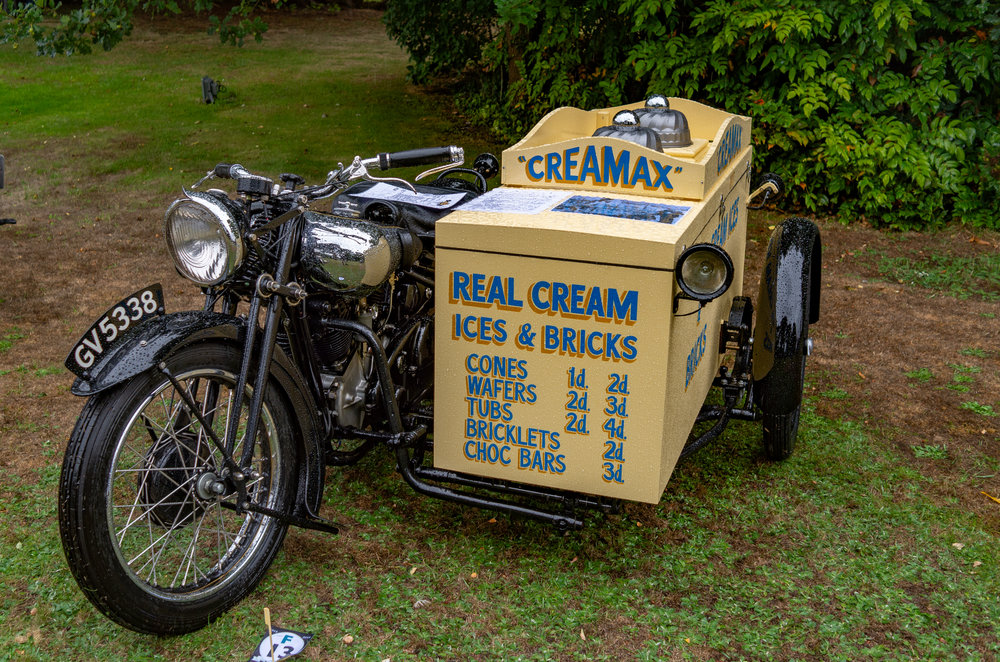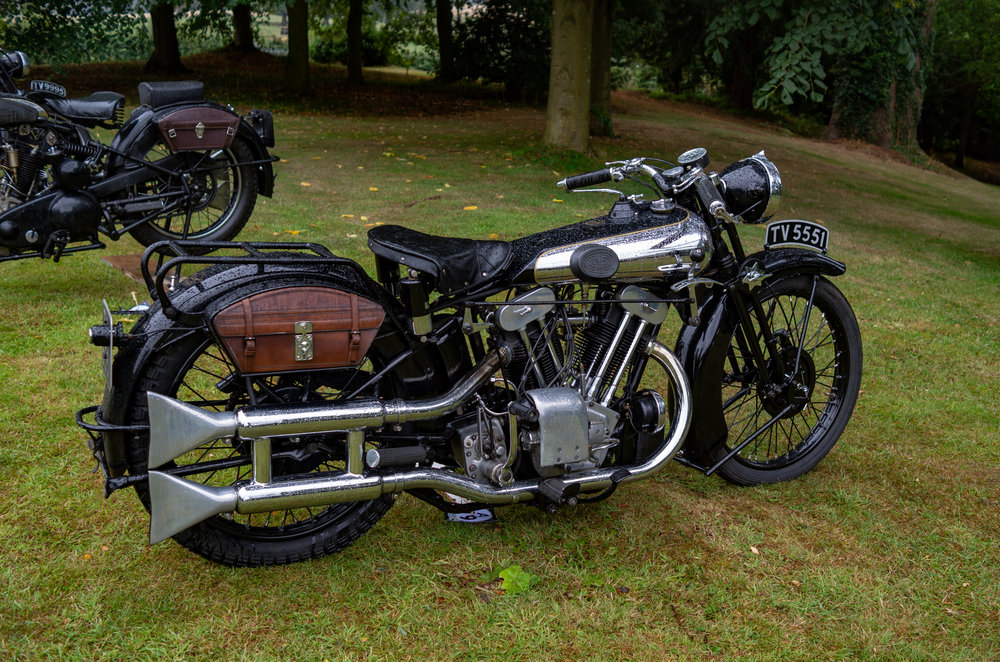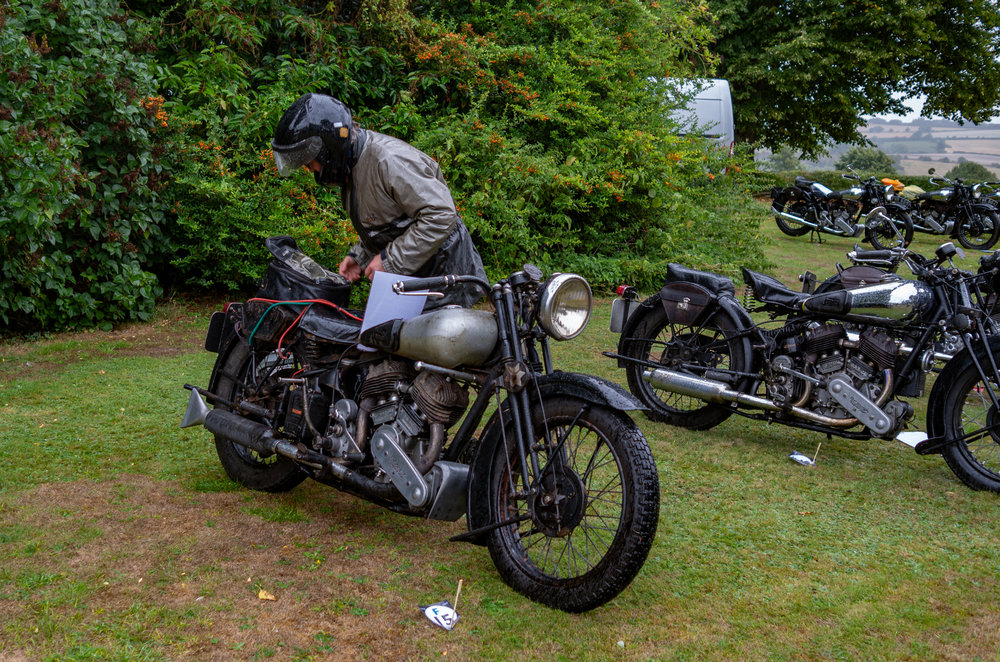 When I met my old friend Nick Jeffery at Brooklands ten days ago he sparked my interest by mentioning the Diamond Jubilee rally of the Brough Superior Club which was scheduled for the bank holiday weekend near Oxford. Now I've never owned a Brough Superior — unlike the marque's most famous acolyte, Lawrence of Arabia, not to mention George Bernard Shaw and Orson Welles (Note: Nick tells me that he knows of no reliable source that attributes BS ownership to either George Bernard Shaw or Orson Welles. Shaw's wife, Charlotte, gave T.E. Lawrence many gifts including a new BS in 1929 and he believes that is where the GBS connection came in. He also has no idea how the suggestion of Orson Welles' ownership arose).
I've always been fascinated by these bikes which gained the reputation of being "the Rolls-Royce of motorcycles". This description was coined by H.D.Teague, one-time Midlands editor of The Motor Cycle, and taken up with enthusiasm by George Brough. At one time, as many of you know, I worked in the London office of that magazine but by that time Bob Currie had taken over Teague's office in Birmingham.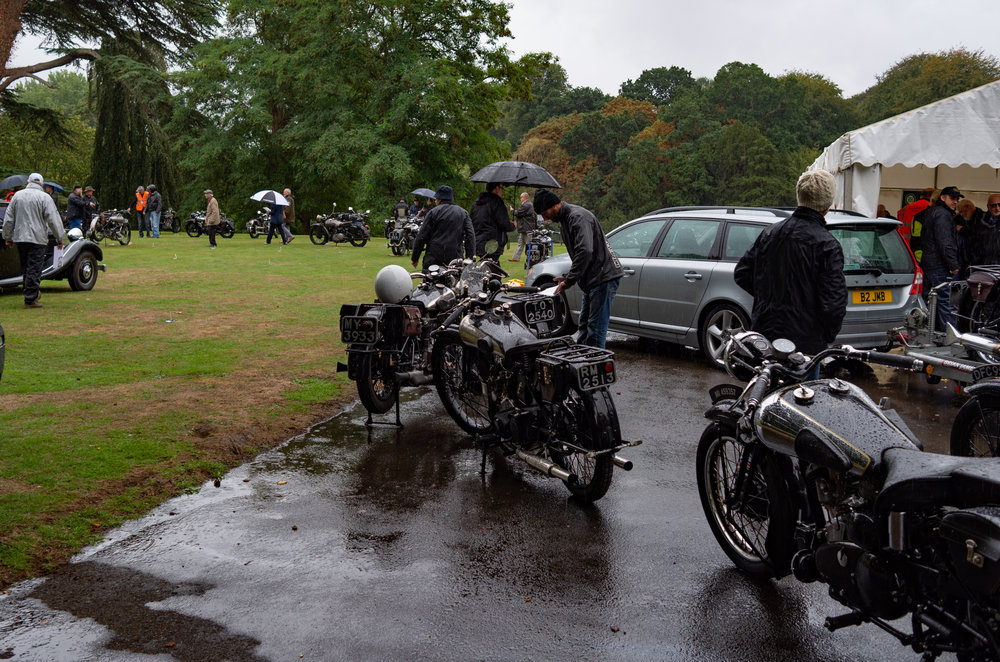 The combination of a diamond jubilee, a delicious collection of lusty vee twins and a noted country house, at Middle Aston, meant I could hardly refuse to go. On Sunday, therefore, I set off for Oxfordshire in reasonable weather and in high spirits. But the weather soon turned exceptionally nasty. The car's satnav had difficulty as we approached the target and sent me off down a three-mile single-track lane, barely wide enough for the car, where I drove in dread of anything coming in the opposite direction. Satnavs are known for this sort of thing.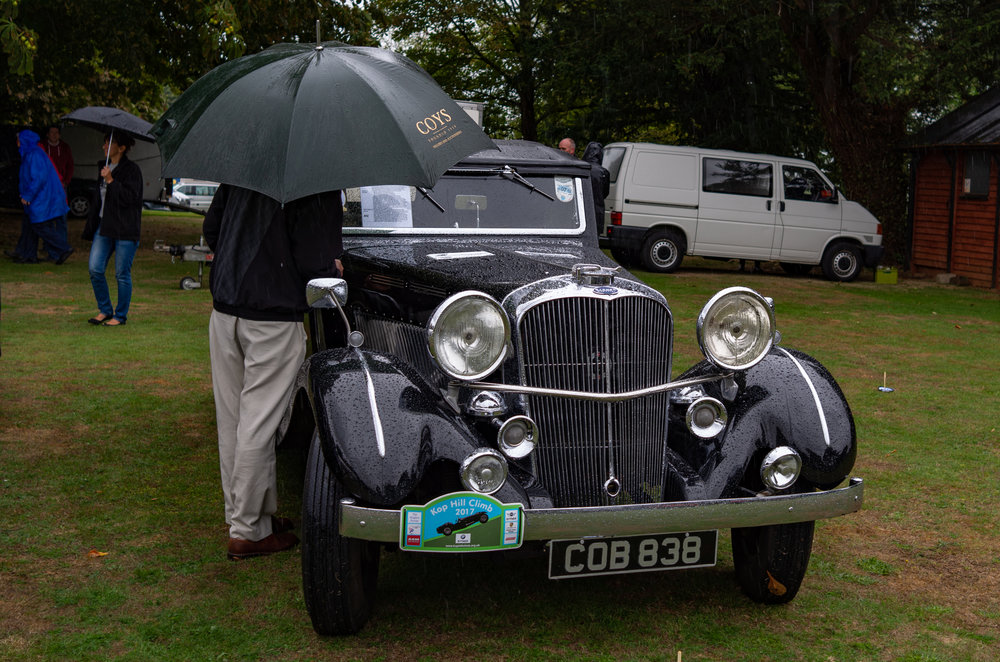 Fortunately, nothing did come along (in six miles, must have been the bad weather) but I got to the end of the lane and found no sign of the house and nary a Brough Superior. I had to resort to Apple Carplay where the ever-knowledgeable Siri had an instinctive knowledge of the whereabouts of the rally. So back I went down the same lane, scraping the hedgerows on either side of the car. Once more, though, nothing came in the opposite direction. Despite the rain, I led a charmed life last Sunday.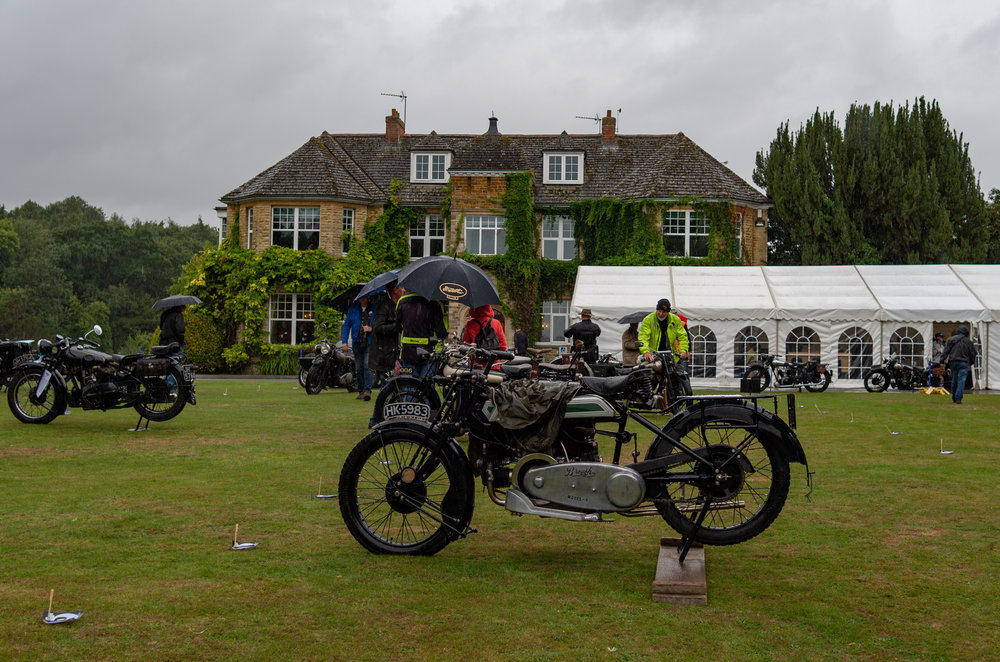 By this time the rain was sheeting down and the front and rear wipers were working overtime. Middle Aston House hove into view — I realised I had probably passed it twice in the morning without realising — and I found a parking spot with some difficulty. I met my friend Nick, looking rather bedraggled as he wrestled with his 1928 Brough, and discovered a huge collection of Brough motorcycles and Brough Superior cars. Why hadn't I realised George Brough also manufactured a rather tasty line of superior saloons? I suppose they can't be called the Rolls Royces of motor cars but they do look equally impressive.
Why so Superior you might ask? Well, George Brough who was the scion of the Brough engineering family in Nottingham was searching for a distinctive brand for his new muscular vee-twin motorcycle shortly after the end of the 1914-18 war. A friend in the pub suggested "Brough Superior" which George quite liked. His father though, also a motorcycle engineer of repute, wasn't impressed. "I suppose," he said, "that makes my bikes Brough Inferiors". This anecdote I gleaned from another old friend, the late "Titch" Allen, so called because of his modest dimensions. But if his knowledge of motorcycles and motorcycling had been the yardstick he would have been known as "Huge" Allen.
The photograph below of the Austin 7-engined Brough Superior is particularly interesting, according to Nick Jeffery: "It was one of the 'Bodmin Broughs' sold at a Bonhams auction. They were then little better than polished rust. This example sold for £331,000 in that state. This is an amazing transformation."
Anyway, while I was pondering all this, the rain continued to fall by the bucketful. Motorcyclists are well used to the British climate and invariably come prepared for the worst. They are used to getting wet. I, having arrived in a sissy car with sat nav and a tin roof, was getting wet. Worse, there was a clear and present danger threatening whichever camera I intended to use. Discretion encouraged me to leave the M10 in the car and I decided to sacrifice the newly acquired Leica X2 on the altar of Brough superiority. If I'd realised the weather was going to be so bad I would have brought the weatherproofed Panasonic G9 and a suitable lens.
But the rains came a-tumbling down, heavier than ever, and the camera was getting soaked. Not good. In the end, I left in a disappointed frame of mind. I had had high hopes of this Diamond Jubilee (coincidentally, the club was formed the year I got my motorcycle driving licence) but all I got was a nondescript collection of snapshots. Still, I'm sure you will be interested to see these legendary beasts, despite the gloomy surroundings. At this remove, it's hard to see them as two-wheeled Rolls Royces, but the enthusiasm of the members of the Brough Superior Club is palpable if a little dampened on this occasion.
Looking at these photographs you might be excused for thinking that Brough Superiors are ten a penny. Not so. They are valued in the tens of thousands and, in some cases, the hundreds of thousands. Pushing your Brough through the waterlogged grounds of Middle Aston Hall may look a bit mucky. But this is a true case of where there's muck, there's brass.
Disclaimer: Any Brough Superior Club members who happen across this page will rapidly conclude that I don't have a clue what I'm talking about. The devil is in the detail when it comes to Brough lore. I plead ignorance and submit that the average Macfilos reader (with the honourable exceptions of my old mates Don Morley and Nick Jeffery) doesn't have much of a clue about George Brough and all his works. Remember, this is a photographic site, not a motorcycle blog of record. However, if you spot any factual errors let me know and I will put them right.
See some more Brough Love here
___________