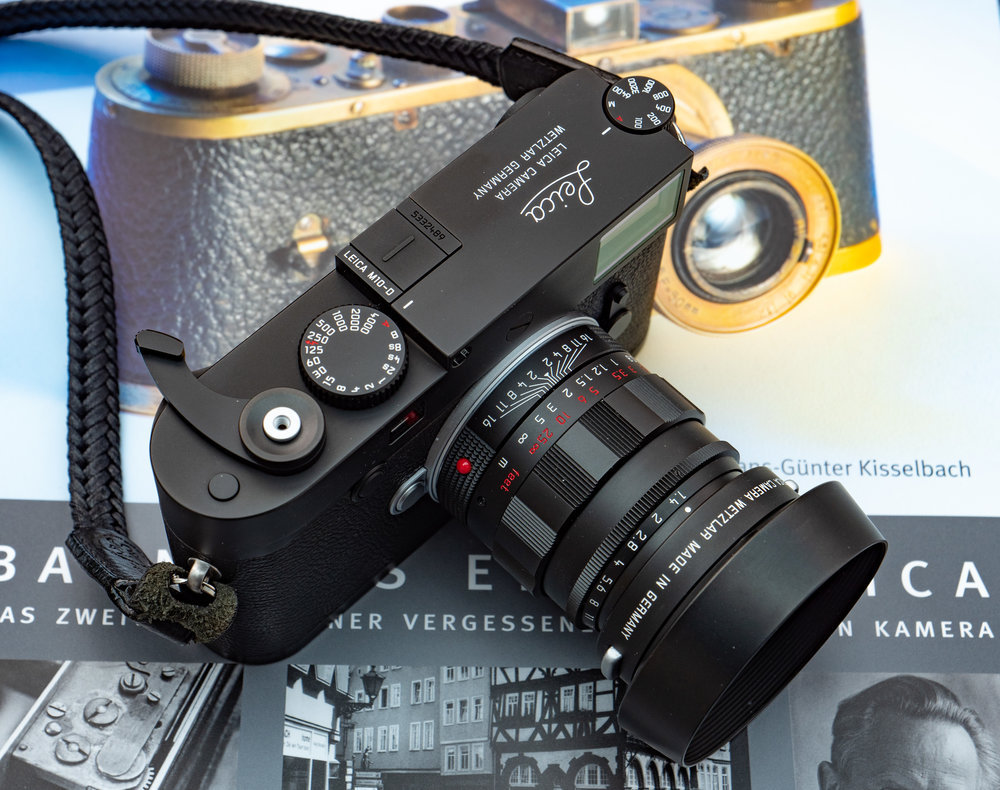 After a delivery hiccup, probably caused by some last-minute adjustments, the Leica M10-D camera is now beginning to trickle through to European markets. I collected my review copy today and I shall be reporting on my experiences in the near future. We already know that from an image-quality point of view, the M10-D is identical to the M10 and M10-P, but it's the ethos of the M10-D that we're here to examine.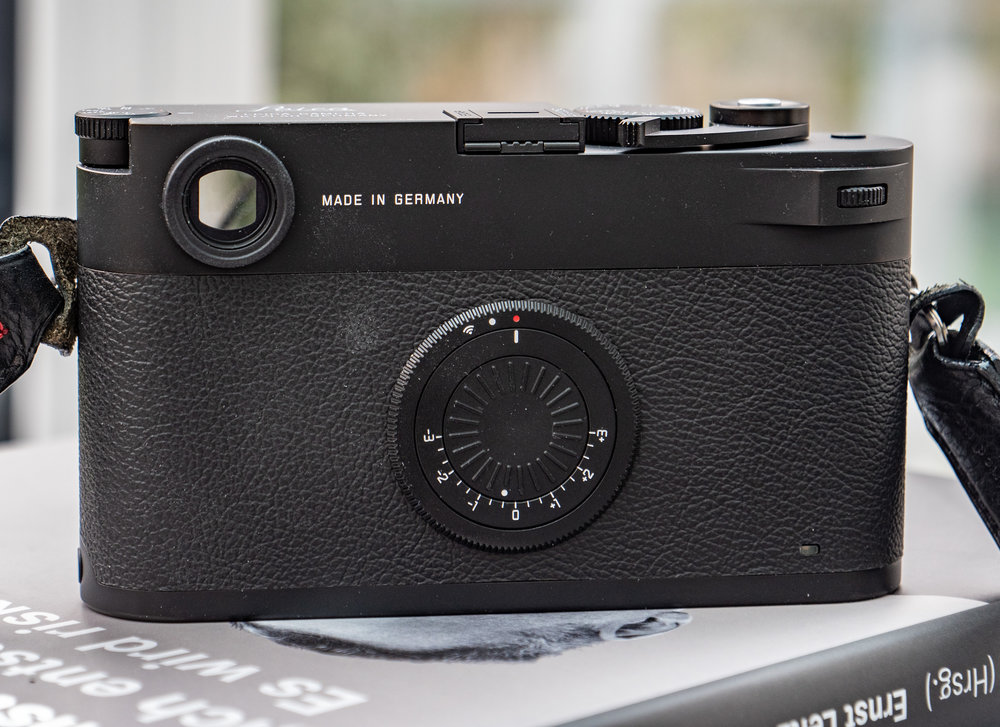 Apart from the missing screen, this is a -P, complete with the new quiet shutter and -P styling, including the absent red dot and the engraved top plate. Oddly, the M10-D I have in my hands has a base plate with a certificate which proclaims that it is an M10-P. I must check to see if this is an aberration or whether all cameras carry the -P certificate.
The M10-D a handsome beast indeed, especially with the limited-edition retro 50mm Summilux mounted, as in the accompanying photographs. The matte black chrome body is perfect and the real leather covering an added bonus. The faux film advance lever, now reinvented as a thumb grip, does its job well. In fact, it has a touch of genius about it if you can overlook the prejudice.
I love the fact that, once set up, this camera can be operated exactly like a film camera with the two basic controls of aperture and shutter speed. Variable ISO is a bonus, of course, and it is useful to be able to do basic preliminary settings in the Leica FOTOS app.
While on that subject, I am not immediately impressed by FOTOS. It takes a long time for the camera to be ready for connection and I find the M10-D easily loses connection once made. I also failed to format an SD card, either on the new camera or on the original demo camera we used during the Red Dot Cameras video a couple of weeks ago. Our colleague William Fagan has had problems in linking his M10 to the application, so we can assume FOTOS is a work in progress.
Once Leica sorts out these bugs, the FOTOS app will be useful for establishing basic camera settings. I cannot envisage making any further use of it. If I want to have instant sharing facilities, remote operation and the ability to fiddle with JPG settings, I'm probably better off buying another camera.
When I'm a-rangefindin', I want the simple life and I'll leave the smart stuff to the mainstream cameras. Rangefinder digitals don't come much simpler than the M10-D.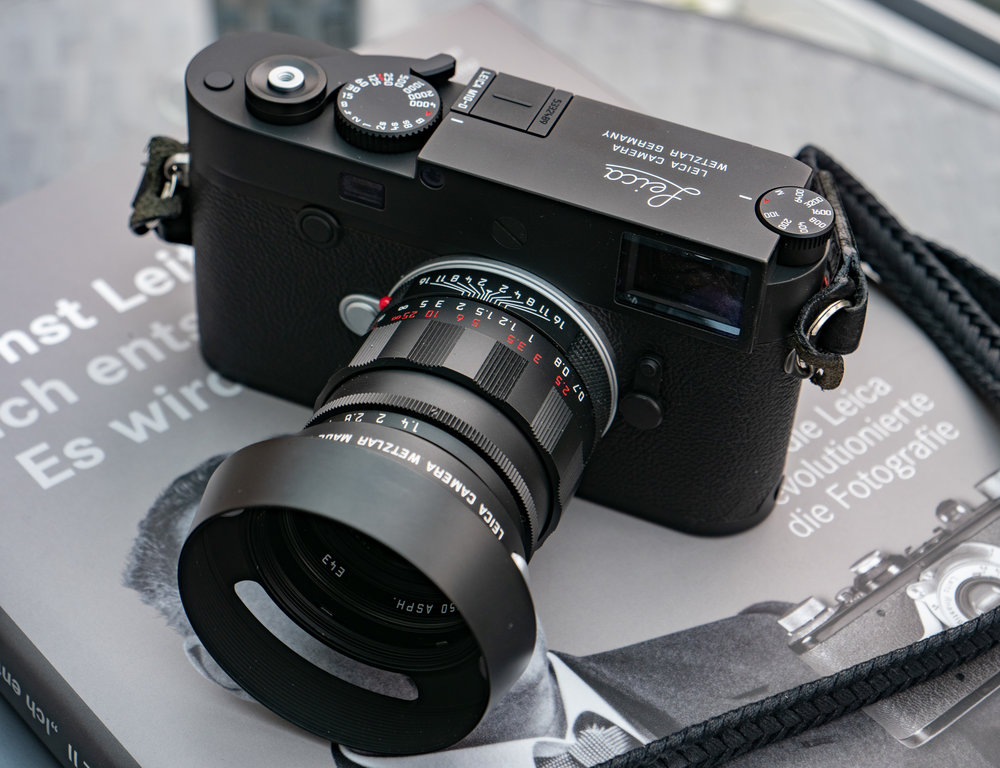 This is one of those cameras you either get or you don't. It is a very specialised device with a limited audience. Readers of Macfilos will be in the front stalls, I have no doubt. General photography reviewers often don't see the sense in the M10-D or its M-D predecessor.
A review in the South China Morning Post by Derek Ting is a case in point. It's a good read, but I was amused to find this "negative" aspect at the top of Derek's "turn off" list:
Adjusting the focus takes getting used to as you need to manually line up two images in the viewfinder until they overlap.
Ah! If you don't know that you're hardly likely to be in the target audience for the M10-D. The whole point of this camera— or any of its current siblings — is that they are rangefinder cameras. It's the raison d'être, a turn-on, not a turn-off. If you don't understand that, look elsewhere.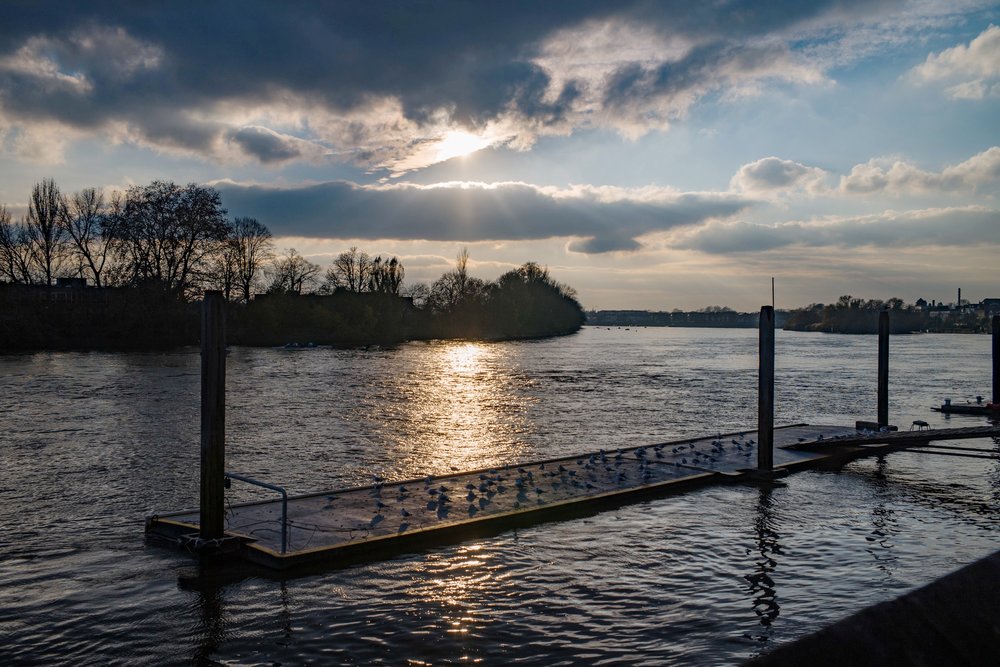 The M10-D is undoubtedly an oddball, a camera for the purist and the minimalist; for someone who likes the feel and simplicity of a Leica film camera but who appreciates the convenience, flexibility and lower cost of digital processing. If this isn't you, if you must have a screen, then buy the M10 or M10-P. But, as was the case with the M-D, a significant proportion of buyers will choose to have a digital with no screen. If the M-D hadn't been successful we would never have seen this M10-D.
It all comes down to purity and simplicity, plus the unique feel of an M6, MP or M7 — or almost any Leica M camera since the M3 for that matter.
Steve Huff wrote last week about his love for the M9 and Leica in general. It is a good piece and Steve was spot on with his assessment of Leica lure. Using a rangefinder is a pure photographic experience — and it is an excellent way to learn the basics of photography:
My point here is that the most rewarding times in my photo career or photo life have been when I shot with a Leica. Wether it was an M or even the SL that I love equally as much, these cameras with the least features have delivered to me the most fun, the best experience and the best in quality results. It also happened to NOT have all of these crazy features that are popping up in cameras today, that it seems, many people think they need or must have.
Such as a screen, I might add.
_____________________
Camera and lens supplied by Red Dot Cameras in London. If you are in the market for a rangefinder, ancient or modern, this is one of the best places to lay hands on your dream camera and get all the information from experts.
All the camera images in this article were taken with the Leica DG 12-60mm Vario-Elmarit, mounted on a Panasonic Lumix G9. This camera actually has a screen and comes with sufficient bells and whistles to summon the hound of the Baskervilles. The mute M10-D, "silent shutter" an' all, would leave the beast in peace. No bells, no whistles.
Related articles
M10-D, the movie: Mike Evans and Ivor Cooper look at the new camera
All about the M10-D – Jono Slack's review of a pre-production model
Long-term review of the M-D, the first screen-less production model