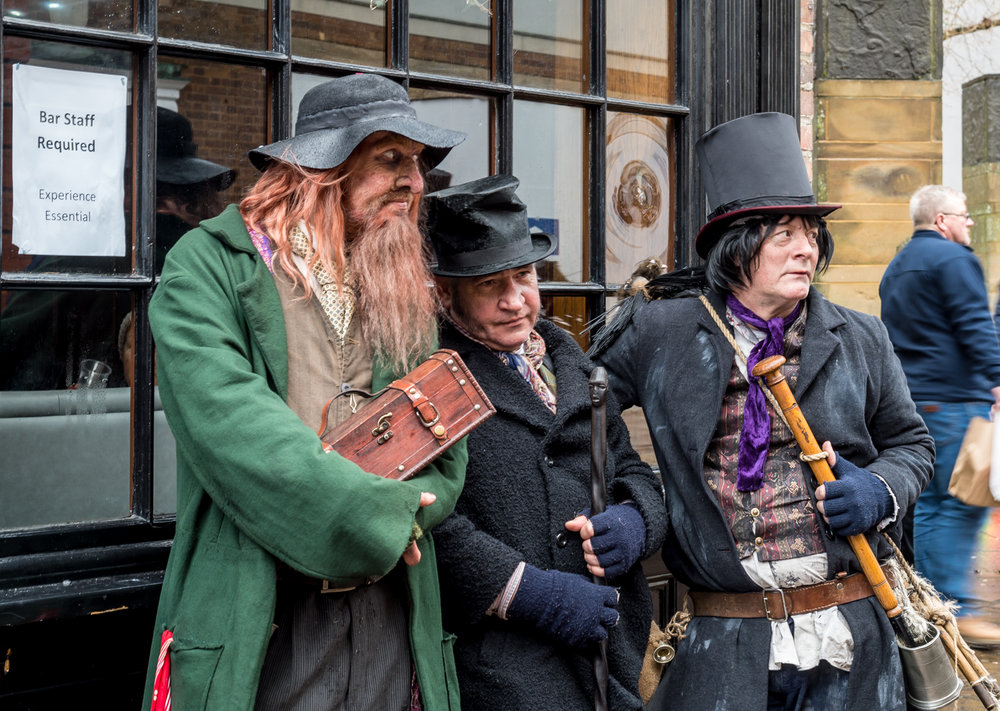 The Dickens weekend is a long-serving feature festival in the Rochester winter calendar. You find the high street, pubs, restaurants and Christmas market all packed with people from all over the country, and some from further corners of the world.
Few authors, I suspect, could inspire such an extraordinary festival as this. He created such a wonderful range of unforgettable characters, from Mr. Pickwick, to Fagin and his Artful Dodger, to Uriah Heep, Wilkins Micawber, Miss Haversham, Ebeneezer Scrooge, Betsy Trotwood, Amy Dorrit and Sarah Gamp. Not only did he provide graphic descriptions of his characters, he imbued all of them with distinctive accents and wery memorable foibles.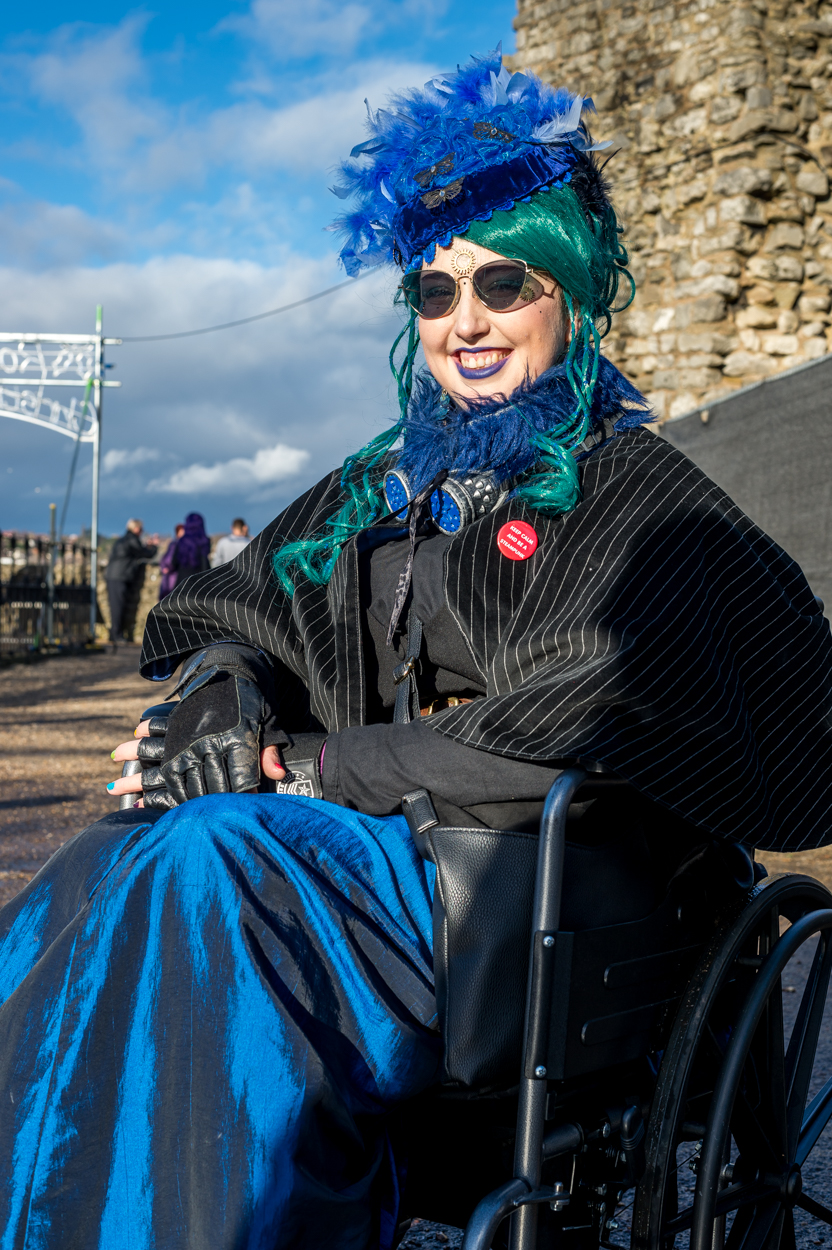 Combine all this with the early Victorian period when Dickens was at his most prolific, and we have a sure recipe for role play and characterisation which turns any Dickens event into a true delight. Part of the attraction is trying to identify the characters. Some, such as Fagin and Miss Havisham, are easy to spot, but can you tell the difference between Messrs Pickwick and Micawber, or between Jeremiah Flintwinch and Uriah Heep. It takes a keen eye (and a player with a determined imagination).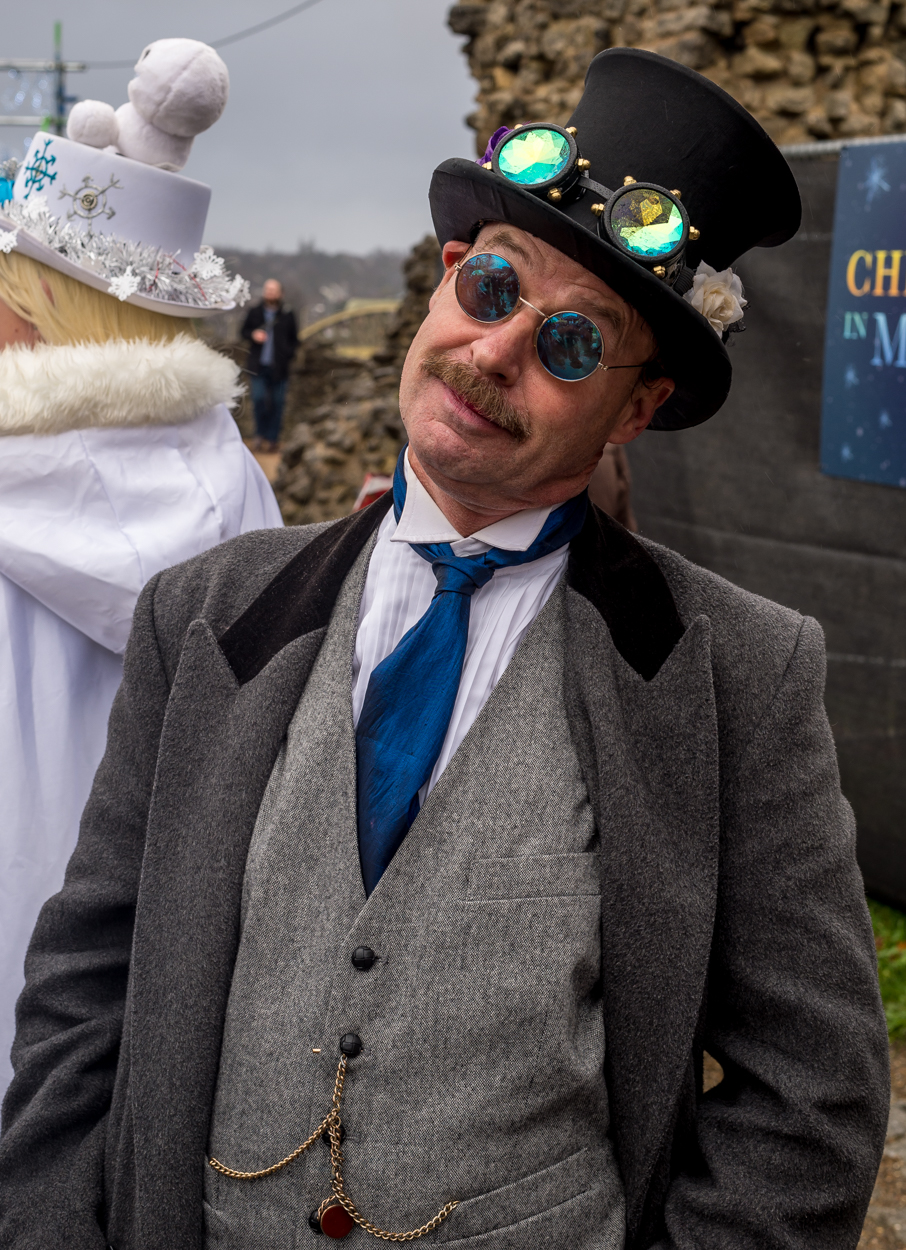 Charles Dickens is well known for his connections with Rochester, Chatham and Higham at various stages of his life. He ended his years at Gads Hill Place, near Higham, only minutes away from Rochester and the general North Kent area featured in several of his novels.
In the garden of East Gate House in Rochester stands Dickens' wooden Swiss chalet. It was was moved from Gads Hill Place and kept here for all of the years I have been in and around Rochester.
For those who are interested, there is another Dickens Festival in the summer months, but it tends to get overlooked as it follows the very popular Sweeps Festival where Morris dancers and chimney sweeps clutter the streets and ale houses for three days — mainly the ale houses, it has to be said. All of these events now have a smattering of steampunks, goths and comic book characters turning up. Oh, and have I mentioned The Grinch?
But back to the winter Dickens Festival. Its timing in early December ensures it has a Christmas theme. And, or course, Dickens is inextricably associated with this period because one of his best-known works, A Christmas Carol. No Christmas would be complete without a helping of Scrooge and Cratchit along with the pudding. So where better to point my newly acquired Nikon Df (which I purchased from Greys of Westminster). I took just the camera and one lens, the 50mm 1.8G. The reason for this was the god-awful weather on the Saturday, where the rain lashed down, soaking me to the skin, and my camera got a fairly decent wash too. I feared that in those conditions my Leica X wouldn't stand up to the punishment, despite the attraction of having the 35mm focal length available, and it made sense to use kit that was likely to survive the experience.
The Df performed admirably in the rain-lashed Saturday, and was excellent during the better conditions of the Sunday. For a first time I am starting to feel a little love for the 50mm 1.8G lens, it still doesn't kick like a 35mm Leica lens, but for street work and portraits, as mostly demanded by this event, it produces some really decent results, as I hope you can see. It has made me think about whether there is an opening for me to buy a manual focus Nikon 35mm lens from their F mount range. It is something I am considering.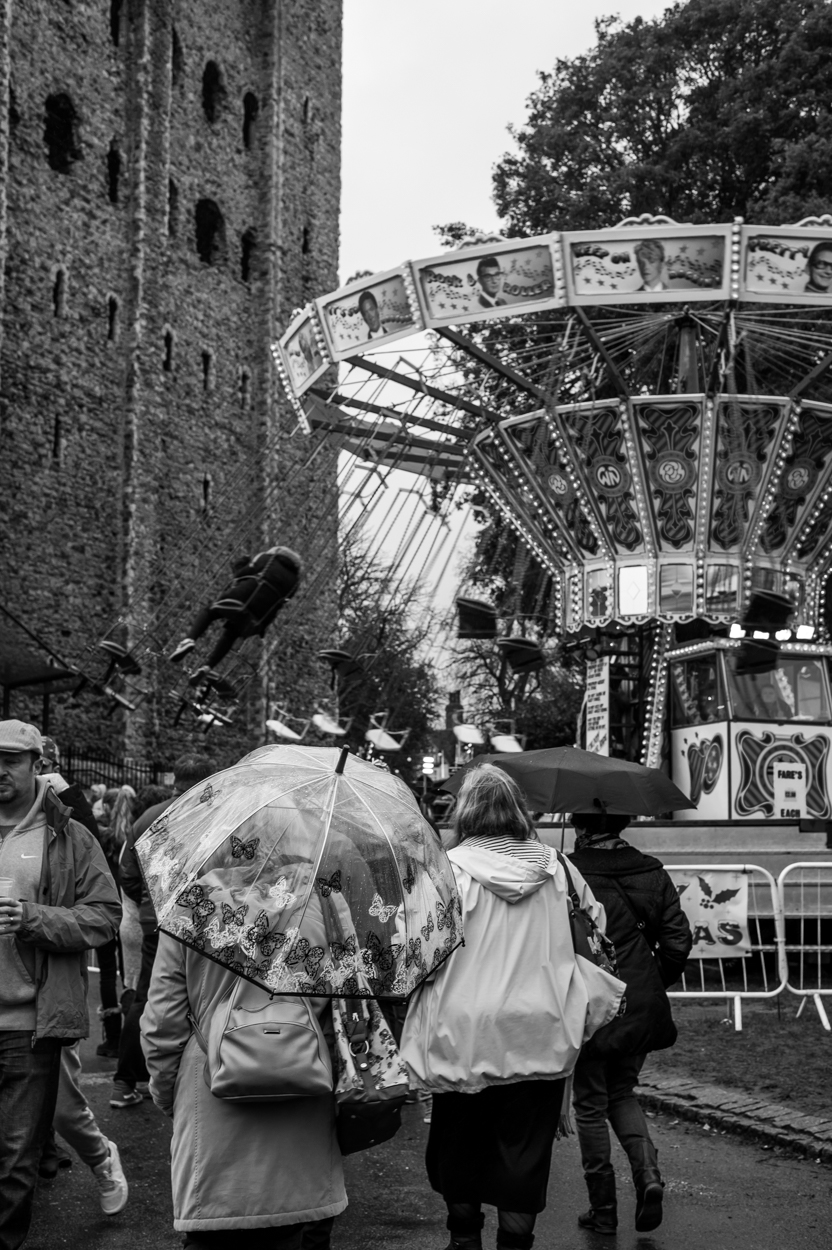 I have to say that I owe a great amount of thanks to the people who posed, played along and discussed the weekends events with me. It didn't matter how much rain fell, those in character kept up the act and played to their utmost. They even stopped to pose for the many photographers of all ages, sporting every conceivable type of modern camera. What more could we all ask for, cameras in the wild, in use, capturing their perspective and take on a wonderful event.
As this will be my last article of 2018 I would like to thank the readership for their continued support, Mike for his never ending enthusiasm, words of wisdom, and his excellent eye for detail. Also, I thank The Aussie Mafia (you know who you are), for their community engaged spirit in helping a fellow photographer get the best out of his gear. I also have to thank Rebecca (Becky) in Grays' marking department, who helps spread my Df word as far as it can go beyond Macfilos, and Tabitha who sold me the Df and 50mm 1.8G.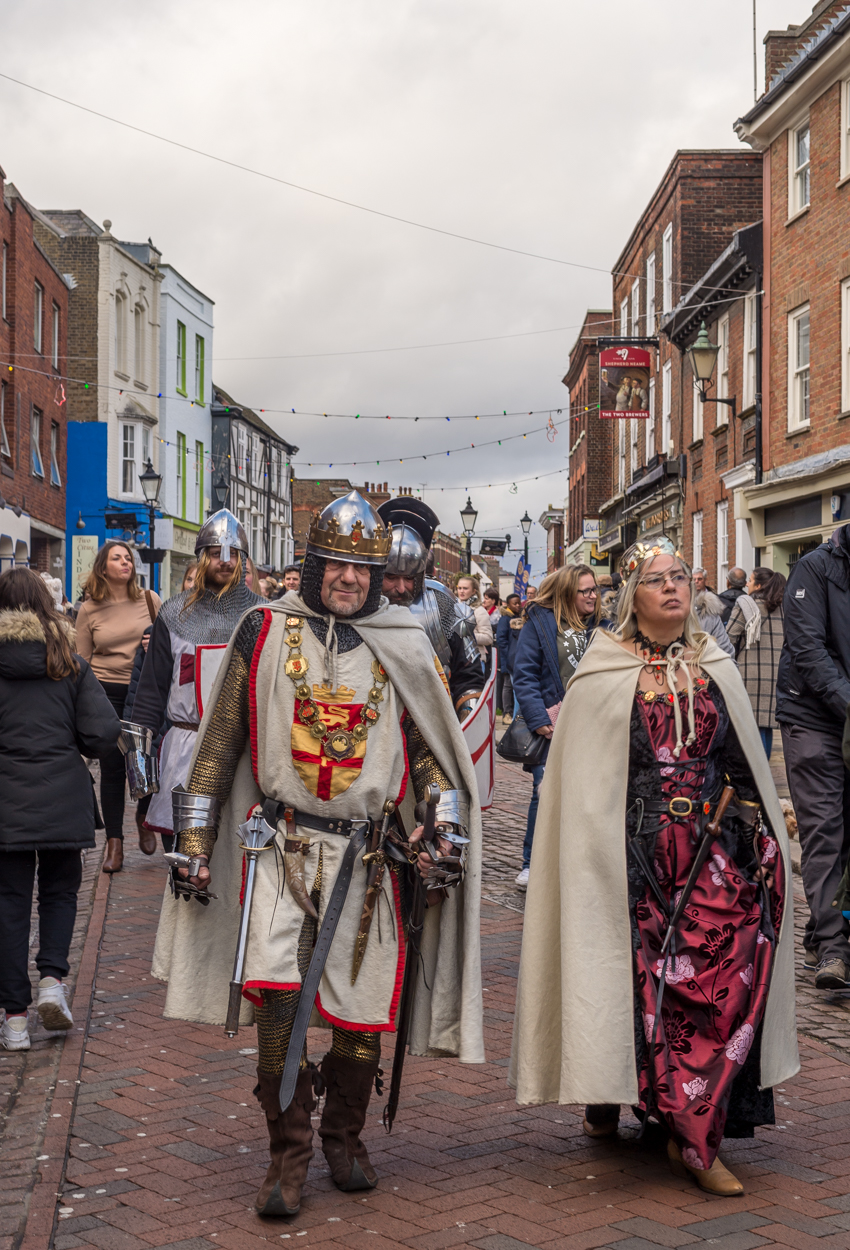 Above: The ones that got away. The couple of the left are of about the right vintage for Dickens but Edward I and Queen Eleanor (if indeed they are meant to be such) are way off piste. But fun, anyway
The final thank you as always goes to my long suffering photography widow Liz, without whom the show would not go on. Here's hoping you enjoy Christmas day, with your nearest and dearest. If the festivities go well, hopefully I will see you all in 2019, having enjoyed the festive food, frivolity, wine and also the New Year celebrations — if a few pounds heavier than when it all began. I wish you all a Merry Christmas and Happy New Year – Humbug from Rochester