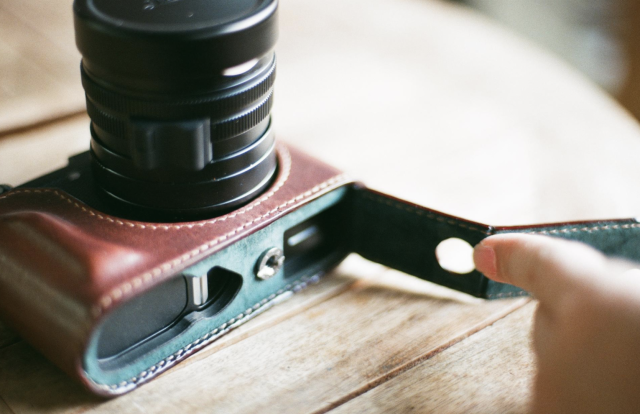 Leica's own half case for the Leica Q2 is a very attractive and well-made accessory. But, as I pointed out on launch day, the case is fixed to the camera with a tripod-mount screw which is fiddly to operate. As a result, changing batteries or SD cards with the Leica case will be a real chore and something I would wish to avoid.
Fortunately, Arte di Mano has come up with the perfect solution: A case with a hinged magnetic bottom which allow instant access to either the battery or SD card door. I have previously used the Arte di Mano M10 case which has a similar flap, although only one is necessary because the battery and SD card are adjacent.
In the case of the M10, the case replaces the camera bottom plate and incorporates a sensor which tells the camera that the bottom is still attached. Fit is precise and the door mechanism works perfectly. I am now using the same case on the M10-D, although the leather is not cut specifically for the screenless back of the newer camera.
Although I have not yet had the chance to lay hands on the Q2 case, I am sure the dual-flap system will work perfectly. The case actually comes in three variations. One is a simple case without opening flaps while you can specify just one flap (for the battery compartment) or the hinged full-width door to allow access to both compartments.
Sejun Kim of Jnk-Handworks oversees the production of all Arte di Mano cases and is himself an enthusiast as well as a fine craftsman. In this video, he goes into considerable detail on the construction of the Q2 cases and the various options you can choose. Although Sejun speaks in Korean, the subtitles will explain everything.
Full details
You can find full details of the new Q2 cases here on the Arte di Mano website. The basic case, without opening flaps, costs $360. A back cover for the screen costs an additional $80 while the battery access door is $80 while a case with both battery and SD-card access doors costs $120 extra.
Details of shipping, on the website. Since all Arte di Mano cases are made to order, there is usually a wait of several weeks although shipping from Korea or the USA or Europe is very quick once the case is ready.
These cases are made from very high quality, soft leather which fits the contours of the camera precisely. I've used several versions of the years and all of them were an exact fit on arrival and have withstood hard use. In addition to looking the part, the cases offer a high degree of protection for the camera.
Related Articles