Jean Perenet's recent Macfilos stories on his travels in Laos prompted me to find the slides I took on my own trip to Laos in 2004. My experiences were similar to Jean's except that, back in 2004, tourism in Laos was not as developed as it is today. As Jean recounts, Laos had suffered badly during the Vietnam war, although it was not a participant in the war, and it really only started to get back on its feet at the turn of the century.
Jean does not mention the hassle of gaining a tourist visa, so Laos may well have moved to an online system like many other countries. Back in 2004, the entry visa system was very basic. You gained the visa at the airport upon arrival. That arrangement always concerned me as one could fly all the way to the capital of Laos, Vientiane, and then be denied entry and there was no recourse.
Immigration
On that occasion in 2004, my wife and I flew to Vientiane from Australia via Bangkok. Upon arrival in Vientiane we had to line up for ninety minutes with fifty other arrivals in the very hot and steamy arrival hall 'cooled' by a slow-moving ceiling fan.
Meanwhile, a surly immigration official carefully examined every traveller's visa application form and their two passport-sized photos. After an exhaustive examination of the many stamps in our passports, he finally gave us the visas. Profound relief!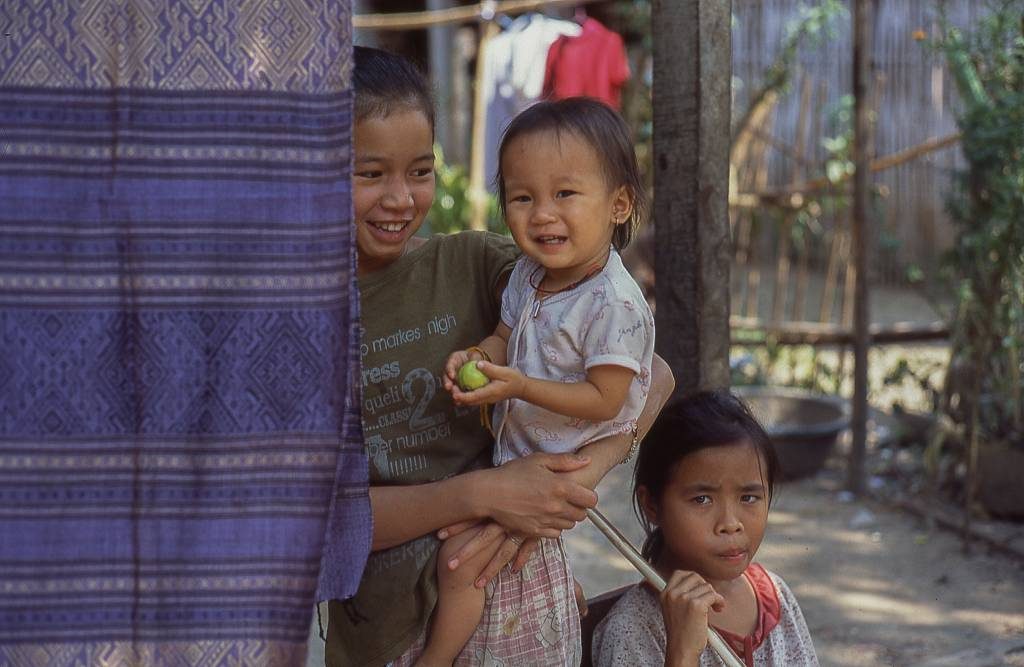 Then it was into a very hot drive to our hotel. Jean remarks on Vientiane being very quiet and almost deserted in the day. That was also my first impression 15 years earlier.
After a few days in Vientiane, we had a driver take us north in a Toyota 4WD on the same road taken by Jean. In 2004 the Australian Government had a travel advisory on the road saying that tourists may be subjected to holdups and robberies by bandits and that we should exercise extreme caution. We saw no bandits.
Backpackers
Like Jean, on the way north we stopped overnight in Van Vieng in the heart of the spectacular karst limestone scenery. At that time, the town was also full of European and Australian backpackers who had come for the main attractions — drinking cheap beer, smoking marijuana and floating far down the river on inflated truck tyre inner tubes. I was able to indulge in only one these pursuits during the overnight stay.
The next day we drove on to our destination, Luang Prabang. In 2004 Luang Prabang was beautiful. Without a doubt it is the most charming, almost magical and spiritual place I have ever visited. It has been described as the inspiration for the mythical Shanrgi-La. There were tourists in 2004 but it was not mass tourism by the coach-load. Having driven the only road from the south, I can understand why.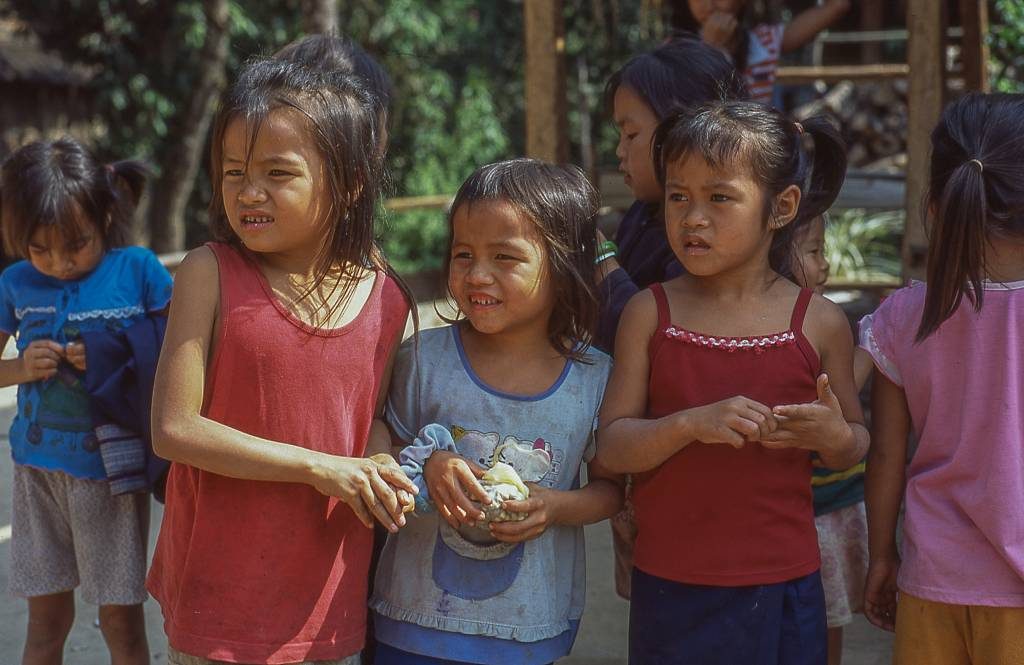 However, even in 2004 there were plans for an international airport near the town and this has now been built and is operating. I am sure the character of the town has changed. Hopefully not as drastically as the UNESCO World Heritage listed village of Hoi An in Vietnam which when I first visited in 2000 was beautiful.
By 2006, when I visited again, it was a huge, tawdry resort. The only thing missing was a Trump Tower. Very sad. And it happened in just six years. I cannot understand how Hoi An has retained its World Heritage listing.
Children's books
Most of my photos from the Laos trip were taken in Luang Prabang or on the Mekong going north to Thailand. My wife and I donated to a charity in Laos which was translating English language children's reading books into Laotian, publishing them and then distributing them to young monks and children in villages.
We visited their office in Luang Prabang to collect books to distribute. At that time the schools in Laos had few books. Many children had never seen a book. And this was only 15 years ago. In Luang Prabang I went out with some books on my usual morning walk and gave them out to young novice monks I met.
One monk — see above photo — was in raptures about his book. It was the first book he had ever owned. He was waiting for me in the same spot every morning, eager to practice the five words of English he knew. His gratitude was embarrassing.
We travelled north from Luang Prabang along the Mekong on a small river boat into the so-called Golden Triangle, stopping overnight to stay in huts on the riverbank — Mosquito Central Resort.
It was a great adventure and I can remember sitting on the deck in my shorts for hours beside ropes and boxes of cargo watching the jungle pass by. Now there are luxury river cruises ploughing the same route and the passengers lie on their sun loungers sipping vodka Martinis as they watch the jungle pass by. It's sad but inevitable. We stopped at a few very isolated fishing villages on our way north and handed out reading books. These were incredibly poor places but the children seemed happy and they were so excited to receive the presents.
People shots
Our river trip ended at Huay Xai in Laos where we disembarked. Well, actually we clambered up the muddy riverbank and cleared immigration. The immigration office was a few streets away from the river and after they had stamped our passports we could have easily walked off and stayed in Laos. As it was, we were transported across the Mekong in a tiny wooden boat and then we were in Thailand and facing another passport control.
Taking the people photographs accompanying this story was relatively easy. The subjects were delighted to be photographed. Maybe now it is different, with so many tourists taking photographs with both cameras and of course mobile phones.
At that time, although I had recently acquired a Leica Digilux 1 digital camera, I still regarded the Leica M6 as my main photographic tool. For the Laos trip, my recollection is that I took what was then my default outfit: the M6 body and 28mm and 90mm lenses. However, when I look at the slides today I cannot help thinking that some were possibly taken with the 50mm Summicron, so maybe I took that as well.
I can remember that for the two week trip I took just three cassettes of 36-exposure 50 ISO Fuji Velvia. That's only 108 exposures, but it seemed totally adequate at the time. Digital photography has since encouraged bad habits.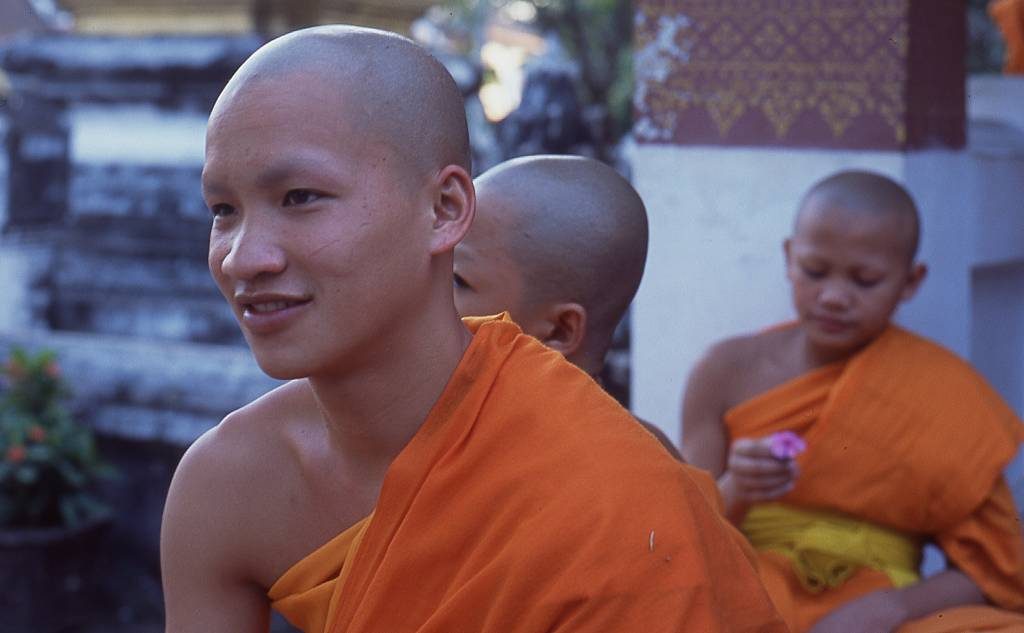 Jean's story
It was Jean's story that prompted me to look at the Laos slides after many years and I was surprised at how good they are. Indeed, I suspect that I had not really looked at them closely until last week. The problem back in 2004 and, indeed, in the years before, is that I took photographs but incessant time pressures meant that I had little spare time to look at them. Now I find myself thinking how pleased I am with them 15 years after I took them.
They make me wonder whether it was sensible to have sold my M6 and those lovely lenses a few years after going to Laos. Of course, these images you see are not pure analogue photos because they have been scanned. So they are in effect analogue/digital hybrids. I used my Epson V550 flatbed to scan them into Lightroom. But, to maintain their integrity, I tried to do as little as possible to them in Lightroom beyond removing spots.
I hope you enjoy the photos and my tale of Laos and thanks to Jean Perenet for reviving the memories and prompting me to dive into my slide archive.