The new Sigma 85mm f/1.4 DG DN Art lens has been designed specifically for mirrorless cameras, initially for L-Mount and E-Mount. The company claims unparalleled optical performance in a lightweight, robust body. The lens is also exceptionally light for its capabilities at 630g or 22.2oz.
With high-speed autofocus, the 85mm f/1.4 is described by Sigma as a "game changer for L-Mount photographers."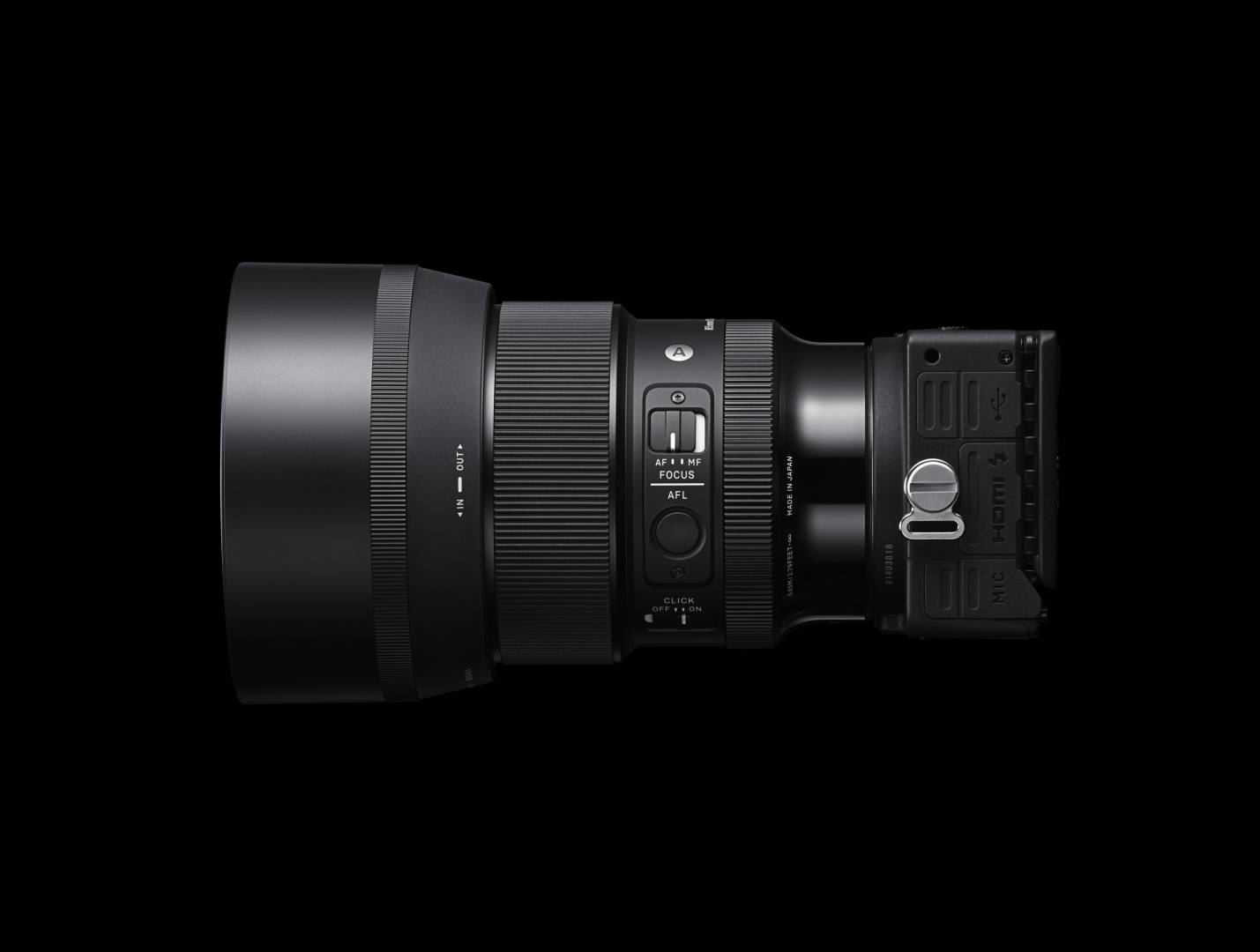 Despite being some 45 percent lighter than the existing 85mm f/1.4 DG HSM Art lens, the redesigned version offers improved image quality, exceptional sharpness, clear and delicate rendering and creates a rich bokeh. Sigma claims that the lens is perfect for portraiture, wedding and event photographers.
The Sigma 85mm f/1.4 DG DN will retail in the UK for £999.
PRESS RELEASE
Key features
Class-leading optical performance
An 85mm focal length and F1.4 aperture are specifications almost synonymous with a professional portrait lens. As with all Art line lenses, SIGMA has pursued the highest possible optical performance and employed the latest design and production technologies at SIGMA's factory at Aizu, Japan. The optical design of the lens is completely different to the existing 85mm F1.4 DG lens in SIGMA's current line-up.
In addition to five SLD elements and one aspherical element, the 85mm F1.4 DG DN | Art has incorporated the latest high-refractive-index glass, which works to correct aberrations that cannot be effectively handled by in-camera correction. With a particular emphasis given to the elimination of axial chromatic aberration, users will enjoy sharp images with no color bleeding all the way up to the maximum aperture of F1.4.
The high resolving power across the entire image from the centre to the edges of the frame ensures exceptional sharpness of the in-focus area, and coupled with a very shallow depth-of-field it's easy to separate the subject from the background for captivating, high-impact portraits.
Numerous rounds of ray-trace simulations, as well as repeated real-world testing enabled SIGMA's lens designers to minimise flare and ghosting, which has ensured clear, high-contrast images even when shooting in backlit conditions.
Photographers can work wide open at the maximum aperture of F1.4 with total confidence, allowing them to focus fully on creative decisions such as composition, exposure and depth-of-field. This new 85mm prime delivers a level of optical performance truly worthy of its place in SIGMA's Art range.
Exceptionally lightweight and compact
The 85mm F1.4 DG DN | Art weighs in at 630g with a filter size of 77mm and a body length of 94.1mm, making it far smaller and lighter than SIGMA's original 85mm F1.4 Art lens, which weighs 1215g. Designed exclusively for mirrorless cameras, it breaks the usual 85mm F1.4 mould by combining a very large lens diameter, superb optical performance and a lightweight and compact body.
The AF system employs a stepping motor that is optimised for both phase detect and contrast AF. Not only does this provide a smooth shooting experience only possible on a mirrorless camera (such as face/eye AF), but it has reduced the size of the lens body thanks to a much smaller focus element. By making the most of in-camera aberration correction functionalities, SIGMA was able to concentrate on the correction of aberrations that could only be eliminated effectively by the lens' optics, which further contributed to making the lens smaller. With such a small and lightweight body, users can now take out an ultra-wide aperture 85mm lens for day to day shooting, or carry it around all day at a wedding, without worrying about being weighed down.
Superb build quality and impressive feature set
This compact lens is packed with a range of advanced functionalities that make it well-suited to professional use by both photographers and film makers.
The 85mm F1.4 DG DN | Art has a newly introduced iris ring lock switch, which allows users to lock the iris ring either at auto, or between apertures F1.4-F16. This prevents unintended movement of the ring from auto to manual, or vice versa, during shooting so users can focus on creating their shot. There is a Focus Mode Switch on the lens barrel, and an AFL button that allows various functions to be assigned from the camera body according to user preference.
In addition to the dust- and splash-proof structure, the 85mm F1.4 DG DN | Art uses materials such as aluminum and TSC (Thermally Stable Composite) to achieve superb Art-line build quality, but with weight kept to a minimum. In addition to the durability of the body, SIGMA's lens designers have paid particular attention to the experience of using this lens, achieving an ultra-smooth movement on the iris and focus rings, and the precise, easy switch action.
Additional features
Lens construction: 15 elements in 11 groups, with 5 SLDs and 1 aspherical element
Compatible with high-speed autofocus
Compatible with lens-based optical correction
Iris ring
Iris ring click switch Iris ring lock switch
AFL button
Focus mode switch
Dust- and splash-proof
Hood with lock
Compatible with SIGMA USB DOCK UD-11 (sold separately, for L-Mount only)
Designed to minimize flare and ghosting
Every single lens undergoes SIGMA's proprietary MTF measuring system
11-blade rounded diaphragm
High-precision, durable, brass bayonet mount-
'Made in Japan' craftsmanship
Key specifications
The figures below are for L-mount
Lens construction: 11 groups, 15 elements (5 SLDs and 1 aspherical lens)
Angle of view: 28.6°|Number of diaphragm blades: 11 (rounded diaphragm)|
Minimum aperture: F16|Minimum focusing distance: 85cm / 33.5in.|
Maximum magnification ratio: 1:8.4|Filter size:φ77mm|
Maximum dimensions × length: φ82.8mm×94.1mm / φ3.3×3.7in.
Weight: 630g / 22.2oz.