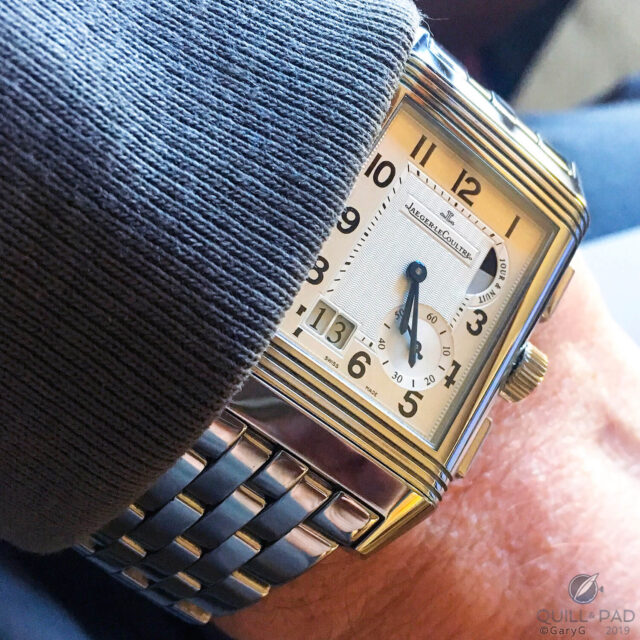 Leica's two watches, the L1 and L2, have now reached Britain and are up for sale at selected Leica stores, including the main outlet in Duke Street, Mayfair. The L2, which features a GMT dual-time-zone function, is definitely up my street. At least it would have been once upon a time.
Watch bore
Before defecting lock, stock and crown to Apple, I was a huge fan of elegant Swiss or German watches. For a time, I possessed quite a collection. A watch bore at the highest level; I even owned a watch-winder. Housed in a beautiful lacquered box, the four winding posts of this luxurious little Uhr-kennel would keep automatic watches fully charged, ready for the off at a moment's notice.
While it's something of a first-world problem, imagine the stress of remembering to wind up your automatic watches manually every couple of days. You definitely need a watch winder if you own more than one automatic.
I envy those who continue to sport their fine wristwear, although my head tells me not to be so daft. "Stick with Apple," it says. And it is right, of course, not for the first time. My heart has had a lot to answer for over the years, but this time head wins. The Apple Watch does so much more, including health monitoring, that there is no comparison — at least for me. It even looks rather elegant in its modern, techie way. But enough of this heresy… we are here to talk luxury.
Let's say that my devotion to the Apple Watch doesn't stop me from ogling fine timepieces of a more traditional cut.
During the recent Leica Society International meeting in Dublin, I came across a fellow member, festooned with Leicas as we all were, but with one difference. On his left wrist was the very desirable Leica L2, looking even better than it does in the catalogue. I had a good ogle, but the old head, as usual, rapped my knuckles and told me to stop looking.
Watch photography
These days, ogling is all I do. That Apple Watch has saved me thousands by suppressing my watch lust. I just keep one mechanical watch, an IWC Fliegerchronograph, for old times' sake and because can't bear to cut the final cord. Yet I haven't worn it for ages. It doesn't warn me when I'm fibrillating or call an ambulance if I fall down the stairs.
So I stick to looking at photographs of watches. And watch photography is a specialised art, make no mistake. Our old Leica blogger friend, Ming Thein, is a master of his art. It was he who first introduced me to the pleasures of gazing at fine portraits of fine watches. Ming has now gone into the watch business with his own brand, Ming. Catch one if you can.
It's also why I subscribe to the really rather fabulous Quill&Pad watch site. I'm particularly a fan of GaryG's photography, as in his Daily Wearer article. I hear that Gary once did a master class on watch photography with Ming Thein, which doesn't surprise me.
Just as photographers have a daily carry camera — the one that's supposed to be in the pocket but seldom is — the watch enthusiast has to choose a daily wearer. It's a hard life, but needs must. And in the case of Quill&Pad readers, it's never going to be a battered old Casio. They're a discerning and well-heeled bunch over there.
Admittedly, the Philistine might suggest that a Daily Wear watch ought really to be a Swatch, a clapped-out Casio from the last century, a Mickey Mouse Timex, or even a FitBit. But they're all boring. In the same way that, deep down, we know that that daily camera is a smartphone and not a Leica. But it doesn't get the juices running in the same way.
Watch this space
Yet none of this matters. There is a lot of sense in wearing or carrying an object that provides an injection of supreme pleasure, whether it be a watch, camera, fountain pen or other desirable but perhaps not essential paraphernalia.
For those among us who are smitten, no call for frugality or practicality is worth the breath. A little bit of what we fancy does us good and you know it makes sense.
Gary has kindly given us permission to reproduce some of his fine watch photographs, and I've chosen a selection from the Daily Wearer article.
I would recommend reading Gary's many articles on Quill&Pad. If you would like to find out how to go about photographing watches, Gary obliges in this article.
Even old traitors such as me, wearing my modern smartwatch by choice, can gain comfort from the wonderful photography and the vicarious pleasures of imagining one of these timepieces on their wrists.
What do you think? Maybe you couldn't care less about wristwatches, especially not expensive models? Do you still wear one of those black Sinclairs with the red LED display? Or are you a sybarite at heart, polishing up your Vacheron Constantin at every possible opportunity? Confession time…
---