A new exhibition at the Leica Galerie in Konstanz, Germany, presents Paolo Burlando, a documentary photographer from Italy. He captured urban scenes worldwide long before the term "street photography" was invented. So let's meet the man with his Leica M cameras.
He always has a Leica M with him. An M6, his favourite M9 or the M (type 262). A 35 or 50 Summicron mounted. A small bag. But its owner is always wide awake, eyes open, mind open, sensitive and sensible. This is Paolo Burlando. A polite and modest man, standing in his own showroom, calm and collected. And yet he has the privilege of being the artist of one of the four exhibitions that the Leica Galerie in Konstanz, Germany, holds each year. About 60 pictures on the walls tell the story of a man who likes people. A humanist, if you like.
Paolo Burlando raises great interest
The opening days of the gallery were very busy, and Paolo Burlando had to deal with many people as he guided visitors through his exhibition. It's a special courtesy that the gallery extends to both visitors and artists: The morning after the opening, they organise a guided tour with the artist themself. While it used to be taboo in art for the artist to explain his work, the curators in Konstanz are pragmatic: if there is a demand for such an event, they say, then they will offer it.
His idols are the great post-war photographers
Paolo Burlando's works are all in black and white, and he says that the great photographers of the late 1940s to the 1970s are his inspiration: René Burri, Werner Bischof, and Cartier-Bresson, of course. The influence is clear in the images, and it is not surprising that Paolo Burlando once considered a career as a photojournalist. Instead, he went into engineering and is now a professor of hydrology at ETH Zürich, one of Europe's top universities.
The Leica is Paolo Burlando's tool for a number of reasons
Burlando says he is an autodidact but has learnt a lot from books, magazines and exhibitions since the age of 17. The year 2000 was a turning point in his career as he, following a wish many aspiring photographers feel, entered the rangefinder world. "I got a used Leica M6 for my 40th birthday," says Burlando, "with one lens. It changed the way I took pictures. Since then, he has stuck to the rangefinder, preferably with a Summicron 35 attached. Leica is his camera of choice "because of the optical quality, the discreet look, the portability and, yes, the iconic design".
The Konstanz exhibition is his biggest so far
Soon after he began to take information photography more seriously, he had success. Two of his images were curated to be part of the digital exhibition project 'Family of Man 2' by the US-based Leica Users Group. In Konstanz, he has his largest gallery exhibition to date, with more than 60 images in three groups: Europe, Asia, and America. Most of the photos show people in some kind of urban setting, but there are also several landscapes.
Digital and analogue workflow with M10 and M6
Paolo Burlando says: "I mainly shoot digital these days, simply because it is more convenient, but the M6 still sees some use with black-and-white film. The original colour DNG files from his M10 are converted to TIFFs and then processed in Silver Efex. He has his films processed in a professional lab and then scans the negatives. The exhibition shows prints from both workflows, making for a very nice contrast. The analogue images, printed from the digital scan, of course, have a special appeal because of their grain.
"I'm a fundamentalist", Paolo Burlando confesses
All in all, the exhibition is an excellent example of what a serious amateur photographer can achieve. One element of this is the constant pursuit of perfection. "I am a fundamentalist," says Burlando, "black and white, no cropping, no excessive post-processing. During the opening, a teenage girl asked Paolo Burlando how he works and what it takes to achieve such pictures. He said, and I have nothing to add: "Patience, an ever better-trained eye, a well-stocked memory of images and curiosity".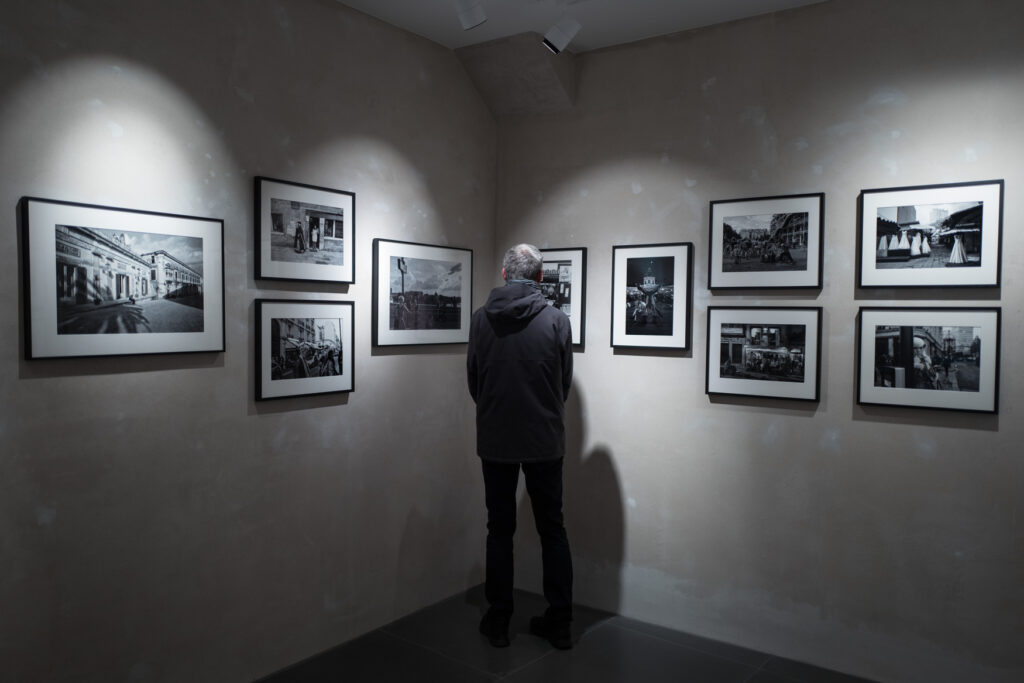 ---
"Paolo Burlando – Genius Loci": Exhibition until April 8. Leica Galerie Konstanz, Gerichtsgasse 14 (in the historic centre, near the railway station and harbour). Open Monday to Friday, 10 am to 6.30 pm, Sat 9.30 am to 2 pm or by appointment (+49 7531 916 33 00, info@leica-galerie-konstanz.de). Free admission.
---