My wife and I love to travel through the United States by car when we are on holiday. Don't ask me why. I suppose it's a fascination with the country, its culture and its magnificent scenery. For us, it's a lot of fun and relaxation. It's also an opportunity to photograph scenery we haven't seen before. This is the story of our most recent photographic road trip across the Western United States.
Starting the trip with a trip down memory lane
Our plan was to drive from Denver to San Diego. Why set off from Denver? Claudia had never been there before, and I hadn't visited for over thirty years. But really, it was because Denver has a special meaning to me.
It's the city where my relatives lived back in 1985, and it's where I moved to join them almost 40 years ago. Why would I make such a journey? It was because I had escaped from communist East Germany 6 weeks before, thanks to my lovely, passionate uncle, who had bribed and tricked the mighty Stasi – the East German secret police.
Culture Shock
So, there I was, in the middle of Colorado, ready to explore an unknown world. You might think a wrenching move like this would be followed by "culture shock", requiring the person to mentally process what was happening and think through how best to assimilate into their new environment. I can assure you, my strategy for coping with the new life was not to think too much!
My relationship to Denver therefore runs deep, and that is why I was keen to see it once more. As a result, we found ourselves on a direct, ten-hour United Airlines flight from Frankfurt, Germany to Denver, Colorado.
We had chosen a hotel close to the airport, where the old neighbourhood of Stapleton, now called Central Park, was located. I'm always impressed by the detailed information our brain squirrels away in case it is needed in the future. Driving southbound on Monaco Street, I could recite the names of the upcoming cross roads like a poem. It's as if a mental version of Google Maps is projected into your thoughts.
Time to hit the road: photographic road trip, day one
To make it short, Denver is a nice city to stay for a couple of days, but we had to head out. In particular, I wanted to show Claudia the Rocky Mountain National Park.
We left at seven in the morning and reached the visitor centre at two minutes after nine; the park opens at nine o'clock. To our horror, we learned that between nine o'clock and two o'clock one needs a timed entry slot, which has to be ordered online before the visit. We would have been turned around at the entrance gate, as the ranger told me.
Although Estes Park, the nearest little village, is a beautiful mountain settlement where one could while away the time, we would rather not hang out there for five hours. Our destination by the end of the day was Rifle, Co. So we cancelled
Rocky Mountain National Park and drove on, following the roads through the foothills towards Idaho Springs.
It was a delightful drive through forests, grassland, and a couple of small villages.
As far as I could recall, Central City, an old mining town on the way, did not have a casino 40 years ago when I last visited. However, there must be at least twenty of them there now. We are always impressed by the consistency of conducting business in the US. If there is to be a casino in the singular, there are to be casinos in the plural. In fact, many of them. Isn't it obvious that if you have gamblers for one, you also have gamblers for twenty? No? Yes? There were coach loads of people being driven up from Denver to be dumped in the casinos. What a brilliant way to spend a Sunday!
Cruising along I-70
We eventually reached Interstate-70, Westbound. We follow an Instagram-account about I-70. It seems to be a stretched-out parking lot, especially on weekends and in winter. That day, we were lucky, didn't get stuck, and drove on towards Eisenhower Tunnel. At Loveland, we left the interstate and joined Route 6.
Since we had not succeeded in driving through Rocky Mountain National Park, we wanted to at least go over Loveland Pass. The head of the pass is way above the timberline, affording a spectacular view of the Continental Divide. Forty years ago, a friend and I had dug a snow cave just below the pass, skied the whole day, and stayed in the cave overnight. It was in February.
Yes, it was cold, but the next morning's sunrise, the crystal-clear air and the silence more than compensated for the inconvenient night in a sleeping bag under the snow.
Those were the days when girlfriends would drive a guy's pickup truck, all the way up and down the mountain. If you were down the mountain, they would give you a ride back up, and maybe even hand you a joint.
On our trip we passed well-known Colorado ski resorts, like Arapahoe-Basin, Keystone, Breckenridge, and Copper Mountain. We travelled over Vail Pass to Vail, stopping there to stroll through the town. I wanted to show Claudia a US attempt to imitate the European Alps. Some of these efforts are actually superb.
The street farmers-market was indeed nice. In contrast, the $35 parking charge for 1.5 hours was not nice; Frankfurt Airport charges €24 for 24 hours.
More cruising along I-70
Back on the freeway, Interstate-70 continues along the Eagle River, met by the mighty Colorado River at Dotsero. Shortly after the confluence, the highway, a railway line, and the river enter Glenwood Canyon. I had been through it many times when I lived in Colorado, but it is always a jaw-dropping experience. It's too bad that there is no good place to stop and take in the view.
The landscape opened up after Glenwood Springs and we finally reached Rifle, Colorado, where we stayed overnight.
On the way to Moab – photographic road trip, day 2
Today's plan was to drive from Rifle to Moab, Utah. We continued on I-70, following the course of The Colorado River, met by the Gunnison River in Grand Junction.
The landscape became less mountainous and even more open spaced.
Grand Junction has seen many changes when compared to 40 years ago. We were amazed by green fields and large orchards reaching to the horizon. Peaches, apricots, vines, and apples are grown here. It made an inviting impression.
The 'Welcome to Utah' sign came in sight soon after Grand Junction. Time to pause our photographic road trip and take a view back to the East, to the Rocky Mountains. See you another time, big mountains.
By now, the highway had left the Colorado River; time for us to leave I-70, join SR-128, and follow the river again. We highly recommend taking that detour, taking SR-128 to Moab. The road runs besides the river, winding through canyons and offering opportunities to stop and photograph that picturesque landscape.
Castle Valley detour
Prompted by a hint in a photo book (Photographing the Southwest by Laurent Martres), we left SR-128 to enter Castle Valley Road. The red rock formations resemble a small Monument Valley. We suspected these were the beginning of the (dark red) Navajo SandStone formation. The road winds up into the La Sal Mountains. Here comes the tongue twister for a German: the La Sal Mountain Loop Road. It's steep and narrow, but gives plenty of chances to peer down and back to the Castle Valley. Once again, we highly recommend taking that detour!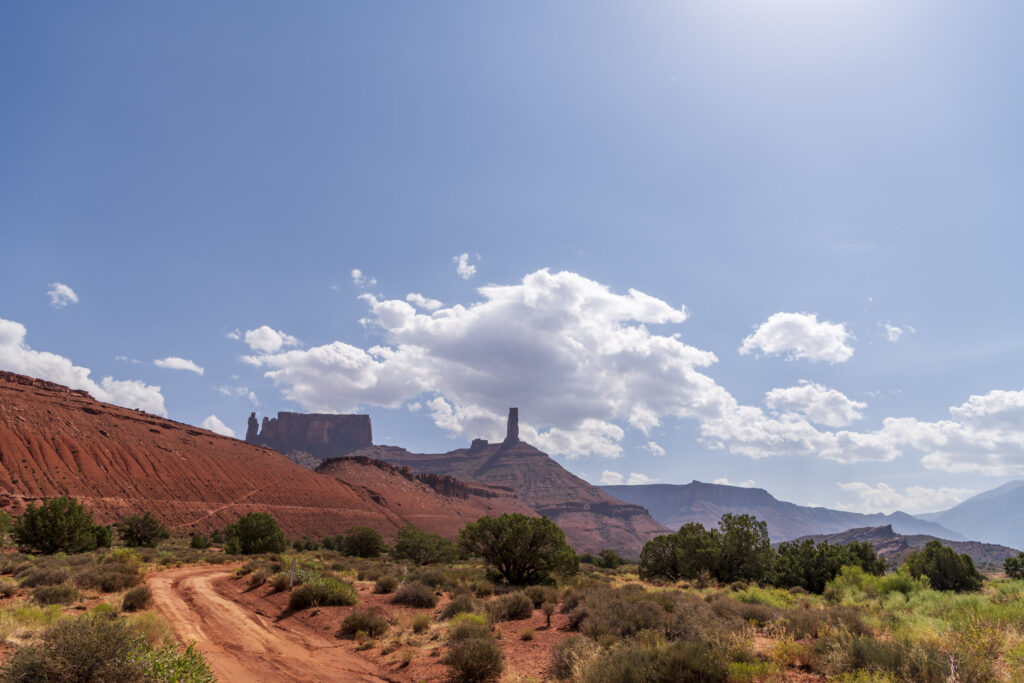 The books "Photographing the Southwest" are worth reading by anyone who wants to explore photographic opportunities outside the mainstream.
The La Sal Mountains are impressive, and often portrayed as background in images of Arches National Park. We met cattle and deer on the way. Reaching Moab soon after, we dropped our luggage at the hotel, and before long had a coffee in our hands.
Arches National Park has a timed entry system at peak season as well. It ends at four o'clock in the afternoon. Unrestricted entry into the park is possible after that deadline.
So, in case you plan to visit, be aware of the restricted entry. The best light is after four o'clock anyway, but hiking for a couple of miles to reach a desired point might require setting off before the deadline.
When the sun goes down
The farthest we penetrated was to lower Delicate Arch vista point. We arrived there in time to see the sun going down, before the arch was in the shade. In fact, we stayed in the park until well after sunset. There are so many thrilling views, and the camera's shutters were urging us to release them.
On the way back to our hotel, we drove through a gorgeously illuminated Moab. It looked cosy with all the restaurants and bars open. We can't be certain, but nevertheless have the strong feeling that Utah is tidier than other states. And thank heavens there was no longer the smell of 'grass' everywhere, as there had been in Colorado.
Photographic road trip, day 3
The day's planned final destination was Page, Arizona; just hit SR-191 in Moab and drive south.
The first stop was Wilson Arch. It's conveniently placed right beside the road; no hassle. The best light for it would have been late afternoon, though.
We pressed until just after Blanding, Utah, taking a right turn onto SR-95 towards Natural Bridges National Monument.
It has three vista points, giving views of three different sandstone bridges: Sipapu, Kachina, and Owachomo. The rocks of the Cedar Mesa Sandstone layer are mostly yellowish or whitish. This is the layer under the Navajo SandStone mentioned earlier.
The park was surprisingly uncrowded. There were around a dozen others, presumably also on a photographic road trip, at the viewpoints with us.
We left at around noon, with an eye on the sky. Altocumulus flocculus had appeared, ready to develop further in the afternoon, as we shall soon see. SR-261 led us further South. It traverses a silent landscape with many trees, bushes, meadows, and coloured rocks — just pleasant Utah countryside. The empty road ahead comprised gentle waves leading up to a cliff of red sandstone.
Ladies and gentlemen, you have reached "Moki Dugway"
I walked to the edge and looked down into the Garden of the Gods. Hmm, it's a drop of a couple of hundred metres, almost at 90 degrees. A sign reads: "Not recommended for RVs and trailers." What a joke. The road changed from asphalt to loose gravel, narrowing to a svelte 1.5 car's width.
Time to wrap knuckles around the steering wheel, look straight, rely on your tires and brakes, and hope for the best. Claudia is petrified of heights and asked for an alternative solution, which would have been a three-hour detour from there. I asked her to close her eyes and pressed on. She cheated though, but at least was sitting on the rock side after the first hairpin, giving her some relief.
We made it down in one piece and, mercifully, did not encounter oncoming traffic. We stopped once we were back on the regular road and tried to find the course of the gravel track; not a chance.
Next up was Mexican Hat, a rock formation one can't miss.
Forrest Gump was here, but not on a photographic road trip
Soon after, we reached Forrest Gump Point on SR-163. That's where everyone on a photographic road trip stops for a picture of Monument Valley's panorama. Well, maybe except for the locals. 'The Mittens' are visible from there, after which the road continues straight. We assume everyone has seen a picture of that scene.
The Forrest Gump Point sign was missing, and the Geronimo flag was on the left-hand side of the road. We guessed that someone must have accidentally 'found' the sign and rustled it.
Remember that earlier reference to clouds and impending stormy weather? The first thunderstorm was rumbling through Monument Valley Tribal Park — just a small one, as we would later find out.
We did the 17-mile drive through the park despite the threat of the weather. The Navajo charge $8 per person for entering their land and driving on the maintained dirt road. We obeyed all signs that asked drivers to stay on the marked path. That's at least one way to respect the native owners of that wonderful piece of Earth's landscape.
Be aware that some visitors can be disrespectful towards photographers who are trying to take panoramic images with what appears to be a special device. They will photobomb you at every chance. Our mood changed to "slightly annoyed".
Weather Report: Heavy Weather
We continued to check the surrounding clouds, which had grown thicker and darker. It was time to leave. It's no fun driving on a dirt road in Monument Valley, having to make the final climb to the visitor centre, when a "grown up" thunderstorm has been unleashed.
We made it out unscathed and continued towards Kayenta, Arizona. The "grown up" storm was now right in front of us. We had no option but to drive through it. Imagine stepping into a shower running on full pressure, and that some prankster has put a high-power air blower to the side of it. I consider myself an experienced driver; of course, everyone thinks that. But this was beyond anything I had ever encountered.
In fact, I could no longer see the road. I was afraid to stop, in case we were hit by a vehicle behind us, and so was creeping along at 7 mph. Driving off the road was no option either. The ditches were rapidly filling with water and offered no readings of surface structure or depth. After the longest 15 minutes of my driving life, I finally saw light at the end of the tunnel/rain. Kayenta, ahead of us, was in the sun already.
Surely, we're in the clear now?
As I took a breath and relaxed slightly, my wife yelled: "stop"! There were wild horses on the roadside, and one had decided that the grass on the other side might taste better…
After this, the next 100 miles to Page were a walk in the park, except for an alarm going off on our cell phones, warning us of life-threatening flash floods, strong winds and heavy rain in the area, with advice not to travel. What a surprise …
Page to The Grand Canyon South Rim would be a short drive, and then next stop, California.
But that's a story for next time: photographic road trip part two.
The images in this article were taken with Leica Q (Typ 116), Leica M10, Nikon D850 and an infrared-converted Nikon D700. Black and white images are conversions of infrared images taken with the D700. I would be happy to answer any questions posed in the comments regarding the images.
---
Join our community and play an active part in the future of Macfilos: This site is run by a group of volunteers and dedicated authors around the world. It is supported by donations from readers who appreciate a calm, stress-free experience, with courteous comments and an absence of advertising or commercialisation. Why not subscribe to the thrice-weekly newsletter by joining our mailing list? Comment on this article or, even, write your own. And if you have enjoyed the ride so far, please consider making a small donation to our ever-increasing running costs.
---