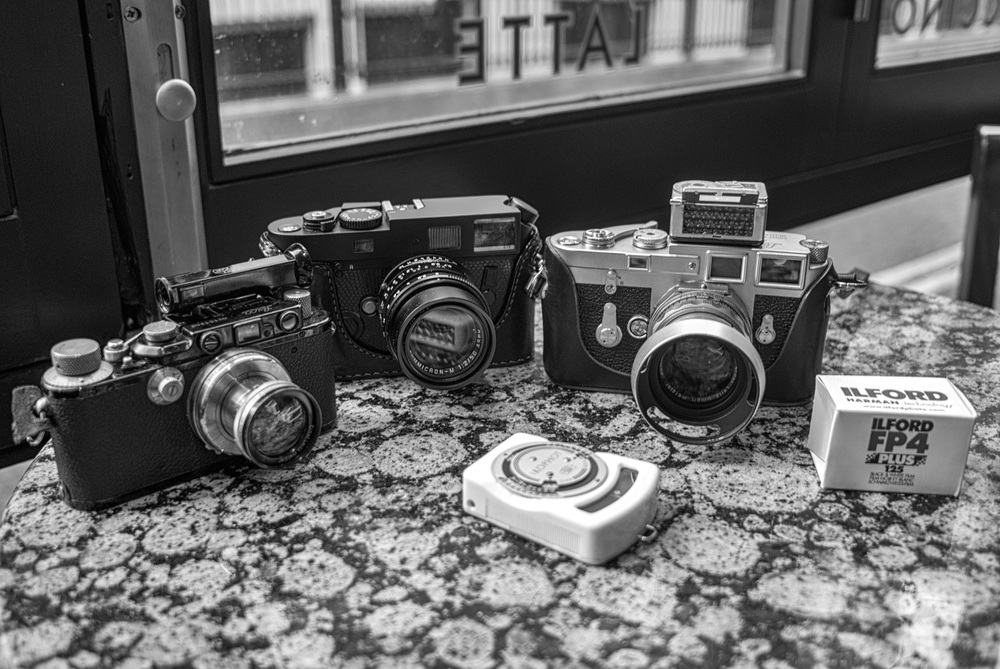 Always on the look out for a new wheeze, I decided to recruit Adam Lee for one of my more bizarre photo outings. Earlier today we rendezvoused at the Covent Garden Apple Store with a trio of cameras and one type of film, Ilford FP4. The three cameras were Adam's 1957 M3 and 50mm dual-range Summicron, my 1936 black-paint III (with 5cm nickel Summar) and the long-suffering Neil, the a la carte M7 manufactured this century, wearing the sharpest knife in the drawer, the 50mm Apo-Summicron. So there was first a 20-year gap between the two older cameras and a further 60-year gap to the M7. Along for the ride came the original Barnack digital, the plucky little X1, to record the three film cameras in various poses.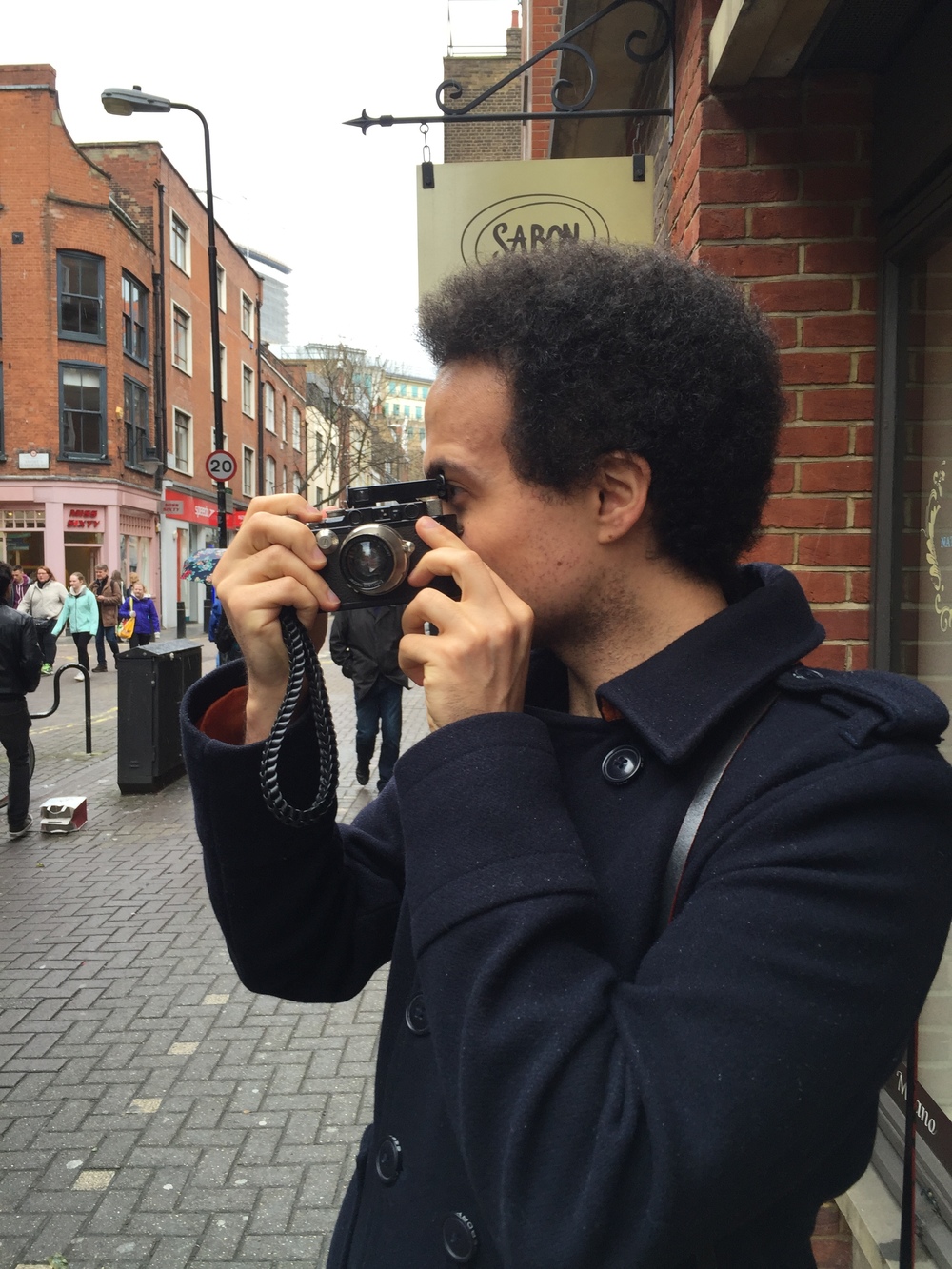 A few minutes later a table at the Caffe Nero in Long Acre was strewn with photographic impedimenta. Three rolls of FP4 were loaded and the cameras primed for action. The 80-year-old Leica III had a smart trick up its shutter: The Winkelsucher (corner viewfinder) which permits both focus and composition from the side of the camera.
This little device is straight out of James Bond: Q would definitely have approved. I suspect it was once used by private detectives to poke round corners and catch snaps of co-respondents in flagrante delicto. No such excitements today, but we discovered it is a great little device for unobtrusive street photography. Eric Kim doesn't have one of these, please note.
It rained. And it rained. Unfairly, I was saddled with two cameras and the Billingham Hadley Pro, constantly wiping off the 50 Apo Summicron for fear of permanent damage. Adam, as usual, was sailing along with his M3 capturing all the best shots. On a clear day this would have been much more fun. But, as it was, we managed to fill three rolls and Adam has now borne them off to his bathroom for some hugger-mugger mutual processing. On the way home he collected a three-roll developing tank just to make things fairer.
You will have to wait for the results. What we're looking for are differences between the three cameras. Largely, we suspect, this will be down to lens, with the latest 50 Apo giving the sharpest results. We could also get some nasty surprises on focus, particularly from the Leica III and Winkelsucher. More later.
Leica M7, Leica III and Adam's 50 DR Summicron supplied by Red Dot Cameras
Subscribe to Macfilos for free updates on articles as they are published. Read more here
Want to make a comment on this article but having problems? Please read this