Yes, folks. This is one you didn't know. Today is Friday the Founteenth, International Fountain Pen Day no less. I've always been a great fountain pen addict as regular readers know. So I was delighted to be reminded this morning by Pelikan Pens that this is a day of celebration.
My passion for pens started with a small collection of Waterman instruments which had belonged to my grandfather, Harry Evans. Sadly Granny Evans gave them to me when I was at a very early age and, predictably, they have now disappeared. I have no recollection of what I did with them. But when I go to the annual pen show in London and see the prices these pre-War Waterm(e)n are fetching, I feel a severe pang in my wallet.
My grandfather was a grocer in the northern town of Wigan, the borough of The Pier and that posh southern sneak George Orwell. Although my grandfather died when I was only seven years old, I have always felt a strong affinity for him because we seem to share so many interests.
Not your average grocer
He loved his pens, he loved typewriters even more (he had a remarkable collection, judging from the varied typescripts I've inherited) and he was a writer and a talented musician, an organist to boot. These traits aren't something most grocers are noted for, but Harry Evans was an unusual grocer. He would have owned an iPhone X, of that I am sure.
I think I skipped a generation and I am more like my grandfather than any other member of my family on either side of the line. I feel I am truly his spiritual descendant.
Grocering was in the family and the Evans's had been noted practitioners of the art for over 30 years when Harry branched out on his own on the other side of town. it was ordained, no doubt, but I suspect at a different time and in other circumstances he would have taken a far more interesting path in life. If often wonder if he was really happy slicing bacon and pouring sugar into blue one-pound bags.
Harry was a keen cyclist in his spare time (which wasn't very extensive) and wrote articles for the national Cyclists' Touring Club and many local organisations. His stories are extremely entertaining and I have a collection of them, painstakingly typed on one of his several machines on poor-quality wartime paper and bound in brown wrapping paper. I suppose it was all he could get at the time — probably stock in trade for a grocer. Often he would retype an entire story several time and add an embellishment, such as a quotation, perhaps a poem (he was a keen reader of poetry) typed on a second machine featuring an italic typeface. I infer he was an inveterate fiddler. That's something else I've inherited. In 2017 Harry would definitely have been a blogging grocer.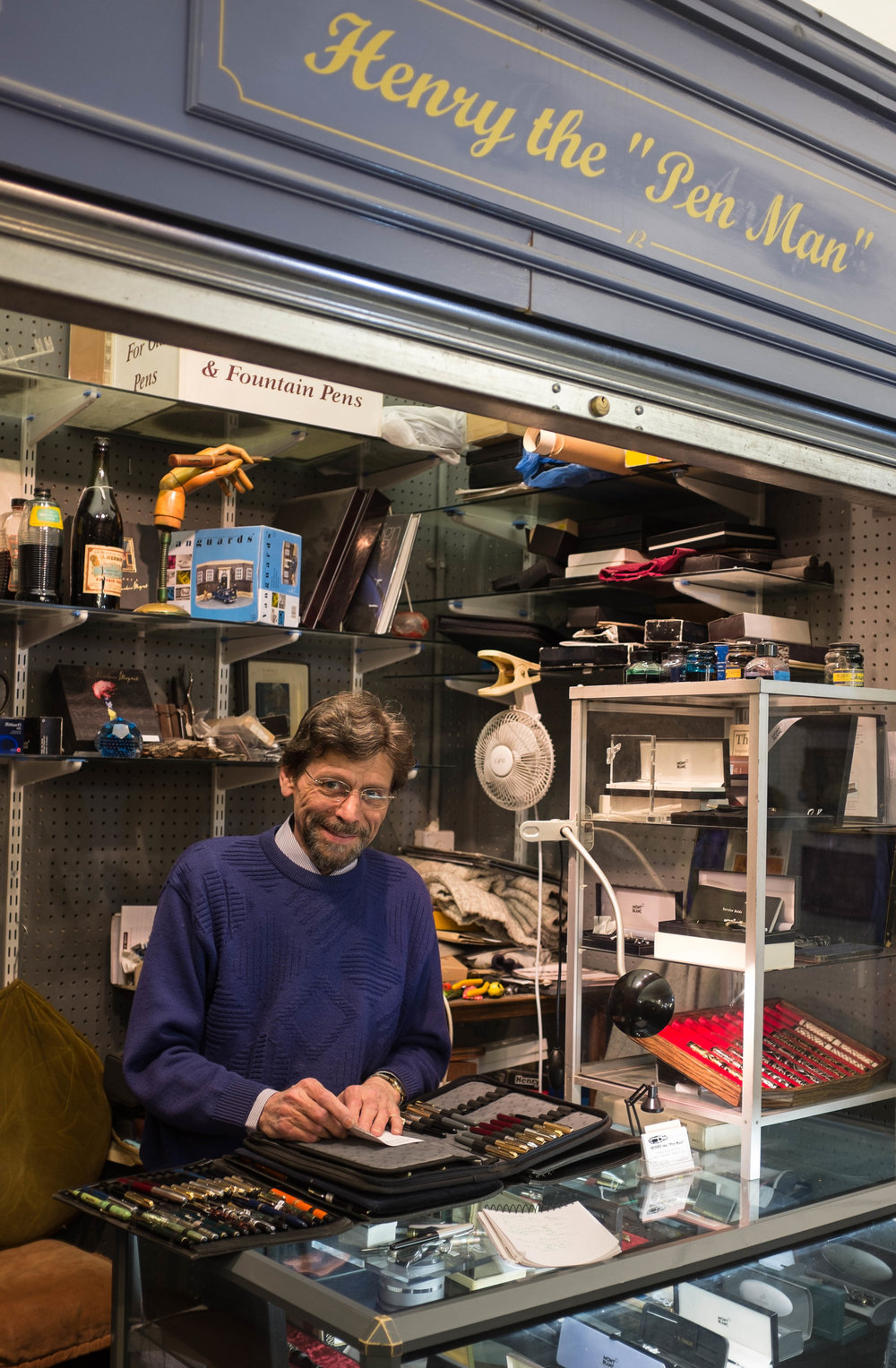 Parker passion
But back to pens. My first real pen passion was for the Parker 51. After starting work at the age of 16 I saved for two years before being able to hand over six guineas (six pounds and six shillings, but at a time when a Leica M3 was only £125) for a duck-egg blue Parker 51 with satin chrome cap. I thought the hooded nib was the last word in modernity; it was certainly the smoothest nib I'd used up to then. I've written extensively about Parker here on Macfilos (see below) and I possess quite a collection of Parkers, every one of which has cost me considerably more than £6.33.
In recent years fountain pens have made a comeback, just as have vinyl records, old Leicas and a host of other retro implements (with the possible exception of typewriters which have been well and truly exterminated by the computer). All of these product feed our desire for nostalgia, but along the way we realise that such beautiful instruments offered so much more satisfaction than we can gain from today's throw-away-product culture with its built-in obsolescence There's still a great deal of satisfaction to be had from writing in ink on fine paper, such as the paper in my new friend, the Leuchtturm notebook. And in using an M3 or playing an old LP.
So let's raise a glass (or two) to the fountain pen. May it live forever and celebrate many more Fountain Pen Days.
Read: Parker 51, the Leica M3 of the fountain pen world
___________