One of the main motivators for the recent change from Squarespace to WordPress is the ability to compose offline. Squarespace post creation has to be done live, online. Even though I would prepare the text in advance in a plain-text editor, I still had to upload photographs one by one. Sometimes one picture could take up to a minute to upload, with the constant danger of a service interruption which could result in the loss of valuable work.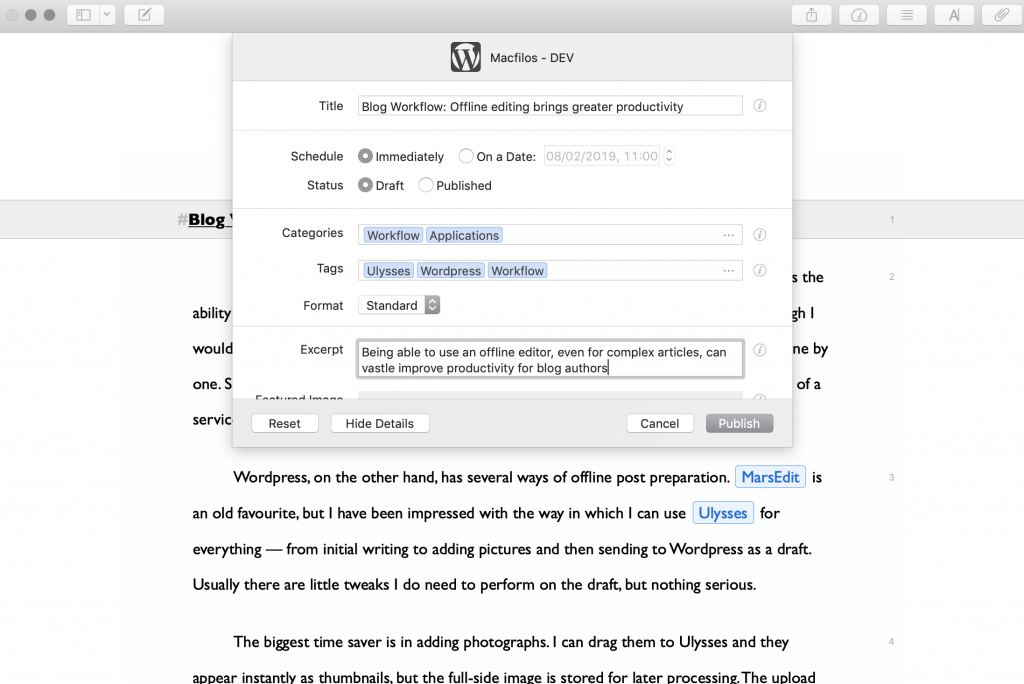 WordPress, on the other hand, has several ways of offline post preparation. MarsEdit is an old favourite, but I have been impressed with the way in which I can use Ulysses for everything — from initial writing to adding pictures and then sending to WordPress as a draft. Usually, there are little tweaks I do need to perform on the draft, but nothing serious.
Authors
Unfortunately, Ulysses currently lacks the ability to change the post author at the development stage — this has to be done manually in WordPress before publishing. MarsEdit does include the feature and I hope that Ulysses will be incorporating it into the next update. For the moment, though, the greater organisation and authoring facilities in Ulysses makes this the better choice for Macfilos.
At the moment, also, Ulysses doesn't create block-edit posts in Gutenberg, the new editor built into WordPress 5.0. I understand block support will come, but in the meantime, I am quite happy since I always need to tweak a post after it arrives in WordPress and converting to the Gutenberg editor is easy.
Timesaver
The biggest time saver is in adding photographs. I can drag them to Ulysses and they appear instantly as thumbnails, but the full-size image is stored for later processing. The upload process is then done all at once after the article has been finished and laid out. It is less stressful for me, infinitely quicker and much more secure.
There's another benefit. I am now much more productive because I am freed from the toil of on-line editing. I can just throw text and photographs into Ulysses and edit them offline on the Mac, iPad or iPhone. I just feel more in control. It is now much easier to prepare and post items from the phone or tablet while away from the office. I am enjoying the workflow process much more than I did with Squarespace.
Being able to prepare articles, including those with complex sets of photographs and accompanying captions, and then post by pressing one button is one of the greatest benefits of moving from Squarespace. I have been pestering Squarespace for offline editing facilities for the past five years but no notice has been taken.