My 2018 15in MacBook Pro has four USB-C ports, but no other data connections. The trouble is that all four ports allow wobble and interrupt connections constantly. It's frustrating and annoying. While I haven't so far lost any data as a result of broken connections, it's only a matter of time before I do.
My first experience with the now ubiquitous USB-C interface was five years ago when I bought one of the new lightweight MacBooks for travel purposes. That model had only one USB-C port but I can never remember having any connection difficulties. With the newer MacBook Pro things are different.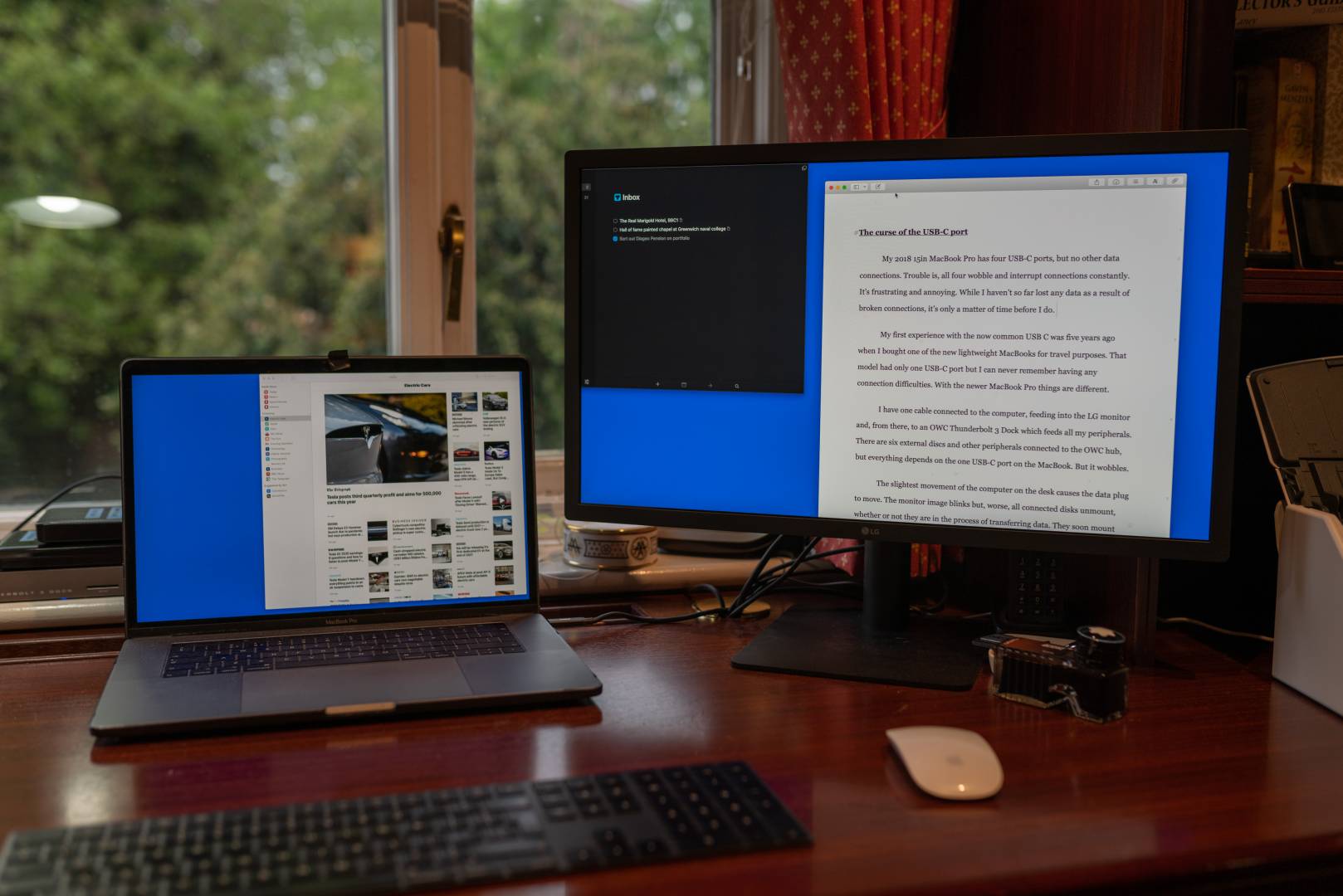 Lonesome cable
I have just the one cable plugged into the computer, feeding the LG monitor which also acts as a hub. From there the connection passes to an OWC Thunderbolt 3 Dock which hooks up all my peripherals and Ethernet feed. Currently, there are six external discs and other bits and pieces connected to the OWC hub, but everything depends on the one USB-C port of the MacBook. All would work like a treat if that USB-C plug connecting to the computer wasn't so wobblesome.
The slightest movement of the computer on the desk causes the data plug to wiggle. The monitor image blinks but, worse, all connected disks unmount, whether or not they are in the process of transferring data. They soon mount again, but the whole process is a nightmare which has been happening several times a day. And all because of that errant USB-C port.
Apple will not acknowledge that there is a problem. I've tried other contemporary MacBook Pros and found the same problem. I've changed cables, assuming that a cheaper cable and plug might not be the perfect fit. I even sent off to the USA for a genuine OWC connector cable that, I thought, would cure the problem.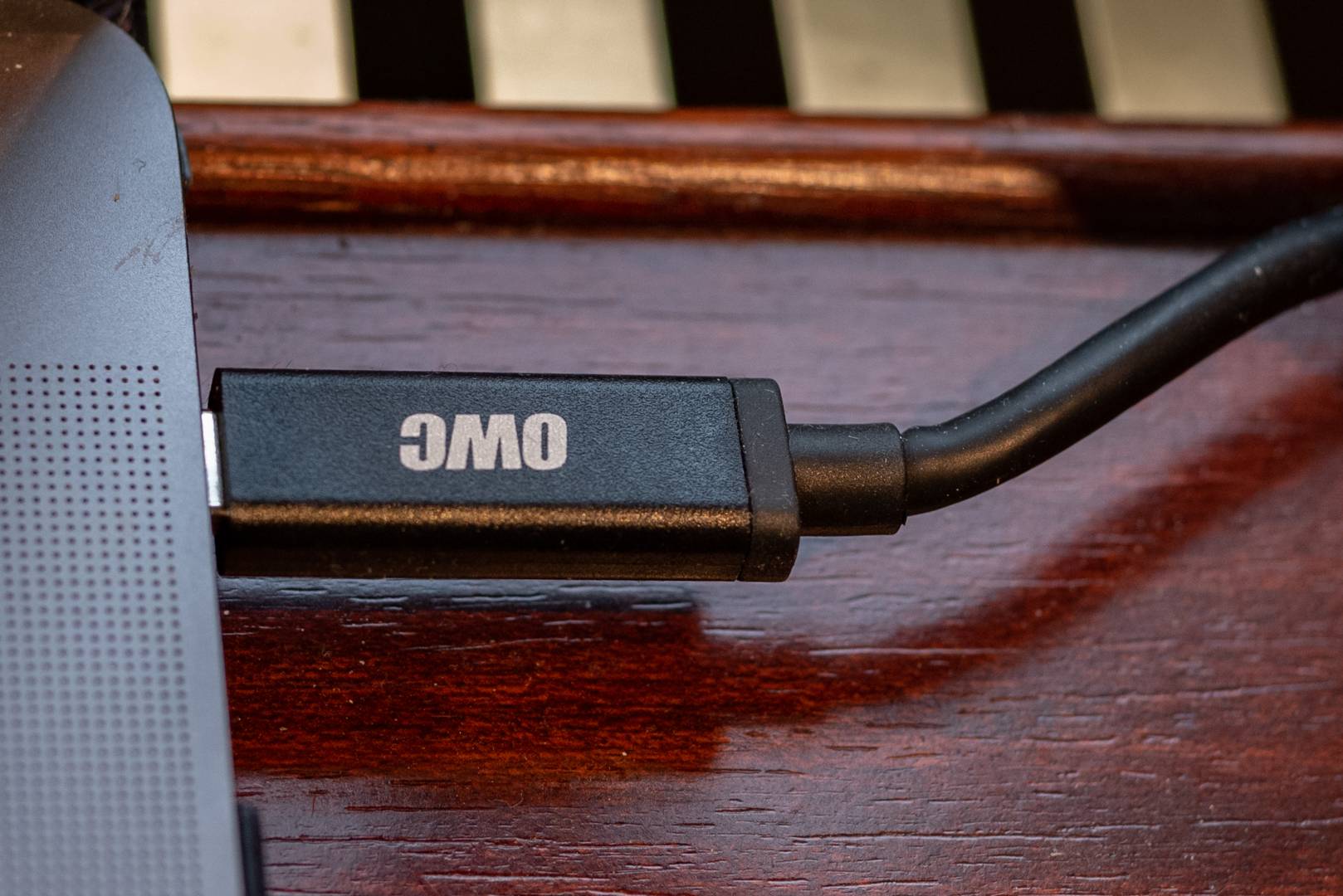 Condescending
I made an appointment with the Apple Genius Bar at the Covent Garden store some months ago. Unusually, I encountered a very condescending "genius" who just wouldn't accept there was a problem: "You can bring in some of your external disks so we can check them on the computer. It could be a disk problem." Which, of course, it obviously wasn't. I was able to demonstrate that any and all USB-C plugs wiggled from side to side.
After being treated like an errant child for ten minutes, I grabbed the computer and headed for home, thoroughly discouraged. That was my only bad Genius Bar experience in the past fifteen years but, of course, it is the one I will remember.
This problem, acknowledged by Apple or not, isn't just a foible of my MacBook Pro. This is a typical comment from the net:
I had recurring issues like this on the newest Macbook, each time it was the USB-C daughterboard that was responsible for the issue, and each time it was replaced it slowly worsened over time, even with very careful usage.
Android, iPad
Loose USB-C connections appear to be a problem also for Android phone and Apple iPad users and, often, the cause is lint or fluff in the connector. This fluff issue also plagues Apple's Lightning ports – although, in general, the Lightning interface is rock solid. With the MacBook Pro, which has been sitting on the desk throughout its life, debris cannot be the issue. All four ports (three of them have never been used except for trial purposes) exhibit the same degree of wobble and unreliability and have done from new.
Since getting such short shrift from the Genius Bar, I've tried various Heath-Robinsonian fixes, including wrapping the plug with black tape in an attempt to create a wobble-free shoulder to improve stability. That didn't work. My latest effort is to insert a narrow piece of visiting card into the bottom of the socket and then push in the connector. It doesn't wobble as much, glory be, but it remains to be seen if this is a permanent fix.
I don't generally warm to jury-rigs of this nature but, after three days, I can confirm that there have been no inadvertent power outages. Just don't tell Apple or I'll be accused of damaging the port.
Universal Wobbly Bus
What is it with the USB-C connector? USB-A and various micro-USB sockets don't have this problem. Nor did Apple's now-discontinued Thunderbolt connector. It's just the USB-C connector that wobbles and, it seems, the 2018 MacBook Pros have some of the loosest sockets out there.
In all other respects, I love the well-specced MacBook Pro, so it's a pity about those loose ports. Admittedly, I don't really need a laptop to sit on the desk – an iMac, Mac mini or MacPro would probably be a more sensible choice. But one thing I rely on totally is the MacBook Pro's fingerprint authorisation key. Waking from sleep or authorising actions demand password input and it is so much less frustrating to be able to simply touch a key, iPhone style.
But with a price tag of over £3,000, this computer should not suffer from wobbly ports. Nor should Apple employees dismiss customers' complaints with such disdain.
Do you have a similar-age MacBook Pro and have you experienced the dreaded port wobble?