With the discontinuation of Leica's APS-C cameras, many owners are facing the prospect of ending up with orphan lenses. Even good cameras such as the CL will quit their service one day. So what to do with your lovely 35 Summilux TL or your stunning 11-23 Super-Vario-Elmar-TL? If you need state-of-the-art resolution, three cameras in crop mode are available: Sigma's fpL, Panasonic's S1R and, of course, the Leica SL2. This article discusses the pros and cons.
It's a pity, to say the least. Without actively communicating it, Leica abandoned their APS-C system — and probably some customers along the way. The latter is a bit strange to my eyes. Either these customers were very few, or they were not up to Leica's standards (that is, not rich enough). In effect, the brand has lost an option for an entry-level system. As our editor Mike Evans recently pointed out in an interesting article, Fuji have more appreciation for this segment. And both Canon and Nikon are even actively courting this target group. Leica moves in a mysterious way, its wonders to perform….
Leica's APS-C exit: Barnack's alleged legacy got dumped only five years later
Do you remember the introduction of the Leica CL back in 2017? It was marketed, not unconvincingly, as the camera that Oskar Barnack would have built today: Small, lightweight, versatile. Unfortunately, the handling of Barnack's legacy did not prove to be particularly prudent in this special case. Five years later, the whole Leica APS-C system is dead. But really, the whole Barnack thing was just marketing anyway. Oskar would probably turn in his grave if he had to witness all this: First the big words and then the meek exit.
There are still some wonderful Leica APS-C and other lenses around
In effect, a certain number of L-Mount lenses will remain that can only cover the Leica APS-C image circle (sensor size 23.6 x 15.7 mm in case of the CL). And there are some wonderful products among them (I will go into more detail in a later article perhaps). Here it will suffice to mention two of Leica's primes, 35 and 60, the three very affordable Sigma 1.4 primes (16, 30, 56 translating into 24, 45, 84) and the value-for-money monster Sigma 18-50/2.8. These and some more lenses will outlive Leica's bodies for sure. The APS-C lenses were even designed to set entirely new standards, as Leica's Peter Karbe explains in this interesting lecture and discussion with Nick Rains from Leica Australia.
One thing that Leica did right with their APS-C system
So what to do? Luckily, Leica designed their new mirrorless system (you remember, it was first called T system until, allegedly, the German telecommunications giant made clear that T-Systems was their own trademark) with higher ambitions in mind: It was clear from the start that Leica APS-C would be followed (or superseded?) by Leica full frame. The T mount turned into L-Mount, which proved wide enough to support a full-frame sensor and full-frame lenses. The engineers already developed it with this goal in mind. This was quite clever back then. Canon had their own APS-C mount that was always a turn-off for prospective buyers (that's what dealers told me, standing in front of shelves full of EOS M Mount gear).
Leica leaves APS-C, and other manufacturers enter
These days, however, Canon and Nikon offer a universal mount for full frame and APS-C. Sony have been using E mount for both sensor sizes for quite some years, but they are showing little interest in the smaller sensor line. Still, it almost looks like Leica's APS-C withdrawal was an exit from a growing idea. They have their reasons, and a small manufacturer can't run with the hare and hunt with the hounds. So they may have made the cool decision that the full frame market is just promising more profit.
How many pixels do you need in APS-C sensor size?
Behind remain the customers. Their Leica APS-C cameras, such as a CL or TL2, may have grown on them, the 24 MP resolution is just what they needed. And they have invested a couple of thousands which they don't want to write off. In the article I mentioned above, Mike suggested the Panasonic S5, which, I stand by my word, is a great camera. But for APS-C lens owners, it only offers a 10.5 MP resolution. That's enough for many a purpose, but if you come from 24 MP, it feels like being thrown back by ten years. My much revered Olympus E3 Four Thirds SLR had 12 MP, and thanks to the system's great lenses, the images are looking good to this day. But in 2022, 10.5 MP might be too much of a step back for many.
There is some hope for Leica APS-C lens owners
So the higher resolving L-mount cameras come into focus. Even with a Sigma or Leica APS-C lens, they still have a resolution that is comparable with other cameras in this class. At the time of writing, three models meet this criterion: the Leica SL2, the Panasonic S1R and the Sigma fpL. Below I will discuss the advantages and disadvantages of each of these solutions. With this review, I hope to give some encouragement to owners of L-mount Sigma or Leica APS-C lenses.
In the following paragraphs, I discuss the three cameras, Leica SL2, Panasonic S1R, and Sigma fpL, with respect to their use with Sigma and Leica APS-C lenses. These are no full reviews, and I will confine myself to a quick overview of the cameras themselves with just a few technical data. There are so many extensive reviews of these cameras available that I do not see any point in adding just another one.
---
Leica SL2
Leica SL2, a quick overview:
So much has been said, written and broadcast about the Leica SL2 that I can stick to some basic facts. It's a full-frame mirrorless camera of considerable size with a 47 MP sensor that will automatically switch to around 20 MP in crop mode once a Sigma or Leica APS-C lens is attached. The DNG files represent only this part of the image (other than in the crop mode of the Q series), which considerably saves on file size in APS-C mode. The SL2 features a great number of professional video options (more than the Panasonic S1R, in fact) about which I will not dwell, simply because I am not a videographer. After one year on the market, Leica complemented the SL2 with an SL2-S which returns to the 24 MP sensor (and thus is not so relevant for use with APS-C lenses).
Leica SL2, Handling:
The SL2 has a very reduced user interface with the three main buttons on the left side of the back monitor, just the layout we know from many other Leica models. I find the rubberized grip to be a great improvement over the original SL, especially with heavier lenses in hand-held operation. The six function buttons are not labelled; you can select from a wide range of features to assign to them. For very regular users, this is certainly an advantage. For others, it might mean they must first check what happens when they press a certain button. The menu is the best in class, well organized, and intuitive. But please be prepared to bring a spare battery; the SL2 is quite hungry.
Leica SL2, general performance:
There are many competent reviews, and I recommend the ones by Jono Slack and Sean Reid. I would say the SL2 is still up to date, almost three years after launch. The autofocus works well within the limitations of a contrast-based system, exposure is precise, and the much-lauded EVF is a joy. Furthermore, the SL2 turned out in Sean Reid's tests to be the best non-M camera for M mount lenses because of the sensor (glass) design.
A weak point of the SL2 is high ISO performance, especially if you are not able or willing to use a DNG workflow. From ISO 3200, the jpg images lose detail and contrast to a considerable amount. I would say that the excellent IBIS compensates for that to a great degree, but we all know that IBIS can't solve all problems. Whether or not the Panasonic S1R has better high ISO performance is discussed controversially. I do not dare to make a final judgement.
Leica SL2, APS-C performance:
The SL2 introduced IBIS to Leica's L-Mount cameras, which is one major advantage when used with APS-C L-Mount lenses (none offer optical stabilization). Think of the beautiful 55-135 — you are likely to get more sharpness in 20 MB SL2 images than in 24 MB CL pictures because the APS-C camera lacks IBIS. When coming from a CL, the SL2 will grow on you very fast in terms of user experience, and you have the option to gradually switch/upgrade to full-frame lenses for your most used focal lengths.
The SL2 is a great all-round camera, and if you need a smaller file size, Jono Slack recommends using the 24 MP jpg mode. That may be sensible with full frame lenses. But with Sigma or Leica APS-C lenses, I would not deliberately limit the camera's resolution. Great performance with M mount lenses is another argument for the SL2, but we're in APS-C lens territory.
Leica SL2, overall impression:
The SL2 is a wonderful platform for Sigma or Leica APS-C lenses, and in some respects, it will only reveal the full potential of these optics thanks to good autofocus and excellent IBIS. The downside is that it has twice the weight and takes far more room in your bag than a CL. Inobtrusive shooting in Leica M style with all the comfort of a modern camera is not what you will get. If you are aiming at this, you might want to think about selling your Leica and Sigma APS-C lenses once you have no working camera body left that fits your needs and defect to the Fuji camp.
Leica SL2's main pros: Leica build quality, user experience and design; excellent image stabilization; excellent viewfinder; fast recording onto normal SD cards.
Leica SL2's main cons: Massive size and weight when coming from an APS-C camera; very high price; fixed rear display; high ISO limitation.
---
Panasonic S1R
Panasonic S1R, a quick overview:
If you were to describe a camera that is the complete opposite of the Leica CL, you would probably mention huge dimensions, excess weight, an awful lot of buttons and switches, a somewhat brutal appearance – but also a state-of-the-art electronic viewfinder, powerful in body image stabilization, USB-C charging. In other words, you would end up with something much like a Panasonic S1 series camera. Within this series aimed at professionals, the S1R is the high-resolution variation with 47 Megapixels in full frame and 20 MP remaining with APS-C lenses. I give some more key technical data in the chart at the end of this article.
Panasonic S1R, handling:
If you don't mind a heavy and big camera, the S1R is actually quite nice to handle. Well, I am used to Panasonic's S5, and this one is very much based on the S1 series layout. So, I had no problem working with the S1R right away without even consulting the 500-page manual. If you are new to Panasonic cameras, you may want to take some time to get accustomed to their specifics and their menu system. Again, it's the diametric opposite of Leica's reduction to the indispensable.
Panasonic S1R, general performance:
The S1R gets a lot of image quality out of the 20MP part of the sensor, which is not surprising given its 100 points DXO rating. The camera has a very natural way of rendering colours. Nothing appears to be aggressively processed, colours are almost restrained, sharpness seems reduced (for the sake of not having artefacts), and noise becomes visible from rather low ISO values (I would say, between 400 and 800).
On the other hand, the user can take care of all this in post-processing, and the RAW files leave much room for improvement to the user's taste. Only in the high ISO region, above 3200 or so, do you see the price you have to pay for a 2019 high-res sensor: Noise is becoming quite prominent. Despite these limitations, I think Sean Reid's favourable assessment from 2019 is still valid two and a half years later.
Panasonic S1R, APS-C performance:
No Sigma or Leica APS-C L-Mount lens has image stabilization, so the S1R's IBIS is a revelation. You suddenly see the image though your 55-135, for example, nailed in sharpness. This alone is pure joy. Add to this very good 20 MB RAW or jpg files with lots of detail and (see above) much headroom for post-processing, and you are likely to see a remarkable improvement over the Leica CL. High ISO performance is similar, but you will need ISO values above 1600 far less often, thanks to IBIS.
Panasonic's auto-focus was much discussed, and I think the new Sony, Canon, and Nikon mirrorless cameras are a step ahead. But compared to the CL, I would rate the S1R's AF better — that is, more precise and much faster (you will be surprised what you can get out of your APS-C lenses). In any case, it is easier to operate with a four-way joystick-like switch and very sensible options. That's how it should be… we all know of the firmware update for the CL that Leica never delivered despite our Editor's more than justified calls.
Panasonic S1R, overall impression:
The Panasonic S1R is a giant camera which can deliver outstanding results. The smaller APS-C lenses somewhat mitigate the camera's huge size. Insofar, it is not such a strange fit as you might think in the first place. Or in other words, the handy APS-C lenses turn the S1R into a camera that can be the core of a kit for everyday and travel use. Add this at an affordable price. So, all in all, it's not such a crazy option.
Panasonic S1R's main pros: Build quality, robustness, moderate price (negotiate), good ergonomics, excellent image stabilization, articulating rear screen, and great EVF.
Panasonic S1R's main cons: Enormous weight and size, complex handling, two different memory cards (one SD, one XQD), slightly limited AF speed, and limited high ISO abilities (above 3200).
---
Sigma fpL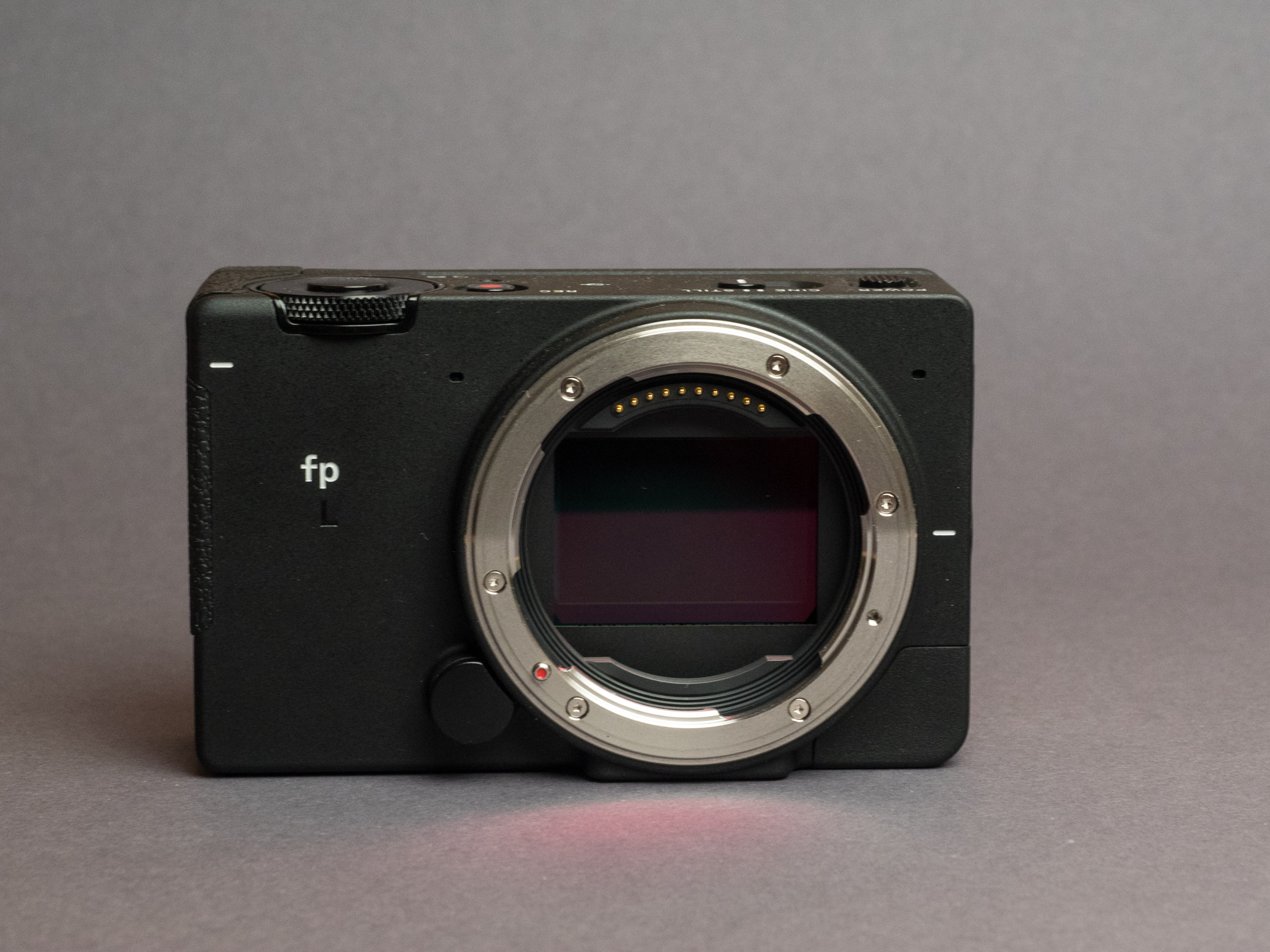 Sigma fpL, a quick overview:
Think of a brick with a front and a back as its biggest surfaces. The front side consists almost only of a bayonet mount with a sensor shining in shades of all colours inside. The back is almost completely taken up by a big display and a few buttons on the lower end and to the right. Some more switches and buttons are on the top: Sigma fpL is the second iteration of their full frame mirrorless camera. It's a radical piece of gear in its smallness. Hard to believe how much technology they put inside.
The fpL is slightly thicker than the original Leica T but otherwise smaller. And that with a sensor more than twice the size (measured in area). Its 61 MP resolution results in almost 26 MP in crop (APS-C) mode. This is even a bit more than Leica's latest (and, alas, last) APS-C cameras, the CL and the TL2.
Sigma fpL, handling:
In practical use, the fpL (and I think this is also true for the 24 MP fp) is special, to say the least. It has neither a handgrip nor an electronic viewfinder (you can add both and buy the fpL in a kit with the EVF immediately). Nonetheless, the handling of the camera is much better than I had expected. Most functions are easy to reach; the menu is overwhelming in its options but quite logical to me; the camera lies well in my hands. Attaching the optional EVF is a bit fiddly, and, unfortunately, you can't charge the camera with the EVF in place. If you don't want to remove it every time the small battery is empty, you better buy the extra charger (BC-71, €110!) and at least one spare battery (BP-51).
Sigma fpL, general performance:
As unusual as the concept of this camera is, as contradictory are the results (read here Patrick Leong's in-depth review). On the one hand, the 61 MP back-side illuminated Bayer (not Foveon!) sensor offers stunning image quality up to very high ISO values (6400 and beyond, that's quite an achievement with such a high resolution). The hybrid autofocus (phase and contrast) is quite reliable once you have managed to get all the settings right. Exposure control and colour rendering are spot on.
But there are severe disadvantages, too. The fpL has no mechanical shutter at all. At the same time, sensor readout takes some time for the whole glory of a 61 MP image. The results are rolling shutter effects, poor flash performance and bad images in fluorescent light (the shorter the exposure, the worse the result). And the lack of a mechanical shutter or cover over the sensor (a common disease nowadays) is not for the faint-hearted when changing lenses.
Sigma fpL, APS-C performance:
With its 61 MP sensor, the fpL is a good fit for Sigma or Leica APS-C lenses. The image circle of these optics will cover a part of the camera's sensor that still has 25.8 megapixels. That's more than enough for almost any purpose. I recently had a 24 MP M10 image printed to 90×60 centimetres, and the result was great. So what more could you wish for? Even cropping is possible, and the very good high ISO performance compensates a bit for the lack of image stabilization.
Being so small, the fpL is arguably an even better body for the rather small Sigma and Leica APS-C L-Mount lenses. Think of the full-frame lenses, which are often huge. With a small lens, the fpL is almost pocketable in size and a great piece of kit for landscape, still life and architectural work. So if you do not want to shoot fast-moving objects or if you don't use flash, the Sigma fpL could be a good travel companion together with the small lenses (if you like his reviews: Steve Huff draws a direct line from the original Leica CL to the Sigma fpL here).
Sigma fpL, overall impression:
Genius or madness? The Sigma fpL is somewhere in between. As a photographic tool, it provides wonderful image quality if the conditions are right. This is also true when used with Sigma or Leica APS-C L-Mount lenses when the sensor can show all its qualities in crop mode. For many use cases, however, this small and well-built camera suffers from the absence of a mechanical shutter. This leads to problems you can't take care of in post-processing.
Sigma fpL's main pros: Small size (especially without the attachable electronic viewfinder), low weight, the highest resolution of all L-Mount cameras; great image quality; reasonable price; articulating EVF if attached.
Sigma fpL's main cons: No mechanical shutter (bad for flash photography, fluorescent light, or moving objects); AF could be more reliable; handling needs getting used to.
---
And now, it's up to you…
If you have to choose between the three, the decision might be not easy. All three cameras have their strengths and weaknesses when used as an APS-C body. Maybe Sigma will release their long-announced L-Mount body (also) with an APS-C sized Foveon sensor – this could be a game changer. Sigma's lasting commitment to the L-Mount seems to be an encouraging sign for their further plans after all.
Will Sigma continue Leica's APS-C genealogy?
And who knows, as Sigma have some beautiful APS-C lenses (surely, not developed for L-Mount but for systems with larger market share such as Sony E or Fuji X), maybe they will fill the gap Leica have left with an affordable, nice and easy to use APS-C body. And be it only from a technical standpoint, it would be interesting to see how they updated their latest APS-C sensor, the CMOS from the SD1 Merrill, back in 2012.
Sigma or Leica APS-C lens owners: Don't sell in panic
For now, the best owners of L-Mount APS-C lenses can do is use them on their CL or T(L/2) cameras. Whether or not it is advisable to bunker a spare body just in case, I do not want to comment. I think the Leica lenses will hold a certain value while their Sigma counterparts (lovely products, I have to repeat it) will not fetch decent sums on the second-hand market. At least until Sigma come up with a camera that is a perfect fit for these lenses. Until then, full-frame cameras in crop mode are the only option — and remains the question remains whether someone really buys a, say, 47 MP camera to use only 20 MP.
So let's keep our fingers crossed. If Panasonic, Sigma or, rather unlikely, Leica, come up with a higher-res full-frame camera similar to Sony's Alpha 7C or an APS-C body which is as small as the new Canon EOS R10 or Nikon's Z50, this could be a great option for owners of Leica APS-C lenses (and for the ones how have invested in the beautiful Sigma APSC-lenses).
In five years: Where will our Sigma or Leica APS-C lenses be? On a camera? In the drawer?
So it may not (yet) be a dead end, but we have to face it that L-Mount or better Leica APS-C is not a living sub-system either. The options I have shown will not be fully convincing for those who once opted for a Leica APS-C camera such as a T(L) or CL for very good reasons (compact, great ergonomics, superbly built). We'll see if Sleeping Beauty will be kissed to life again or if these lenses will sadly end up as undead in our drawers.
---
What do you think? Is a full-frame camera in crop mode a viable solution for Sigma and Leica APS-C L-Mount lenses? Or is it an incredible waste of potential image quality? If you are coming from APS-C – what will you do? Look for a spare CL or TL2 body, just in case? Or sell the lenses once your camera is broken (and will no longer be fixable because of Leica's policy to guarantee* only six years of servicing)? Was APS-C L-Mount for Leica the wrong way, were they just unlucky to attract enough customers or has the success of the M and Q line just dulled their senses for the less affluent target groups?

*edit 01 August: in an earlier version, it was written that Leica offers only six years of servicing. As Jono Slack pointed out in the comments below, they guarantee it for this time but might be ready to offer service beyond this span as long as parts ect. are available.
Read more from Jörg-Peter Rau